The average property has increased by £28 a day, according to the latest data from property website Zoopla.
The residential property market is now valued at a total of £8.29 trillion, marking a rise of 3.5% or £280 billion since the start of the year, according to Zoopla.
The data from the property website shows that the average home in Britain gained £28 per day to its value during 2017 – equating to £9,652 over 12 months.
Zoopla analysed property values and found that property prices in Scotland have increased the most over the past 12 months, rising by 8.44% to an average of £191,915.
In England, home values are up 3.21% to an average of £328,380, while in Wales, the average home is now worth £185,378 – up 2.94% since the start of the year.
Regionally, house prices in the East Midlands have seen the second highest growth rate after Scotland, rising in value by 5.82% since January. This is followed by the West Midlands where the average home is now valued at £227,016 up by 5.75%.
The North East of England was the only region to see home prices fall, with values declining by 0.35%.
There was a notable drop in property price growth in London where values increased by just 0.73, and yet house price affordability in London is currently at an all-time low.
House price growth also fell in the South East of England, where values have risen by 2.21% over the past 12 months.
Average property value increase by region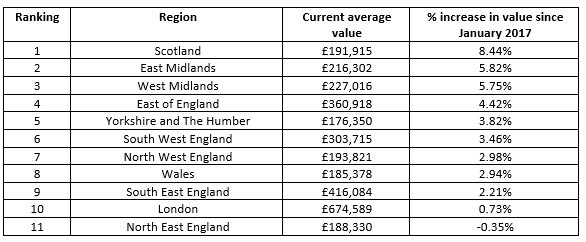 Source: Zoopla
When looking at house prices at a 'local level', Zoopla identified the seaside resort of Clevedon in North Somerset as 2017's 'biggest winner', in property value terms, with a growth rate of 11.6% taking the average home to £334,245.
The market town of Ashbourne in Derbyshire was in second place, with property prices increasing 11.59% to reach an average of £354,815.
The riverside town of Tewkesbury in Gloucestershire places third, with values increasing by 11.38% since the start of the year, bringing the average price to £299,543.
Top 10 towns for property price growth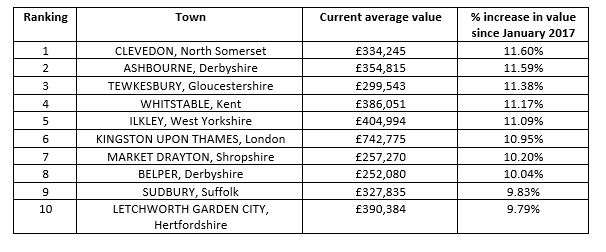 Source: Zoopla
At the other end of the spectrum, Leigh in Greater Manchester has seen the weakest house price growth over the course of 2017, with property prices in the historic town falling by an average of 4.61%, or £6,001 to £124,134.
Walton-on-Thames in Surrey saw property values fall by 3.32%, or £21,659, to £630,468, and Houghton Le Spring in County Durham is third from bottom after experiencing an average decrease of 3.21%, or £4,631, taking the average property value down to £139,714.
Bottom 10 towns for property price growth

Source: Zoopla
Reflecting on the property data, Lawrence Hall, a spokesman for Zoopla, said: "2017 has been an unpredictable and varied year for the British property market, with continued uncertainty surrounding Brexit, the triggering of Article 50 in March and a hard-fought general election in June.
"However, the value of housing has proved its resilience in the face of political ambiguity, finishing the year with a solid 3.5% rise – though down year-on-year from the 7.25% growth rate seen in 2016.
"Though good news for homeowners, this continued growth does pose ongoing affordability challenges to those trying to get their foot on the first rung of the property ladder.
"Recent stamp duty reforms may go some way to help, but there's more to be done in 2018 to improve the picture for first-time buyers."