A change in season affects the property market, so is now a good time to sell your house?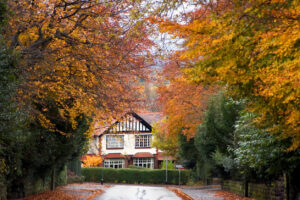 Autumn always gets a bad rap as a season for selling your home. It tends to be pushed back behind the blossom of spring, the sunshine of summer and the festive magic of winter. But autumn is the hidden gem of seasons to sell. There's still plenty of activity from motivated buyers, the leaves are turning into a bold and beautiful display of colour, and your property can stand out from the crowd.  
What is the property market like in autumn?

 
Although there may be fewer homes on the market in autumn compared to spring (when the activity ramps up), autumn is generally considered a good time to sell a house. The home buyers at this time of year tend to be motivated and are often 'serious' about buying. Remember that almost nobody wants to move over Christmas, so don't leave listing your home on the market too late.  
What months are autumn?

 
In the northern hemisphere, the autumn months are considered September, October and November. As we enter October, there's still time to get your home on the market before the winter market hits. 
Why autumn is a good time to sell a house

 
By the time autumn rolls around, families are back from their summer holidays and Christmas and New Year is still a good length of time away. People tend to turn their attention to setting and achieving their goals – and for many, this includes buying property.  
Unlike the feverish atmosphere of the warmer season property markets, where the market can attract curious members of the public with time on their hands, autumn brings a distinct tone of seriousness.  
In autumn, potential buyers have had the time to seriously plan, research and budget to secure their new homes. Autumn home buying attracts keen buyers who hope to get things done and dusted before Christmas. Keep in mind that leaving things much later than October shortens the odds for buyers who hope to be settled in their new property in time for Christmas festivities.  
Fewer competing properties

 
As spring is considered the best time to sell, sellers often flood the market at the start of spring. This can result in an oversupply of properties and it becomes a buyer's market. Come autumn, the influx of homes on the market tends to settle down. If your property goes on the market in autumn, it's more likely to get noticed, compared to the traditional spring influx of properties to the market.  
Tips for selling a house in autumn

 
Take a look at our top tips on how to sell your home in autumn.  
In summary: 
Create a warm first impression with a space for wet coats and umbrellas

 

Illuminate with warm lighting, especially in the late afternoons

 

Play up the cosiness and make sure it's warm inside

 

Embrace autumnal interiors with a neutral colour palette

 

Brush up on kerb appeal by tidying up outside

 
Sell your home this autumn

 
Selling a house in autumn doesn't have to be difficult. Find out how much your home could be worth instantly with our online house valuation tool. 
When you're ready to put your house on the market or are interested in a more accurate figure, simply book your free house valuation from a trusted estate agent.