Considering selling your home this autumn? Attract the right buyer with these smart, seasonal tips.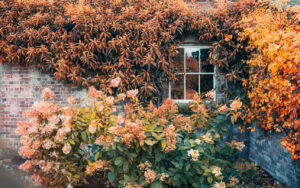 When we think about the best time to sell a home, we tend to land on spring followed by summer. These are times when the weather is more favourable and families with school children may be more eager to pack up and move. But if you've missed the boat on these months, fear not – you might not think it, but autumn is a surprisingly great time to put your home on the market. If you're selling your home in autumn and want to maximise the sale, take a look at these tried-and-tested tips.
Is autumn a good time to sell a house?
As with any season, there are pros and cons. Selling in autumn presents unique challenges, but it opens up the market for those that may not have been looking in summer. The desire to be settled in by Christmas can motivate buyers to ramp up their search, and it's a good time for families back from the summer holidays to look for their next property.
This time of year is marked by cooler weather, changing leaves and shorter days. You can play up the seasonal atmosphere to make your home feel warm and welcoming.
On the other hand, the drab and gloomy weather and shorter days can make viewings difficult. The falling leaves can make it hard to keep up with autumn kerb appeal, and busy work and school schedules can deter some buyers from the market. But is autumn the best season to sell a house? It depends.
Tips for selling your home in autumn
Create a warm first impression
As the cold weather creeps up and temperatures drop, it's more important than ever to create a warm and welcoming atmosphere for potential buyers. The first thing we do when we get in from the rain and cold is take off boots and coats and leave them by the door with a dripping umbrella. Make sure there's a place for these wet items and that there are no musty or damp smells present.
Illuminate, illuminate, illuminate
In autumn and winter, lighting is key. Natural light will be waning, so you'll need well-placed lights to create an ambience the viewer won't want to leave. Ideally, use standing or table lamps rather than harsher overhead lighting. Soft lighting from candles and fairy lights can also help set the scene.
Also keep in mind that once the clocks change (Sunday, 29th October), it can get as dark as early as 4pm, so turn on exterior lighting for afternoon viewings.
Play up the cosiness
'Tis the season of comfort. With the temperature dropping and nights drawing in, people are spending more time snuggled up inside. Make sure your home is cosy and comfortable to give buyers that warm and fuzzy feeling the second they step inside.
For many of us, it's the first time in months that we've used the heating. Check it works well before viewings begin. We recommend turning the heating on at least half an hour before any viewings (you can ask your agent to do this if you won't be around). If you have a fireplace or woodburning stove, it's a good idea to get this on too.
Don't forget that buying a property is an emotional decision, so it's important to do what you can to make your viewers feel warm, comfortable and 'at home'.
Embrace autumnal interiors
Autumn is a time for snuggling up and keeping warm, so reflecting this in your home décor could pass some strong subliminal messaging to potential buyers. There's no need to splash out here, but a few seasonal hints can make a big difference to make a house feel like a home.
Take nature's lead and introduce some autumnal colours (think deep reds, oranges, browns and greens). The simplest way to do this is with cushions, throws and sprinklings of home décor accessories.
Brush up the kerb appeal
Some of the most important autumnal clean–up tasks to do before selling a home include:
Raking leaves
Removing loose branches
Trimming back bushes and shrubs
Mowing the lawn
Keep the outside as tidy as possible. There are some great autumnal flowers that bloom throughout this season – chrysanthemums and marigolds – to fill flowerbeds or plant pots.
If you live in a flat, always sweep the communal stairway before the viewing.
These same rules apply all year round when selling your home
The same basic principles apply all year round:
Ensure your property is clean before each viewing;
Declutter and remove excess furniture and bulky items beforehand, as they will impact a potential purchaser's view of the space available;
Remove personal items such as photographs and certificates to help viewers envision themselves in the space.
Start selling your home in autumn
Selling a house in autumn doesn't have to be difficult. Find out how much your home could be worth instantly with our online house valuation tool.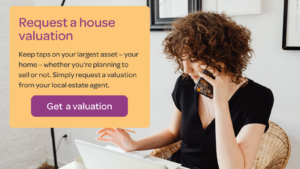 When you're ready to put your house on the market or are interested in a more accurate figure, simply book your free house valuation from a trusted estate agent.