Playing a vital role in the celebrations, here's how to add a special sprinkle of festivity to the kitchen this Christmas.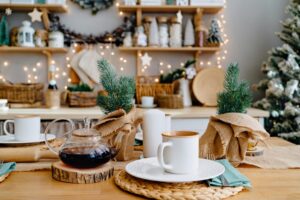 Make it sparkle
Add a touch of Christmas magic to your existing light fittings by turning them into a festive chandelier. Attach baubles to your fittings, and wrap tinsel around plastic lead. For a little extra sparkle, attach miniature disco balls alongside the baubles, and smile as they cast their glimmer across your kitchen!
Make it shine
Nothing says Christmas quite like the glimmer of fairy lights!
For an inviting, homely look, place them in the window for passers-by to admire. For a more creative Christmas kitchen idea, combine the spirit of your kitchen with the yuletide joy by bundling up lights into festive jars and bottles; garnish the rims with a bright red bow. It's a fun and festive way to decorate your kitchen—and it'll give you a great excuse to finish off that bottle of port that's been lurking at the back of the cupboard since last December!
Make it themed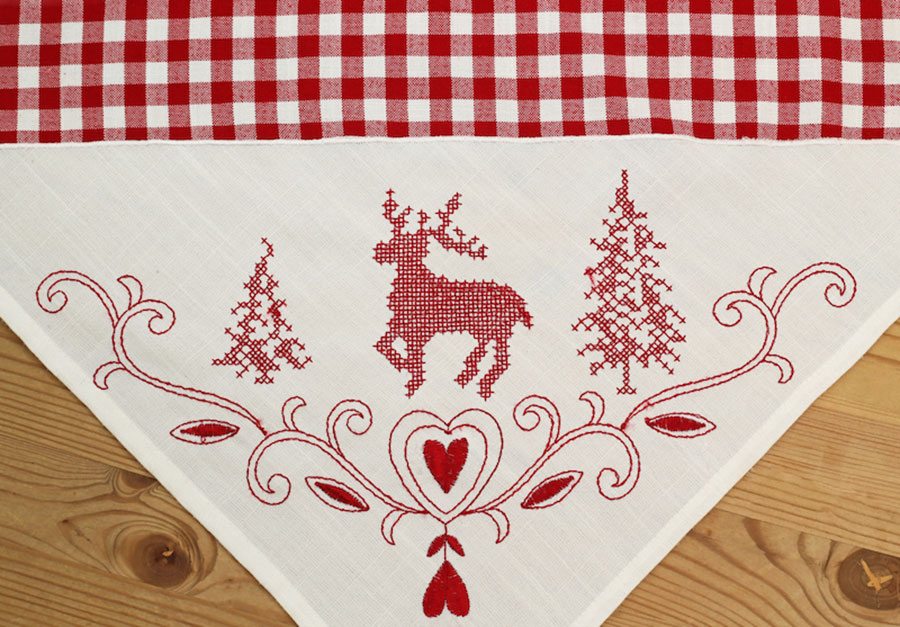 An instant, easy Christmas kitchen decorating idea comes from replacing your everyday items with something with a little festive sparkle. You might already have special Christmas bed linen, but have you ever thought of swapping out your ordinary tea towels for something a little more special in December? If you're too busy to get crafty in the run-up to Christmas, find yourself some themed tea towels to hang up in the kitchen. It's a simple way to give your kitchen a festive makeover without committing to hours of glueing and sticking!
Make it smell great
It only takes the scent of wine mulling or turkey roasting to put anyone in the festive spirit. Evoke an immediate reaction from your guests by filling your kitchen with the scents of Christmas!
For a Christmas kitchen decorating idea that uses the ghost of Christmas smells past, place bundles of cinnamon sticks and sprigs of rosemary in jam jars, garnish your containers with a twist of festive ribbon, and inhale as your kitchen fills with the wonderful scents of December. It's also a great idea to get your home smelling great when potential buyers are visiting – just one of the many ways you can help your home stand out this festive season.
Make it taste great
What is it we love about Christmas? Well, aside from the presents, the decorations, the time spent with loved ones, and peace and goodwill to all men…it's the food! Everyone has a sweet spot for Christmas goodies: whether it's a cheeky mince pie (or five), the big box of Quality Street, or the perfect roasties.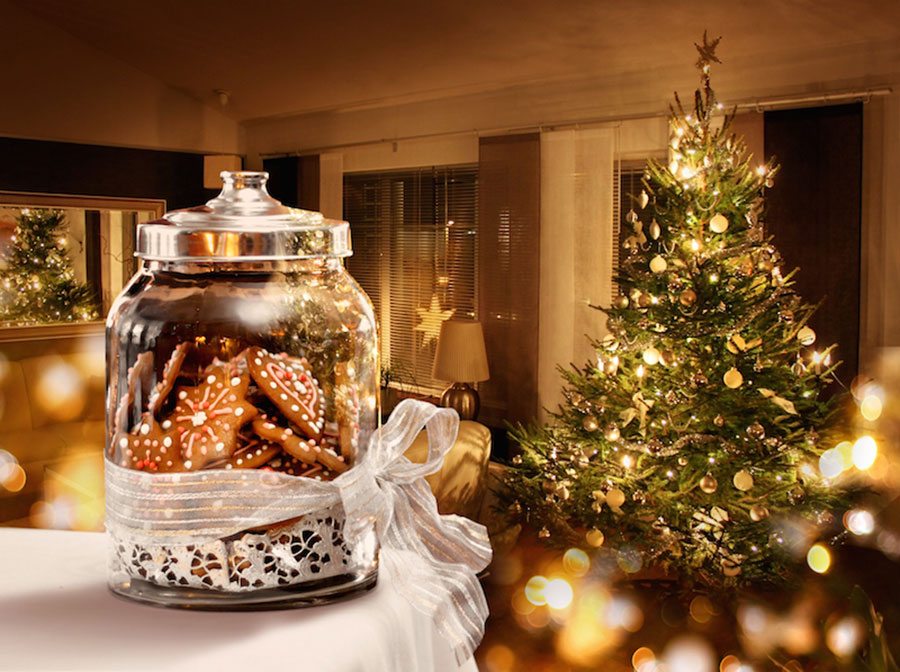 Luckily, a lot of our Christmas foodie treats are as good to look at as they are to eat. A Christmas kitchen idea that everyone is sure to love is a festive snack station. Keep a vase fully stocked with candy canes and colourful sweeties; you can add visual appeal to the mouth-watering appearance by putting baubles in the bowl too. Just remember which parts are edible and which aren't!
Make it classic
For a truly traditional Christmas kitchen decoration, take period inspiration from the Victorians to create beautiful dried fruit garlands. These decorations have become more and more popular in recent years; you might have spotted them on stalls at Christmas markets, but they're easy to recreate for yourself.
Make your own by slicing up oranges and limes and leaving them to dry out—either on a radiator over a few days, or on a very low heat in the oven. Slide them onto a length of twine, adding cinnamon sticks, ribbons, and rolled up strips of music paper. It's the perfect garland to give your kitchen a timeless Christmas feel that could have stepped straight from the pages of a Dickens novel!
Make it a family activity
If you're struggling to get into the spirit, there's no better way to feel festive than spending some family time making Christmas kitchen decorations.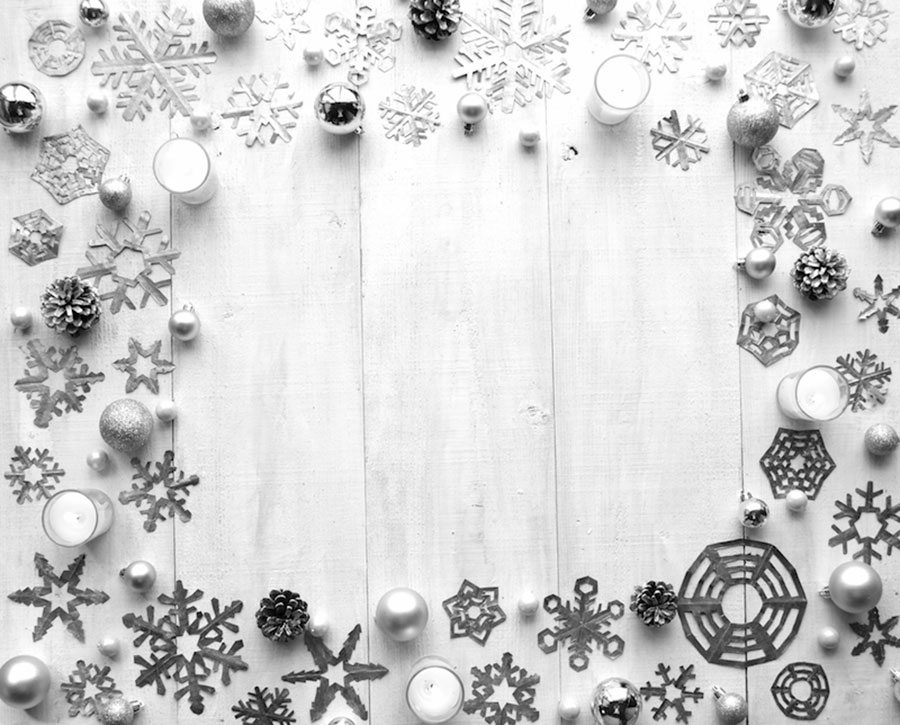 We all learned how to make snowflakes out of paper at primary school, so bring that inner child out and get snipping! Decorate your snowflakes with glitter and stick them to the windows with white-tac. The wonderful thing about your snowflake decorations is that each one is slightly different. It makes for a really fun family activity, and kids will love to spot their snowflakes on the window amongst your snowflake family. For an extra slice of family magic, invest in some metallic pens to write each person's name on their snowflake.
For a more advanced Christmas kitchen decorating idea, try creating a 'snow scene' in the same way. Trace out the skyline of your Christmas village (complete with fir trees!) along the bottom of a piece of paper before cutting it out. You can wrap your snow scene around a jam jar to create a festive candleholder or lay it flat along the bottom of your window and secure it in place.
Make it fun
Here's another Christmas kitchen decorating idea that the kids will love, and probably love to help with too!
Turn the fridge into your own never-ending snowman. Use coloured paper to draw him 'coal' eyes, a smile and buttons; a colourful scarf for his neck, and a carrot for his nose. Cut out all the parts and stick them to your fridge; it will transform your everyday essential appliance into an amazing Christmas kitchen decoration! For children in the midst of the Frozen craze, they'll love nothing more than having their very own Olaf in the kitchen for Christmas.
Make it yours
Give the chairs around your kitchen table a festive makeover with this Christmas kitchen decorating idea that will bring the whole family together.
Personalise a miniature stocking for every member of the family, and hang it on the chair they usually sit in. Now, throughout December, the whole family can play at 'Advent Angels', leaving little surprises in each other's stockings to be found at dinnertime! Spread the joy throughout your Christmas countdown with this memorable kitchen decoration; it's sure to result in some truly magical family moments.