When your home no longer suits your needs, you can either renovate or relocate. But which is right for you?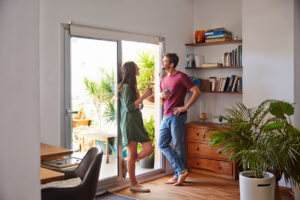 Forty per cent of Brits agree that moving is the most stressful life event – but is living in a construction zone any easier? If you're a homeowner whose home is no longer working for you, you have two options: improve or move. While many would rather make home improvements to their current property rather than put a deposit on a new one, that doesn't mean renovating is always the smarter option.  
To help you answer the question of "Should I extend my house or move?" here's what to consider about renovating and selling. 
Should I renovate my house or sell? 
Both moving and renovating can be stressful and costly. To decide on whether you should improve or move house, take these four points into account.  
1. Cost 
For many Brits, the cost is a major factor in home improvement decisions. Whether or not it's cheaper to renovate or relocate will depend on your current mortgage situation and the cash reserves you have. Renovations come with immediate, out-of-pocket expenses, whereas moving house can cost more down the line.  
For a 3-bed house renovation, you can expect to pay between £38,000 to £74,000, depending on the location and what you need. Renovating your home to make it more comfortable for your needs – such as extending or fitting a new kitchen – can be expensive, but they add value to your property. Just be aware of your area's ceiling price – if you overspend on improvements, you may not recoup the costs if you sell in the future.  
2. Location 
While it may be possible for you to stay in your current neighbourhood, if you're looking for more space without going over budget, you may have to consider moving out of the area. If you have children in school or a short commute to work, weigh up how relocating will impact your family's daily life. 
That said, if you currently have problems with the quality of local schools or transport links, these issues will still exist after the renovations are complete. You may look at this as an opportunity to move to an area that's best for your family.  
3. Market conditions 
Is now a good time to sell? When should you sell your house? Even if it's cheaper for you to sell your house as opposed to making home improvements, will you be getting the most out of your investment? While there's no "perfect" time to sell, you can choose to put your property on the market during that sweet spot when there is plenty of activity and interest.  
Of course, all of this depends on your personal factors. If you can't wait until the market heats up, you may want to list your property or call the home improvement professionals round. 
4. Timing 
Neither option is disruption-free. Not only is moving stressful, it's also not always feasible given other life events. Moving house may mean changing schools, commute routes and mortgage costs.  
On the other hand, renovating your house introduces contractor chaos. Having builders in your home for weeks or months isn't fun while you're still living there. For some, that's reason enough to start packing up the boxes.  
If you live in temporary accommodation to minimise the stress, you'll be looking at additional costs.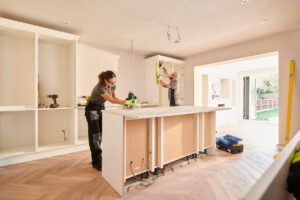 Move or improve questions to consider: 
Is your property suitable for a renovation? 
It's never a great situation to be in, but some properties aren't malleable to every home design. Some may have already pushed the boundaries either don't have space left to extend or are unlikely to gain planning permission, while others will lose the character and charm that makes the home loveable.  
Before you decide, talk to an architect to find out what can and can't be done. 
This might sound daft, but many people think that selling their house is all a logical decision. Yet, there are so many additional influences, such as your emotional attachment. It may be the place where your daughter took her first step or where your parent aged. Consider the weight of these emotional implications, both on you and your other family members.  
Conversely, however, if you're certain that you want to up sticks, moving home is your best option. If you're unhappy in the area or simply need space you can't find in your current property, a shiny new remodel won't make it any better.   
Should I extend my house or move? Or both? 
Why choose between renovating or relocating when you can get the best of both worlds? You can use your need for a remodel to sell your home faster and for a higher price. Making changes can be as good as money in the bank – if you choose the right home improvements. Those juicy improvements like extending and a new kitchen/bathroom will give you a better ROI, but you will need time and money to see it through.  
Updating your home with the intention to sell it in the near future will increase the interest level from prospective buyers and could help you to raise funds to put yourself in a better financial position to move. This is worth considering if you have the time and funds to spare. 
Be ready to improve or move
Keen to sell? Start by getting an online house valuation. Then, get the ball rolling with a free house valuation from local, trusted estate agents. Simply enter your details, pick a handful of agents you'd like to value your property, and they'll be in touch to arrange a date and time. It's free and there's no obligation. That way, you can make the right decision of whether to improve or move home.