Vamp up your space with affordable luxury home décor items and styling tips to make your home look more expensive – without the outrageous price tag.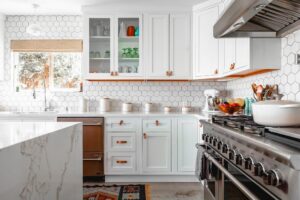 You know those home tours and stylish spaces that just feel more expensive? Well, we're here to tell you that only a few of these touches are necessary to make your home look luxurious – even when wrangling a shoestring budget. If your home is lacking luxe, a few tricks of the interior design trade will transform your space into one your guests will rave over. From affordable home décor to afternoon DIY tasks, here's how to make your home look more expensive.
Tricks on how to make your home look luxurious
Upgrade your hardware
You've probably heard this one before, but for good reason. Switching out the standard hardware for something more modern and chic will immediately elevate the space for just pennies. While the kitchen cabinets are the most obvious place to start, don't forget to tend to your bathroom vanity and bedroom furniture handles.
Add a fresh coat
Nothing quite personalises a space more than perfectly hued walls. A fresh coat of paint is an easy DIY task, affordable and promises to have a major impact. For that extra richness, paint the walls and trim the same colour. It simplifies the room's architectural details and allows you to go bolder with your choice of paint without the contrasting stark white trim.
Use neutrals…
It's a tale as old as time: neutral colours are elegant. To achieve a luxury home interior is to work with several neutral colours rather than one (which can leave your space feeling blah and boring). Use different shades of taupe, pastels and natural hues for anything that's expensive to update, such as floors, furniture and fixtures. This neutral base lets the colour accents take centre stage. Through affordable luxury home décor, you can then introduce bold and seasonal colours.
…But don't be afraid of colour
Not all lavish homes are palettes of beige and white. Kick up the contrast and add some serious richness with bold hues. Colourful cushions on the sofa are a great way to ease into it, but you can go further to make your home feel more expensive with wall, cabinet and décor colours. A dark green living room, a bold blue island or wallpapered accent walls add a dramatic change without the dollars.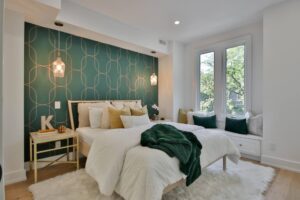 Incorporate texture
When in doubt, mix it up. Pull in various woods, metals, glass and woven materials to create a look that's collected, not matchy-matchy. The tactile feel of a velvet sofa, the soft satin cushion and reclaimed wood table carve out dimensions that you can not only see but feel.
Paint kitchen cabinets
You can revive any kitchen and make it look more luxurious by painting the wooden cabinet doors. Now that you've replaced the handles and pulls, the doors and drawers themselves could benefit from an injection of colour. Dark cabinetry with light countertops adds richness into a simple kitchen, though if you're in favour of neutrals, go for a dove grey or warm white for that touch of sophistication.
Upgrade your banister
Sure, they're not the most exciting piece of your home, but banisters are all too often overlooked. They instantly date a property and they're something every guest interacts with. Tend to this under-the-radar detail by giving it a lick of paint or installing a natural wooden one. It's an easy way to add some opulence to an otherwise sedate area.
Create the illusion of higher ceilings
Soaring ceiling heights are striking features in many luxury homes. While we're not suggesting you put your walls on stilts, you can fake it to make your walls appear stretched. Start by hanging curtain rods closer to the ceiling and opt for long, flowing drapes to give the room an airy, grand and tall feel.
Complement with statement lighting
Have you ever seen a luxury home interior with an eyesore overhead light fixture? No, we haven't either. Take heed from those lavish properties that make full use of grand statement lighting to add ambience. Lamps, ceiling pendants and those impressive statement lights polish off the room.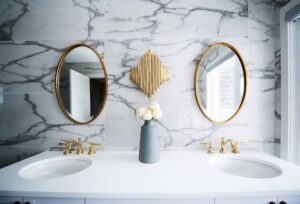 Bounce light around the room with mirrors
It's the oldest trick in the book, but mirrors are a great way to create space. When strategically placed, mirrors make a room feel bigger and brighter, necessary to convey luxury. Mirrors are your friend, and especially if your home lacks square footage and/or your budget is tight, they can be your very best friend. Place them on large walls, above the mantel or in dead spaces to zhuzh it up.
Find your affordable luxury décor
Whether you're preparing to sell your home or want to know how to make your home look more luxurious to enjoy it, make sure to utilise these DIY tips and affordable home décor buys. When you're ready to sell, simply request a free house valuation from trusted local agents.