Take the next step up the property ladder with these tips for first-time selling.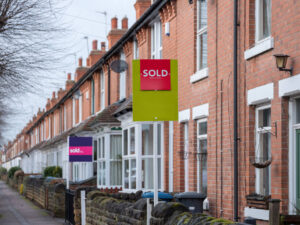 While you've undoubtedly heard the phrase 'first-time buyer' when talking about property, what about 'first-time sellers'? It's easy to forget that selling a home for the first time can spark the same kind of uncertain emotions as when you bought your first property.  
When you bought your current home, you were most likely overwhelmed with the jargon, complexity and stress of the process and commitment. And with a sale and a purchase to juggle, it's natural to feel bamboozled by your next step on the ladder. There's a lot of information to take in – but doing some research and familiarising yourself with the home selling process will hold you in good stead.  
Selling your home for the first time
Although every sales process will vary, most property transactions go through the same process. Selling can be stressful, but there are ways to keep it (and yourself) on track.  
Look at your finances
So, you've decided to sell. If you're selling a house with a mortgage, look at your agreement and balance to see how much remains on your loan and if there are early repayment penalties.  
If you're buying your next property, work out how much you could borrow. 
You'll also need to factor in the costs of selling your home, from repairs to conveyancing to removals.  
Get your home ready for the market
'Staging' your property is key when selling. To do so effectively, you should put yourself in the shoes of your potential buyers. Would your home attract a single professional, a budding or established family? Stage your home in a way that will attract whoever you think your buyer is likely to be.  
Generally, the more neutral, the better. Remove all personal effects on the wall and photos – the buyer needs to envision themselves in the space. Keep it tidy and make minor repairs. Also consider your property's appearance from the front – first impressions really do count.  
Instruct an agent
When selling your home, selecting an estate agent is one of the most important decisions. You'll want an agent who knows the local area and has experience in selling your type of house. Get to know your local agents by requesting a full house valuation where you can ask agents questions to learn more about their services.  
Set your sale price
To sell your home, you will need to get your property valued so you can set a sale price. A house valuation will give you a guide and recommend a price, but ultimately, it's your decision. Work with your Estate agent who knows the local market and demand. Keep stamp duty brackets in mind as the buyer will take this into consideration.  
What is the right listing price?

 
It's an agonising question when selling your home, as the importance of a successful sale lies in pricing the property right. Listing it for sale at a higher price than what it's worth puts you at risk of not selling it. Listing it too low, and you leave money on the table. If you start high, work with your agent to not overshoot. 
Get an energy performance certificate (EPC)
Every home for sale needs an energy performance certificate (EPC) to be drawn up. This tells the buyer how energy efficient the property is and offers an idea of potential energy costs.  
Your estate agent will organise EPC, or you can arrange it yourself and send your agent the certificate.  
Choose a solicitor
You'll need to decide on a solicitor to help sell your home. They are needed to register the buyer as the new legal owners of the property.  
Like an estate agent, choosing the right solicitor can mean the difference between a quick sale or a slow, painful process. Seek recommendations from friends and family. Check their credentials and make sure you fully understand their fee structure. 
Wait for an offer
The process of selling is very much a waiting game. You may have initial interest but offers can easily fall through so try not to get too excited when you receive an offer.  
Consider any offer, no matter how unreasonable it might seem at first. Think about what you need from a home sale before rejecting any offer outright. If you're certain an offer won't work for you, politely decline through your agent. If you're happy with an offer, let your agent know and they will tell the buyer it's been formally accepted.  
Negotiate the contract
Once you have received an offer, it's time to negotiate. Work through the terms with your solicitor – everything from fixtures and fittings included in the sale to how long it'll take to complete.  
Exchange
An exchange is when the final contracts are signed and exchanged between acting legal parties. It's when the sale becomes legally binding, so it's a big moment for both buyer and seller. It also means there's no going back (without legal action and significant costs). If the buyer pulls out, they'll lose their deposit.  
Complete
During the exchange, you would've agreed a completion date. You'll need to move out by the completion date. Your solicitor will register the transfer of ownership with the land registry and the monies and deed will be transferred. Your estate agent will hand over the keys to your buyer. Then – congratulations – you've just sold your first house. 
Should I sell first, buy first or do both at the same time?
There's no one solution to suit everyone. There are advantages and disadvantages to all three options. Ultimately, you can aim to do both at the same time if you're in a chain. To become a more attractive buyer, be sure to get your home valued and get your property on the market. 
List your home for sale
Ready to value your home? To start selling, request a couple of different home valuations from local estate agents to get the ball rolling. With the help of this guide, you'll know your next steps of selling your home for the first time. 
Happy selling!