While there is never a bad time to sell your home, taking advantage of buyer interest in property hotspots could indicate now's the ideal time to sell.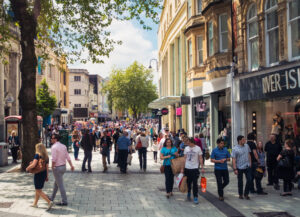 The sun is shining, and spring is upon us. And with it, a significant uptick in people looking to buy a home. In this ever-changing market, the UK property market remains competitive.  
Across the board, average asking prices rose by a healthy 0.9% (+£3,301) in January after two months of decline, marking the biggest increase since 2020. There's a clear indication that sellers are eager to test the waters and see what the market has in store for them this year. So, where are the property hotspots in the UK and, more importantly, is your home in one of them? This could give you something to think about in terms of selling your home. 
Is my location in demand?
According to recent data, the following areas have seen a jump in demand: 
Homeowners in Wales have seen the biggest growth in average asking prices at +27%, making it one of the best-performing areas for homeowners. From the coast to cities to mountains and more, there is plenty of places to explore in this country. Even with region and sector variations, Wales saw the full benefit of the rise in home values.  
Hulme, Greater Manchester
A big-hitter across the board, Hulme in the North West has become hot for those looking for a more affordable alternative to city life. And even with a 26% increase over the last year, it still remains a place to make your money go further. It's highly rated as a 'happy' place to live and benefits from the two major cities of Liverpool and Manchester in easy reach.  
This former coal mining town has a rich history with excellent transport links to Nottingham and Birmingham. It has a wide variety of shops, good school and GP provisions, is in easy access to beautiful countryside and great transport links. The good proportion of homes are great value for money, despite the increase by 29% in the last year. 
Is my home in demand?
Homes of all sizes are popular at the minute, with first-time buyers and empty-nesters looking for one- and two-bedroom flats. And in this search for space, two+ bedroom homes continue to spike. Five-bedroom properties have seen the biggest rise in sales in the last year, followed by four-bedroom homes. In particular, the pandemic has brought a big rise in demand for detached properties.  
How we can help
The moving frenzy means that the total available properties on an agent's book has dropped, while the number of sold houses has risen. Sellers have a stifling amount of interest at the moment, and they can afford to be picky. In essence, if you're looking to buy in this hot market, be prepared to act fast and get ahead of the competition. Prepare your documents, line up a solicitor and leave your running shoes by the front door – be prepared to view a house instantly. 
Curious to see what your home is worth? Book a free valuation. 
In short…
Flats remain popular among first-time buyers and empty nesters. 

 

When buying, put yourself in the best possible position before requesting a viewing –

calculate your budget,

get a mortgage in principle and act quickly. 

 

When thinking of selling,

book a free valuation

from trusted estate agents.

 

There's never a bad time to sell, but you can take advantage of the buyer interest.