You've looked at the best sold house prices in your area, and you want your home to perform as well as it can on the market. When it comes to putting a house on the market, many will be familiar with the common dilemma whereby sellers want to ensure their house gives off a great first impression but don't spend over the odds in doing so.
There are some simple ways to do this, including giving the walls a quick lick of paint, having a good cleaning blitz and removing clutter, tidying up the garden and finishing off those small unfinished DIY jobs. Individually they are small and relatively inexpensive jobs but they will certainly contribute to the overall look and feel of the house.
If you want to do something a little bit different that will make your interior stand out then why not add a few new, unique pieces that won't cost you the earth but can work as the statement piece of the room? Up & Up Cycling, when done properly, can provide the ultimate finishing touch to a room as well as creating a lasting impression. What's more it's should be viewed as an investment too as the completed product is something that you can take with you."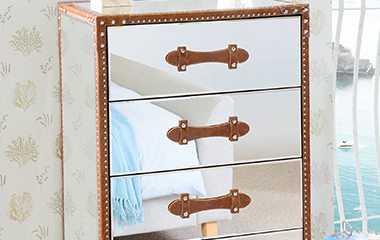 Mark Kelly, Marketing Manager at Furniture123, provides the following top tips for the most effective Up & Up Cycling:
1) Up & Up Cycling is the process of buying new but affordable furniture and reworking the pieces to create something that's totally unique and hopefully eye-catching, for your home. The benefit of renovating new furniture is that it can often cost the same amount as some vintage or antique pieces yet it is built to last and can be much easier to work with.
2) It's best to choose something simple to start with, I would recommend items such as bedside cabinets or dressing tables in pine. All of these items would be ideal for Up & Up Cycling, firstly because they are made from Pine, which is a great base to work with and secondly because they are the most straightforward pieces to work with.
3) Select your look. There are a great many popular trends for 2015, in terms of style and colour. Choose a look that will complement your decor and that you feel confident you will be able to pull off. We suggest looking at popular styles, including Shabby Chic, Retro, Industrial, Contemporary, Modern Classic.
4) Equip yourself with all the essential tools along with a firm idea of what you hope to create – an image or two isn't a bad idea. As for tools, if you're going to be painting you'll need sandpaper (if using oil or acrylic paint), brushes, Paint – Chalk paint works well, you don't need to prep the surface but remember you'll need to wax it after, and both Oil and Acrylic Eggshell paint are good options. It's worth trying to use materials you have in the house before buying new, wherever possible.
5) Paint in a well ventilated area and leave to dry in a suitable space. Once it's dry you can start adding the finishing touches, this might involve rubbing down the surface to create a distressed look, adding metal studs for an industrial feel or changing any handles or knobs  to add that unique touch. Lots of interiors magazines and DIY blogs offer great inspiration with regards to this so it's always worth checking them out before you make a start.
6) Once finished make sure you select the perfect place to position your Up & Up Cycled masterpiece. Re-arrange other furniture where necessary, to make space for it and add some small non-personal accessories to add that extra bit of interest!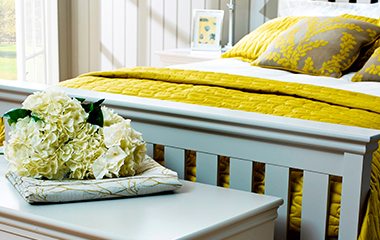 The most commonly up and up cycled furniture according to the research is:
1. Bed Frames – 68%
2. Wardrobes – 51%
3. Storage Boxes – 48%
4. Coffee Tables – 45%
5. Vanity Tables – 37%
See here for a few more tips on how to get your home ready for viewings.