Interior design bloggers are a major force in the interior design world, and we can see why. They showcase the latest trends and inspire us with their own beautiful homes, whether we're on a shoestring budget or want to splash out.
We asked our ten favourite interior bloggers five questions, so you can get to know them a little better!
1. Why did you start blogging?
2. What is your top kitchen design tip?
3. Why do you love interior design?
4. How does your home inspire you?
5. If you could sum up your dream property in three words, what would they be?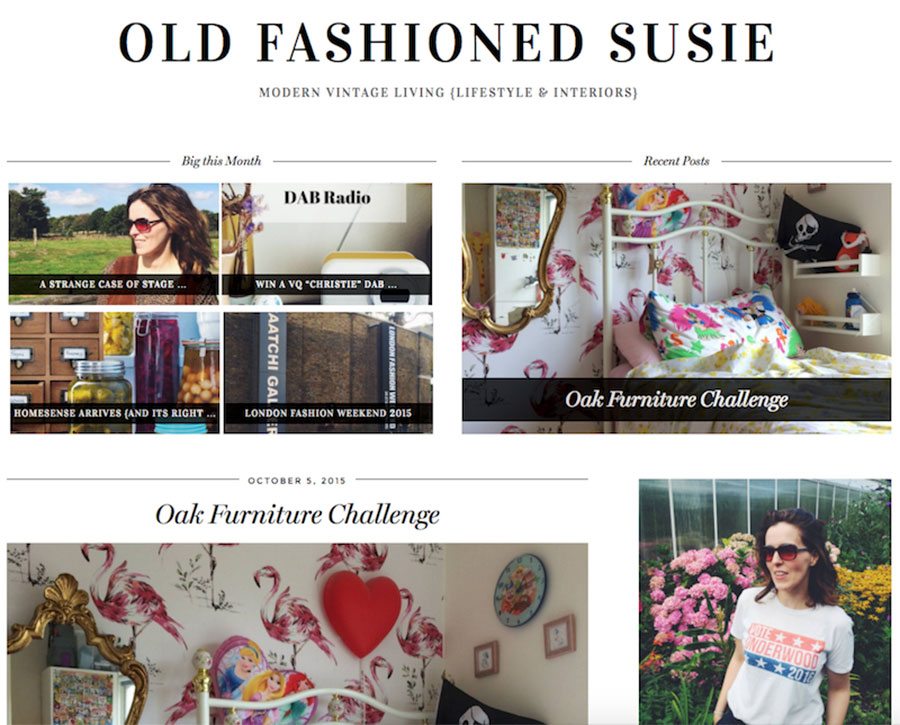 Susie (www.oldfashionedsusie.com) is a blogger from Manchester and loves everything vintage.
1. I started blogging to reach like-minded people after having my first child. It was a place just to be me away from the craziness of child rearing.
2. Ah, well we had our kitchen totally transformed in January of this year, it went from being unlivable to my favourite room in the house. The 'golden triangle' is key to that (fridge, sink, and cooker) so everything is within reach. We also have rails and open shelves in our kitchen, I love these, again for ease of getting things but also for display – great for personalising your space.
3. I love it because it's a way of being creative within the space where you live. It's a way of expressing your likes, loves, your collections and memories.
4. My home brings a smile to my face every single day. It's my nest where I love to come back to and bring friends and family into. It literally is my castle and I love it!
5. Coastal, eclectic, cosy.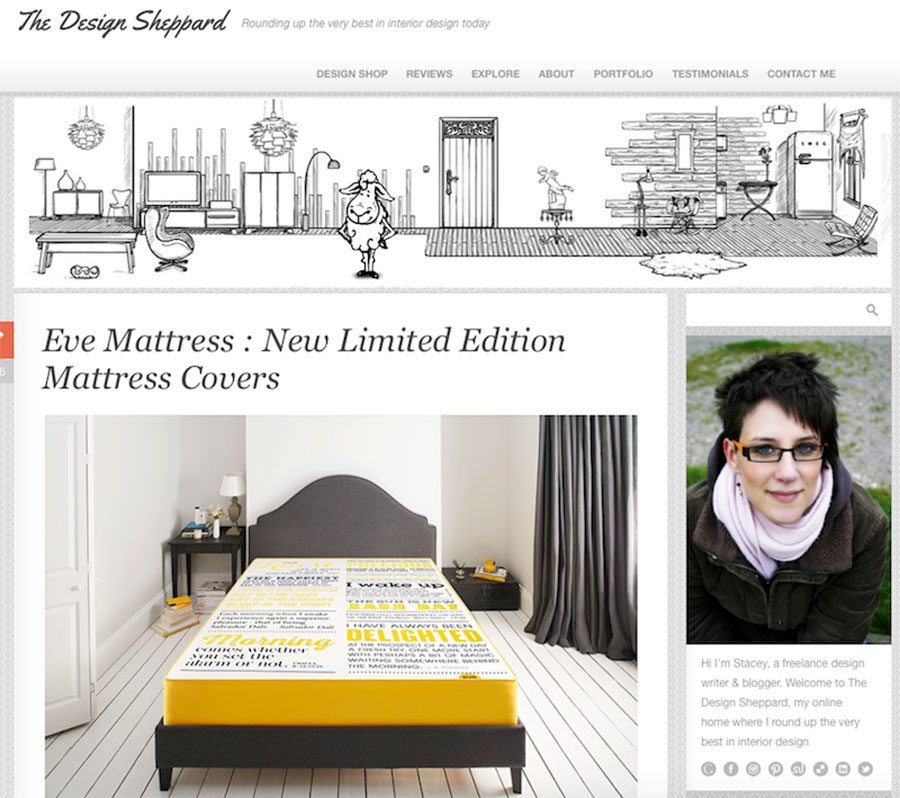 Stacey (www.thedesignsheppard.com) is a freelance writer and blogger from Devon.
1. I discovered the world of design and architecture whilst working as staff writer for a monthly B2B publication called Designer Kitchen & Bathroom Magazine. Since that time I have become an avid follower of the design world and I have developed a real passion for residential interior design in particular. I originally set up The Design Sheppard as a way to round up all the inspirational and innovative projects, products, concepts and design events that I came across whilst conducting research for the articles that I write. But before long it took off and I enjoyed the freedom of being able to write about whatever takes my fancy.
2. The most important thing to remember when it comes to kitchen design is, in my opinion, is making sure you plan for enough storage. The kitchen doesn't just need to look nice, it also has to be functional and practical so you should make clever use of all of the available space to ensure that you have enough storage and the workspace doesn't get too cluttered. For example, instead of leaving a gap above the overhead cupboards that will serve no purpose but to gather dust, you could install them flush against the ceiling and avoid wasting that space.
3. Most of us spend a great deal of our free time at home so it's important that the space we inhabit makes us feel good and makes us feel as though we belong. Interior design has the power to do this. It allows us to put our own stamp on a space and express our individuality.
4. To be quite honest it doesn't at the moment. We bought our first home together in October 2013 and our daughter arrived that December. So as you can imagine we haven't had the opportunity to get a great deal done. With our second child due to arrive this November, I'm afraid home renovation projects are once again on the back burner. We've done some minor decorating of course, but I'm itching to get started on the big projects like the kitchen and the bathroom. Maybe later next year!
5. Spacious, industrial, and bright.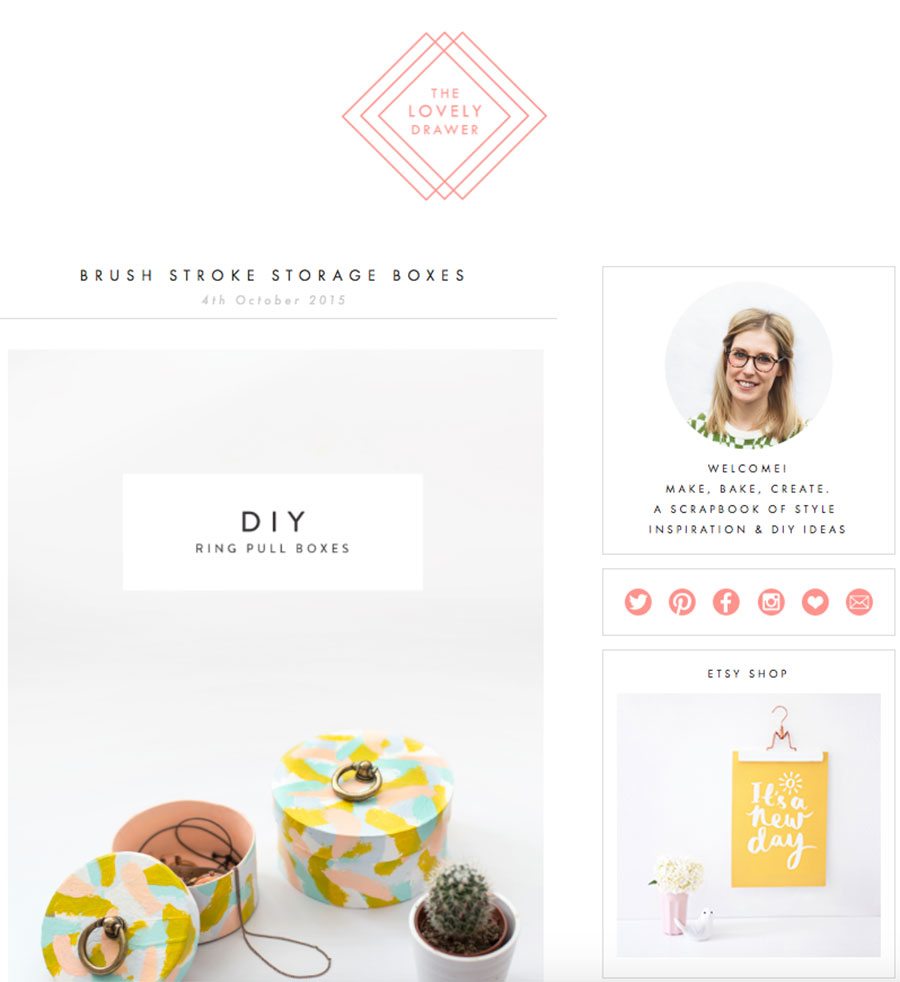 Teri (www.thelovelydrawer.com) is trained in print and surface pattern design and lives in London.
1. I started blogging as a creative outlet. I was an in-house designer but felt like I wanted to stretch myself and have a place to record all my projects and inspiration. It was very much a hobby back then and I had no idea I'd still be doing it four and a half years later as a part of my job.
2. Think about the surface you're using for the worktops. Just because it looks nice, doesn't mean it's practical or durable. I love our previous wooden work tops but they weren't good with a lot of moisture, so the sink area took some battering. It's now a small tiled worktop which looks quite unique but the grouting is terrible to clean, so it ends up looking grubby most of the time!
3. I've always loved interior design. They were always my favourite programmes growing up and I still get drawn to images of interiors on Pinterest over any other. I love the whole concept of transformation, making something a bit dull into a home product or a space that's really striking. I also enjoy using new trends alongside my own personal style, to create something desirable, with my own stamp on it.
4. My flat has great light, high ceilings and white walls, making what is in fact a small space seem spacious and airy. The light and feel in a place really affects my mood so this works perfectly for me and provides a blank canvas to update all the elements in my home when I want. The flat also has really clever built-in storage so I can easily hide my clutter away, creating a much more peaceful environment to live and work in.
5. White, light, character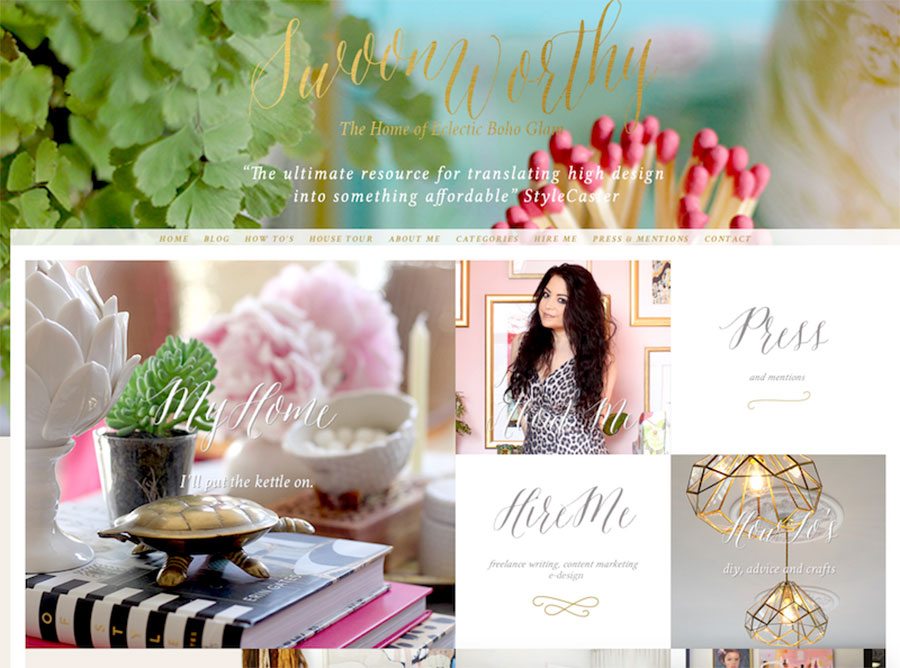 Kimberly (www.swoonworthy.co.uk) is from Manchester and describes her interior style as 'eclectic boho glam'.
1. I started the blog in 2010 when we moved into our Edwardian semi just outside of Manchester. I had been a blog reader for years and I thought it might be fun to catalogue the changes we were making on our own property. I had no idea at the time that it would grow to a full time career but it's been a great journey so far.
2. Make sure your kitchen works for how you live. So if you aren't a tidy person, then perhaps open shelving isn't for you. Or if you are a bit of a messy cook (like me!), then steer clear of high-maintenance finishes. It's great if it looks good but if it's not practical, you will notice it every time you make a meal!
3. I think interior design has the power to evoke emotion and rooms can make you feel a certain way. When you are in tune with your surroundings and it reflects you as a person, then you feel more secure and content. It's very powerful which is why I always say your home should be a reflection of you and not necessarily what you see in the latest magazine or on Pinterest.
4. My home is bold and colourful and eclectic and it makes me feel alive and creative. We all evolve as people and we should always be striving for better – I think my home is a reflection of that evolution.
5. Characterful, glam, unique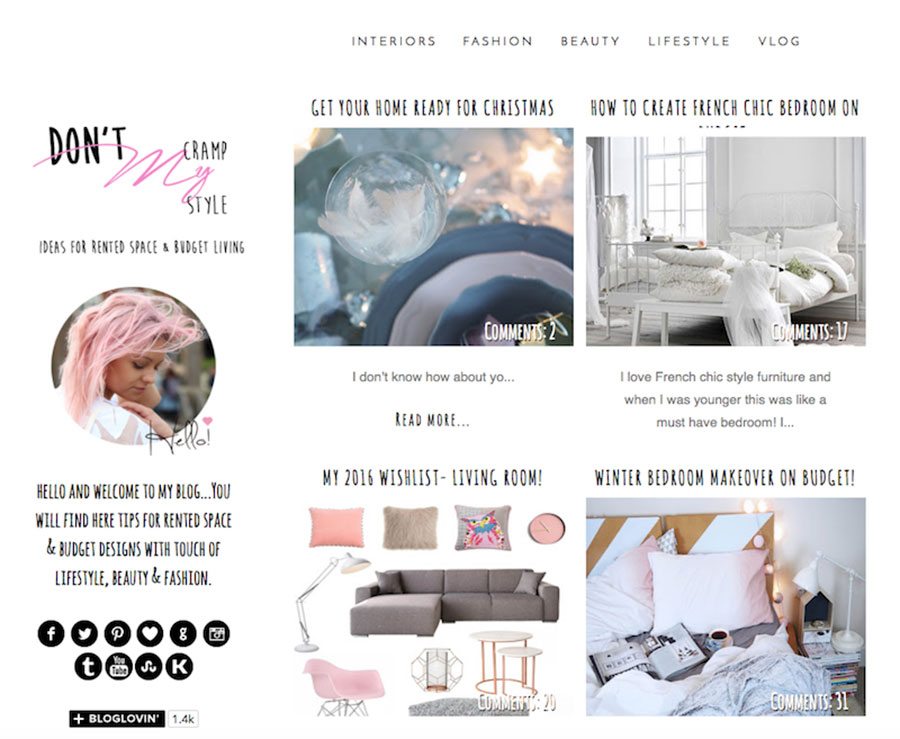 Anna (www.dontcrampmystyle.co.uk) has a degree in interiors and provides tips for rented spaces and DIY on a budget.
1. I design offices on a daily basis, and every day while doing work research, I was coming across beautiful spaces and inspirations, and I didn't want to lose it. So, I have created my very own space on the internet, where I can gather all my inspiration. I used to write articles for a small local newspaper, so it was amazing to write again, as I have always loved writing. I also loved to read other people's blogs and I wanted to have my own.
2. De-clutter and grow your own herbs! I think the nicest kitchens I've seen are those with smart storage, so you don't have things hanging around. I think it creates a mess, even if is tidy. Growing your own herbs in a nice planter will really make your kitchen look great, despite the style you have there.
3. I don't really know. I always felt the urge for changing and improving, and when I realised I had a passion for interiors I was full on that. It allows me to create and make things better. I live and breathe interiors and I can't imagine changing it now. I think being an interior designer is not only about creating pretty spaces, but we also have the power in our hands to make the world more sustainable. I am very into that!
4. Since I have created and designed my own corners in my rented apartment, it becomes my oasis and my space where I do create a lot of blog content. I watch my space and I find things to improve. I question myself very often, what I would change, what I need here. This allows me to help people like myself who live in a rented space and who need advice.
5. Industrial, pastel and functional. I love raw materials like concrete, brick and wood. My home would definitely have exposed these and the furniture would be mix of pastels with neutrals. I would also work the layout very carefully. I think functionality is the key.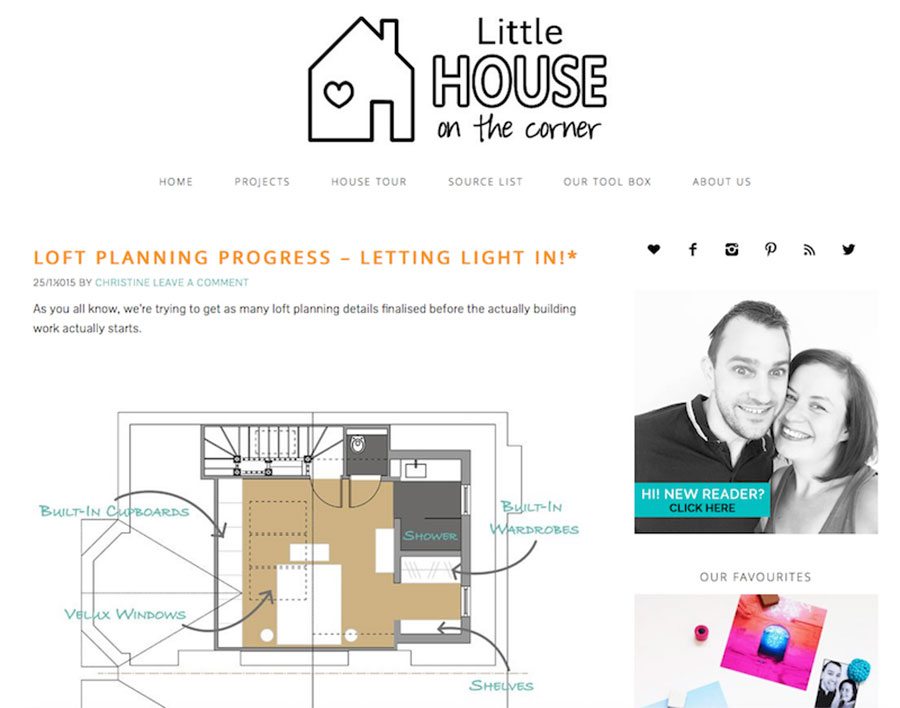 Christine and Jan (www.littlehouseonthecorner.com) are a duo who live in Manchester and blog about their renovation progress and DIY projects.
1. We have friends and family all over the world and having a blog is the easiest way to keep them all updated with our home improvement adventures. It's always a great way for us to keep track of our progress.
2. Have deep drawers instead of cupboards! No one likes to have to rummage around at the back of cupboards to find something. Having drawers makes storage so much easier.
3. Good design can turn your house into a home. It's often the simplest and easiest little things than can really transform your space.
4. Seeing how far we've come and what we've already managed to achieve is always motivating and inspiring.
5. Open plan, spacious, light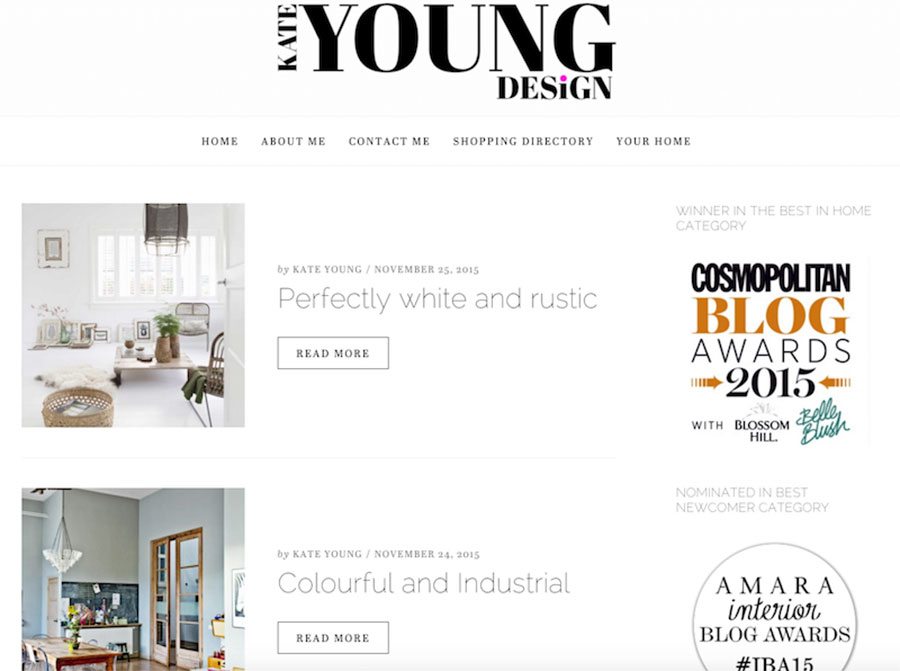 Kate Young (www.kateyoungdesign.com) is a French expat living in the UK. She has a love of vintage and quirky eclectic spaces. Recently she won the 'Best in Home' category at the Cosmopolitan Blog Awards 2015.
1. After years spent reading interior blogs I finally took the plunge and started Kate Young Design last April. The blog started as a way to collect and share anything that inspires me, whether it's a designer's portfolio, a gorgeous house, a great hotel, a fab place to have coffee, a fantastic product, or a beautiful shop.
2. I am not into clinical, minimal fitted kitchens! I see the kitchen as the heart of the home whatever size it may be (mine is the size of a postage stamp but I adore it!) My advice is treat it like another room in your house when decorating and planning. Think chandelier alongside concrete worktops, mix it all up for an eclectic feel, hang art on the walls, and if your kitchen is small then avoid wall cabinets and choose open storage instead. Above all, have fun. Don't feel constrained to follow rules and have a space you will want to spend hours in!
3. I was born and raised in France, as a child I used to thumb through the magazine Art et Decoration and pretend to design my own house – so you see my love of interior design began very early on! I believe your interior decor can be a real reflection of your personality, also, the smaller the house, the tighter the budget, the more creative you have to be. It's a creative challenge and I love that! I enjoy the whole design process, not just the end result.
4. My home is my sanctuary, my safe place, I can look around me and find comfort in the things I have acquired through the years, it's kind of therapeutic I suppose. The sight of familiar objects, photographs, even the smell makes me safe and relaxed and enables me to get inspired.
5. Just three? Ooooh, that's tough! Eclectic, monochrome loft.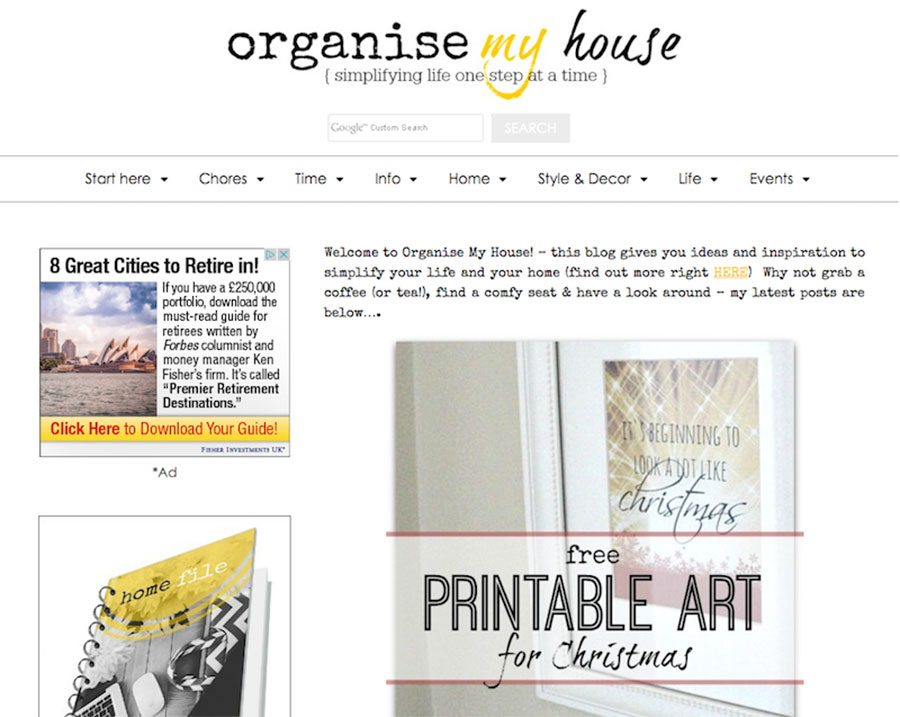 Chrissy (www.organisemyhouse.com) is from Cheshire and provides helpful articles to help you not only organise your home but your life too!
1. I started blogging to give me a creative outlet and to share all the ideas and inspiration I love to find and use in my job with as many people as possible. I love being able to help people make a difference to their lives – wherever they are in the world!
2. Work out where to put everything, and design your kitchen around that – as it will save you time in the long run. For example – put the dishwasher near the sink (as dishes tend to go there before being put in the dishwasher), and put your crockery/cutlery and pans in cupboards near the dishwasher so you don't have to move far when unloading it. Trust me – this saves hours each month!
3. It is a way to express yourself in your home, and make your home reflect exactly who you are. Interior design can be totally unique to you – and it never gets boring!
4. I love to have things around me that make me smile, make me feel comfortable, and function for my life. If these all work then I am free to enjoy my home and it allows me to live and work there happily.
5. Light / Space / Me.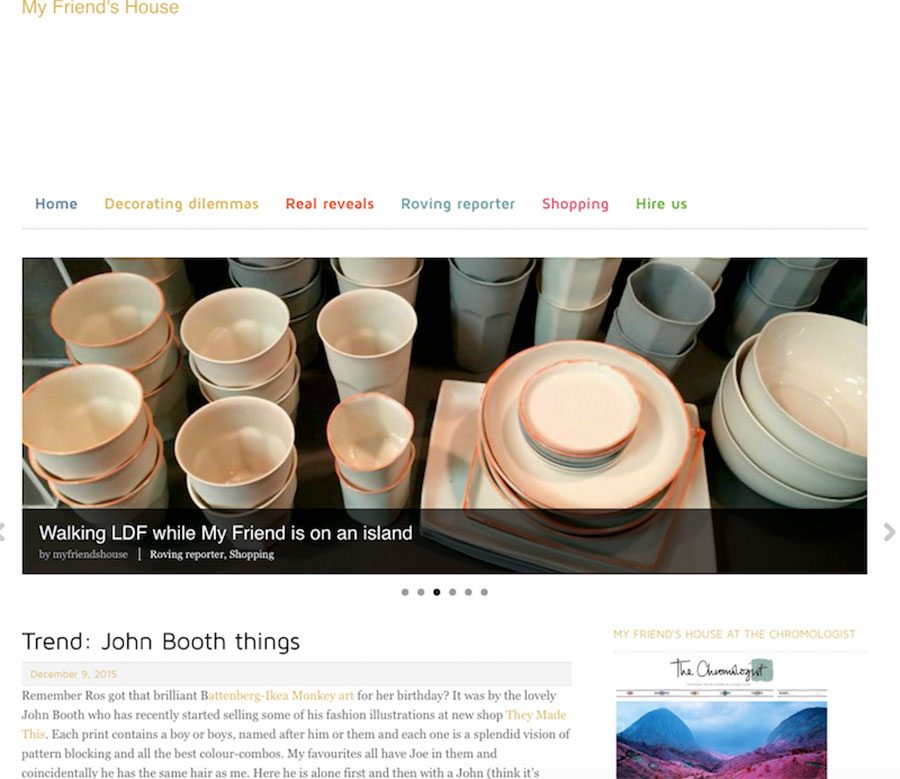 Ros is one half of the duo behind www.myfriendshouse.co.uk. Between them, Ros and Jill have over 12 years' experience in the interiors and design industry. Ros is the editor of the Cath Kidston magazine.
1. Jill and I started blogging for fun! We had both worked on interiors magazines for years and were totally obsessed with our homes. But we also like writing that is funny and interesting and about people as well as things… and we found there wasn't a lot of that in the interiors world. Setting up our blog was a fun way of talking about interiors in the way we wanted, and that included being honest about our own homes (often messy) and decorating dilemmas.
2. Well I'm currently having a kitchen installed at the moment, so my tips have yet to be proved right! However I would say do away with wall-mounted cupboards. They are so dark and heavy and take up lots of space. I think people can get a bit obsessed with storage in a kitchen so just fill the whole room with cupboards. My tip would be – chuck stuff out instead. My wall-cupboards are always full with hundreds of Tupperware boxes and pans I don't use, so I'm binning them. Much nicer to have a set of open shelves on which to display your pretty crockery rather than have everything hidden behind blank cupboard doors. I might add that I don't cook very much so keen cooks might want to take this tip with a pinch of salt. Oh! And spend money on the worktop. I chased all around London looking for a vintage Iroko worktop that had been in a school science lab. Now I have it I love looking at it and touching it. Well worth the extra effort. And also don't assume you always have to use kitchen furniture. I've just bought an old museum cabinet that will be mounted on the wall (I know – I broke my own rule) to hold glasses and vases.
3. I have always been fascinated with interior spaces since I was very little, drawing pictures of dream houses and rearranging furniture in my room. I have inherited this from my family who are also all interiors nuts in their own ways. I find the space I live in makes so much difference to how I feel, every moment that I'm in it. I am always looking at colours and shapes and putting them together in my head. I'm useless at DIY though, so my house is always a work in progress. But it's an important form of self-expression for me – the same way some people like to dress themselves to express themselves, I like to do that in my home.
4. I'm lucky enough to have a flat in Margate that faces the sea. It's very old and creaky, so the history of who lived there before is tangible in the space. But also the wonderful light off the sea and the view is inspiring. It changes every minute, and the feel of the flat changes with it. I have decorated in pinks, greys, soft greens and blues, and as the light moves around the flat the different colours inside match different seascape colours outside. It gives you a wonderful connected feeling to the sea outside.
5. Georgian, coastal, large!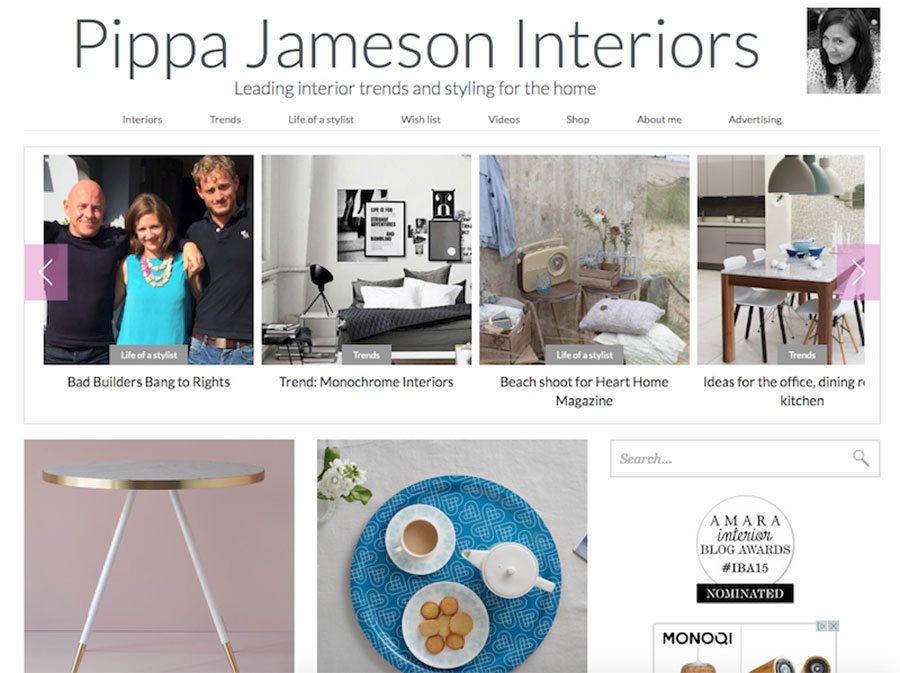 Pippa (www.pippajamesoninteriors.co.uk) has a wealth of experience as an interior stylist, art director, consultant and TV personality in London and abroad.
1. I started blogging in 2008 as a way to keep in touch with the interiors world when I had my first child, and the site has gone from strength to strength.
2. Make sure you consider design, functionality and usability when designing a kitchen.
3. It is a great platform for you to express your personality.
4. By surrounding myself with objects that I love. This includes photos of my family and items that I have collected over the years.
5. Light, spacious, welcoming.
Feel inspired yet? Check out our bloggers' posts for more tips and tricks!