The secret to a clutter free bedroom is excellent storage. Here are 9 canny ideas to get you started.
As the old saying goes, a happy, harmonious bedroom is all about having a place for everything and everything in its place. The key to achieving this is storage – and plenty of it – creating a neat, clutter-free space that allows you to relax, unwind and, ultimately, enjoy a restful night's sleep.
So, whether you need extra space for your growing clothing collection or somewhere to stash extra bed linen, these simple ideas will help make your bedroom look good and work well.
Buy a bedside companion
Drawers for storage are an essential feature of the nightstand, enabling you to hide away bedtime essentials while making room for a stylish task light and a stack of your favourite books.
A nod to the trend for mixing materials is the handcrafted Montana 2 drawer bedside table from Atkin and Thyme, fashioned from reclaimed teak, rustic grained mango wood and natural cowhide. The finishing flourish is black finished legs, which throws an industrial vibe into the mix.
If your tastes run to something more understated, head to House of Fraser. Here you will find the simple but oh so stylish Cleo side table from Christine Lemieux's Living collection.
TIP: Who says bedside tables have to be excessively colour-coordinated? Make a symmetrical scheme more interesting by opting for a different design on each side.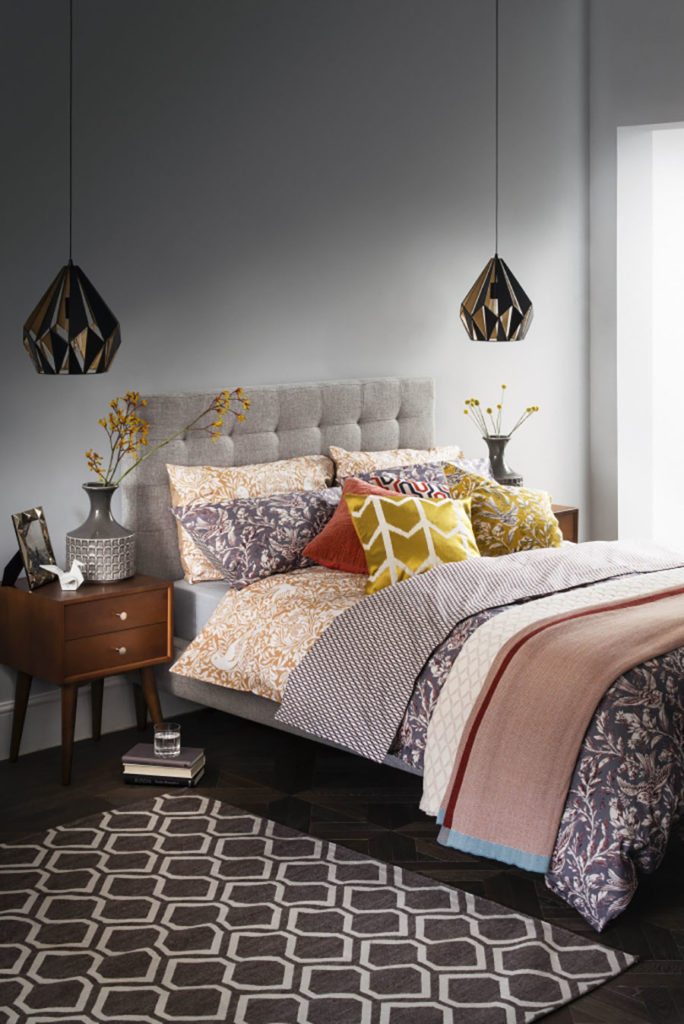 Consider a chest
If you have the space, try to slot in a chest of drawers. With careful styling it becomes a beautiful display as well as a handy place to stash bulky winter jumpers or spare bed linen. Luxe it up with the Midas chest of drawers from Graham and Green, made from solid mango wood and featuring hammered brass-fronted drawers. More subtle – but no less stylish – is Camille by Swoon Editions. Decidedly French in its inspiration, Camille is given a contemporary touch with a hand-painted dove grey finish.
TIP: Pick up a second-hand chest of drawers and give it a new lease of life with a fresh coat of paint. You can even update the handles.
Fabulous freestanding designs
While there's a lot of buzz about built-in wardrobes, a freestanding wardrobe is noteworthy. True, it will take up more space than a built-in and is significantly less discrete. However, you can take it with you when you move and, thanks to the hundreds available, you can find one that reflects your personal style.
Standout designs include the Whiteleaf wardrobe from Barker & Stonehouse, which nails the much-coveted weathered look. Also, the Dutch inspired Haybarn wardrobe from Loaf, made from solid reclaimed fir recovered from old buildings.
TIP: Stylish baskets or storage boxes on top of the wardrobe creates additional storage space.
Open up an ottoman
Stashing out-of-season clothes or spare bed linen is no problem with an ottoman storage bed. Simply raise the mattress to reveal a vast storage space, and then lower it to hide everything out of sight. Top picks include the Crown ottoman storage bed from Time4Sleep and the Classic Tufted bed by Bedmonkey, both made in the UK.
TIP: Buy the biggest bed your space allows. Going large means that your partner's movements are less likely to disturb you during the night.
Think outside the box
Free up space in your cluttered wardrobe by buying a simple rail and using it to show off your favourite clothes. Options include the ultra-minimalist Parkinson metal clothes rail from Habitat, which packs a punch in pillar-box red. Tall enough to hang full-length coats and dresses, a small shelf is useful and decorative.
Elsewhere, simple lines and a stylish blend of solid oak and metal define the three-legged Elori clothes rail from French brand La Redoute. With a price tag of less than £100, we think Elori is perfect for prettying up a tired guest bedroom without spending a fortune.
TIP: Open storage enables you to inject your personality into a space, but it is best for neat freaks. If that's not you, we highly recommend you hide mess behind closed doors.
Go all-inclusive
This four-poster king-size bed by Vox is perfect for bedrooms where space is short, but you don't want to compromise on storage. With an enclosed space behind the headboard and a shelving unit above, the need for bedside cabinets is eliminated. Also, an optional raised mattress means easy access to hidden storage underneath. Customisable with canopies, curtains and even fairy lights, a side ladder (shown), perfect for hanging plants, is also available to purchase separately.
TIP: No matter what style you choose, always invest in a quality bed that offers superior support and comfort. It will also last longer than cheaper counterparts.
Don't forget drawers
Divan beds are popular and for good reason. Many models feature easy-access drawers built into the base. Top picks include Willow & Hall's Braydon storage bed dressed in zinc-coloured fabric, and Sofa.com's Valetta double storage bed in liquorice coloured Belgian linen. Valetta features a skirted valance, which is great for those who want to keep their drawers well hidden.
TIP: A budget-friendly alternative to a divan bed is a bedstead with stylish boxes beneath.
Go high
In small bedrooms think vertically rather than horizontally with a stylish tall boy that takes up less space than a traditional chest of drawers. Up the style stakes with Cape Verde from My Furniture, which blends the nostalgia of vintage travel with the finesse of modern mirrored furniture.
Have a hankering for wood? Check out the five-drawer chest from John Lewis's House collection. As stylish as it is practical, features include spindle legs, button-effect handles and a subtle slope detail on the drawer fonts.
TIP: Free up valuable floor space by carving out a niche either side of the bed (negating the need for bedside tables) or above the headboard.
Box it up
Solve the problem of storing spare bed linen by using a blanket box, which offers plenty of space to stow extra sheets to keep your bedroom looking neat and tidy. Traditionally made from wood, blanket boxes now come upholstered, so you have somewhere comfortable to sit. PPA favourites include the buttoned blanket box from Button & Sprung, or the Lockley blanket box from Sweetpea & Willow.
TIP: If you don't need to access your blanket box regularly, position it at the foot of your bed and use it as a TV stand.
For more fabulous storage ideas for your bedroom, click here.