The difference lies in the details of this Surrey kitchen.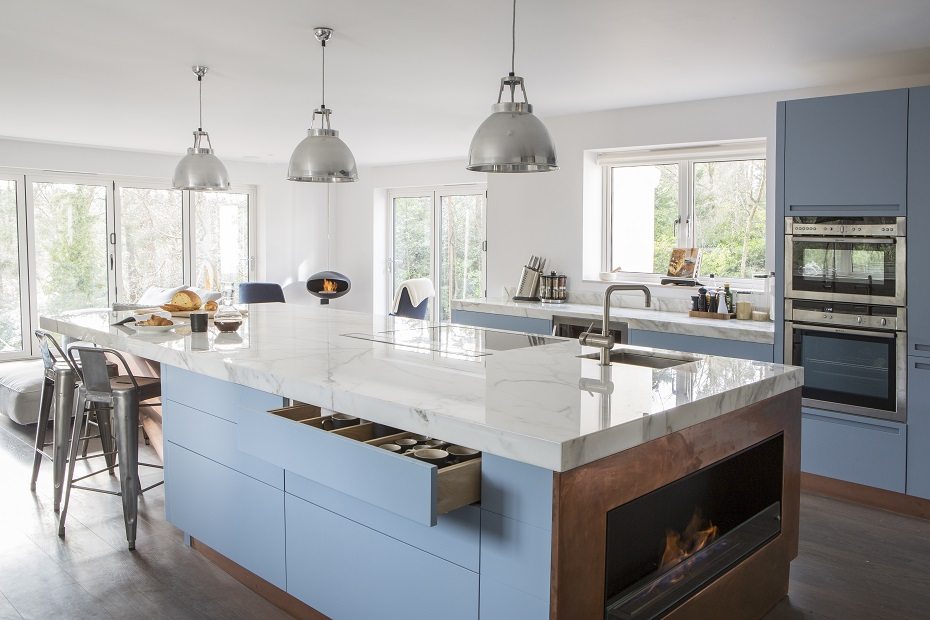 Once upon a time, kitchen islands were only seen in the spacious homes of the wealthy. Now, they're standard fare, even in kitchens with small footprints. It seems we've all realised the value of an extra area of work surface.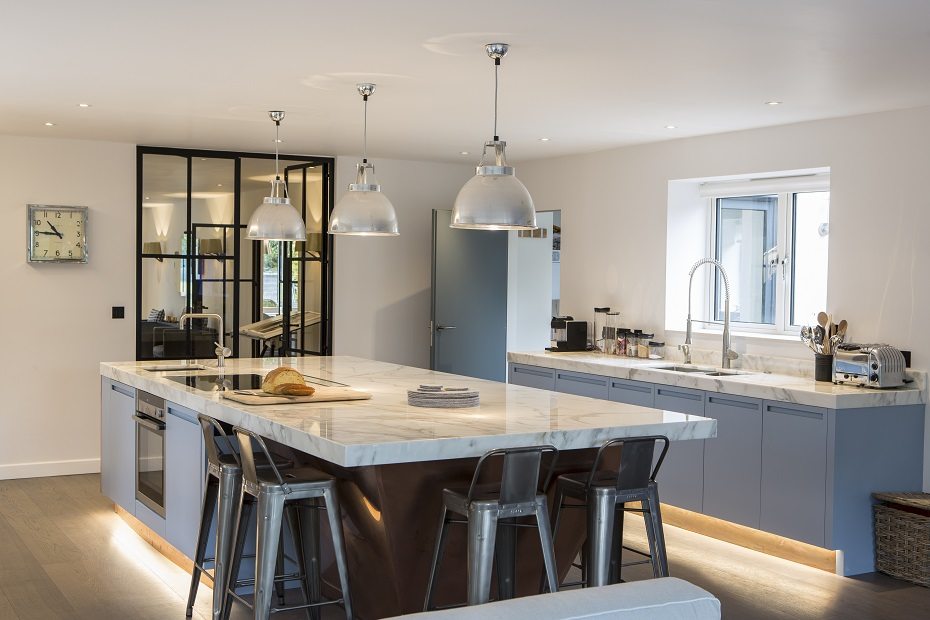 When luxury becomes standard, the heat is on for designers to forgo identikit solutions for something extra special. Mark Taylor of Mark Taylor Design has set the bar high with this island built on a pyramid-shaped copper base.
It proved a challenging but satisfying project. The client was initially wary but was won over by Mark's drawings, and the journey towards completion wasn't always smooth either. "We manufactured the base in our factory and then we sent it away to our metal workers to be finished in copper. I couldn't be sure it would fit until I saw the finished piece," explains Mark.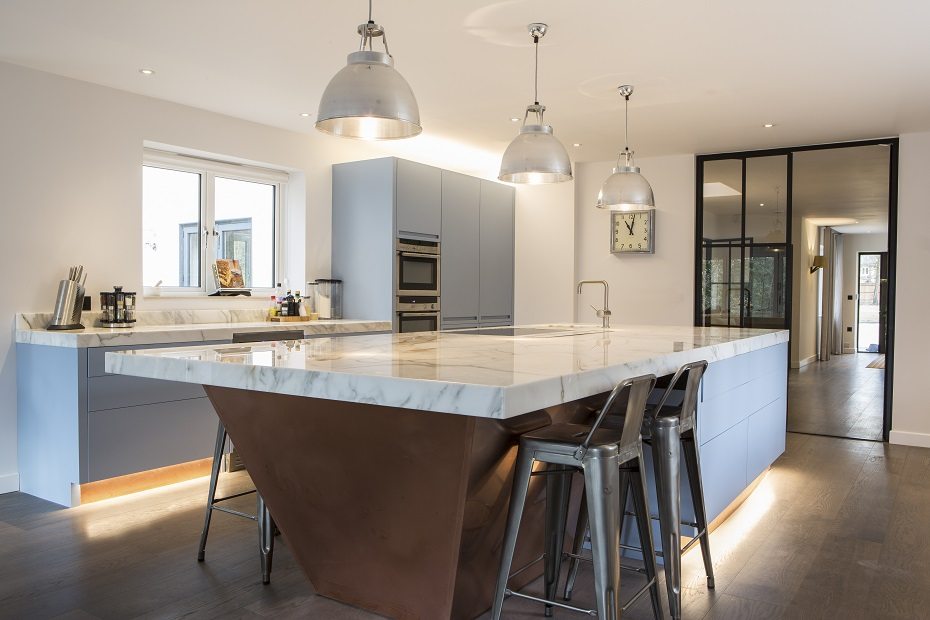 The result was worth the wait. The island is a real crowd-pleaser, not least because Mark has integrated an ethanol fireplace into one end – a choice that he believes is a first for kitchen design. The Bio Fire Box adds warmth and is easy to operate: it's pre-programmed with six heat/flame settings that can be adjusted with a remote control or tablet app.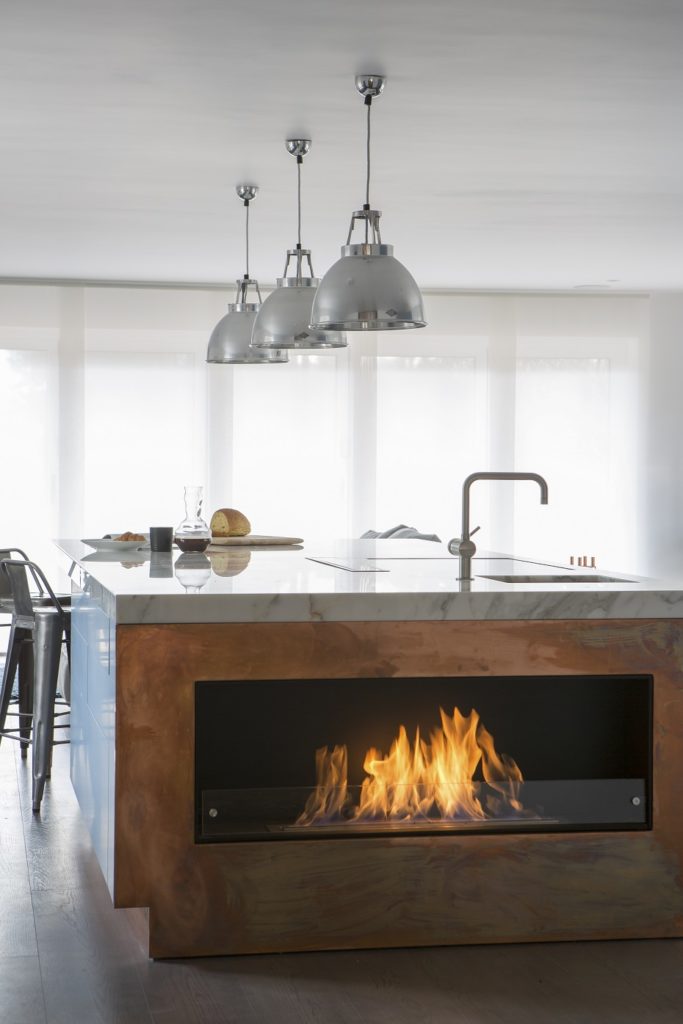 The fire box is clad in copper, which was chosen to complement the angled copper base. The kitchen plinths are copper too – further proof that Mark prides himself on a kitchen design that's considered down to the final detail.
"When working with natural copper and other metals clients need to be aware of the tarnishing properties of metals," warns Mark. "This means you either live with the metal tarnishing and polish it when you want to or need to, or you can ask for a protective lacquer to be put over the top to stop the tarnishing process. However, once this protective lacquer is penetrated, the tarnishing process will start in the exposed areas (a scratch or bad scuff). This needs to be considered when looking to put metal in a high traffic or high usage area."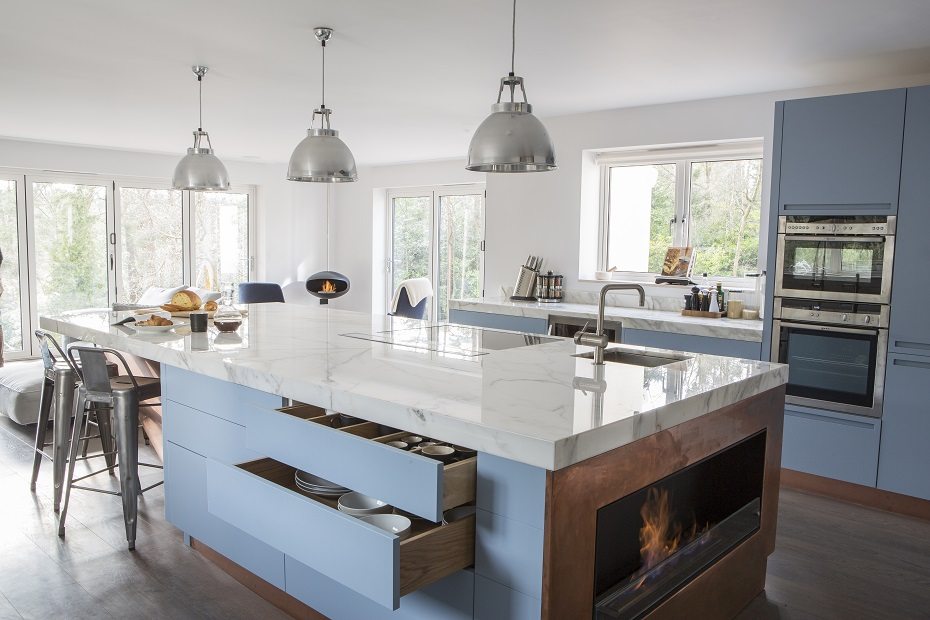 The pursuit of perfection doesn't seem to be a priority for the owners of this kitchen, who also opted for Carrara marble worktops, which are notoriously difficult to keep pristine. This isn't a problem in countries such as Italy, where they embrace imperfection. "If it gets scratched or dented, they don't seem to worry about it," says Mark. UK buyers tend to be more concerned – although times are changing and conventional wisdom on marble is beginning to crack. "We're starting to see it used more and more as people begin to appreciate that yes, it needs a bit more care than something like granite, but if it gets slightly scratched, then you don't need to worry about it," Mark says. "In fact, the scratches become integral to the character of the marble and the kitchen as a whole."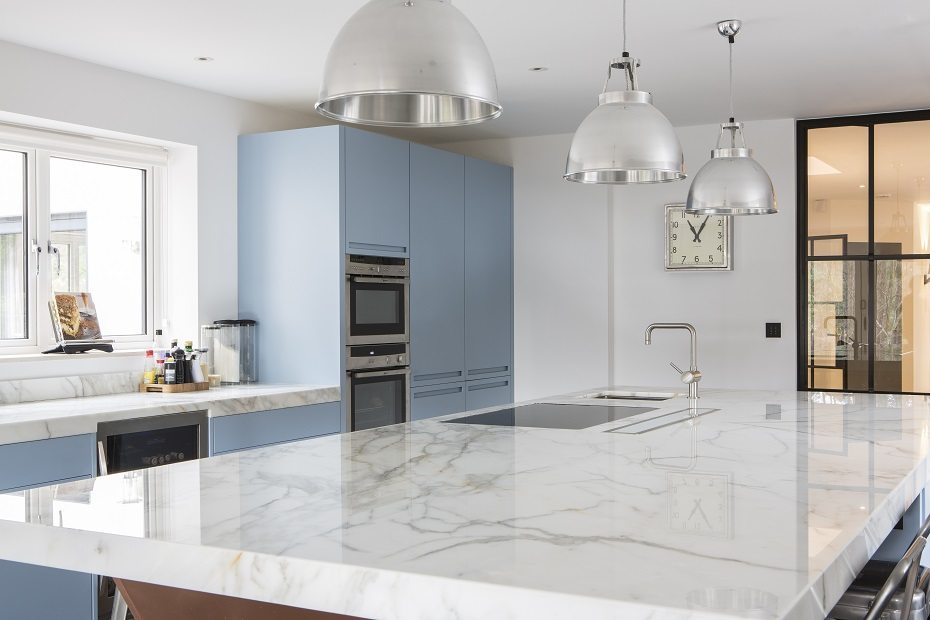 Bespoke cabinetry is the perfect understated backdrop to the marble and copper accents. It's crafted from sold oak and spray-painted in James (108) by Little Greene, a powder blue that's warmer than most because it contains white and violet.
Mark's attention to detail also makes the cabinetry noteworthy: think dovetailed drawers with cutlery and utensil dividers. "They even have a mug drawer," Mark says. "Everything was tailored to the family's precise needs."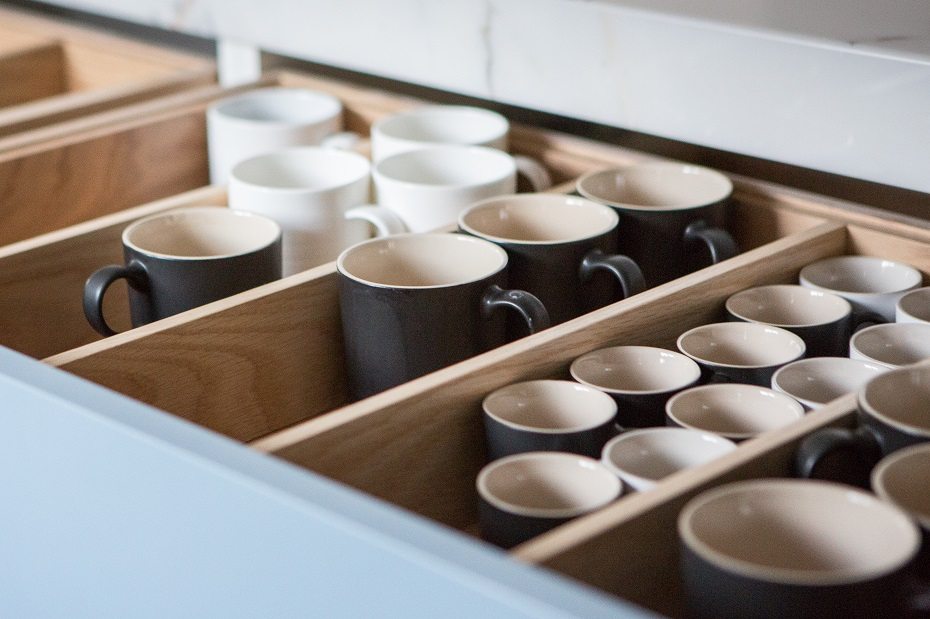 It's not just the fine selection of materials that define this kitchen. Mark's use of the existing space shows that you don't have to rip a house apart to transform it. Rather, success lies in the planning.
"Kitchens are never straightforward because people use them differently," Mark explains. "That's why we like to ask lots of questions at the start of the design process so that we can fulfil all of the client's needs and not miss anything out."
A bespoke kitchen, excluding appliances and surfaces, by Mark Taylor Design starts from £30,000.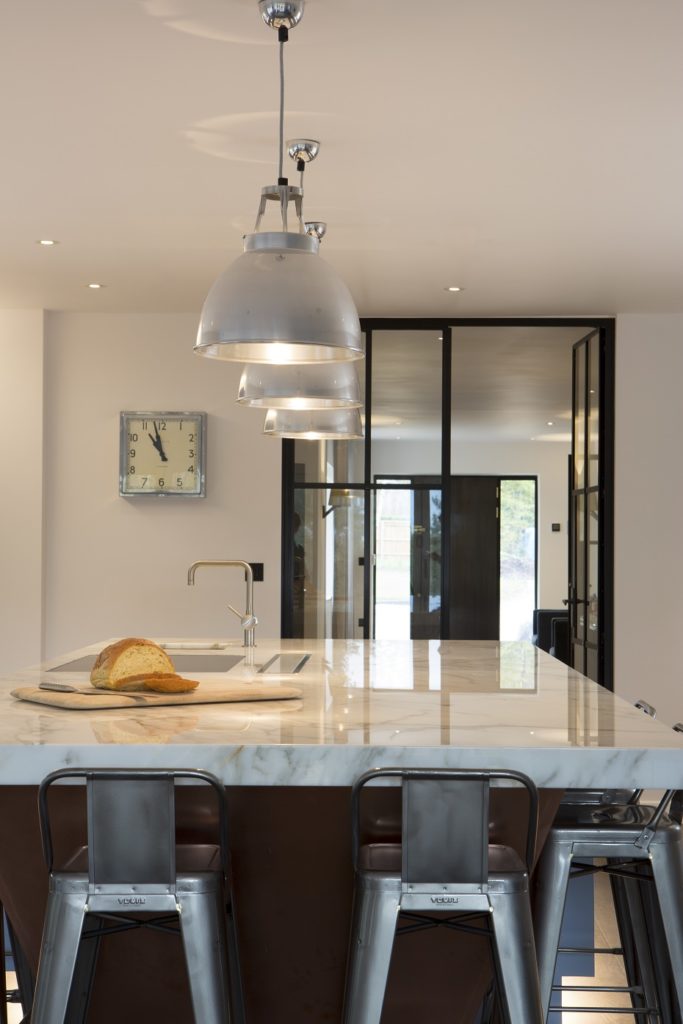 PROJECT PARTICULARS
DESIGN
Mark Taylor of Mark Taylor Design
KITCHEN
Cabinetry: Bespoke furniture in solid European oak by Mark Taylor Design spray painted in James (108) by Little Greene
Plinth: Copper sheeted plinths, Mark Taylor Design
Worktops and upstands: Calcutta marble, Mark Taylor Design
Appliances: Andante downdraft extractor, Elica; induction hob, Siemens; double oven in stainless steel, microwave and dishwasher, Neff; fridge and wine cabinet, Caple
Sink: Claron 400/400-IF, Blanco
Taps: K7 kitchen mixer with professional spray and Minta Touch kitchen mixer, Grohe; boiling-water tap, Quooker
Fireplace: Bio Fire Box, Bio Firebox
Flooring: Tutto Parquet
Metal-framed windows and doors: For similar, try Crittall Windows
Stools: For similar, try the Tolix-style metal bar stool with low backrest, Cult Furniture
Pendant lights: For similar, try Original BTC