Making the kitchen the perfect hub of your home doesn't just happen by accident, it requires careful planning. Whether you have a large kitchen that could be put to better use, or a smaller kitchen in desperate need of space-saving solutions, our helpful kitchen tips are a great way to plan the perfect kitchen, and add value to your home.

Preparation is key
With so many decisions to make when it comes to choosing and designing your kitchen, don't forget to consider the construction of it too! Joiners, plumbers, electricians, tilers, decorators and builders will all play a part in the creating and planning of your perfect kitchen, so it's important to get everything co-ordinated from the start.
1. Make a list of everything you wished your existing kitchen had – for example more storage or a more logical layout – and use this as a basis for your new kitchen plan.
2. Work out your budget and stick to it – a good kitchen design should be able to suggest where to spend money and where to save. For example, spend on a good-looking and hardwearing worktop but save money on the smaller details that won't affect your day-to-day kitchen use.
3. Find a kitchen retailer that offers a complementary design service, particularly one that employs 3D kitchen planner graphics to help you see what your new kitchen will look like.
4. When choosing a retailer or designer, work-of-mouth recommendation is invaluable but also ask to see examples of previous projects. A good designer should ask about your property, kitchen and lifestyle.
5. Choose the right layout for your space. A U-shaped kitchen is good for square kitchens and helps maximise space in a small room. L-shaped layouts can be used into a corner or out into a room.
6. An island unit works best in a larger, open-plan room, while galley kitchens with one or two runs of parallel units work well in smaller spaces.
Units, Worktops and Kitchen Accessories
So you've planned your perfect kitchen with the help of professionals, but have you considered what you will be using your kitchen for? If it's the heart of your home and the hub of entertainment, consider the types of kitchenware you will need to incorporate into your plan.
With a new generation of extractors that are integrated into the ceiling of your kitchen, there's no reason why you can't have ovens and hobs built into central islands. This modern design doesn't just look great as a focal point in your kitchen, but it helps create extra space and storage solutions within surrounding cupboards where your oven would have been.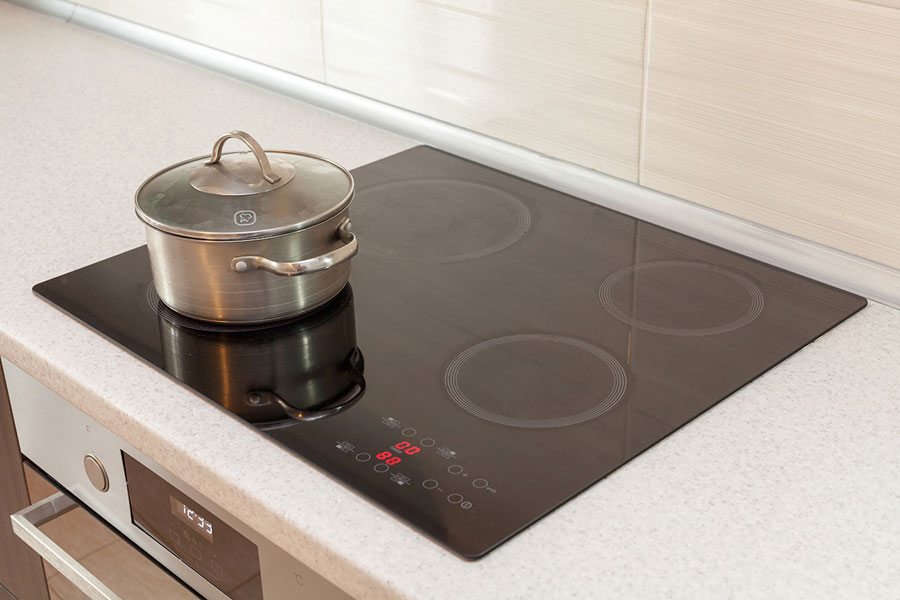 Induction hobs are a great feature to implement whilst planning your perfect kitchen and an incredible, energy saving alternative to gas ovens. But how do they work and what are the benefits?
• Magnetic technology beneath the glass surface creates a magnetic field when a suitable pan is placed upon it and the resulting energy is transferred to the base of the pan, which will instantly start to heat up.
• Because only the pan is heated, rather than the whole hob, it is very energy efficient.
• Also, because the hob remains cold, any spills and splashes don't get burnt on and the hob is very easy to keep clean.
• Induction is as instantly controllable as gas but it is much faster. It can boil water nearly twice as quickly as a gas hob and 30% faster than a ceramic hob.
• Perfect for households with children, induction is safe because pan detection systems generate heat only when a pan is placed there while the rest of the hob stays cold.
• Available in different sizes with four or five induction zones on one hob, many manufacturers also offer zoneless induction where you can place the pan anywhere on the hob surface.
If you're not ready to commit to a full induction hob, choose a compact modular or domino hob (30-40cm wide) that can be mounted alongside gas, electric and hotplate modules to create a bespoke cooktop.
Style and Decoration
Keep your kitchen bright and inviting with light colour schemes that compliment your design throughout. The use of natural materials such as wood, stone and native metals will add depth to your décor which work especially well if you do want to add some bold colour and patterns.
Add texture with fabrics, upholstery and seating to create warmth and go one step further with adding textured wall finishes to balance the overall effect of your new kitchen design.
Regardless of the layout, there are some key and essential design elements that should be a part of everyone's new kitchen plan.
• Keep the bin within easy reach of dishwashers, work surfaces and the sink.
• Keep the dishwasher near the sink for easy cleaning.
• The most-used areas within the kitchen should be in close proximity to each to ensure easy use.
• Less is more, especially in the kitchen! Clutter can reduce the amount of space you have in your kitchen, so make sure you have plenty of space-saving solutions incorporated into your new kitchen plan.
• Add your own personality to your design. Whilst neutral colour schemes and generic designs will attract potential buyers and help add value to your home, don't be afraid to make your kitchen your own. Just because your colour scheme includes cream / yellow tones, it doesn't mean you can't add some vibrant textures throughout your design.
For more kitchen tips and advice, visit our kitchen ideas section.