A kitchen extension is a popular home improvement. Not only does it create extra space (particularly beneficial if you have a small kitchen!) but it can also add value to your home at the same time. Kitchen extensions can also be beneficial if you're looking to up-size, but you're not keen to move.
Creating your own kitchen extension means you can use your own ideas to create a space for your own needs. Want room for an island? Check! Need space for a dining table? Check again! If you have the space, time and budget to extend, you can end up with the kitchen of your dreams.
Things to take into consideration
There are a few things to consider before you start planning your extension. This includes what type of extension will work for you. Separate dining and utility rooms used to be very popular, whereas now there's a preference for open-plan spaces. Kitchen extensions can provide more options for cooking but also an area for dining, relaxing, and entertaining guests, so think about what you want to achieve with it.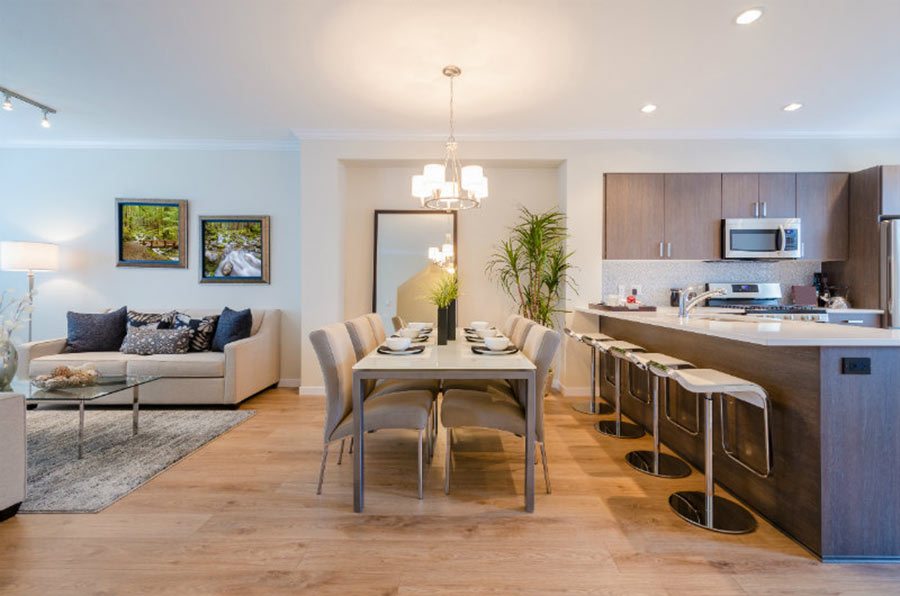 Kitchen extension ideas go beyond simply making more room – they can change the feel of your house entirely. Some extensions will open into the garden, bringing the outside in for a fresh air dining experience. Others simply create a more flexible space for the whole family to enjoy.
The size of your extension depends on the room of your plot and what your budget is – an extension is a major investment and planning permission must be sought before you go ahead.
Starting from scratch means there are no constraints in terms of existing electrics and plumbing, but all extensions do involve significant upheaval, so be prepared. When you're planning a kitchen extension, cost should also be a deciding factor.
Types of extensions
If you're looking to extend your space, there are a few different extension options to consider.
Single Storey Extensions
Single storey extensions are a great way of adding more space to your kitchen. They only have one floor and will only the extend first floor of your home – they won't affect the second floor of your home. However, these are useful if you're looking for more room to include dining space, extra workspace or a bigger area for appliances. If you do choose a single storey extension, it's worth considering how the extension roof will work with the overall look of your home, and if building this type of extension will impact on your neighbours.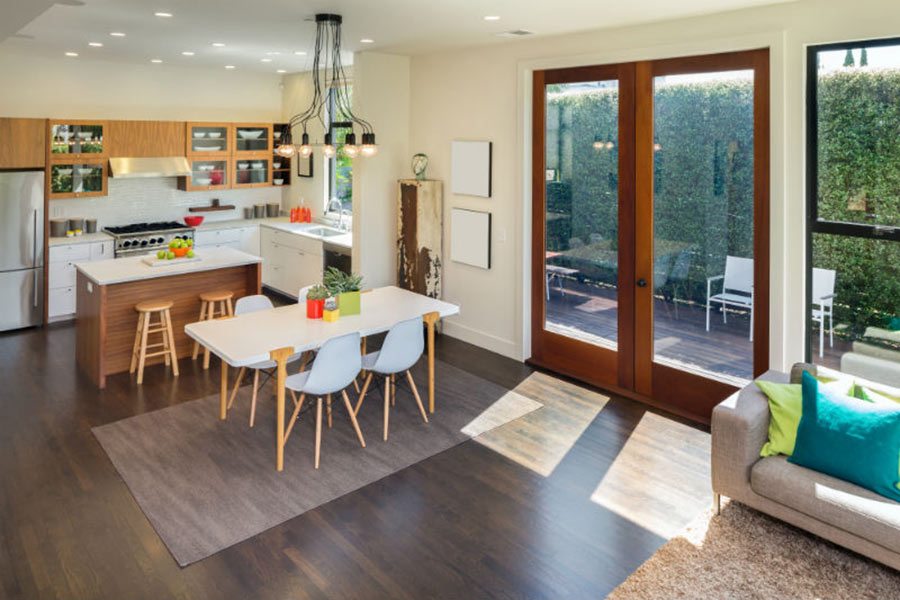 Side Return Extensions
A side return extension is a popular choice for the kind of houses built in the Victorian or Edwardian era. These houses often have a 'side return', a gap at the side of the house, that is often redundant or wasted space. An extension can be built in this existing space, giving you extra room for your kitchen. It's certainly worth considering a side return extension if you don't find yourself using this space a lot. Extending your kitchen into it means you're finally making use of wasted ground. It's win-win!
Wrap-Around Extensions
Bigger and bolder kitchen extension ideas may require more work, but they can return an even bigger benefit when it comes to space. A wrap-around extension is a side return extension and a rear extension in one, which can provide a much larger kitchen/living area. There are two roofing options for this type of extension – either a flat or a pitched roof.
Rear Kitchen Extensions
Rear kitchen extensions extend from the back of the house, and are popular where there is no side return option. There are three roof options: a mono-pitched roof, a centre-pitched roof, or a flat roof. This extension is likely to reduce your garden space, so think carefully about what you want from your home.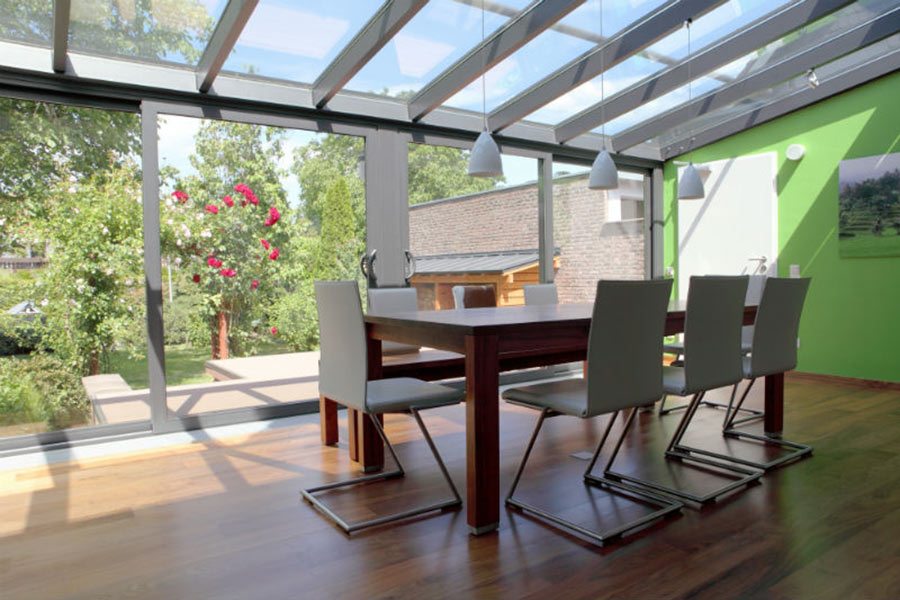 Conservatory Extensions
Conservatory extensions are particularly popular in houses that have a lack of natural light. They can also make the most of a wonderful view, which is great if you live in a particularly picturesque area. It's also worth noting that they are normally cheaper than other extensions, making them a viable option for many looking to make more of their kitchen space. You might also consider adding one to your home in order to add extra dining space, taking some of the furniture away from your cooking/eating area.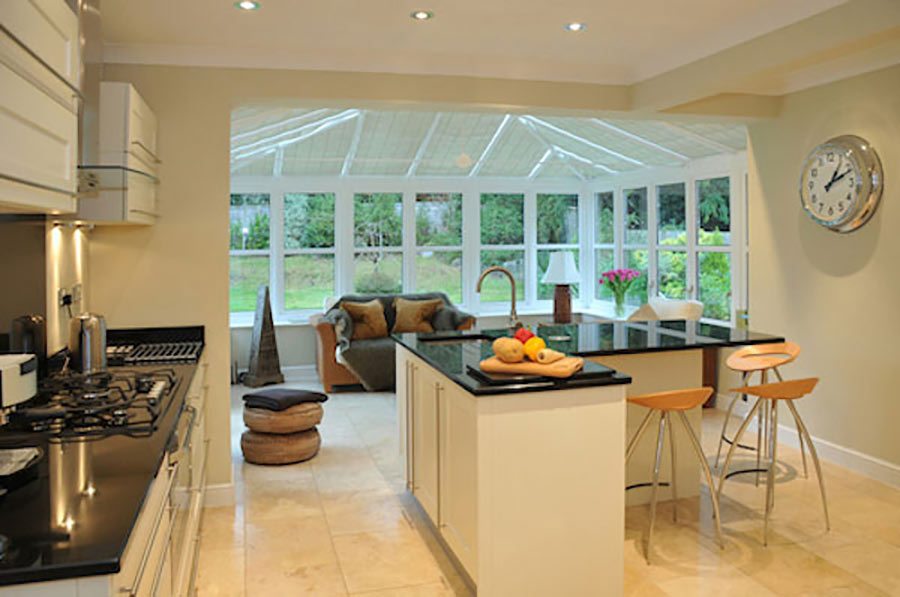 Kitchen Extension Cost
Every extension is different, so you need a professional to tell you how much yours will cost. The Royal Institution of Chartered Surveyors (RICS) estimates extensions should cost between £1,260 and £1,680 per square metre for an extension that has a plastered finish.

A single storey extension can add somewhere between 5% and 10% more value to your home. A two-storey extension – maybe an extra bedroom on top of your kitchen extension – might add up 20% to your house's value, although of course it costs more to build. It's worth bearing in mind that the value of your home will be dependant on the area in which you live and the value of other properties near you. If you're wondering what the value of your property is, why not try out Property Valuation Tool?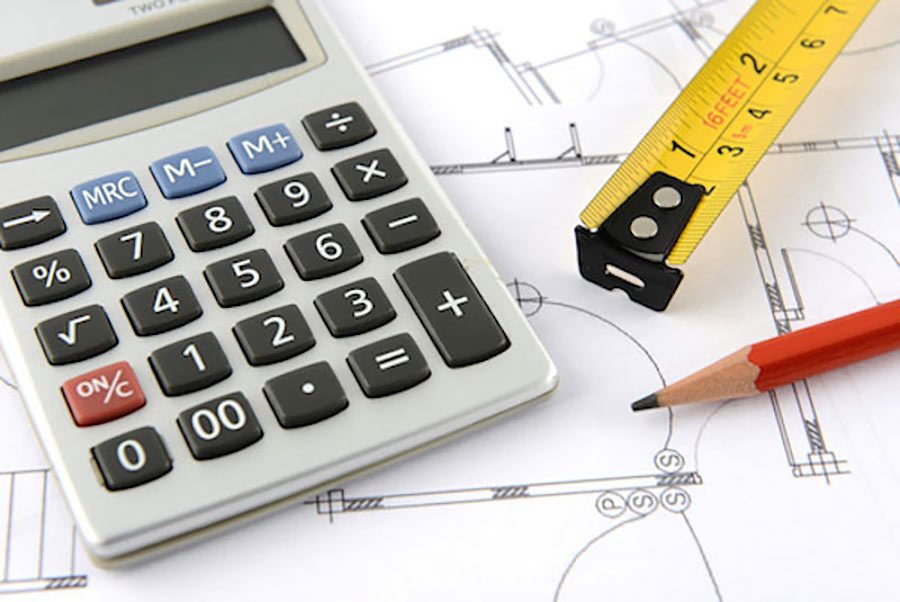 Of course, you probably want to keep the price down on your kitchen extension. Cost is affected by how complex the build is; keeping it simple makes things cheaper. It's a good idea to avoid having things made to order and if you're confident, take on some of the work yourself. Avoid unusual room shapes, as labour and material might cost more, and try to avoid building over a manhole, as this will mean diverting the drain.
If you are building close to a neighbour, your extension needs to comply with the Party Wall Act 1996. A 'party wall settlement' will cost around £700 per neighbour, so write to each person at least two months before you want to begin extending. If they give their approval in writing, you can avoid using surveyors and keep costs down. If you want to find out whether your property is subject to planning permission, it's worth visiting the government's Planning Portal, which outlines the limits and conditions associated with extending your property.
It may not be the easiest way to upgrade your kitchen, but if you decide to go for a kitchen extension, all the hard work should be worth it when you have your new dream space.