Garden rooms are fast becoming one of the most popular and innovative ways to gain extra space and add value to your property.
Jo Bayne of Green Studios explains why garden rooms are growing increasingly popular and just how it is that they add value and saleability.
So just what are the main benefits of garden rooms?
Garden rooms offer extra space – extra space means added value. With children living at home for much longer, space is often at a premium and a stylish outdoor space is the ideal solution for the changing needs of buyers today.
Garden rooms offer a bespoke, flexible space for buyers which is always a highly attractive plus point. Buyers could use their garden room as a home office, music studio, gym, treatment room, guest suite or private space for children when they come home from university. With a growing number of people working from home – over 4.2 million – having a bespoke garden office creates the perfect work-life balance.
Garden rooms free up space within the main house and are designed to be a stylish and contemporary addition to any property.
Garden rooms are often designed with LED lights and eco-friendly materials, so they are very cost-effective to maintain.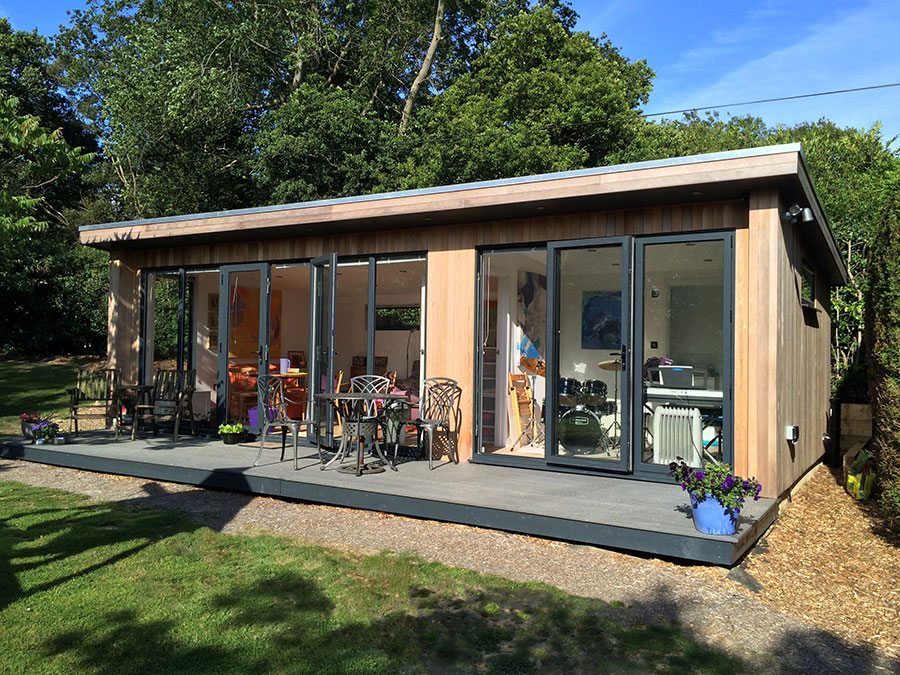 Garden rooms versus traditional extensions
Designing and building a garden room is often a far quicker and more straightforward process than a traditional extension. Planning permission may not be needed and the whole process can take as little as 4-6 weeks. For homeowners this means increased value and saleability without the red tape, logistical complications or inevitable delays.
Garden rooms are also more flexible than a traditional extension and can be used for a wider range of functions based on individual buyer's needs.
Adding value and saleability
Garden rooms add both value and saleability to a property. In terms of added value, homeowners should expect to recoup at least 75% of the total project cost on the property value. In certain areas this could rise to 100% or more, providing an excellent return on investment.
It is important to note that a garden room will increase the property's saleability as well as value. This is particularly valuable in areas where there is a lot of new housing available and competition is fierce. A garden room offers more than simply extra space – it offers prospective buyers a lifestyle change, which for many is a driving force behind a house move. A garden room gives buyers the opportunity to work from home for the first time, set up a treatment room or create flexible accommodation for children back from university or for elderly relatives.
Garden rooms, such as the contemporary and luxury eco garden rooms created by Green Studios, are a cost-effective, quick to build and flexible addition to any property with clear added value and enhanced saleability. Their flexibility is a big plus point to meet the changing lifestyle needs of today's property buyers. Garden rooms are designed to be not only practical spaces – they also look stunning and will impress prospective buyers.