There are benefits to both fitted and freestanding bedroom furniture. The key lies in choosing a style that suits you, so here are a few considerations to keep in mind…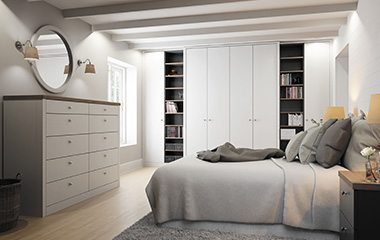 Cabinet carcasses shouldn't be less than 18mm thick, while the back of the furniture should also feel solid and be at least 8mm thick. Any flimsier than this and your furniture will have a limited lifespan. Any shelves inside will need to be around 22mm thick. Wherever possible, view the furniture first so you can inspect the quality.

Consider commissioning a carpenter to create a tailor-made solution. The Guild of Master Craftsmen is a trade association that represents many different professions – its website has lots of tips on how to choose a tradesperson (www.guildmc.com). You can then log on to www.findsacraftsman.com for a carpenter in your area.
Finishes vary, from coloured glass and gloss for smaller budgets to bespoke hardwood at the top end. Mirrored doors can also help make a small bedroom feel larger, as well as offer the practicality of a huge mirror that you may otherwise not have had room for. Make sure you choose a door style and colour that won't date too quickly, as this is a big investment and you want it to last.
Drawer boxes should have a solid base, not just hardboard stuck on, and open easily in a smooth way. Doors should hang straight, glide smoothly and come with quality hinges which have been tested for longevity. Soft-close doors provide the perfect finishing touch.
Ideally, you need a combination of single and double hanging rails, shelves and drawers, but this will be determined by the space available. For most people, hanging space is the priority and the extra wow factor can be added with an illuminated hanging rail.
Interior lighting is a n all-important factor and can finish the look of fitted wardrobes. Strip lighting can also be built into shelving where the lights are activated by movement, brightening up the wardrobe space
An ideal internal depth for hanging space is 600mm, but this may not always be possible. A 500mm depth should be the very minimum.
Drawers come in a variety of different depths – the minimum is 355mm and generally the maximum is 500mm. This will depend on what they are to be used for, from jewellery to jumpers.
There are lots of ways to customize you wardrobe interior to suit your storage requirements, from adding angled show shelves with fences to display a beautiful show collection or including accessories such as belt and tie racks for better organisation.
When choosing the style of fitted wardrobes, bear in mind that your requirements may change over time. Make sure your wardrobe can be adapted at a later stage if needs be.
Deane Direct's newly launched Airo range of made-to-measure DIY sliding wardrobe kits has been designed with a minimal frame for a streamlined look. There are 15 coloured glass options, 14 wood panel finishes and three modern mirror variations to choose from. The Airo four-door sliding wardrobe with Cappuccino panels is priced £1380.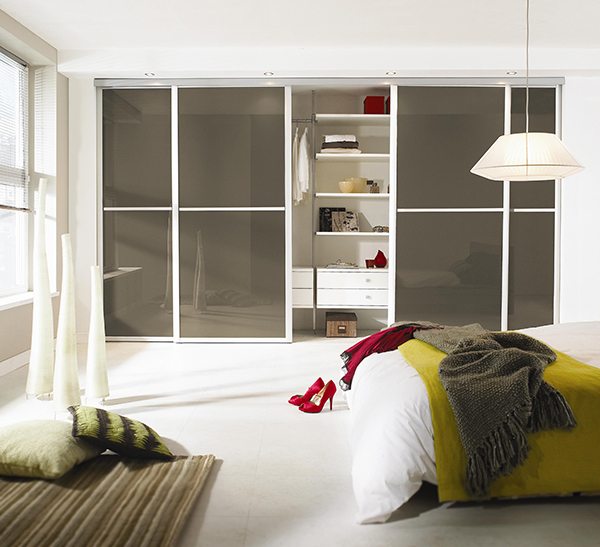 Like all improvements, choosing the right furniture for your bedroom can help you get what the property's worth – or even raise the value – if you're considering selling up. Get a free estimate of your property's value with our free tool.