Embrace the outdoors by creating harmony between the interior and exterior.  
With the warmer weather's arrival, we're all looking for ways to make the most of the outdoors. And now that defined spaces are becoming more fluid, the line between inside and outside is blurrier than ever. Take a peek at how some interior design professionals elevate spaces in this way. 
Alfresco living 
In our humble opinion, you can never have enough room to socialise, lounge around or put your feet up in the summer sunshine. Outdoor cushions, sofas and fire pits make your outdoor space feel more comfortable. Garden furniture has come a long way since mesh sun loungers and fold-up chairs. Now you can enjoy all the soft furnishings you would normally enjoy in your indoor living room. Utilise outdoor cushions, throws, rugs and coffee tables to take your living room comforts outside.  
Introduce plants 
Adding natural plants is the easiest and cheapest way to update an interior, bringing in natural elements and colours. Not only that, but they also make gorgeous additions to the room with their natural foliage. Include low-maintenance choices such as the spider plant (Chlorophytum comosum) and fiddle-leaf fig (Ficus lyrata) for instant success.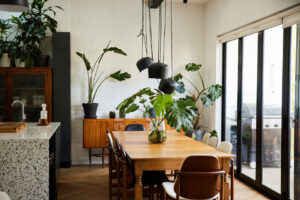 Magnify the view 
A great way to connect indoor and outdoor living is to enlarge the viewing space between the two. Floor-to-ceiling sliding glass doors or folding glass doors achieve this look, allowing both spaces to feel bigger and more connected.  
Incorporate natural elements 
Another important design feature to further blur the lines between the interior and exterior is to incorporate natural elements, such as wood beams or stone tiles. Choosing a similar material to what is outside of the window will allow the two spaces to flow into one another and appear as one space.   
Maximise natural light
Windows create continuity between our indoor and outdoor spaces and natural light helps to make rooms feel light and airy. A glass extension will create maximum natural light. However, even adding strategically placed windows or skylights can help to add a seamless transition from indoor to outdoor. 
Patio dining 
One of our favourite parts about summer is eating outside – and patio users don't have to miss out. Look out for a small dining or bistro set so you can enjoy spending more time in the sunshine and fresh air.  
Revamp your interior and exterior spaces 
This summer, blur the boundaries between the indoor and outdoor spaces, and you may just find you enjoy them that much more. With small home improvements, you can add value to your property. Want to know how much your home is worth? Find out using our online house valuation tool or book a free house valuation from a local, trusted estate agent.