New research reveals why living by the water is now so important for many UK homebuyers.
Whether it's a weekend getaway or a main residence, a waterfront property has long been a popular choice with people in this country, but new research shows that living by the water is now a top property aspiration for many British homebuyers.
The results of a fresh survey conducted by Strutt & Parker estate agents, which had 2,000 respondents from across the UK, reveals that 61% of respondents wanted to live near to water in the future – with 62% of these hoping to live on the coast, 10% on a river or estuary, 15% on a lake or loch and 4% on the banks of a canal.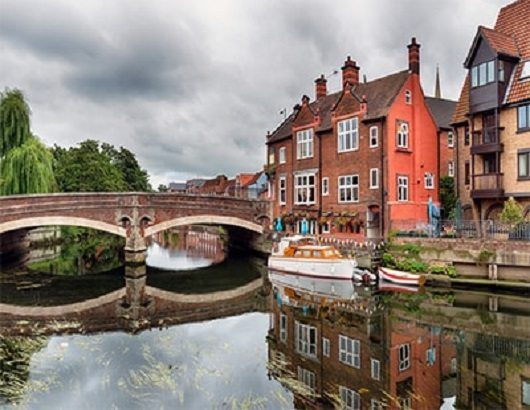 The dream waterside home was a period cottage, according to 41% of those surveyed, while almost a quarter – 24% – of respondents wanted to live in a modern or contemporary waterside home and one in ten aspired to live in a penthouse flat overlooking the water.
When asked why they liked living on the water, or why they wanted to, the top reasons given were:
| | |
| --- | --- |
| Relaxation | 58% |
| Views | 47% |
| Better air quality | 41% |
| Mental well-being | 29% |
| Wildlife watching | 23% |
| Water sports (surfing, swimming, fishing, sailing) | 18% |
Reflecting on the study, Strutt & Parker's Richard Speedy, said: "It is hardly surprising that the waterside holds such a special place in the heart of the British homebuyer. The whole of the UK has amazing and picturesque beaches, rivers, lochs and lakes, offering views that can't be matched elsewhere in the country.
"Then there's the lifestyle aspects, whether you're a family wanting access to swathes of sandy beaches for walking the dog, are looking to do more fishing in your retirement, or want to buy that boat you've always promised yourself.
"Direct access to the water via a slipway, quay, running mooring or pontoon is important to many buyers, increasingly so at the top end of the market."
The survey also identified a link between wellness, or at the very least perceived wellness, and living on the water.
Some 64% of people said that they thought people who lived near the water were generally happier than those who did not.
Meanwhile, 56% of respondents said they believed people who lived by the water were both physically healthier and mentally healthier than those who did not.
Vanessa Hale, partner in the Strutt & Parker Research department, commented: "Research has shown that living by water can have a number of health benefits – fresher air, coupled with more time outside in the sunshine and a more active lifestyle is bound to make us healthier or at least feel it.
"In fact, the University of Exeter published a study which found that, on average, the closer we live to the sea, the more likely we are to report good health."