Tempted to sell? A free property valuation can help you decide. But first, we'll walk you through the nuts and bolts of the house valuation appointment.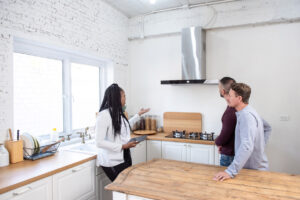 If you're thinking of selling your house, the first step is to determine its current market value. Today, many estate agents offer a free, pre-sale appraisal appointment (known as a house valuation) that gives you an estimate of what your property is worth. And once you know what you could get for your property, you know your budget for your next place. But before you get caught unaware, here's what to know about the house valuation process.  
What is a property valuation?
A property valuation is a full market appraisal from an Estate Agent of what your home is currently worth. Even if you think you know the ballpark figure, a valuation is vital. The market is in a constant state of flux, which means what your home could get today can be very different from how much it was last year or even what you paid for it. 
The valuation figure is based on a range of factors, including what neighbouring homes sold for, the market's current condition and how your home is presented. While the first two are out of your hands, you can always add value with home improvements. 
If you want to get the best price for your property (and who doesn't?), a house valuation is essential. Not only does it help you decide on a fair asking price for your home, but you can then also work out your budget for purchasing your next property.  
What is the best way to get a valuation?
There are many ways to get a house valuation. You can either choose to get an online house valuation where the tool will take historical data, features about your home and the market trends into consideration to give you a ballpark figure of what your home could be worth.  
For a more accurate way of knowing your home's value, book an estate agent valuation. A local professional will visit your property and, with their expertise and knowledge of the local market, give you a more accurate figure of how much you could sell the property for.  
How much is a house valuation?
With Property Price Advice, you can book a free house valuation with a number of different estate agents. While some agencies may charge a small fee or require you to use their services following a valuation, when you book through us, you don't have to worry about paying a penny. 
How to prepare for a house valuation
There's a difference between a valuation and a viewing. The valuation is conducted by a professional estate agent, not an interested buyer. Don't worry about turning your house into a show home – just yet. A good agent will look past the clutter and small jobs you might want to tend to before the house hits the market.  
A great way to speed up the valuation is to prep some information for the agent beforehand: 
When the windows were last replaced

 

The age of your boiler

 

Whether the property sits on a leasehold

 

Details about special features of the property

 

Information on any issues with the home (structural or maintenance)

 
What happens during the property valuation?
Meet your estate agent.

Once you've booked a free house valuation, the agent will visit your home on the allotted day or time. They will give you a rundown of what their agency can offer you, from their experience to their track record of selling homes like yours in the area. You'll also have an opportunity to ask any questions. There's no obligation to commit to the agent on the spot; we recommend booking valuations with a couple of agents to find out who suits you best.

Learn your property's value.

You don't need to tidy up, but for the agent to value your house as accurately as possible, they need to see every room in your property, including any outbuildings and garages. They'll ask for more information about your home (see above). Once they're finished, they'll give you a full market appraisal report with an estimate of what your home is worth and why.




 
How long does a house valuation take?
While the time differs from property to property, it shouldn't take more than a couple of hours. Naturally, a 3-bedroom house will take longer to value than a 1-bedroom flat. Features unique to your home can take a little longer to evaluate, too.  
Book your free house valuation 
At Property Price Advice, we work with local experts who really know their areas because that 5 or 10 thousand makes a difference. Ready to learn more? Book a full house valuation today.