Conveyancing describes the legal process of transferring property from one person to another. It can be a lengthy and tricky process and one best handled by a solicitor or licensed conveyancer. If you're looking to buy a home, you should budget anything between £500 to £1,500 for conveyancing fees plus the cost of any additional services you may need.
If you're buying a house, conveyancing is a vital part of the process – but what does it actually mean, what's involved and who should do it – here's what you need to know.
What is conveyancing?
Conveyancing is simply the process of buying a property. It describes all the legal aspects involved in house buying – from the minute you put in an offer to the moment you get the keys.
Who does the conveyancing?
Either a solicitor or licensed conveyancer can do the work for you and it's up to you which you choose.
A solicitor generally costs more because they have an all-round understanding of the law which can work to your advantage if your sale is likely to be tricky (for example if the property is listed). A conveyancer on the other hand only deals with property law and is best for more straightforward sales.
Both are qualified to oversee the legal processes involved in conveyancing but it's a good idea to ensure that whoever you use, is part of a regulatory body: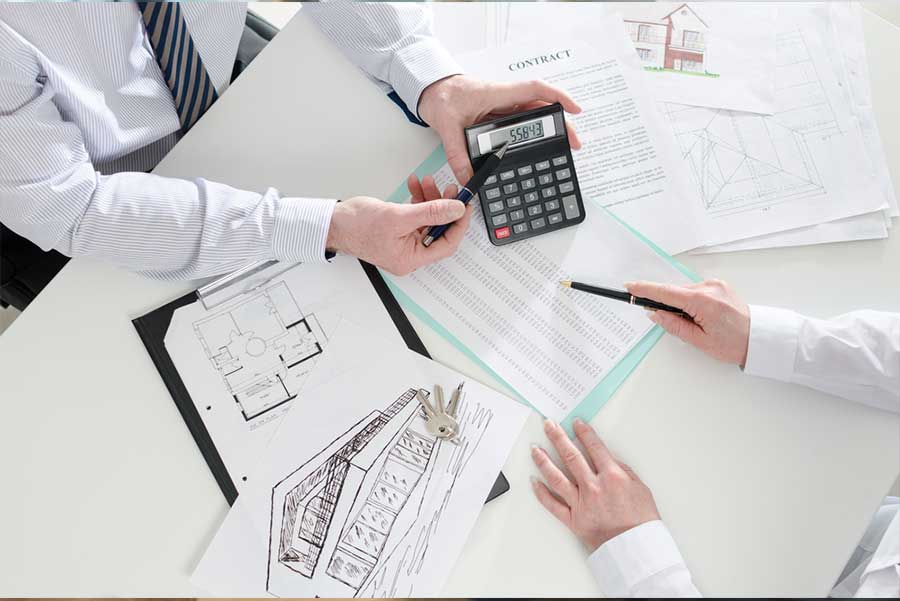 How much does conveyancing cost?
There are two parts that make up the total cost of conveyancing. The first, is the cost of legal fees which is what your solicitor or conveyancer charges for their services. The second part is the cost of third-party services (known in the trade as 'disbursements') for example, the cost of local authority searches.
The average cost of conveyancing is difficult to pinpoint because it varies depending on who you use, your location, and also the value of the property you're buying. As a guide, you should budget between £500 to £1,500.
Can I do my own conveyancing?
Technically, yes, you can do your own conveyancing but it's complicated and time consuming.
DIY conveyancing can also be risky – all it takes is one error for things to go horribly wrong, which could mean the property you buy doesn't quite turn out to be as you hoped – for example if you missed the fact it was in a high flood risk area.
What does the process of conveyancing actually involve?
There are several parts to the whole process, they can be broken down into five main steps:
Step 1 – Reviewing the draft contract
The seller's solicitor or conveyancer will put together a draft contract that shows the terms of the sale – this covers points like the asking price and whether the property is freehold or leasehold.
Part of this step will also include details such as the property's boundaries, any covenants on the land (rules that say what you can or cannot do) and whether or not there are any disputes with neighbours.
Your solicitor or conveyancer will go through the draft and send you various forms and paperwork to read. If you have any questions arising from this, they'll forward them to the seller's solicitor and come back to you with the answers.
Step 2 – Searches
Your solicitor or conveyancer will organise a series of searches to give you more details about the house, including:
Local authority search – this is a vital part of the conveyancing process. It will highlight things like whether the property is listed or if there are future plans to build around it. The results can also have a big impact on the final price you pay. For example, you might discover there are plans to build a new road at the bottom of the garden in which case you could ask the seller to drop the price to reflect this.
Land registry checks – this confirms that the seller really does own the property. There are two parts to this, the 'title register' check and the 'title plan' check and both need to be done before the sale can continue.
Water authority search – this shows the water source for your new home, for instance, whether it's a mains supply or from a borehole. The search will also show whether there are any public drains on the land.
Environmental search – this will highlight anything you need to know about the land the property stands on or near, such as whether it's ex-landfill or a flood risk.
Step 3 – Building survey and meeting mortgage conditions
If you're taking out a mortgage, your lender will need to confirm the value of the property to make sure that it's a fair reflection of the loan. Your solicitor or conveyancer will also check that any conditions set out in the agreement are met so that your mortgage can be confirmed.
As well as the mortgage valuation, your conveyancer will organise a building survey, there are three to choose from:
Basic condition report – as the name suggests, this is the most basic report you can get (and typically the cheapest at around £250). Good for new or recently built homes where structural problems are likely to be minimal.
Home buyer report – a more detailed report covering inside and outside the property. You should budget anything from £400+ for this.
Structural survey – the most comprehensive survey you can have and best for older homes. Expect to spend at least £600.
Step 4 – Confirm, sign and exchange contracts
By this point, your solicitor or conveyancer should have a sale contract ready for you to check and sign. It should finalise all the conditions of sale and also specify what items will stay in the property – for instance, cooker, light fittings, carpets and curtains. Your contract will also list a completion date.
Now is also the time to sort out home insurance for your new home because from the moment you exchange, you become responsible for it. If you have a mortgage, taking out buildings insurance may even be a condition of the loan.
Before you officially exchange contracts, you'll have to hand over your deposit. Once it's been paid and you've signed and exchanged contracts, you can breathe a sigh of relief because you're now no longer at risk of being gazumped – which could technically happen at any point up till now.
Step 5 – Complete
The conveyancing process is now almost (but not quite) at an end and there's sometimes a gap between the exchange and completion date which gives the Land Registry the chance to update the details on the property deeds.
The last thing to do is for your solicitor to transfer the remaining money you owe for the property and wait for confirmation that it's been received. When they've got the green light, you'll be able to collect your keys and finally move into your new home.
There's no avoiding the fact, that the conveyancing process can be frustrating and time consuming – taking anything between eight and 12 weeks. And because the process can be complex and lengthy, it's worth taking the time to find a conveyancer or solicitor that will keep you updated at every step. With that in mind, recommendations are a great way to find the expertise you need.
You can also stay up to date and learn what you need with our information packed property guides – whether you're looking to move or improve your home, we're here to help and advise.