The premiums of homes in school catchment areas.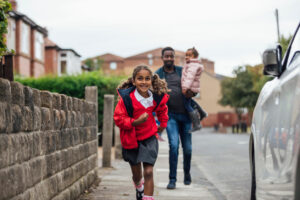 As the schools are back in session, we can hear the collective sigh of relief from parents around the nation. But have you stopped to think about how your child's school impacts your house value? 
One of the most influential factors affecting your house price is where it's located. As the old adage goes: Location, location, location! It's a big part of what makes a property desirable (or undesirable).  
Catchment is important

 
Research found that parents (and perhaps even would-be parents) are prepared to pay, on average, an additional £26k to buy a property within the catchment area of a top-performing school over one which is in a neighbouring area, out of catchment.  
Competition for properties close to the best local schools can be fierce – particularly when oversubscribed schools have admission policies that favour those living closest.  
How does school catchment affect my house price?

 
Much of what drives house prices is the desirability, and many people want to make sure they're sending their children to a good school. Catchment areas around Ofsted 'Outstanding' schools drive up house prices significantly.  
In London, the average property price of a home within the catchment area of an 'Outstanding' primary school is around £679,000. Those with a rating of 'Good' are valued at just over £659,000, while schools labelled with 'Requires improvement' will command a price tag of £598,054. 
But it depends on where you go. In the catchment area of the Ofsted 'Outstanding' Altrincham Girls Grammar School in Greater Manchester, house prices are 223% higher than they are outside of the catchment area. Outside of catchment, a house may be £200,000, but inside catchment, a very similar house might sell for £446,000 – over twice as much – simply because of the location.  
A layer of protection

 
While catchment areas demand a premium on house prices, it does offer a decent degree of protection. Not only will homes within the best school's boundaries sell for a greater price, but they'll outperform other areas during times when the property market may be suffering a little.
While buying in the catchment area may be more expensive than finding somewhere outside of catchment, the house price tends to be well-protected, helping you to secure a good future house value. If you're looking to buy in these areas, you can take comfort in the fact that, while you're paying the premium now, you're likely to see the benefit of continued high demand for property in the area. Which is great news when you come to sell! 
Valuing your home

 
If you're curious about how much your home is worth, simply arrange a free, no-obligation valuation from your local estate agents. If your property is in the right area, you might be pleasantly surprised! And when you're looking to boost the value of your home before selling, check out our smart home improvement projects.