From an online estimate to booking a living room valuation, here are the top ways to check your property price.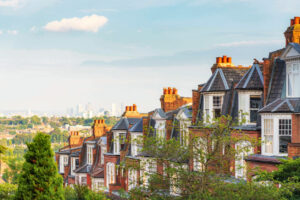 Buying, selling or just curious, we've all taken advantage of the online property valuation tools that spit out a few numbers at the click of a button. While the most accurate way to check property value is to book a house valuation from a professional estate agent, this doesn't always suit someone's next step.  
Why should I check my house price? 
There are many reasons to keep a close eye on what your home is worth, including looking to sell it soon. However, even if you decide to stay put for the foreseeable future, you should check the property value regularly. For starters, your home is part of your net worth, which in itself is a good indicator of your current financial wellbeing. If you ever had to borrow against it, it's worth knowing the current value. 
Of course, wondering "how much is my house worth?" is, typically, about knowing how much you could get for it if you decide to sell. Many estate agents recommend keeping tabs on your home's value in the years and months leading up to when you want to list it. If you track trends, you can take advantage of an upswing if it presents the opportunity.  
If you bought your house recently, you may already know the rough listing price. However, a property's market value changes over time, so it's always worth getting an up-to-date valuation from a professional agent. 
How much is my house worth? 
Here's how to find the current value of your home – without demanding too much of your time. 
Evaluate comparable properties

 
A good place to start is by looking at current listings in your area. Seek out similar properties near your house to understand the vague (and we emphasise vague) figure that you could be looking at.  
Keep in mind just because the property next door sold, it doesn't mean it's comparable. You must employ the "apples to apples" approach. If your neighbour's house has an extra bedroom, a recent renovation and more garden, you can't take their for-sale price as gospel. 
For the most thorough comparable analysis, you'll need to factor in additional information about your home that affect its worth (updates, upgrades, extra bedrooms, etc.). It's difficult to determine the exact value of these additions without the help of an agent, but anticipate that you could get a boost for a new kitchen and extra bedrooms. 
Remember that you can ask whatever you like for your home, but it doesn't mean a buyer will pay that amount. Asking prices are not "getting" prices. 
When you find yourself asking, "How much is my house worth?", the quickest way is to get an online house valuation. Thanks to online data and tools, you can get an instant valuation of your home. This is good to use when you need a general figure of what you could get for your property.  
To start, enter your postcode and answer a few questions about your property. Then, using smart technology, we'll deliver a valuation instantly. 
A competent and trustworthy estate agent will be your most useful ally when it comes to correctly assessing the current value of your home. With their industry knowledge and local expertise, they will be able to provide you with a more accurate house valuation than you would get from an online generator. The great news is that it's never been easier to book a free property valuation. Simply select local agents and request a valuation. 
Key reminders: 
A property's value will change over time

 

Your home's value isn't the same as the rebuild cost

 
Secure a couple of valuations from different agents

 

Your property's value will change over time

 
Preparing to sell 
Whether a sale is imminent or not, the more you know about your home and its value, the more informed decisions you can make. If you're past the "kicking the tyres" phase and are interested in listing and selling your home, start by booking a valuation to get your property moving.