Our top tips for making your sale as smooth as possible.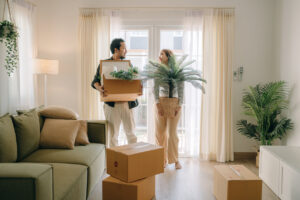 We won't sugar coat it: moving is one of the most stressful things you'll have to deal with. But things can get a lot trickier when buying and selling at the same time. At best, it's a balancing act with an element of risk; at worst, it's all-consuming. In a perfect world, you'd hit the timing sweet spot where you sell your house and pick up the keys to your new home – in that order. But we all know life doesn't always run that smoothly, so chances are there will be some overlap. To help you synchronise the process of selling and buying a house at the same time, read on. 
How to sell and buy a house

 
To sell and buy a house in one swift move can be daunting. But it's worth noting that it's a process that's incredibly common. The best thing you can do when buying and selling at the same time is to stay organised. Along with the right Estate Agent guiding you through the process, it should be pretty smooth sailing. Generally, most people need to sell their home to buy a new one.  
When you're thinking of selling your home, be sure to get a house valuation first so you know how much you could get for it. 
When it makes sense to sell first

 
A lot of homeowners get sucked into the chicken-and-egg conundrum of whether to sell first or buy first. The truth is, the answer normally comes down to finances. Most people can't afford to buy before they sell since the sale of your current home needs to fund the purchasing of your next.  
Even if you have the cash to put down the deposit, you risk losing it if you can't come up with the rest when it comes time to complete. No one wants to pay two mortgages and knowing exactly how much you have to spend (by selling your home first) means you're less likely to overextend yourself on your new home. 
Pros and cons of selling first: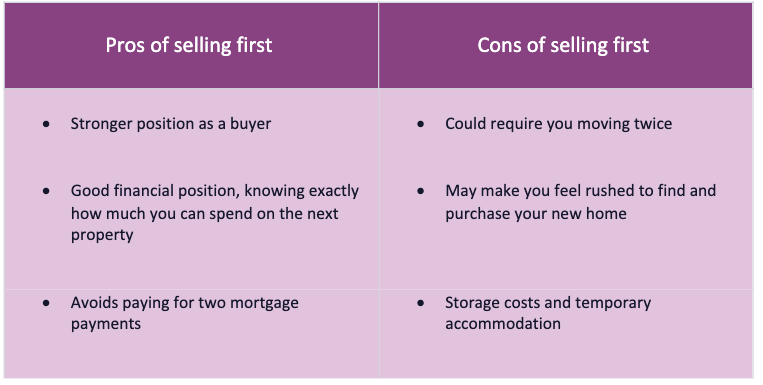 If you decided to sell first:

 
Get your home ready for viewings

 

Make it as move-in-ready as possible – e.g., fix minor repairs 

 

Work with your estate agent to price it competitively

 

Have a plan for any gap periods – look for month-to-month rental spaces and short-term storage facilities if you need to move out of your house but haven't found your next home yet
Does it ever make sense to buy first?

 
If you're financially capable, buying first has its advantages. You're able to move at your leisure and take your time to prepare your home for sale. By buying first, you also dispense the hassle of renting and moving your furniture into storage.  
If you buy first with a mortgage, you effectively carry – and pay for – two mortgages at the same time until you sell your old home. This puts pressure on homeowners to sell their current property quickly, and many homeowners end up lowering the price of their old house for a quick sale.  
So, if you're wondering, "Can I buy a house before selling my old one?" the answer is yes – if you have the cash reserves lined up. 
Pros and cons of buying first: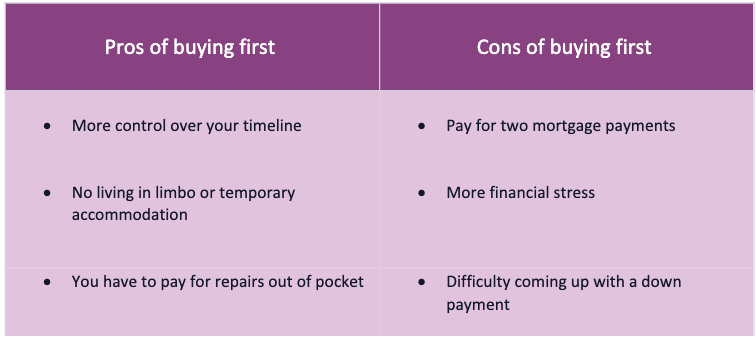 If you decide to buy first:

 
Firstly, find out whether it's financially feasible

 

Talk to a trusted estate agent and your mortgage lender

 

Make an offer you're comfortable with

 

Consider seeking a cash buyer to complete quickly to avoid paying for two mortgages

 
Synchronising your sale and purchase

 
Get your financial house in order 
The first step is to get a house valuation, as you need to know how much you could sell your house for. An estate agent will be able to tell a good listing price and what you can expect to get for your house in the current climate. It's advisable to ask three different estate agents to value your home to get a more accurate picture.  
How much you have to spend depends on: 
How much your current house sells for

 

How much equity you have (ie how much of your mortgage you've paid off)

 

How much left you owe on your mortgage

 
When you have these figures in hand, you're ready to start buying and selling.  
Put your property on the market and find a buyer 
While you look for a new home, interested buyers will book viewings with your estate agent. Hopefully it won't be too long before you have an offer that you're happy to accept.  
Surveys and conveyancing 
This is the part where everything starts to happen at the same time.  
When selling your current house, the buyer will need to do a survey. This is for them to organise, though for a smoother sale, you'll need to be there to let the surveyors in.  
When buying a new house, you'll need to instruct your conveyancing solicitor to set up your surveys.  
You'll also need to talk to your mortgage lender so that when you have the green light from everyone's solicitors, you can organise the funds you need straight away. Your advisor will be able to talk to you about the different options – paying off your existing mortgage, getting a new one or porting your existing mortgage. 
Be sure you know how long your mortgage offer is valid. Sometimes, things slow down and if the survey runs into problems, it might be a while before you get your new keys. 
Pay the fees and set your dates  
Unless you have to renegotiate prices or arrange repairs, you may be able to set dates of when you'll exchange contracts and complete the property sales. Once this is done, your old house will belong to the buyer, and your new home is yours to move into.  
Keep in mind that you'll have some bills to pay, including your estate agent, solicitor and pay stamp duty on your new home. If your old home has increased in value while you were living there, you'll have to pay Capital Gains Tax (which is a tax on the profit you make when you sell an asset, like a buy-to-let business or a second home).  
Get started

 
When you're buying and selling, it pays to get started early and be sure you know your figures. With a house valuation, you can find out from local agents how much you can sell your home for. With our Budget Calculator, you get an instant figure of how much you can afford to spend on a new home. And talking to a trusted mortgage advisor helps you organise your finances so you're ready to buy your next home with the right mortgage deal.