White, while undoubtedly a truly classic kitchen colour, isn't the easiest all-over shade for such a well-used room. Not only does it mean that any other colour in your design scheme will become more prominent, accidental spillages are more of a no-no. Even for the most passionate cook, nothing spoils the cool glaze of elegant white splashback tiles more than a bit of tomato sauce.
But if you get it right, an all-over white kitchen is a design dream. This coolest of shades will make your kitchen feel more open, and thanks to its timelessness, it will never go out of style. It's the perfect blank canvas for accessorising, whether you're going for a professional, no-nonsense cooking space, a minimalist haven, or a clean backdrop for a cosy vintage feel.
With so many options to explore, it can be tricky to know where to begin – so we've put together our top ten tips for designing the white kitchen of your dreams.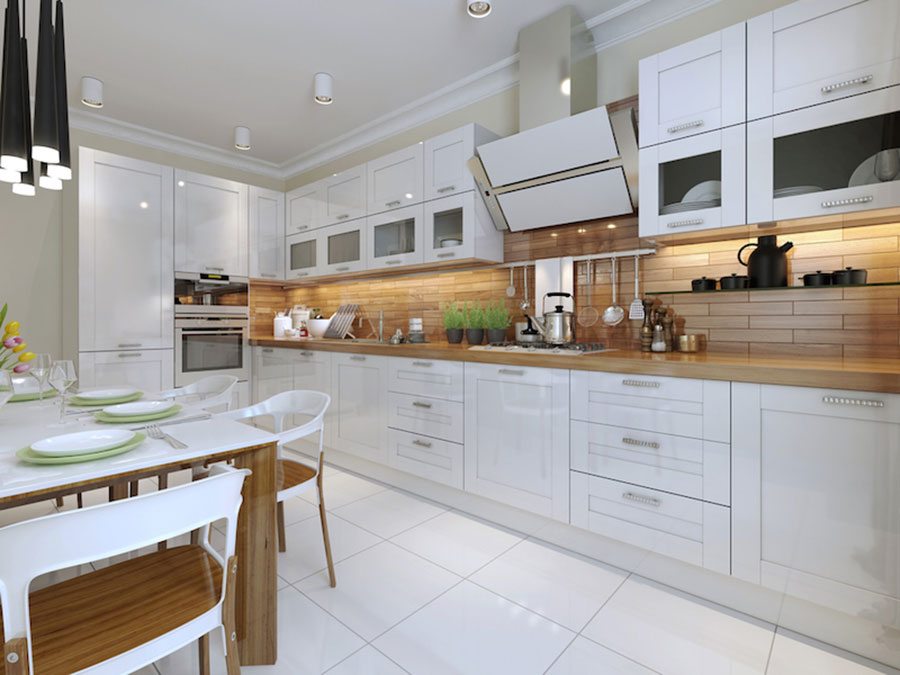 Get your theme down
When you're putting together your white kitchen ideas, think about what you really want. Do you dream of cool, clean lines, an exciting space with pops of colour, or a rustic, off-white vintage feel? All of these things will change the way you design your kitchen.
For example, a modern, minimalist kitchen will benefit from glossy white tiles accentuated with chrome accessories. Vintage and shabby-chic spaces will need less glossy coats and a more white-washed, 'faded' tone, perhaps with distressed wood features. If you're looking to introduce another colour – let's say a splash of red – go for a flatter matt white. There's an incredible amount of variety when it comes to 'types' of white, and they're anything but boring, so go ahead and find the one that you feel fits your theme!
Break it up
No matter how dedicated you are to having an all-white kitchen, a total lack of variety won't do your design scheme any favours. A wide expanse of the same white can be intimidating and boring – so think about how your kitchen will be set out, and how the lines of your cupboards and furniture will interact with each other.
For a completely all-white kitchen design, consider stacking your cupboards 'staircase' style so the eye is drawn out and upwards. Have shelves above or below the level of your white goods or windowsill, and consider the spacing between items (for example, your breakfast bar – if you have one – and your worktops). This way, even if you don't use another colour to add interest to your design scheme, you won't be left with an uninspiringly blank expanse.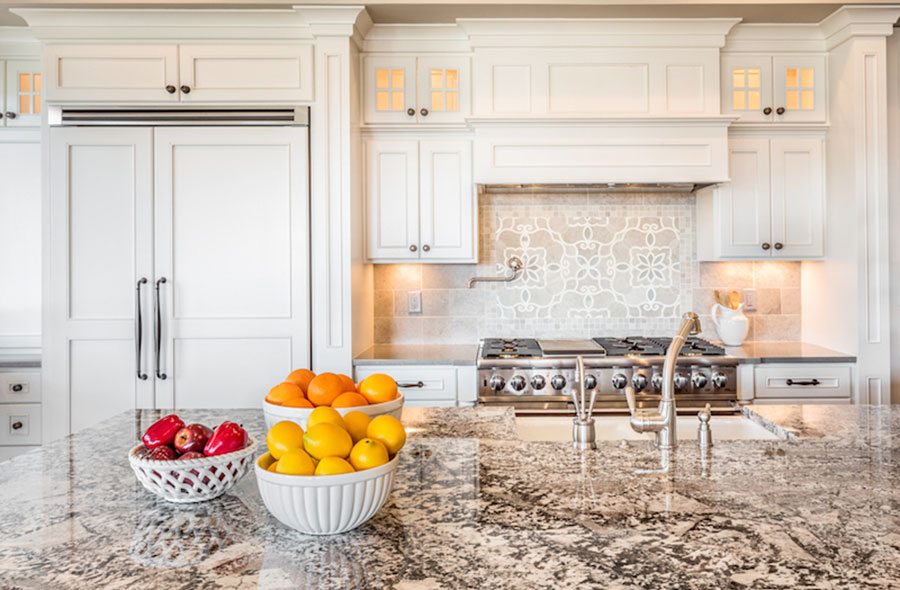 Shades of white
As well as different finishes – think high gloss tiles, distressed white-painted wood, and matt laminate – there are plenty of white and off-white shades you can go for as well, and these will really help break the room up, drawing the eye to special features and providing an extra element of interest.
Neutral off-white tones are a warmer alternative to pure white (think cream, extremely light greys, or a barely-there touch of blue or green), and they let you show your personality while remaining bang-up-to-date with the all-white trend.
You can set these off with the goods in your kitchen, too. Choose a baby-blue kettle and toaster set, for example, and set it off with extremely pale, almost-white blue wall features.
Accessorise
Just as you need to break up your white kitchen with different lines and levels, the accessories you choose can really add 'wow' factor to your design scheme. Your white backdrop is just asking for a pop of colour with statement pieces that draw the eye and provide an excellent focal point.
A gorgeous, vintage-style red fridge is the perfect way to pinpoint the centre of your kitchen, while a coloured table with chairs puts the focus on family life and communal dining. Just be aware that when you choose your coloured accessories, look for the same shades – matching sets by the same manufacturer are a good idea – as you don't want to lose the crispness of your white design scheme under too many bursts of colour.
Alternatively, forget the bright pops and go for a variety of softer colours – like light or dark wood-stained furniture and cupboard doors – for a beautifully rustic feel. You can also go for all-white accessories, but be sure to add a focal point somewhere, as you don't want to lose the punchiness of your colour scheme by making everything the same.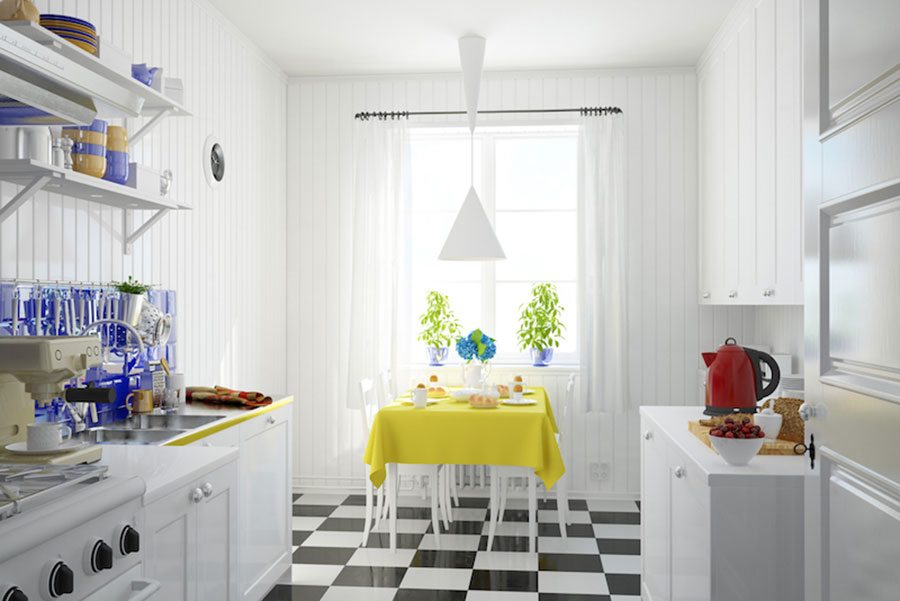 Think about how it fits with the rest of your house
You might love the idea of a beautiful white kitchen, but consider how it fits with the rest of your house. Is your home cosy and dimly-lit, uncluttered and minimalist, or crowded with colour? Of course, you might want every room to be different – if so, there are no limits to the white kitchen ideas you can implement! But if you like the idea of a coherent, all-round design scheme, consider how it will look when you walk in from the living room, or how it will appear when you can see from one room into the other.
Go easy to clean
Nothing shows up food splashes and dust as easily as a bright white. Unless you're willing to be extremely scrupulous with maintenance, consider how easy your materials will be to clean when choosing tiles, flooring, accessories and paint – easy-wipe versions are generally more practical when it comes to kitchens, although they might not offer exactly the look you want. Decide how much ease-of-maintenance matters to you compared with the look you truly want, and make the compromise that's right for you.
Choose your white goods carefully
'White goods' don't have to be white – your dishwasher, fridge, washing machine and any other implements can make a bold statement in themselves, adding punchy splashes of colour that stand out against the rest of your kitchen.
Brightly coloured 'white goods' are experiencing a surge in popularity, from bold Smeg fridges to colourful washing machines. If you're replacing everything in your kitchen, consider adding exciting splashes of colour this way, as they can really set off and add excitement to your scheme.
Look for design inspiration
Even if you've got your perfect white kitchen in mind, take a moment – or even a few hours – to browse home style magazines or, better yet, on-trend blogs for design advice and inspiration. You'll find a whole host of ideas you hadn't considered before, and as white kitchens are so popular at the moment, there's sure to be plenty that will grab your attention.
The right lighting
No white kitchen is complete without lighting that truly complements your design. The right bulbs, shades and layout can make or break your colour scheme, so choose carefully, and most of all, use your imagination!
You don't have to stop at normal bulbs – choose tinted bulbs as a mood-lighting option, such as red for a cosy, intimate vibe that's perfect for late-night dining. Strip lighting may be too harsh for some white kitchens, but if you're after a very functional, brightly-lit workspace that serves passionate cooks, it's something to think about. Decide what you want, what your kitchen will be used for, and the mood you're after before choosing your lighting.
For more inspiration, why not check out our guide to lighting your kitchen?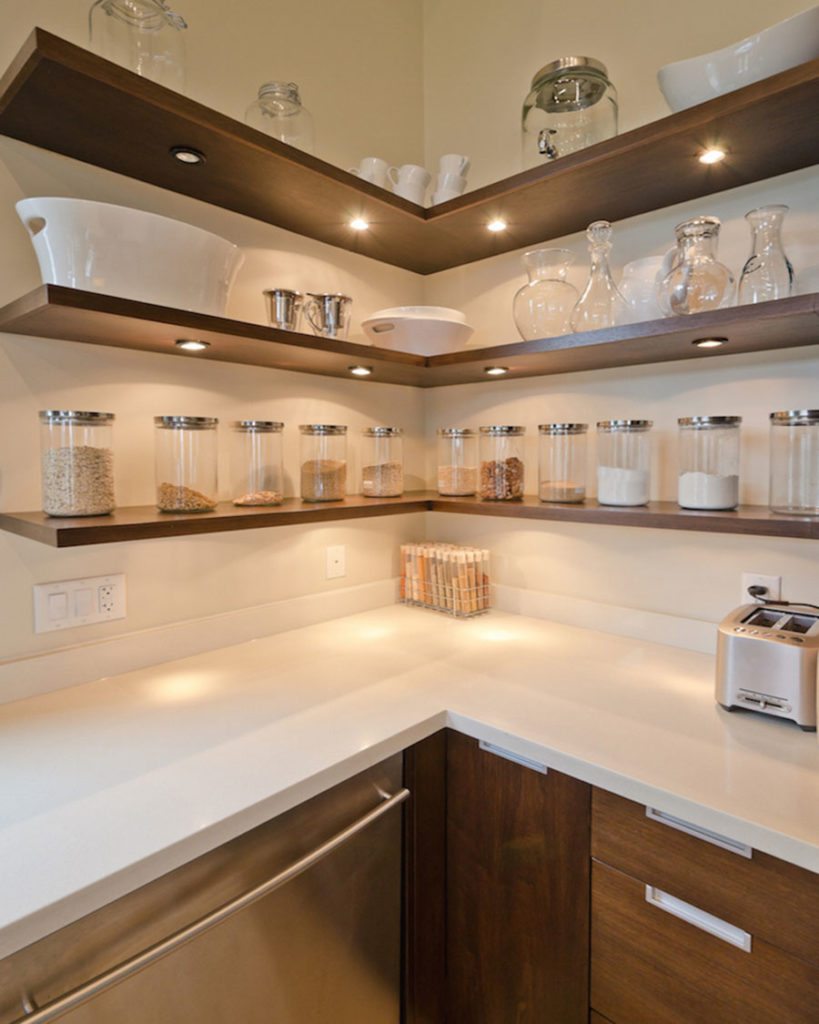 Think big
Lastly, if you're seriously considering white kitchen ideas, don't be shy. A white kitchen is a real statement piece, and you can make it look just the way you want – cosy, rustic, vintage, modern, minimalist, and more.
Play around with ideas, take inspiration from anywhere you can find it, and use kitchen design software to experiment and let your imagination run wild. You might not go with every idea, but if you give your creativity full reign, you might surprise yourself – and end up with the kitchen of your dreams!