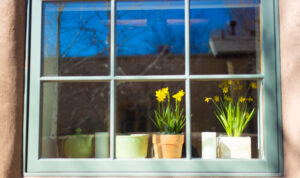 It's that time of year again! The lambs are about to start gambolling in the fields; the daffodils are just about raising their heads, and the Easter eggs are already on the shelves. Spring heralds a deep clean to start the year—and there's no better way to improve your home and make your kitchen feel as good as new.
To ease the pain of the deep clean, we've compiled a spring cleaning checklist to help you spruce up the heart of your home and get your kitchen looking as good as new.
Up top
The long-forgotten dust traps in your kitchen are up top and down low. Get yourself a stepladder and get your duster up to those rarely scaled summits—cabinet tops, high shelves, and ledges. While you're up there, wash it all down with a cloth and soapy water.
To achieve a truly deep clean, it's a matter of three: dusting, washing and drying. Those forgotten shelves can accumulate quite the grime, so make sure your spring clean goes the distance by completing every step. Presentation is key, and it's a quick way to add value to your property. As the kitchen is the heart of the home, it's a good idea to keep it looking as good as new throughout the year.
Down low
Another easily ignored part of your kitchen is awarded to the floors! Most of us won't escape without at least one inconvenient gap in the units, or badly fitted washing machine. It's these little crevices that are the hardest to get at and the easiest to ignore. Use a hoover to get as far as you can; after that, it has to come down to manpower. Sometimes, unpleasant as it is, nothing can beat a sponge, a bucket of soapy water, and the length of your arm! You may not be able to see the difference all the time, but you will definitely sense the benefit of having gone the extra mile in your kitchen spring clean.
Be sure to get to the rest of your floor as well. After the usual hoover, do a thorough mopping and remember to use special detergent to protect wooden floors.
Bin the bin
It's no surprise that the dirtiest part of the kitchen has to be the bin area. It might be time to treat yourself to a new one if you've had your current bin for a while. If not, take it outside for a good dose of bleach and the soaking treatment. For in-cupboard bins, be sure to give the unit it sits in a good clean, along with each component of the appliance.
Refresh your fabrics
Don't let your curtains, drapes and blinds go unnoticed! Take them down for a good shake out or, if their labels allow, a wash either by hand or in a machine. The same goes for any upholstery to be found in your kitchen—it could all do with a spring clean, as grease can easily ingrain itself in material over time. Refreshing your fabrics is a great way to add value to your home and keep your house looking revitalised all year round.
The oven
We're all guilty of occasionally ignoring that one small spill in the oven, but it's important to clean your oven regularly to avoid a build-up of dirt and grime. Invest in a good oven cleaner to put down, and remove all interior shelving for a scrub in the sink. Be careful with ceramic hobs, and remember to use a gentle cream cleaner that won't do any damage. Follow your model's instructions to find out how to remove nobs and buttons. It's this kind of detail that will really result in a deep spring clean for your kitchen. Grease, oil, and sticky fingers have been pushing those buttons and turning those nobs all year, and it's time to wash the marks away.
Fridge and freezer
You've ticked off a lot of your spring-cleaning checklist already, but it's not time to put your feet up yet! While waiting for the oven cleaner to do its magic, it's a good time to reach into the very back of your fridge and freezer to discard anything that has been festering there. If you haven't eaten those frozen leftovers in six months, chances are you probably never will! Defrost your freezer to remove any ice build-up before giving it a thorough clean—you could gain inches of room in a small freezer by getting rid of ice build-up. Remove all the components of your fridge to give them a thorough clean in your sink before wiping out the fridge itself.
Small appliances
Time for the toaster: empty out the crumb tray of your toaster and wipe it down.
Remove the limescale in your kettle by adding equal parts water and vinegar and letting it soak for an hour. Then, boil it, empty it, and rinse it out.
Scour the microwave: remove the plate for a deep clean in your sink. To get rid of fossilised and ingrained spills, fill a microwavable container with water and microwave it until the window becomes steamy. Allow it to sit for a few minutes before opening the door and wiping it out with a sponge. Try adding lemon juice to the water for an extra spring clean scent!
It's what's on the inside that counts!
Wash down both the insides and out of your units and cupboards to make your kitchen feel as good as new. It's also a good chance to get rid of any unused or broken crockery. Empty out your cupboards for the deep clean in your kitchen, and be sure to make space in your cupboards for the coming year by getting rid of anything chipped, broken or simply unused. Chances are if you haven't used it in the last year then you won't use it in the future—so out it goes with the spring clean! When a cupboard is empty, wipe it out with a cloth, and refill it with a more methodical layout. It might not last the year, but you can always start with good intentions!
Do the same with your food cupboards, donating any unwanted foods and reaching right to the back with your cloth. Remember to wash the walls of your cupboard as well as the floor. If you want something special to spruce up your kitchen cupboards for the New Year, consider installing battery-powered kitchen cupboard lights.
Now you've dealt with the insides, move onto the exteriors of your units to give them a good wash down. A quick spring-cleaning tip: the cupboards and units can seem like an endless chore—tackle one a day for a week, and the task won't feel so cumbersome!
Checked it all off the list? You should be ready to step right into spring with a kitchen that feels as good as new! Now put your feet up—you deserve it.