Whether you're on the first rung of the property ladder or you live in a small apartment, not everyone has lots of space in their kitchens. But that doesn't mean you have to make huge sacrifices when it comes to style and utility. Making use of every bit of space that you have can yield some great rewards, and there are ways to keep it clutter-free – even if the storage space you have is limited!
Here at Property Price Advice we've put together some ways to maximise what you have, creating the kitchen you've always dreamed of.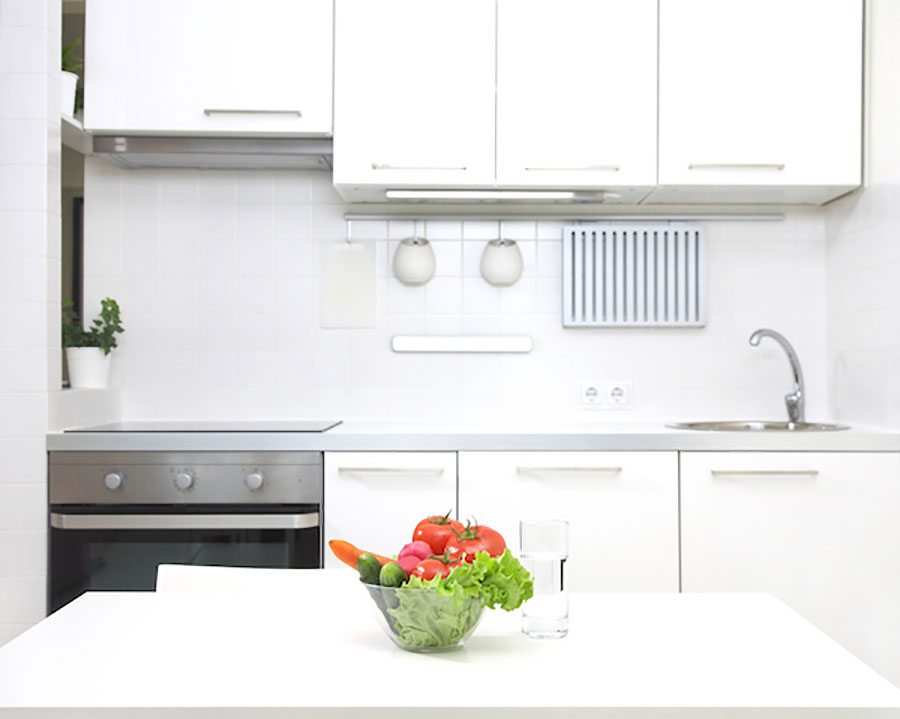 Shelving
Shelving can be absolutely brilliant for small spaces with limited storage space. Most kitchens have unused spaces, usually towards the ceiling and also above sink areas and in corners. A good place to start is to assess where you have unused wall space, and visualise where shelves would be both practical and look great too.
If your kitchen decor allows, uncomplicated, rustic-style shelves are a great place to add extra hooks, and hanging mugs and teacups from them will only add to the style. Adding hooks to shelves is a wonderful way of making the most of the extra storage space you create.
Need some more small kitchen ideas when it comes to storage? Put wicker baskets on high shelves to keep together all those smaller bits and bobs, or use boxes – such as magazine files – inside your cupboard doors to help you keep things organized.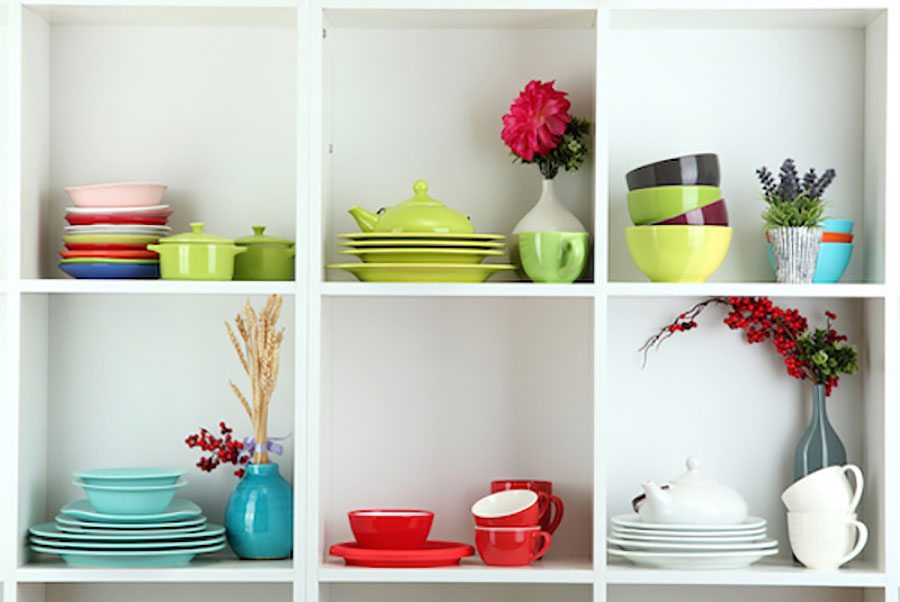 Types of shelving might include:
1. Wrap-around shelving, which goes all the way around the top of your kitchen, provides loads of extra space. You may need a ladder to get up there, so reserve these shelves for items you don't often use.
2. Open shelving is an option, but it strongly divides opinion. A door-less shelving unit with cubic openings holds crockery, linens, and utensils in an easy-to-reach way. It can act as a wonderful display piece too, as long as everything is kept tidy.
3. Floating shelves are great, because the less bulk you have in your small kitchen the better. Put them in places you might not normally consider.
4. Shelves can be built into small existing spaces, such as awkward ones between appliances and corners, or mounted below cabinets. Even if it's not your first choice, make the most of the space you have. When coming up with your own small kitchen design ideas, be inventive and use your space however you can.
Utensils and cupboard storage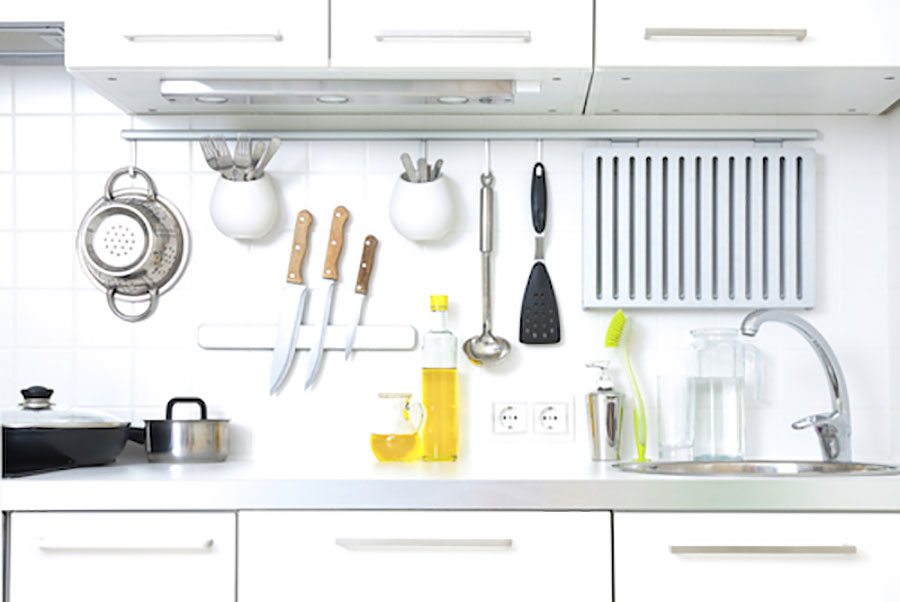 For pots and pans, add a rail under your cabinets so you can hang them up, or use a painted pegboard, which can also be used for utensils such as whisks and spoons. Hooks throughout the kitchen can hold mugs and tea towels, even if they are higher up on the walls.
Install a magnetic strip so you can hang knives and other metal implements somewhere handy. Find a pull-out space for flat items such as chopping boards, and store small items in a basket to keep your kitchen storage space looking uncluttered.
You can hide any unsightly clutter you have behind closed doors, but for those up to the challenge, glass kitchen cabinet doors can add a feeling of space. Light can reflect from the glass, giving a feeling of openness, but to keep your kitchen looking great you'll need to keep the insides well organised.
Consider spaces you don't normally think about when drawing up your small kitchen design. Using the gap above your door for shelf storage is great for hiding things you may not use all the time. You might want to keep a small, folding ladder somewhere in the house, but the space-saving benefit can outweigh the cons.
Spices are vital to plenty of dishes, but as they look great too, why not make the most of them? Make a rack for them on the wall, or attach them to the fridge using magnets, freeing up cupboard space.
Kitchen drawers can be vertical rather than horizontal, giving you room to store jars and bottles. After remodeling, you may well have awkward spaces between furniture or appliances. A small space can be used to storing things like kitchen towels too.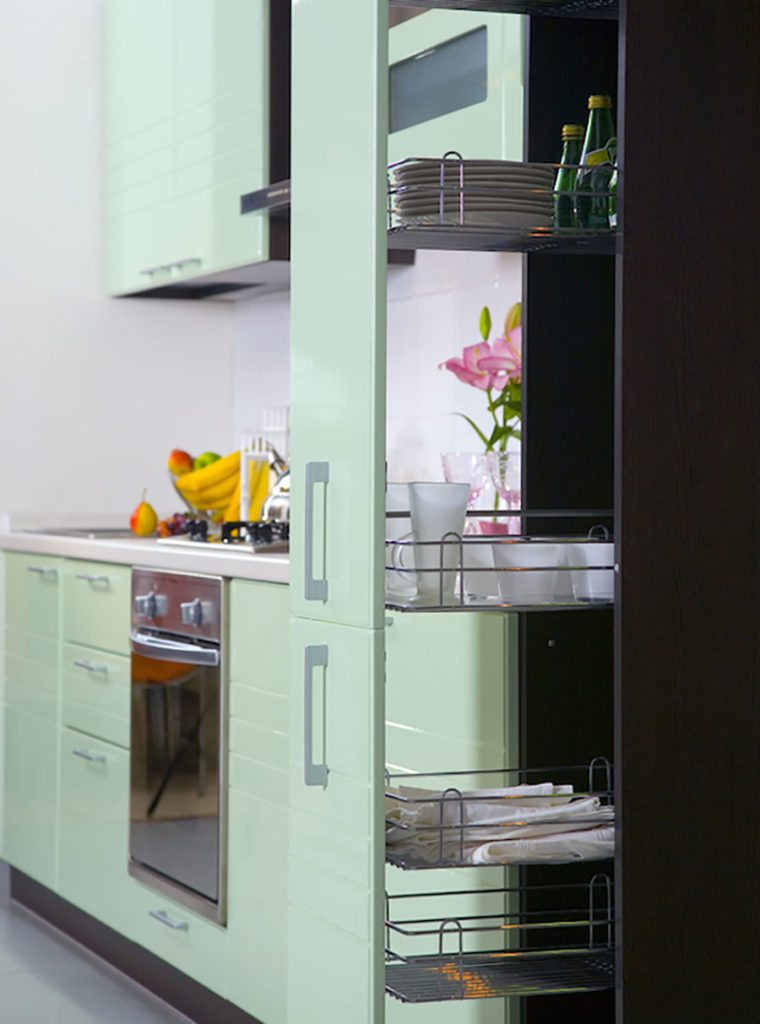 Extra counter space
If you don't have room for a proper kitchen table, a worktop bar fixed to the wall doubles as cooking space and somewhere to eat. You can push stools or chairs underneath, freeing up floor space too.
Putting wheels on a kitchen cabinet means you can roll it out when you need extra counter or dining space, making your kitchen space work for you when you need it.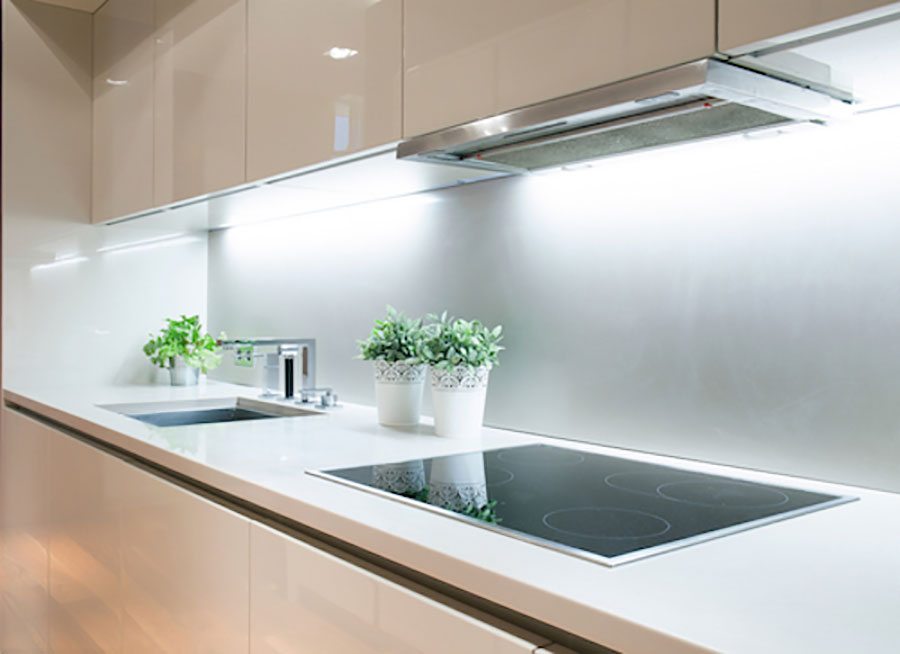 When it comes to maximising your space, small kitchen ideas don't stop at the work surface. Electric cookers are sleek and often sit flush with the work surface, so you can place other items on it when not in use. Alternatively, if you have a gas cooker, you could purchase a cover for it, allowing you to prepare food and use it for other tasks.
An undermount sink creates a continuous flow of surface from the countertop into the bowl. It looks less cluttered than anything above the surface, and it means you can wipe dirt straight into it.
Paint, lighting and flooring
As well as maximizing physical space and storage, the amount of light in your kitchen can make a real difference to how big the room feels. Dark rooms feel more crowded, so brighten your walls with a fresh coat of paint, either in a lighter shade of colour or even white, which reflects light and opens the room up. Keep the colours complementary to each other, as too much busyness can close a room up. For more tips on your kitchen colour scheme, why not take a look at our kitchen decorating ideas article?
A few under-cabinet or plinth lights can make your kitchen more functional and easier to work in. Coupled with bar stools, which are easy to push out of sight, you'll have a casual vibe that you and guests will love to relax in.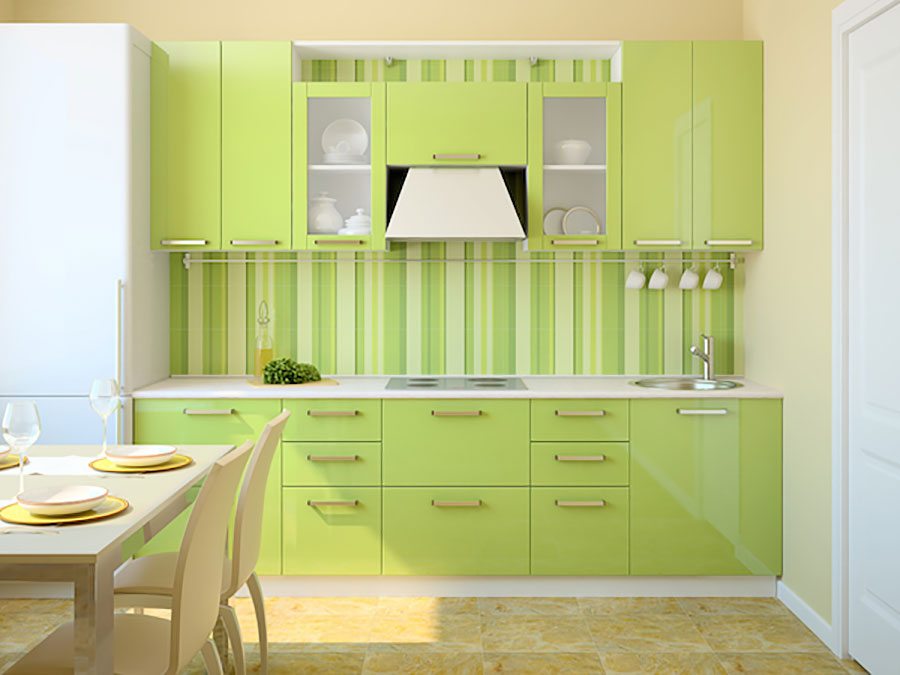 Choose geometric or striped walls and floors that encourage the eye to look lengthwise or vertically, as this can make the kitchen appear slightly bigger than it actually is. Don't overcrowd with too many complex patterns though, as too much detail can still crowd the room.
Reflective surfaces (think ceramic tiles or stainless steel) can boost the effects of sunlight or artificial light, making your space feel bigger. Mirrored glass, on the wall or on cupboard doors, adds to the illusion of more light and space, making them an essential part of small kitchen design.
With all these tips in hand, it's time to maximise your kitchen and make it work for your needs. Experiment, let your personality shine through, and decide what's right for you – and in no time you'll make your small space amazing. A great kitchen can even have an impact on the value of your house!