These days, kitchen interiors have extremely varied designs, from modern fixtures and fittings to vintage fabrics and upholsteries that can transform the room at the heart of the home. Choosing a décor that is unique in style and tailored to your lifestyle can be tricky. That's why we've come up with a variety of inspirational retro kitchen ideas for your interior, as we go back in time and create a kitchen that screams originality. Our retro kitchen ideas incorporate up-to-date practicalities such as durable surfaces and appliances, so you can get all the joy of a very practical kitchen, whilst keeping stylish retro trends throughout your kitchen design.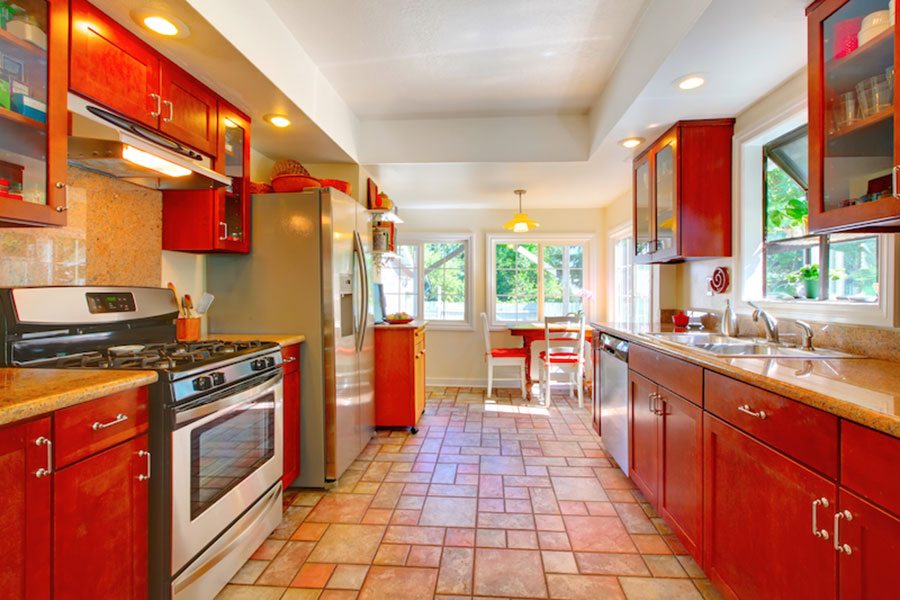 Retro Décor
The base for your retro style kitchen is the décor on which you can build designs and themes. This is a great starting point to begin with, especially if you can decide on specific colour themes and design trends first of all to help you start feeling creative.
For an authentic retro kitchen décor, take your inspiration from the past with a 'second hand' theme, but if you're stuck for initial ideas then why not take a look at various American diner type trends and style your kitchen with designs from the 1950s. Incorporating bold patterns from the 1970's is another great way to introduce a retro flare into your kitchen. Colour palettes of avocado, mustard, oranges and browns are a great way to compliment the era, especially when combined with patterns that are reminiscent of the groovy 70's style.
Walls
The walls should compliment your retro kitchen interior but you mustn't be afraid to clash shades, as this is essential for that retro finish you are looking for! Mix and match colours to suit your individual style but remember to incorporate lighter shades such as yellows and whites to ensure your kitchen isn't too dark. Possible colour choices you might want to consider include:
• Red & magnolia
• Red, duck egg blue & white
• Olive green, yellow, red, & white
• Mustard, avocado & orange
If you don't want to be limited to painting but you want to re-design your walls, why not opt for colourful wallpaper with bold prints and patterns to evoke a retro feel into your home? Geometric patterned wallpapers are a great choice, especially as designs can range from cubist shapes and flowers to animals, and spirals. A glossy tiled backsplash in your retro kitchen can make a stylish statement, contrasted against your painted, wallpapered or printed walls. Depending on your wall colour, the tiles can be darker to add drama, or lighter than your wall colour to help brighten up the room. Either way, tiled backsplashes provide contrast and character, which will give your retro kitchen some depth and added dimension.
Flooring

The flooring material you choose should be practical and hardwearing so it can be easily cleaned and sustain your new kitchen transformation. For a retro style we recommend you base the flooring on geometric designs in keeping with the décor, but if you prefer wooden material then why not opt for a wood effect vinyl floorboard design. This will bring out the rectangular shapes of floorboards without the tough maintenance of real wood.
If you prefer the versatility of floor tiles however, the traditional checkerboard design in stone can be a really effective choice. Stone tiles will ensure you have a kitchen floor that lasts over time but if you aren't a fan of the black and white scheme then replace the black tiles with a colour or pattern that reflects more of your own creative style. There are lots of colour schemes and alternative patterns that will give your retro kitchen a quirky lift and many will tie in nicely with the rest of your kitchen design, although choosing colours that clash and contrast is a great way to make a bold statement.
Accessories and Appliances
Retro appliances are a great way to incorporate new design trends and themes into your home without the upheaval of having to completely redecorate. Accessories can help transform your kitchen with the variety of different styles, patterns, shapes and colours available, but we recommend that for more retro aesthetics, choose a colour and stick with it, from the toaster to the cooker!
Cooker
Re-designing or choosing a new cooker is a great opportunity to add an authentic sense of period into your kitchen. Second hand cookers from the 1940's and 50's may look great in a retro kitchen design, however, there are modern ranges available in the retro style too, which will do a better job in meeting your cooking demands with cutting edge technology. These types of cookers offer the best of both worlds: you get contemporary practicality whilst securing the look of tradition. We have found that gas Rangemaster cookers fit this criteria perfectly but there are many cookers that will be sure to add quality and boldness to your retro kitchen design.
 Refrigerator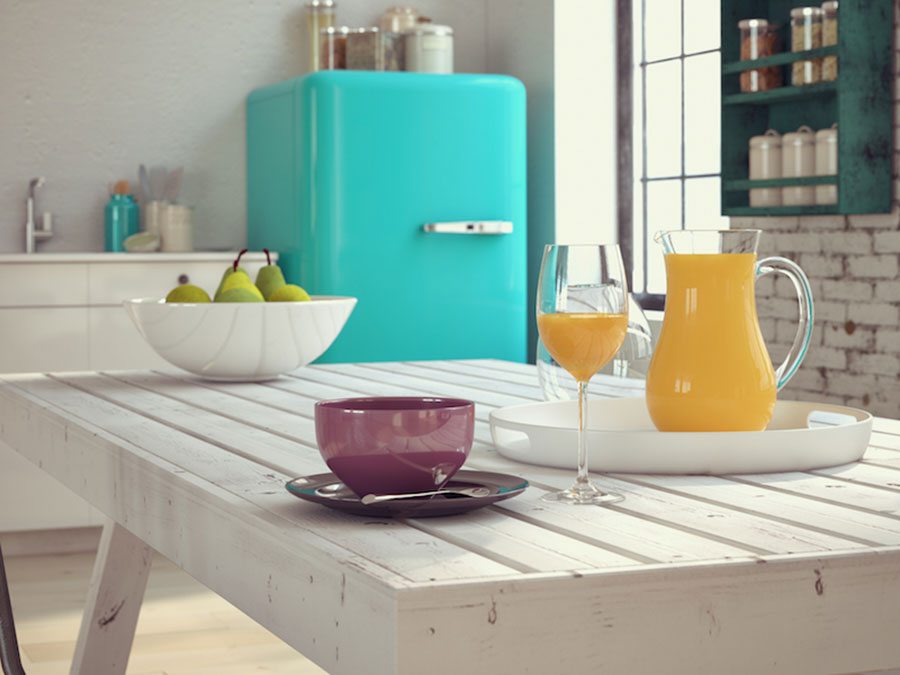 For a refrigerator that boasts design of the recent past, consider a 50's looking fridge freezer to incorporate into your vintage kitchen style. With a variety of refrigerators to choose from it can be tricky to find one that fits the retro trend, however we think that your fridge freezer should match your cooker and surrounding appliances, so opting for a silver design will suggest class and quality.
 Sink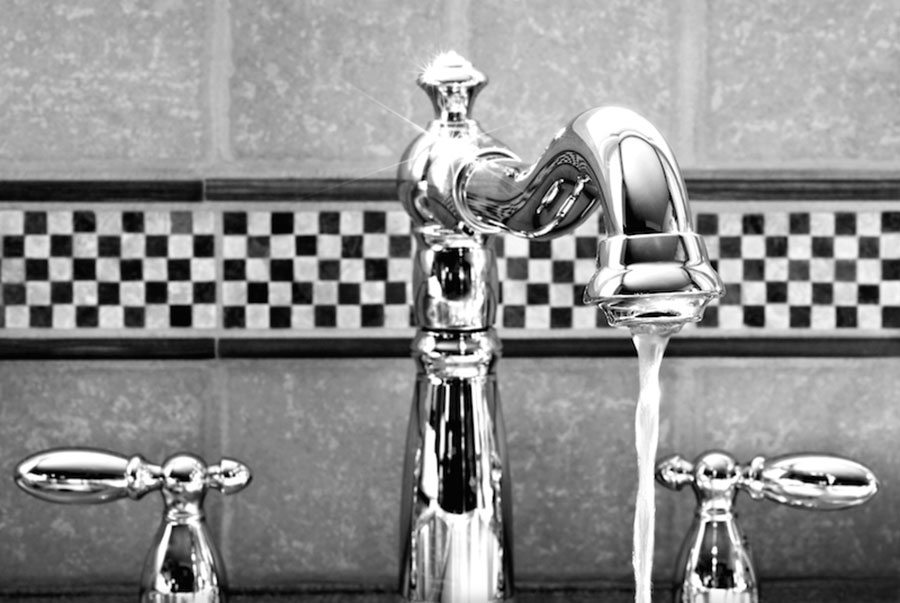 Vintage style sinks are traditionally ceramic and they are popular kitchen accessories thanks to their excellent hardwearing qualities. Accompanied by a silver steel tap, your ceramic sink will fit in perfectly with the rest of your retro kitchen, whilst the silver style and colour will act as an accessory for your sink, adding a touch of glamour. If silver isn't in keeping with your colour scheme however, and you're looking for something a little more vintage, then choosing brass, gold or copper taps with twisting handles are a great way to add a sense of value to the kitchen, as if they have just arrived from the past!
Lighting

Lighting is key to achieving your desired look and it will instantly enhance your retro kitchen style. Vintage pendant lights that hang from your kitchen ceiling have the perfect retro finish, and are a great addition to your overall theme. Choose a metallic colour scheme and include tones of bronze and gold to give these lights the subtlety they need to achieve a soft, elegant glow in your kitchen, and don't be afraid to include free-standing lights and table lamps into your designs too. Accessorising with retro patterned, vibrant lampshades are a great way to revamp your existing kitchen design, and with the luxury of being able to mix and match the styles when you fancy a change, you can keep your designs on trend and fresh throughout the year.
Refine all your hard work with little accents that compliment the whole room, such as a toaster, kettle and a food mixer. These accessories should include aspects of your chosen colour palettes to match the rest of your retro kitchen appliances but we also recommend contrasting patterns and designs to make a bolder, vintage statement.
There are lots of opportunities to add authenticity to your retro kitchen design, for instance the inclusion of vintage kitchen scales instead of digital. For a touch of American diner style, you may want to consider some fun accessories such as milkshake makers, popcorn makers, or even silver straw holders for all those dinner parties you might like to host once your kitchen design is complete.
Kitchen Furniture
Retro kitchen furniture is essential for achieving that dated, vintage feel but it doesn't have to cost a fortune as you can be sure to find lots of retro accessories and furniture in many second hand charity shops.
For kitchens that are already bright and bold with vibrant colour schemes and surrounding accessories, choosing subtle wooden furniture can help balance the design and keep it tasteful. If you designed the room with neutral tones and you want your appliances and furniture to stand out however, then opting for units and worktops that are patterned with a retro style is a great way to make your design more noticeable with character. Tablecloths instantly encourage a retro feel and are also effective if you want to change the look of your kitchen throughout the year and for special events. Choosing a natural wooden table can provide your kitchen with a vintage feel, especially if you go one step further and add a layer of distressed paintwork to enhance its vintage look. This design can be effective throughout the kitchen, and it's a great way to make sure your kitchen furniture matches with a vintage, shabby-chic style.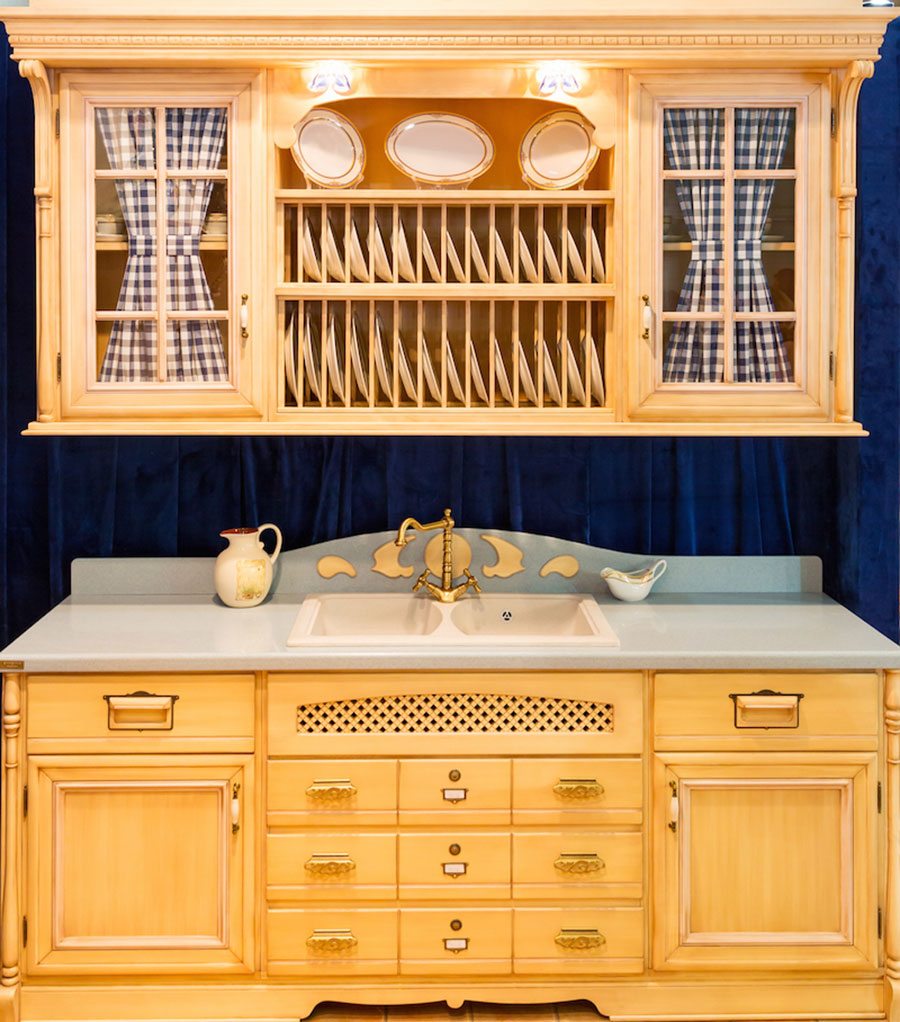 For a retro kitchen work surface, white is recommended if your kitchen unit is of a bold colour and if extra counter space is needed then incorporating a breakfast bar is a great opportunity to add extra dimension to your existing space. Here you can add retro kitchen stools to the design, similar to those in American diners, to help bring your theme together.
Fabrics and Curtains
This is where you can really add the finishing touches, and put emphasis on your new vintage kitchen! Remember that the retro kitchen style is all about the past with items reminiscent of a different era. So, why not 'upcycle' old fabrics from the past and give them new life as a décor fabric for your retro kitchen. If you are into crafts and textiles then 'upcycling' fabrics can be really enjoyable and rewarding when you can show off your bespoke, custom features.
Use fabrics of a lighter shade for curtains and upholsteries to make your kitchen feel welcoming, especially as the more subtle and neutral tones will help to balance out the rich retro patterns on the wallpaper and furnishings. Think practical and choose a sensible fabric for blinds and curtains that won't absorb any cooking greases, although this doesn't mean they have to be boring in design! In addition, you want to invite as much sunlight into the room as possible, in order to make your retro kitchen shine, and quarter curtains are a great way to do this by helping you get the most sunlight into your kitchen as possible. To ensure a retro finish, you may want to consider buying your curtains second hand, with cotton or linen a good choice of fabric if you want to incorporate a patterned print to match the wallpaper.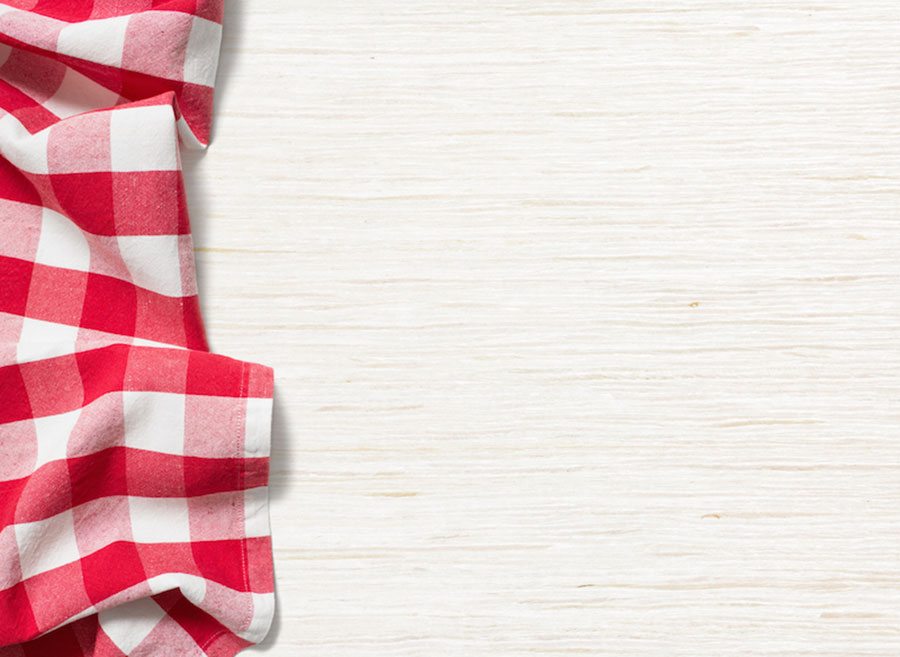 These top tips will help you maximise your kitchen space with a vintage feel in mind, but remember that not all of your retro kitchen style has to include geometric shapes with mustard coloured wallpaper. Incorporate your own creative flare and tailor your design to suit your style; in no time you'll have a kitchen that is beautifully designed and usable with that vintage, retro charm.