Once four small rooms, the ground floor of this home has been transformed into a sociable open-plan living space.
The Owners
Dan Hughes, a software account manager, lives here with his wife Polly, a financial director in the aviation industry.
The Property
1980s four-bedroom house in Winchester.
The Brief
To create a single, open-plan living space from a dining room, kitchen, study and part of the living room.
Before the home renovation
Dan & Polly's Story
The success of a home renovation project often comes down to the courage of one's convictions. Polly and Dan Hughes proved this when revamping the ground floor of their Winchester home, which had been extended some years earlier and divided into four boxy rooms.
"Our vision was a large open-plan living space," explains Dan, which they achieved thanks to some smart decisions and a clear understanding of what they wanted.
The savvy decision making started early in the home improvement project. Having commissioned architect Bernie Grant of 1moreroom.co.uk to draw up plans for the house, Dan and Polly applied for and were granted planning permission. However, they struggled to find the right kitchen designer: as one of three zones within a multifunctional space, it needed to complement the living and dining areas while holding its own within the larger space.
"We never wanted to spend £20,000 or £30,000 on a kitchen, which was what companies were quoting," recalls Dan. "Given that we knew what we wanted, we decided to do it ourselves on a sensible budget."
Polly and Dan's kitchen is very much a lesson in balancing aesthetics and functionality with cost. The matt white cabinets were reasonably priced from Howdens, while the appliances are mostly Neff; Polly loves to cook so investing in a quality brand was important. This also explains why the work surfaces are hardwearing, easy-to-maintain quartz.
After the home renovation

The couple opted for a single-wall kitchen: all the cabinetry and most of the appliances are aligned on one wall. Exceptions are the Neff hob, which is located on the island that sits parallel to the cabinets, and the dishwasher, which is housed within the island unit. Also inside the unit are a pull-out bin and a series of spacious drawers for cutlery and crockery.
"Our idea was to have the hob facing into the room," says Polly. "We regularly entertain, so I don't have my back to the dining and living areas when I'm cooking."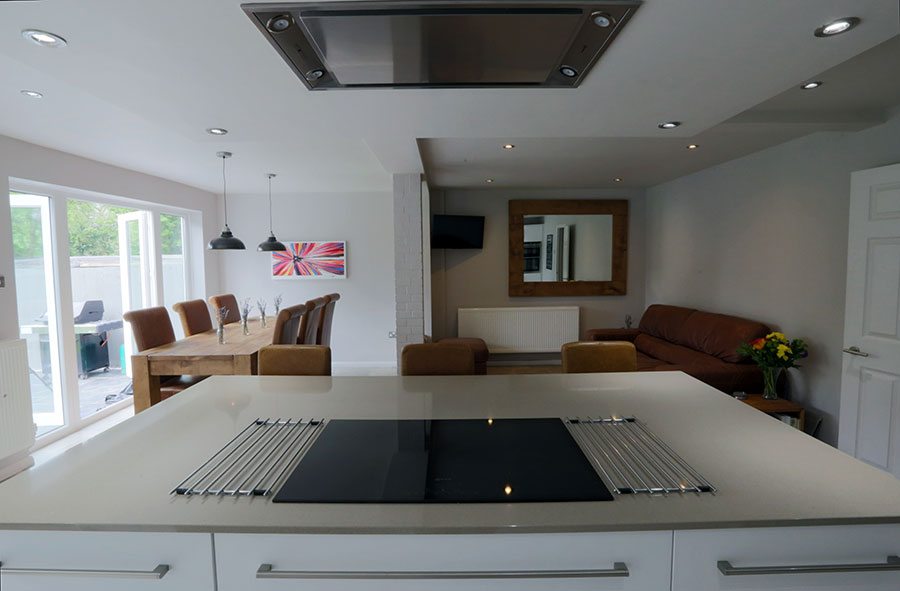 The extractor hood was also carefully considered. "It would have been pointless creating this big, open-plan space if an extractor then obstructed the line of sight," Dan adds. "That's why our extractor is built into a bulkhead."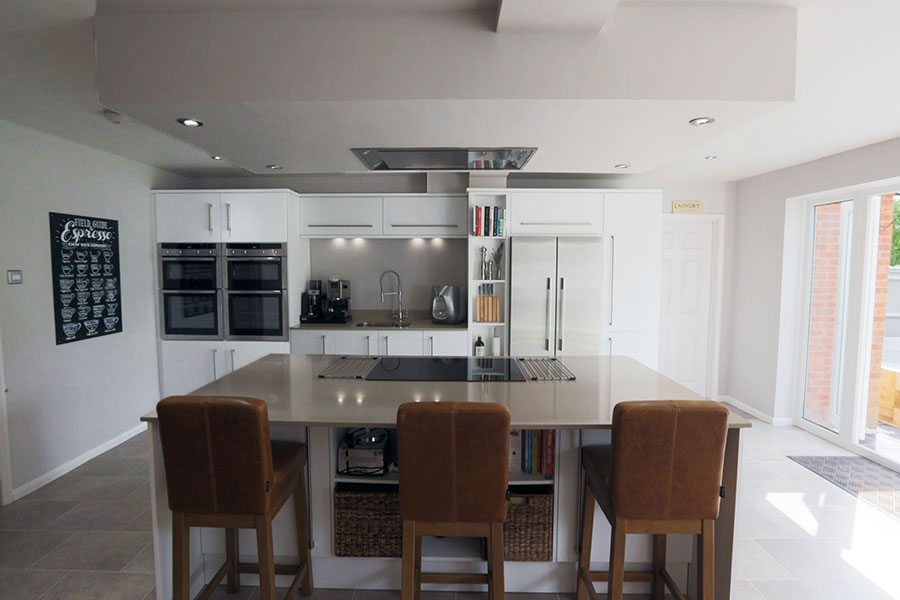 The fact that Polly and Dan took on the role of project managers is all the more impressive given that they were juggling busy jobs and organising their wedding at the same time.
"We were doing the whole house, so we lived in one bedroom with a downstairs toilet for six months," recalls Polly. "We had to make decisions quickly. So it wasn't, 'Oh what about this? What about that?' It was, 'Let's just do it.'"
This ability to make snap decisions stood them in good stead when they realised that the paint they had chosen for the hall was too dark.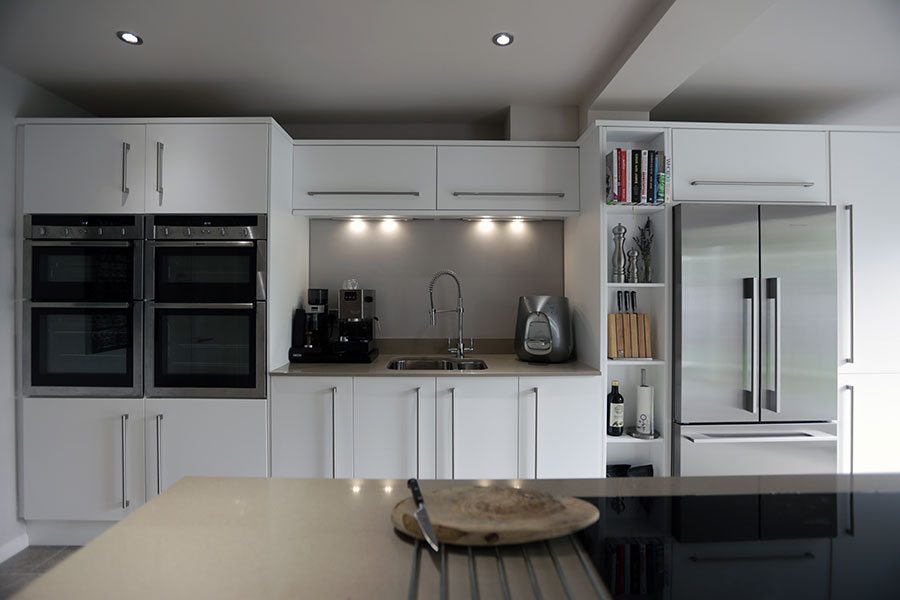 "Pretty much everything in the house, apart from painting, had been done before we went on honeymoon," says Dan. "Fortunately, the painters had started decorating our bedroom because when we saw the colour of the paint, we knew it was too dark for the hallway. So, at the airport, on the way to our honeymoon, we picked a lighter colour. Luckily we got back and we loved it."
Asked what advice they would give to someone embarking on a similar project, Polly says not to expect perfection.
"Save yourself a load of stress," she says. "Focus on the important bits and don't obsess over the small details. For example, there is a slight chip in one of the end panels on the island unit. We could have got the builder to replace the whole island, but we got him to fill it in instead. We could have spent so much stress and energy on that chip, but it would detract from everything else and spoilt our enjoyment of our fantastic new kitchen."
Dan says…
What was your biggest expense?
The flooring! We spent more than we planned. This was partly because we underestimated what it would cost but equally, we decided that quality flooring is important. We didn't want to scrimp on it.
Is there anything you would still like to do?
Our long-term plan is to swap the two sets of French patio doors for bi-folding doors. It would be lovely to create continuity between the indoors and outdoors.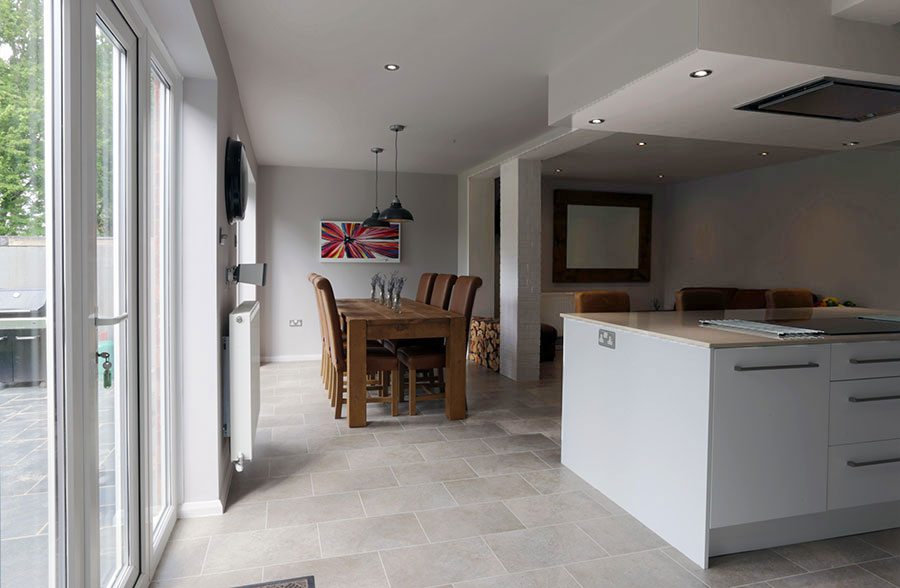 What would you have done differently?
We would probably have had underfloor heating, but because of the cost we decided against it. We opted for a couple of radiators instead. It's quite a big open room, so I was worried about it being cold, but it isn't at all. It's really cosy.
What was the biggest challenge?
Getting a good builder was hard. We had builders come round and they never come back to us with a price. We ended up using someone that our architect recommended. He was slightly more expensive but excellent.
What is your favourite feature of the new space?
For me it's the coffee machine. In the mornings we get up and have a coffee together: it's great to be able to hang out before the carnage begins! It was a wedding present from Polly's parents and it was actually the first thing we unpacked after the honeymoon.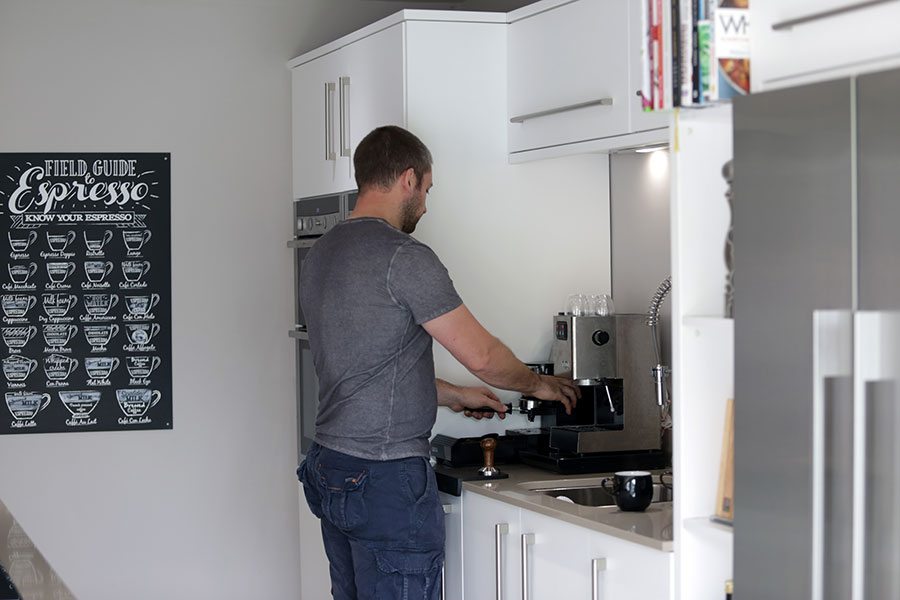 SOURCEBOOK
Architect Bernie Grant of 1moreroom.co.uk
Builder Gary Griffiths of MJ Griffiths
Cabinetry Howdens cabinetry with matt white lacquered finish
Worktops Quartz composite, Diapol
Upstand 10cm quartz composite from Diapol,
Appliances Hob, extractor, double ovens, all Neff; built-in fridge-freezer, Fisher & Paykel; integrated dishwasher, Bosch, Gaggia Classic coffee machine
Tap Howdens,
Sink Alaska from Reginox, from Diapol,
Flooring Karndean tiles, from Nutland Carpet Accessories
Dining chairs Rollback leather chair, Indigo Furniture
Dining table Indigo Furniture,
Bar stools Leather bar chair, Indigo Furniture,
Sofa & Pouf Barker & Stonehouse
Lights Old Factory Vintage pendant lights, Industville
Clock Newgate Clocks
Technology Sonos Play 3
Paint (walls) Perfectly Taupe (ceiling) Nutmeg White, Dulux
Patio Doors For similar, try Homebase