When you're looking to transform your garden space with a patio, the choices can be overwhelming. From paving designs to stone selection and size, ensuring that your new patio suits both your garden and your property is vital. Read on for our lowdown on patio paving garden ideas and how best to match up your design to your property.
Patio Layout
There's a great deal of choice in layout when it comes to patio paving for gardens. Your decision should ultimately be based on the overall size of your patio, and the size of stones used to build it. The simplest layouts are determined by stone size: if you're dealing with slabs that are of uniform size, you'll probably be able to have a neat, uniform design. Here's a brief overview of some of the main garden patio paving design layouts you could consider:
Stack bond is the simplest patio design you can get, with stones laid directly next to one another is a repeated design. Incredibly geometrical, some also refer to this layout style as the 'chess board'—you can imagine why! There are still ways to get some variation in this design, however, by using paving slabs of different colours. But do beware the black and white kitchen-flooring look.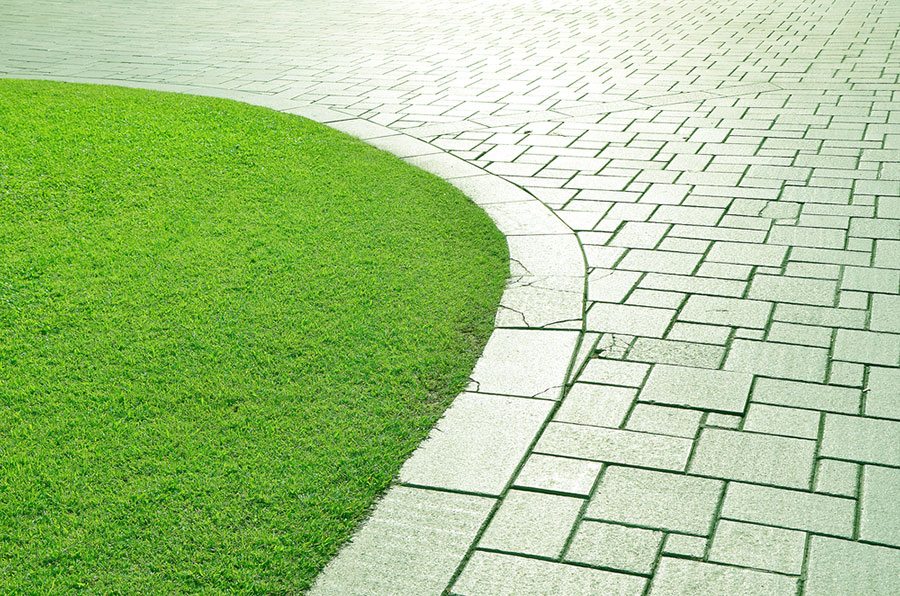 Stretcher bond offers a great patio paving garden idea that varies the simple stack bond. In this design, slabs are staggered so that the joints meet halfway at the slab above. This can be executed either diagonally or placed lengthwise.
When using two different sizes of stones throughout your patio, designs become more geometrically interesting. If the slabs share a dimension, it will be possible to create an alternating coursed pattern. If not, then a Dutch pattern can be used.
Using multiple slabs of differing sizes will result in increasingly complex designs. On the whole, when considering the right patio paving design for your garden; the smaller the patio, the simpler the layout should be. A small patio will only look smaller when a geometrically complicated design is used, whereas large slabs in a simple formation will open out the space and increase the sense of its size.
The choices for using three different stones of varying sizes are the broken bond (quite commonly found as a paving option in city centres) and the pretty, but intricate, Tudor pattern.
Finally, a random layout can be achieved with modular flags. Random layouts are often the most visually appealing style of patio paving: instantly drawing the eye, and avoiding the sense of a strict pattern.
Stone choice
Selecting the right stone for your garden patio paving will set the tone for your outdoor space. Choose a design that fits in with your property as well as your garden; a rustic, Yorkshire flag alongside a barn conversion would feel right at home, whereas poured concrete may appear too contemporary.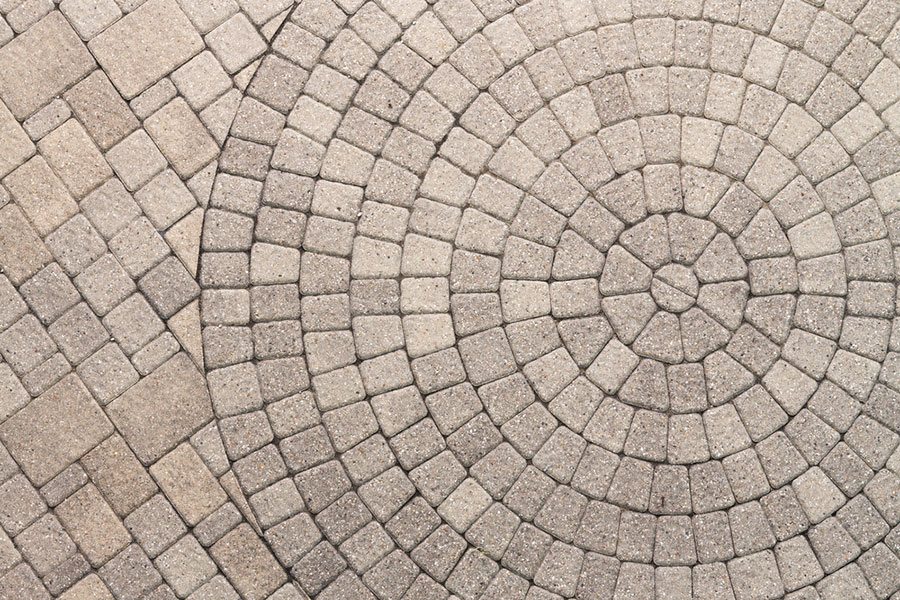 Whilst concrete may not sound like the most glamorous option for your patio, it does offer surprising versatility in both shape and appearance.  It's a worthwhile consideration, especially if you're aiming to add value to your property by adding a patio.
There is a huge range of patio paving slabs available. Consider the tone you want to set with your patio, as well as the match to your property and garden. If you're looking to create a warm, rustic space, source slabs that are naturally more yellowed in colour. If it's a contemporary outdoor area you're aiming for, a smooth, darker stone will set the right tone.
Accenting and alternating
With pattern and stone decided upon, consider some alternation in your garden patio paving design. This will work particularly well in larger patio designs; breaking up the geometric nature of the stonework, and adding a nice line of detail through the masonry. A different coloured band of stone can be run through your patio layout; although avoid doing this at a halfway point.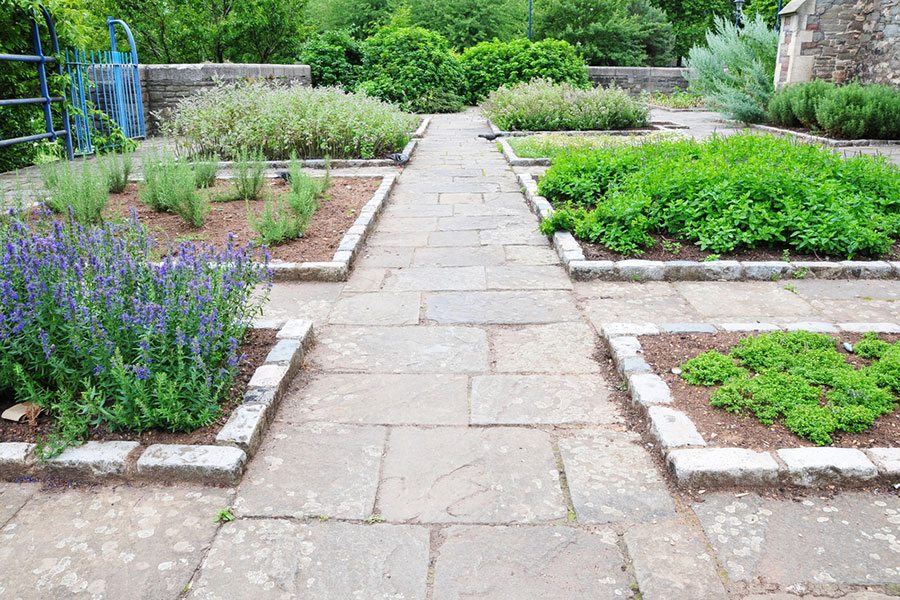 Accenting and alternation can also be achieved through innovative turf and flowerbed integration. Complicated to design, and requiring regular maintenance, this look will be worth the effort if you're willing to commit to the upkeep! The addition of contrasting bands of grass or flowerbeds into your patio paving design will provide a beautiful pop of vivid colour.
The finishing touches
Perfect your patio with these patio paving garden ideas: completely transforming your garden space, and making the best use of your new outdoor living area. There's a real trend in 2016 for bringing the indoors out—so, no matter how modest your patio, make sure you're making the most of it while the sun is still shining, and even after it has set!
Consider a partial or full covering for your patio to protect from the wind and rain. A retractable awning or canopy can hugely increase the amount you'll use your new outdoor area. Alternately, you can build a garden pergola along one or two sides of your patio, and above. Although it won't provide the same level of coverage, it will block some of the elements—and would look fantastic with climbing roses and other plants embracing your patio!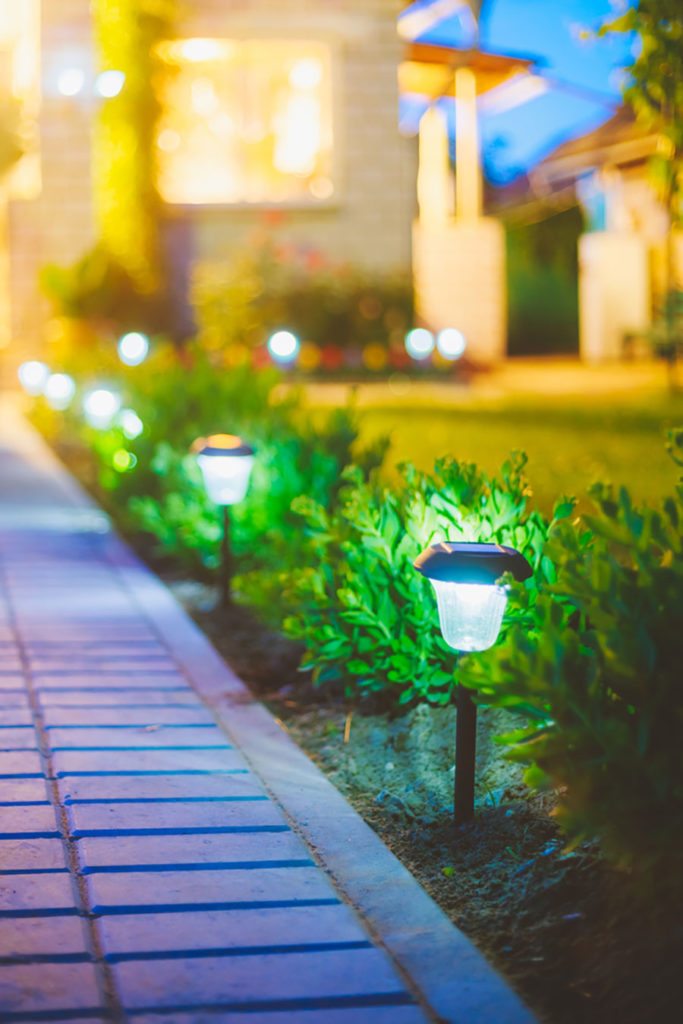 Install lighting to ensure you're getting the most out of the long summer nights. Outdoor lights can be obtained at very low prices, and can make a huge difference to your evenings spent on your new patio. Spend some time considering your outdoor lighting design: if a path leads the way to your patio, lights can be installed alongside to guide you there. Uplighting can also be utilised to emphasise key features; and don't understand the charm (and effectiveness!) of a simple citronella candle.
Finally, be sure you've kept the weeds at bay by finishing your design with a stone edge. A current trend for garden patio paving designs sees colour stamped edging as increasingly popular. Bricks, gravel, cement and stones can also be used as an edging option. Or, for a lovely pop of colour at the edge of your patio, finish your edges with a flower and herb bed—the nearby sights and scents will delight guests as they relax on your new patio!
To find out in less than 3 minutes how much Block Paving, Tarmac or Impressed Concrete would cost for your property click here