It's easy to overlook your driveway in the rush to get in and out of your home. Take a look the next time you step outside.
It's important that your drive makes a good impression. If you're planning to sell your home, it'll be the first thing potential buyers see when approaching your home and the last thing they see when they leave. Even if you're not moving, a revamped driveway will give the property a smart new look.
Follow our tips to make the right choice for your new drive.
Go for gravel
Driveways used to come in two varieties: concrete or tarmac. Both were affordable, durable and low maintenance but neither were exactly exciting. Fortunately, now you have far more choice.
Gravel is a good-value option that's quick and easy to lay and suits many house styles. It'll shift over time, so you may need to level it out with a shovel or rake from time to time. If holes appear, you can simply add more gravel.
Be prepared to spend time maintaining a gravel drive. For example, weeds look scruffy and will need pulling out. Install a weed barrier if your enthusiasm for gardening is limited: it won't eliminate the need for weeding completely but it'll cut down on the hard graft.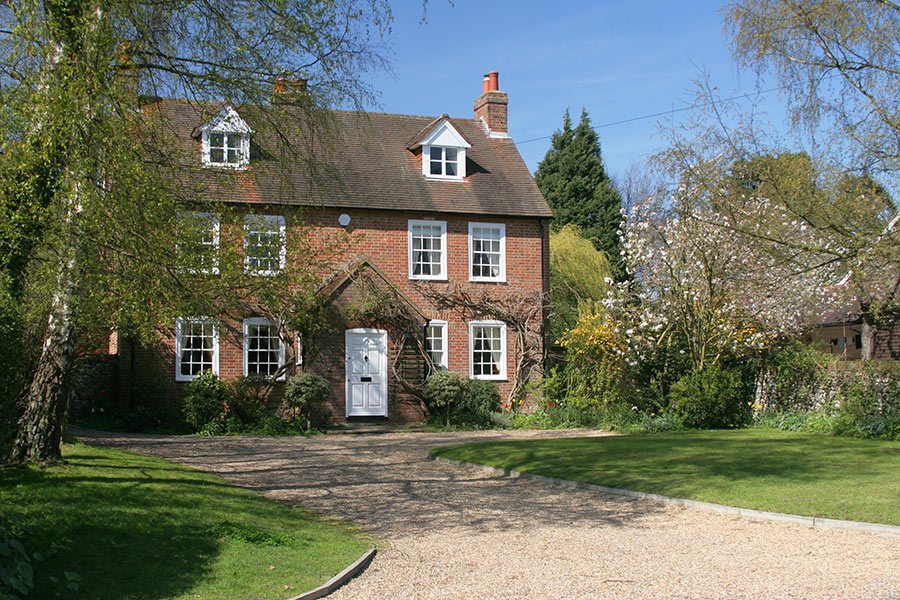 Consider concrete block paving
Predominantly made from concrete or clay, block paving is durable and, providing it's been laid correctly, easy to maintain.
Concrete block paving is ideal if you're on a strict budget as it's relatively cheap, and comes in a huge range of shapes and colours. Easier to cut and install than clay block paving, concrete pavers also don't need as much maintenance and can be dyed to match the colours of your home (although beware that the dye may fade over time).
Get creative with clay
Clay block paving is slightly more expensive than concrete, depending on the colour. It's hardwearing and durable, and what's more, the natural colour of the clay bricks won't fade over time. Be aware that the sizes of clay pavers vary because of the firing process, and they're harder to cut than concrete.
How much and how long?
The cost of block paving depends on the product you choose, the area and the contractor you hire to carry out the work. "The average cost for a block-paved driveway would be between £5,000 to £6,000, with the London area of the UK being at the higher end," says Liam Poole of Marshalls.
If you look after block paving, it'll last well. "Maintain it, and there is no reason why it won't give you a lifetime of service," continues Liam. You can expect a minimum of 20 years when it's not maintained.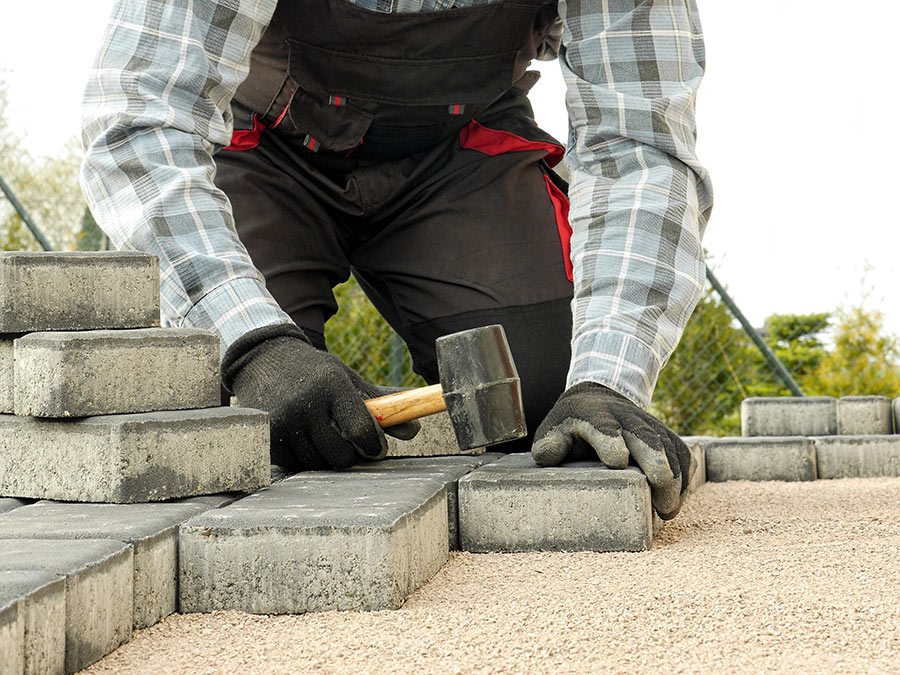 Resin-bound and resin-bonded paving
Resin-bound paving gives a smooth and durable surface. It's formed from stone and resin that are mixed thoroughly and laid onto a base that's between 12 and 18mm deep, depending on stone size. "Because the stone is completely bound in resin, there's no loose stone," says Gail Gilkes of SureSet.
Conversely, resin-bonded paving is a non-permeable, single-stone layer surface. A film of resin is applied to a non-porous base which is then scattered with clean, dry stone until the surface is completely covered. Stones range from 1 to 6mm in size and they're installed at a depth of between 4 and 6mm. "Because the stone is only adhered to the resin on one side, the stone will become loose and scatter," Gail explains.
Generally, resin-bonded paving is cheaper as it's quicker to lay and uses less material. However, Gail argues that it has a shorter lifespan. "It's not permeable, so will need planning, and stones come loose, so it'll have to be replaced."
Cost and longevity
Generally, an average resin-bound driveway will cost around £50 to £70 per square metre, although it's difficult to be exact because every project is unique. You'll need to think about the size and layout of the driveway, the required depth and the state of the existing surface as well as transport and labour costs.
"When properly prepared, laid and maintained, a resin-bound driveway can last up to 25 years," says Gail.
Do I need planning permission?
Generally, you won't need planning permission if your new or replacement driveway is made of permeable material that allows water to drain through or if rainwater can drain naturally via a lawn or border.
You will need planning permission if you want to cover an area of more than five square metres and you're planning to lay a non-permeable driveway that won't allow water to run off onto a permeable area. (This tends to cause water to drain onto roads – something your local authority won't like.)
There are some other situations when you'll need planning permission for a drive. For example, if you live in a listed building, it's likely that you'll need listed building consent. Similarly, if you live in a conservation area, you can't make certain changes and alterations without prior approval. Ask your local planning office for advice before starting any work.
Find out more in this beginner's guide to planning permission. 
What do I need to know about a dropped kerb?
If you're having a new drive installed, you're likely to need a dropped kerb to allow your car in.
Remember, the pavement is public property, so you'll require a permit from your local authority before altering it. It'll cost you between £100 and £150: a contractor will do the work and the council will also check it.
Most dropped kerbs are granted permission, but there are some restrictions. "A dropped kerb in a built-up area or close to a junction will normally turned down because of inadequate sightlines," says Liam. Your application could also be turned down if your proposed new drive is near traffic lights, a crossing, cycle lane, bus stop or parking place, or if traffic fast moving nearby.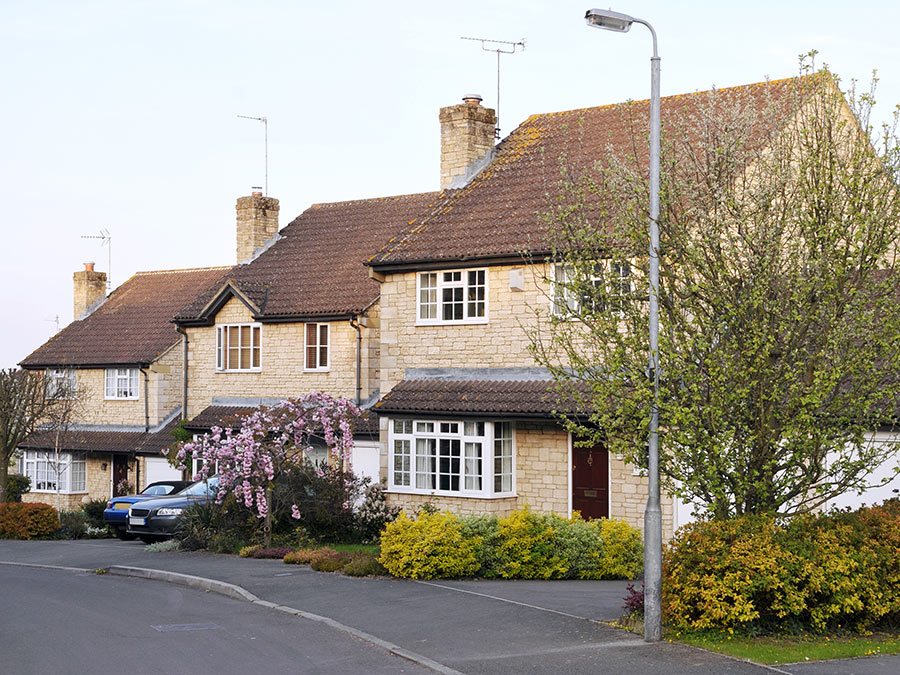 Invest in installation
If you're spending thousands of pounds on a new driveway, protect your investment by getting it installed properly. You'll need to do some research: try an installer network such as the Marshalls Register and ask friends and neighbours for recommendations.
"Always get three quotes," says Liam. "Don't necessarily go for the cheapest. Go with who you feel will give you the end result you're budgeting for and that you feel you can work with."
"Try and view previous installations," advises Gail. "Look for membership of recognised bodies, such as the Federation of Master Builders or Guild of Master Craftsmen. Always get details confirmed in writing and always ask for details of their guarantee."
Driveways don'ts
Steer clear of companies that only have a mobile phone number or that don't provide an address. Avoid those that cold call, too – make sure you're in charge of communication.
It's fine to ask questions: reputable companies will be happy to give advice and a quote for free. It's also fine to ask questions after the work has started – and even after it's finished.
Above all, make sure you don't feel under pressure to pay a deposit or into making a hasty decision. Watch out for discounts that seem too good to be true: they could be based on an inflated initial price. And finally, don't use a company willing to lay on an unstable or damaged base."
Added value
Adding a good quality driveway adds between 5 percent and 10 percent to your home, depending on where you live and the overall value of your home. Factors that affect this value include the quality of the driveway, the number of cars you can fit in and how it blends in with the property and the properties surrounding it.SaveSaveSaveSave
SaveSave
SaveSave
SaveSave
SaveSave