The right lighting can work wonders in your kitchen: increasing the sense of space, highlighting feature areas, and setting the ambience. It's important to consider the size, layout, and character of your own kitchen when planning your kitchen lighting design. There is a huge range of options out there—from different styles to makes, models, finishes, technical aspects, and everything in between. Be sure you're making the right choice by reading up on our top kitchen lighting tips.
Make a statement
If you're looking to furnish your luxury kitchen with a statement lighting design, there are some amazing options out there for you. But it isn't only opulent kitchens that can afford to make a statement with their lighting: even in a modest kitchen, a single hanging pendent over a dining table can draw the eye and become a real feature in the room. Using a distinctive lampshade or beautiful pendant fitting will help to distinguish your kitchen's dining area from the workspace. As contemporary family life continues to make kitchens a more social space in the home, using a statement piece can be a great kitchen lighting tip to 'zone' up the heart of your home.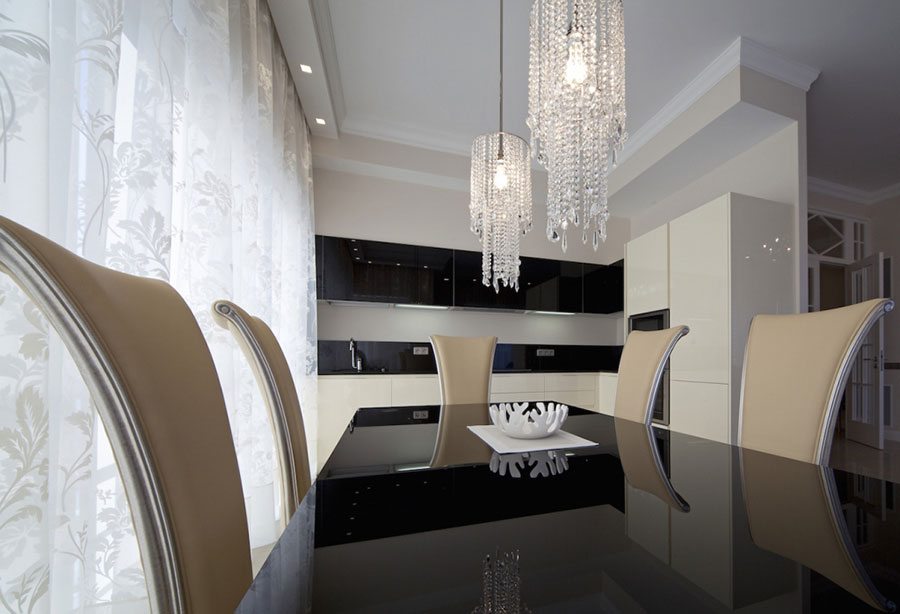 Making a statement doesn't have to be all about the glitz and glamour of a chandelier—although the pizazz of a sparkling piece can really complement a contemporary kitchen! For a more industrial chic vibe, look for a low hanging, metallic, pendant piece. In a more modern kitchen, look out for feature pieces in chrome and silver. If you're looking to furnish something more along the lines of kitchen farmhouse look, you can still opt for a statement chandelier; but instead, look for a design crafted from natural materials, such as wood.
The most important part of making a statement with your kitchen lights is positioning: your piece should draw the eye in the right way, and shouldn't become an awkward burden to be dodged. Chandeliers should, in general, be centralised in the room; high enough for even the tallest of guests to easily avoid! Pendent lights really come into their own over islands and tables: then, as long as they're skimming the salad bowl, they shouldn't ever pose you a height problem.
Set the scene
Kitchen lights will always be the best way to set the scene, and the tone, of your room. Paying attention to the intensity of the brightness, the ability to dim, and variation of light sources in different areas is the best kitchen lighting tip we can give when it comes to getting that ambience just right.
Mood lighting depends on control: being sure that every light (and lamp) is fully dimmable is an absolutely must. There are even clever light ideas for kitchens that can change colour with just the click of a button! Although setting the switch to 'red' might seem rather sudden and dramatic in most situations, a subtle colour change at different times of day and in different seasons can make a real difference in your kitchen lighting design.
An increasingly popular choice to achieve ambient kitchen lighting is wall washers—although, unfortunately they aren't able to wash your walls as well as light them! These light fixtures are designed to sit against walls and bathe the area around in a soft illumination; alongside other light sources, wall washers will add a beautiful and subtle background illumination in your kitchen.
Light wise
Using your lights to accent certain elements of the room can be a great kitchen lighting tip. Highlighting, lowlighting, and accenting are subtle ways to guide the eye to the areas where you want attention.
Achieve feature lighting with clever use of a number of different lighting solutions, including: built in, flush, and cabinet lighting. Building lights into the bottom of upper cabinets, or along the kick board of islands, can create a great effect. Similarly, consider illuminated shelves for a dual effect—a feature lighting element in your kitchen, and a practical light source as well.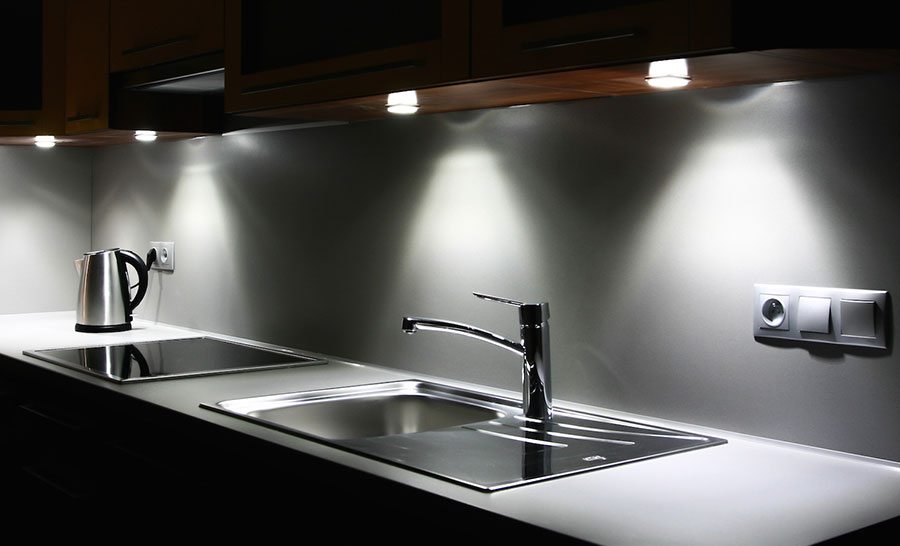 Plinth lighting can give a contemporary kitchen the edge by highlighting your flooring: it's a new concept, but not one that's too expensive to execute. Using either halogen or LED lamps, simple plinth lights can be installed at low levels, into the kick board of kitchen units. These lights can create the clever illusion that your cabinets are floating, and also cast a pretty illumination across your flooring. This kind of kitchen lighting idea can work especially well with wooden floorboards, but would be a great complement for any feature flooring.
Functionality first
Lighting ideas for your kitchen need to make a safe, well-lit environment for your work surfaces, as well as creating interesting effects. Task lighting puts functionality first by predominantly working to light the areas that need it most. In this case, it should be your first priority to light work surfaces and other food preparation areas; while general room lighting can be provided from another, centralised light source.
Recessed lights installed in the underside of cabinets above worktops are the best way to give your kitchen lighting a functional feel: you'll really appreciate it in those short winter days! Be sure that these flush lights are positioned as close to the front edges as possible to ensure the best distribution of light on your worktops. You should also be lighting above your sink and cooker.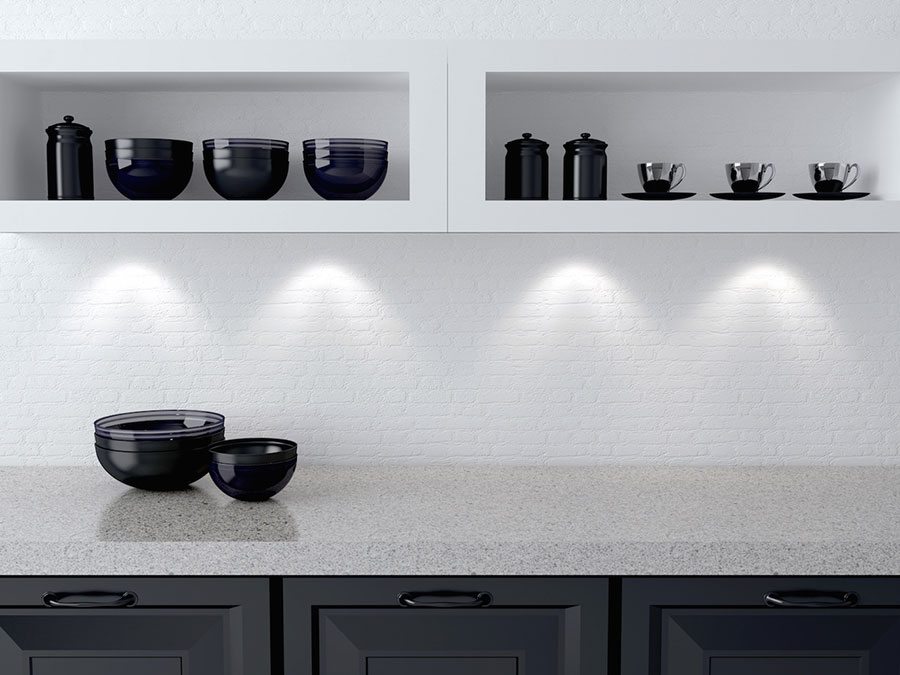 These bright and focussed task lights are best paired with a centralised general light source. Consider track lighting for a functional but stylish addition to your kitchen design ideas. With something of an industrial style look, track lights can be a fantastic way to focus the light in your kitchen, with the option of changing directions and positioning in the future. Designing a track lighting system for your kitchen can be more complex than the installation itself; but, with the potential flexibility it provides, can be really worthwhile.
Consider your kitchen
The most important part of getting the right light ideas for your kitchen will always be considering your own room: the layout, style, design, and size. Don't make a lighting faux pas—like a massive chandelier in a little kitchen, or super contemporary plinth lighting in a traditional farmhouse. Work with what you've got; follow our top lighting tips—and you can't go far wrong!
For even more design inspiration and top tips, check out our other kitchen ideas and you never know, you might even be able to add even more value to your property too!