You probably expect to see tiles in any kitchen, but when it comes to choosing your own, the differences between each style are vast. From splashback features behind hobs and sinks to full kitchen floors, well-chosen tiles can really finish a room. If they add to the functionality and character of your kitchen they can even increase your home's value or tip the sale in your favour.
Kitchen tile trends for 2015 include fantastic mosaics, the colour grey, and subway, textured and three-dimensional tiles. In light of this, there's something for every taste and budget. But where should you begin?
Kitchen floor tiles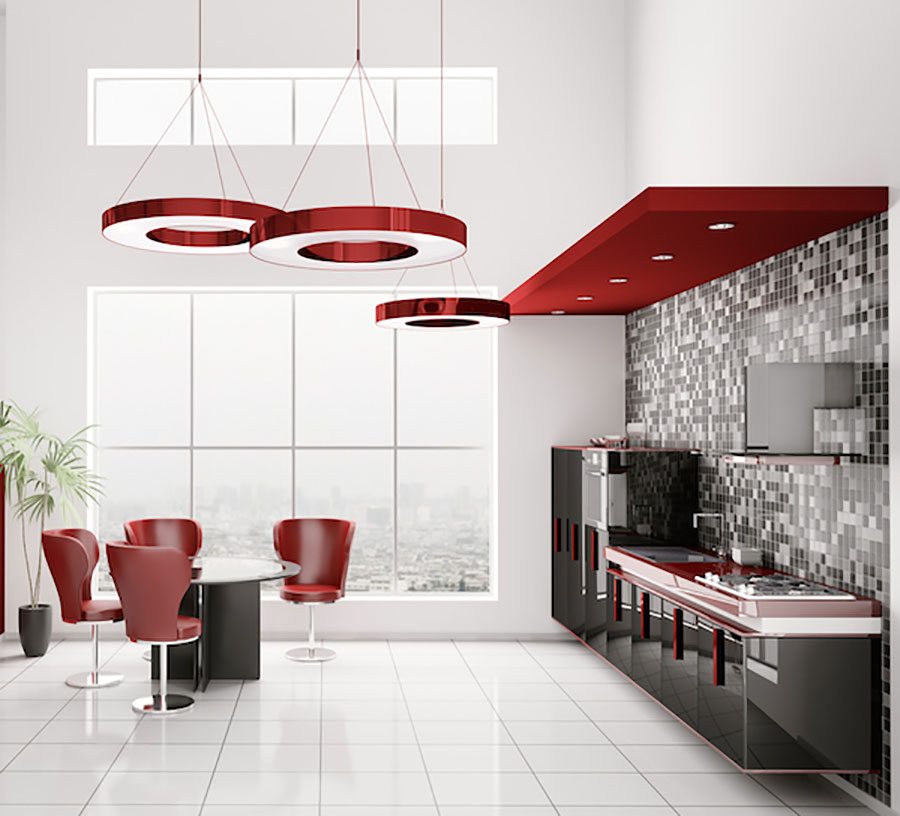 Kitchen flooring needs to be practical and hardwearing as the kitchen is perhaps the most frequently used room in any house. It can also be an entrance to the garden, a pet's room, a place to entertain, and storage space for heavy domestic appliances. Kitchens often blend with dining areas to make larger, open-plan spaces; the floor can be a great way of uniting different areas of the room too.
That's where kitchen tiles come in; they can be sleek and modern or cosy and homely. If you're starting your kitchen from scratch, we recommend choosing floor tiles at the same time as your cupboards to make sure you have a consistent design.
Types of kitchen floor tiles
Real marble kitchen tiles are truly stunning to look at; they have a cool, stylish appearance like no other surface. The only downside is that they can be high maintenance, as marble must be sealed and cleaned regularly due to the fact it can easily become stained, scratched and worn.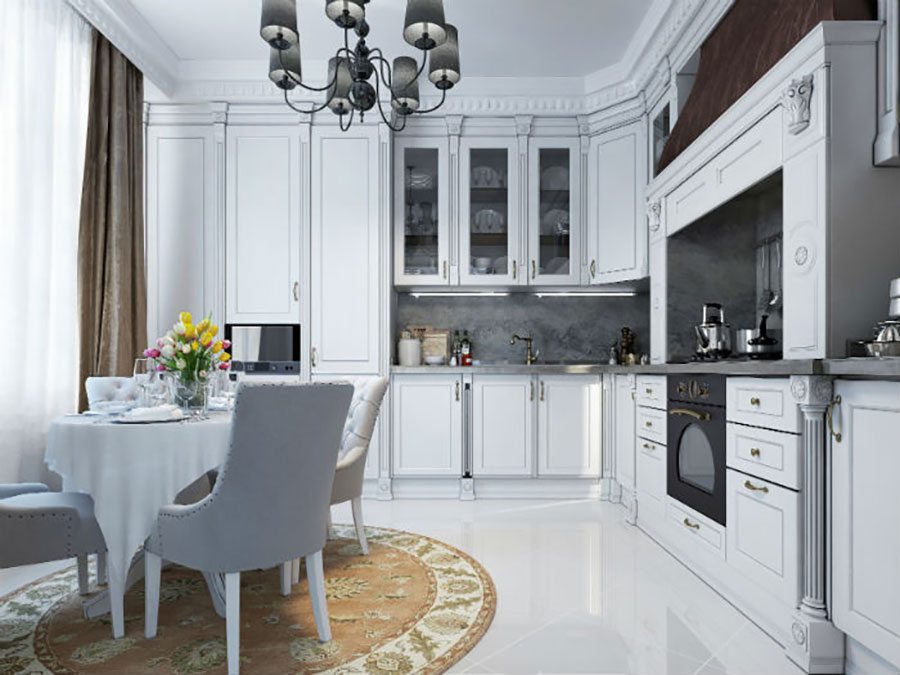 Terracotta kitchen tiles needn't be limited to farmhouse or country-style kitchens, although they do give a rustic feel to a room. Like slate, they develop a gorgeous patina over time and are extremely hardwearing.
If you're looking for kitchen tile ideas that will also stand the test of time, slate floor tiles get better with age and look all the better for some wear and tear. They are resistant to stains, which makes them an ideal choice for the kitchen where drips and splashes are common. The only drawback is that in winter slate flooring can be a little cold, so decide if this is something you can compromise on.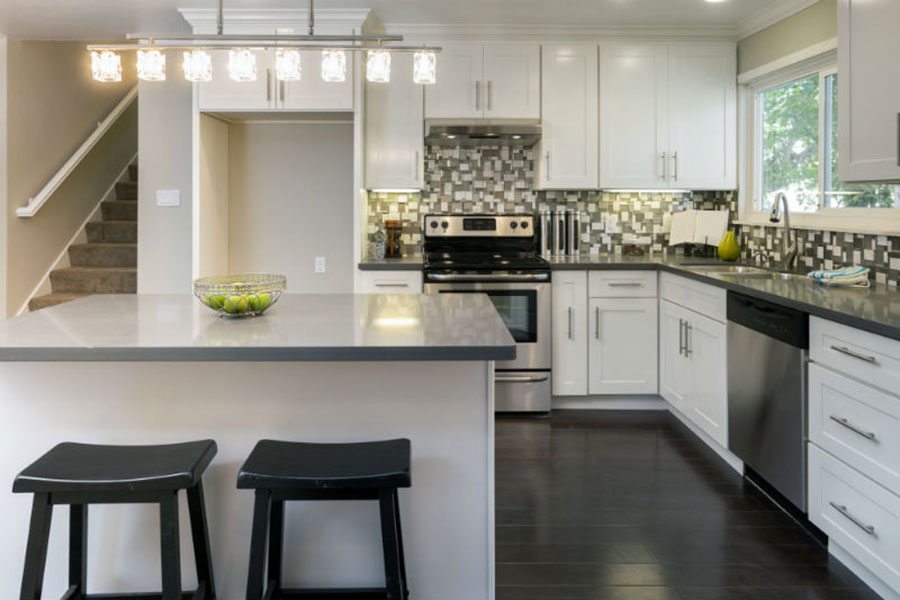 Vinyl kitchen tiles are a cost-effective choice for homeowners with a smaller budget, and as they come in a variety of colours and patterns, there's lots to choose from. While vinyl is durable, if it does get damaged it can be hard to patch up, and over time these tiles can develop curls at the edges.
Classic granite tiles add elegant, sophisticated style to a kitchen and because it is a natural material, each tile has a uniquely mottled pattern. Durable, hardwearing, stain-resistant and easy to clean, it's a great material for families. On the downside, as they are usually polished for a glossy finish, they can be very slippery. They can also be cold because they're so thick and dense.
Porcelain tiles tend to be the most hardwearing, water- and stain-resistant tiles on the market, as well as being quite scratchproof and easy to clean. The only downside is that they can be difficult to install, but are often well worth the effort to get the look you want.
Kitchen wall tiles
If you're looking for kitchen tile ideas that will make your space different and personal, kitchen backsplashes are one area where you can have some design fun. Also thoroughly practical, a good backsplash can finish off a kitchen's look. Just bear in mind that to get an even, cohesive look, the floor, your countertop and backsplash should complement each other.
Backsplash tiles no longer simply protect walls from spills and splatters. They come in a wide array of eye-catching materials, colours and patterns which can set a focal point. If you're an enthusiastic cook, avoid heavily textured tiles; they look great, but cleaning grease off will be harder.
Types of kitchen wall tiles
Subway tiles, with their classic rectangular shape, have become one of the biggest trends for kitchens. White is a popular colour, but these simple kitchen tiles look great in just about any shade. They not only add a traditional feel to a kitchen, but look bright and clean whilst staying chic.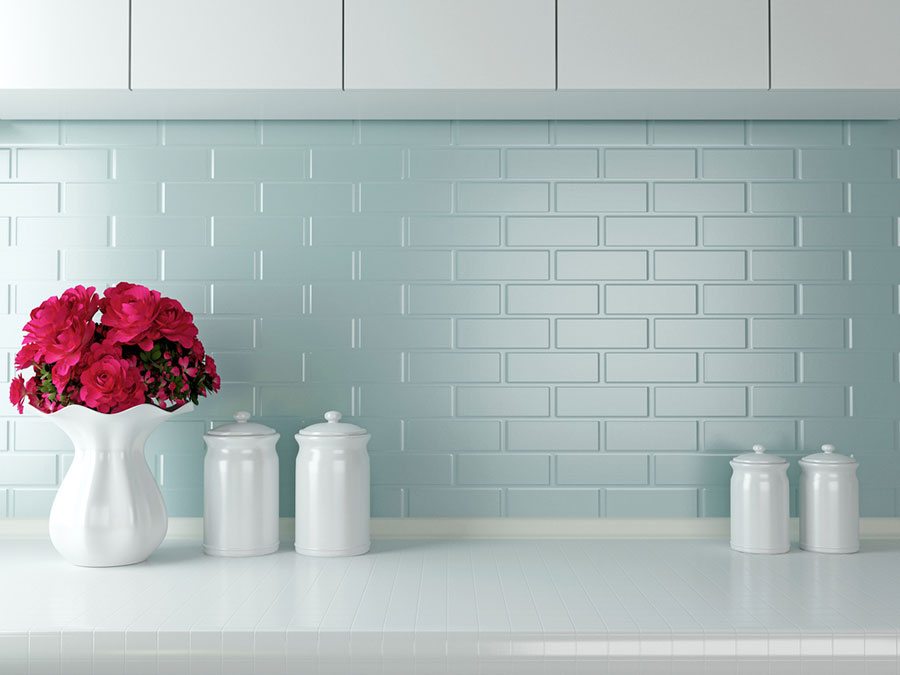 When it comes to kitchen tile ideas, ceramic tiles are another popular go-to. Ceramic tiles are a classic and common choice for a backsplash feature. You can mix and match a number of colours, finishes and patterns to suit your taste. They're easy to clean, stain-resistant, and last a long time, making them a great choice for practicality.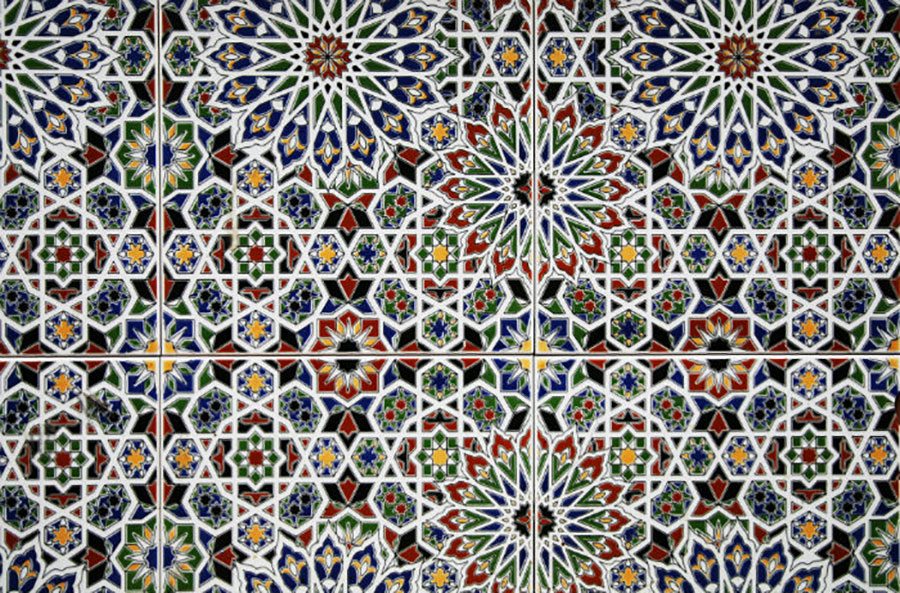 Glass tiles have a more luminous surface than ceramic ones, and they make great kitchen backsplash areas because they don't absorb water or hold stains. They also tend to reflect light around a room, making your kitchen seem bigger and brighter. On the downside, they are often more expensive than ceramic and even stone tiles, and they're quite delicate which makes fitting an extra challenge.
One of the bolder kitchen tile ideas currently in fashion, mosaic patterns are made up of small tiles in either one or many different colours, and they can instantly add intrigue to the style of your kitchen. However, they are more likely to chip or crack because of their size. They're not the cheapest option, but laid well they can increase the value of your home.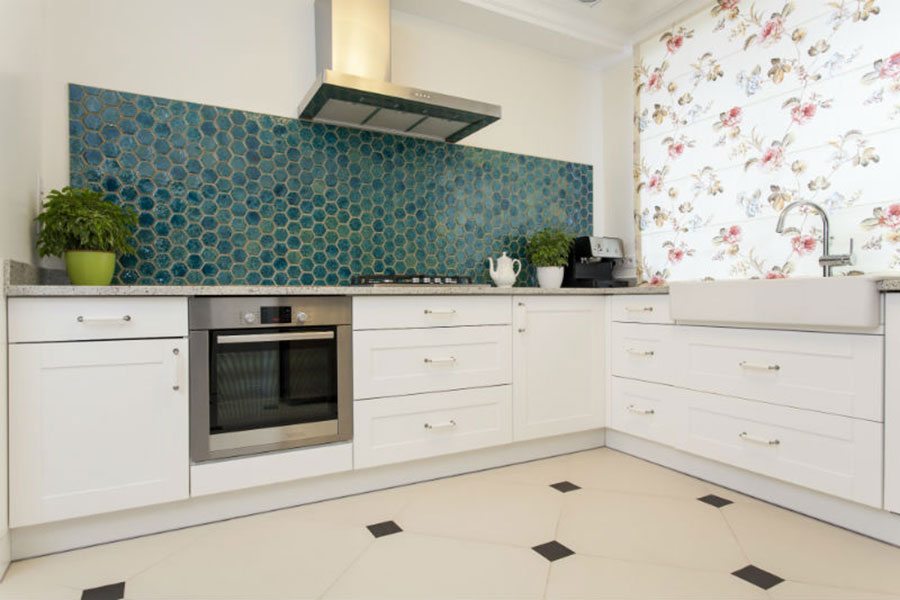 Polished marble kitchen tiles bring together classic, natural shades of white and grey, which can provide extra interest in a minimalist kitchen. If you're aiming for a polished, sophisticated look, there are few better choices. As an added bonus, they're durable too.
Other natural stone tiles like granite or limestone work for classic or contemporary designs, and will always boost the elegance of your kitchen. Be aware that it can scratch and stain, and it is often more expensive than common choices.
Sleek metal tiles such as stainless steel, copper, bronze, and nickel have become a popular trend because they add texture or contrast, and can heighten the richness and drama of a kitchen. They may be too cold-looking for some, but they are easy to clean, versatile, and add contemporary flair.