Cupboards with hidden corners; that dark space under the sink; the dishwasher that doesn't quite fill its footprint—if your kitchen has fallen victim to its tricky spaces, then you could really make a difference with some of these nifty kitchen storage solutions.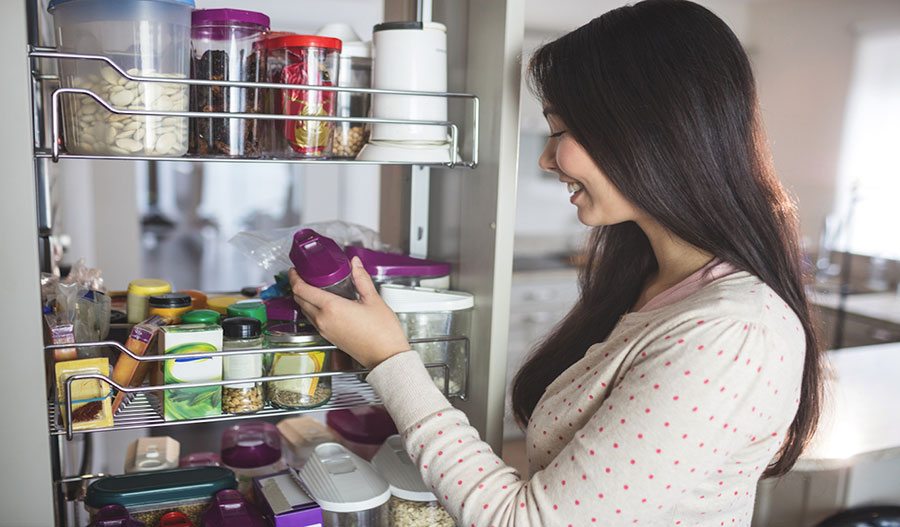 You don't have to pay out for a high-end designer kitchen to get some of the benefits of one. Find a home for every utensil by thinking creatively, getting out your DIY gear, and making the most of your kitchen space! Not only will you have more space to enjoy the heart of your home, but a neat and tidy kitchen can do wonders to adding value to your property. The kitchen is often the hub of the home, so for prospective buyers it's a key element in their search for a new property. Keeping your kitchen neat and tidy with lots of storage is a great way to attract more property viewings, so take a look at our guide to quick and easy kitchen storage ideas.
Use your doors
If you're short on space in your kitchen, make use of this simple kitchen storage solution by utilising your cupboard doors. For small items you need to grab regularly, there is a fantastic way of keeping them clear from the clutter, close to hand, and easy to access. Attach a small container to the inside of your cupboard door, and use it to keep those essential kitchen items.
If your chopping boards haven't found a permanent home yet, try this neat storage trick: find a simple, inexpensive magazine wrack, and screw it to the inside of a cupboard door. It's a fantastic way to store your chopping boards, and you will only lose a couple of inches inside your unit. It's so cheap and convenient; you'll wonder why you didn't do it years ago!
Hang your pans
For any kitchen, the storage of pans is one of the trickiest ones to solve. Stacking pans in a cupboard is all well and good—but what if you want that big one at the bottom of the pile? Then the chaos ensues! That terrible, scratching, metallic clanging could be banished from your kitchen forever by employing a simple kitchen storage solution.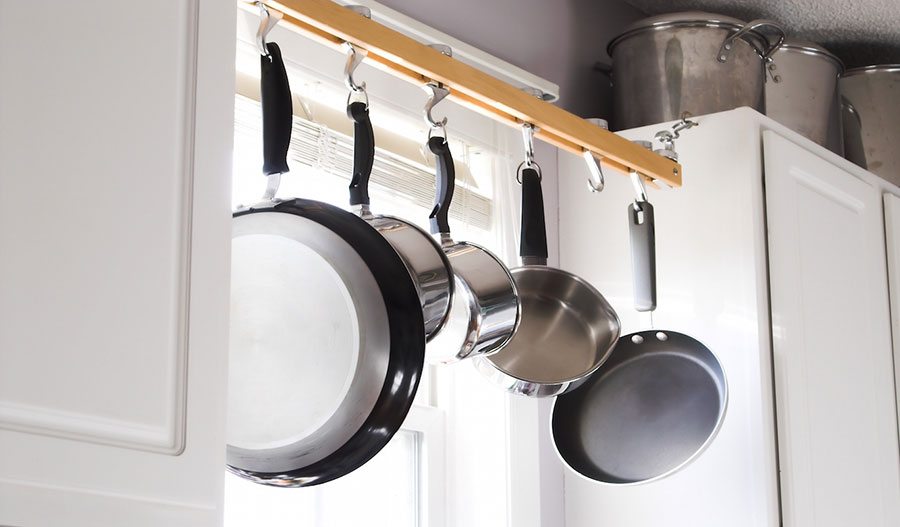 You can find hanging wracks from many retailers which attach and hang from the ceiling. For a DIY storage solution, pick up some hooks from a hardware shop and install them at your own convenience. You can screw them into the underside of the tops of cupboards, if you want to be able to close the door on your pans. If you're struggling for closed-door space but do have a spare wall, you can always hang your hooks there. Displaying your pans is not only a nifty solution; it can also provide a rustic, homespun look for your kitchen.
Pull it down
If you have space underneath wall units, you can gain a few inches by installing a pull down wrack. Although thin, they can be fantastically useful for storing things like recipe books, shopping lists, and other miscellaneous kitchen clutter. Use spring-loaded brackets to make your pull down cookbook storage shelf.
Pull it out
To make the most of deep kitchen cupboards, install a pull out unit on tracks. Deep cupboards can become more of a hindrance than a help when it comes to storing both food and utensils; things can disappear into the back of a cupboard for months, or even years—especially if you don't have particularly long arms! Pull out shelving is a fantastically efficient method of kitchen storage; you can view and reach everything within one gliding action.
Build it in
If you have empty space around any appliances, you should see this as potential for a nifty storage solution. Washing machines, dishwashers, and microwaves—even though these mostly come in a standard size, not all kitchens do. If you have even a narrow gap alongside one of your larger appliances, you could easily build in a pull out unit. These particularly come in handy for small goods you wish to keep together—such as a spice rack or storage for knives or other kitchen utensils.
Drawer storage
Drawers no longer have to remain the solitary home of your knives and forks—although, let's be honest, there's probably no better way to store them. Ensure your drawers are clear and clutter free by using dividers and cutlery trays. If you find that removable ones shift around in your drawer, and cause more problems than they solve, then opt for an integrated tray. There are plenty available on the market in multiple sizes, and they give a superbly tidy finish.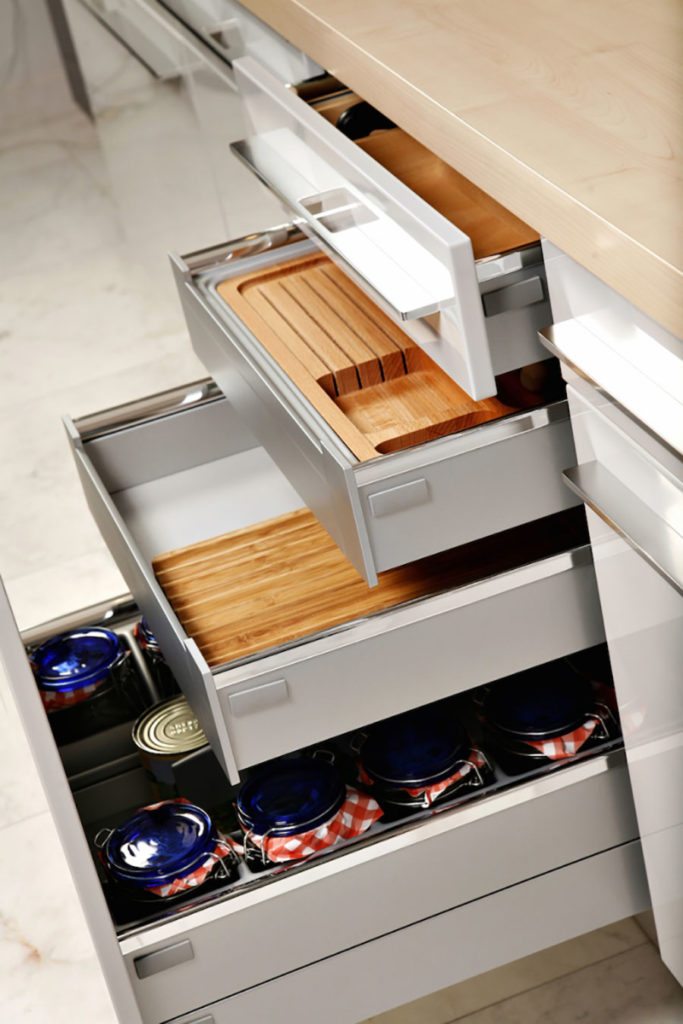 You can also find utensil trays, which offer moulded slots for all kinds of kitchen utensils—you'll find a home for every item with one of these convenient storage solutions. You can even find options that attach under your wall cabinet unit as a pull down option, if you don't have a spare drawer for a utility tray.
If a cupboard isn't working out in its current incarnation, consider transforming the unit by turning it into a deep drawer. This offers the benefit of pulling out and extending fully, so you can reach to the very back of the drawer: another great way to store those noisy pots and pans if you don't want to stack them, but can't find a way to hang them.
Reveal your hidden corners
The corner cupboard is the kitchen equivalent of 'put it under the bed', or 'take it up to the attic'. They're hard to access, difficult to clean, dark, and incredibly annoying. You can find yourself on hands and knees with a torch, searching round the corner, trying to find that one pot you're looking for. For this reason, the least frequently used items are often banished to the dark recesses of the corner cupboard—never to be seen again.
But don't let your corner cupboard defeat you! It may seem like an almost useless (and certainly difficult) storage area, but there are ways in which you can convert it into the storage solution of your dreams! You can find numerous shelving options on the market that spin, turn, and transform you deep, dark cupboard into an easy-to-reach set of shelves. Pick up a 'lazy susan', or similar, for an easy installation that will seriously improve your utilisation of the corner cupboard. If you're willing to spend a little extra, you can find options that go beyond the simple rotation aspects of the lazy susan, with shelves that pull out independently and also rotate.
Research your options
There are always more ways than you think to find perfect kitchen storage ideas. Research your options thoroughly before deciding on a particular refit, and keep your eyes peeled in friends' kitchens in case you can pilfer a nifty storage solution from them!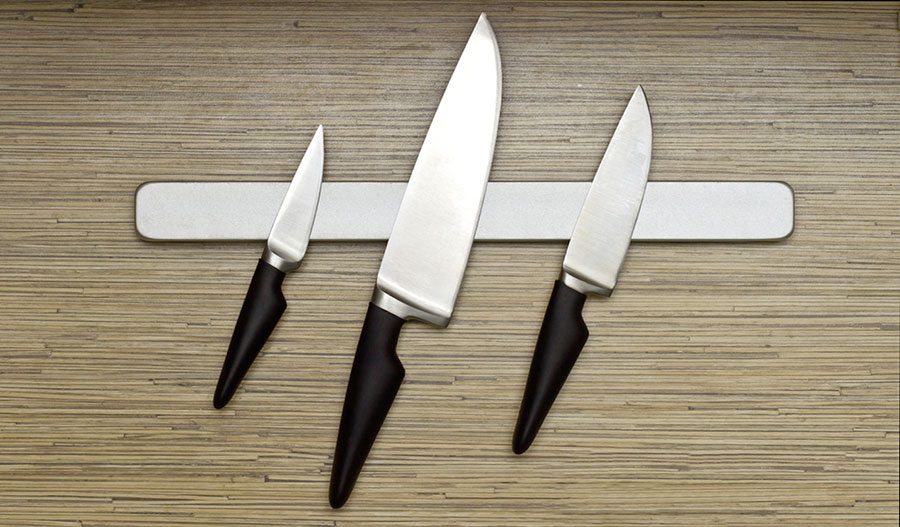 Knives, for example, can pose a storage problem, but there are dozens of creative ways to keep them safe, neat and tidy. If your sideboards are too cluttered for the traditional knife block, and you don't want to relegate your knives to the drawer where they will get blunt more quickly, consider sticking them to the wall. Magnetic strips for knife storage are readily available, and are a fantastic way to make the most out of your kitchen space. It also makes them particularly easy to grab when you're in the midst of a busy meal preparation.
Think it out
If the current layout of your kitchen isn't working for you, then think it out. Don't confine yourself to keeping your items stored in the same, or even similar, areas of your kitchen. If that corner cupboard is a hassle and your bin is taking up a whole corner of the room, think about transforming that space into a rotary recycling unit. If there's extra space beside a large appliance—make use of it! Think creatively and constantly—don't let little kitchen irritations grow into larger concerns. Your kitchen should be a constantly evolving space, responding to your changing needs and lifestyle. If it ain't broke, don't fix it; but if it isn't perfect, then do rethink it! Make the most of your kitchen and clear out the clutter by giving your storage a thorough makeover.