Kitchen islands have become increasingly popular amongst homeowners who are adding them to their interiors not only to gain extra work surface space, but also to create new and exciting design ideas and dimensions. A great kitchen can even add value to your home if you're thinking of selling – all the more reason to make the most of your space with an island!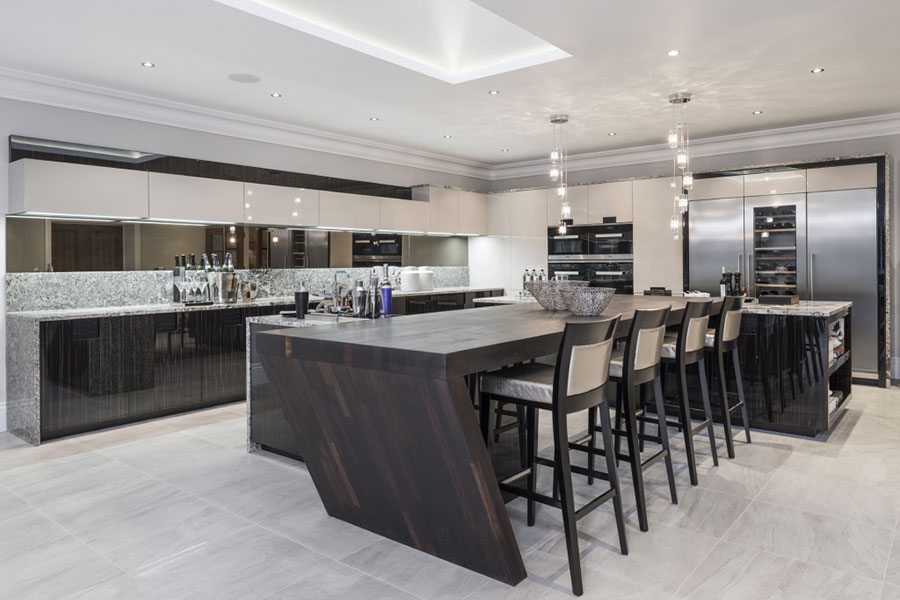 Islands are a great way to utilise your kitchen area, especially if the room is overcrowded and you need to find extra storage solutions. Acting as an extra worktop, meals can be prepped faster and many islands can be used as additional seating and dining areas at any time of day, whether you are hosting a dinner party for family and friends or enjoying breakfast together.
Kitchen islands are available in a variety of sizes and styles with the option of having them custom built and designed to fit your existing kitchen space. Alternatively, you can make a kitchen island yourself out of existing furniture, transforming bookshelves, dressers and even kitchen cupboards into handcrafted, bespoke countertop units.
Many kitchen islands can also be fitted with appliances such as fridges and dishwashers, which is a great way to utilise the space around the island, or extra cupboards and storage units can be built in too. You can be sure to find a kitchen island design to suit your style of living, whether you are using it for utility purposes or you want to incorporate a new design aspect into your home. With custom made islands, you can often choose the type of materials used, size and shape, plus countertop surfaces to finish off the design. Surfaces are available in a variety of materials, including stone, stainless steel, wood and laminate with butchers block also a great option for food preparation and chopping.
Types of Islands:
Dining
Kitchen islands that provide extended or built-in tables help utilize your kitchen further by tucking away stools, and suspended tabletops are an ideal way to save extra space.
Cooking – Cooking on an island is a great way to get involved during every meal, especially if you use it to dine on too! Many kitchen islands can be fitted with a sink and basin, so rinsing and washing plates can also be quick and efficient.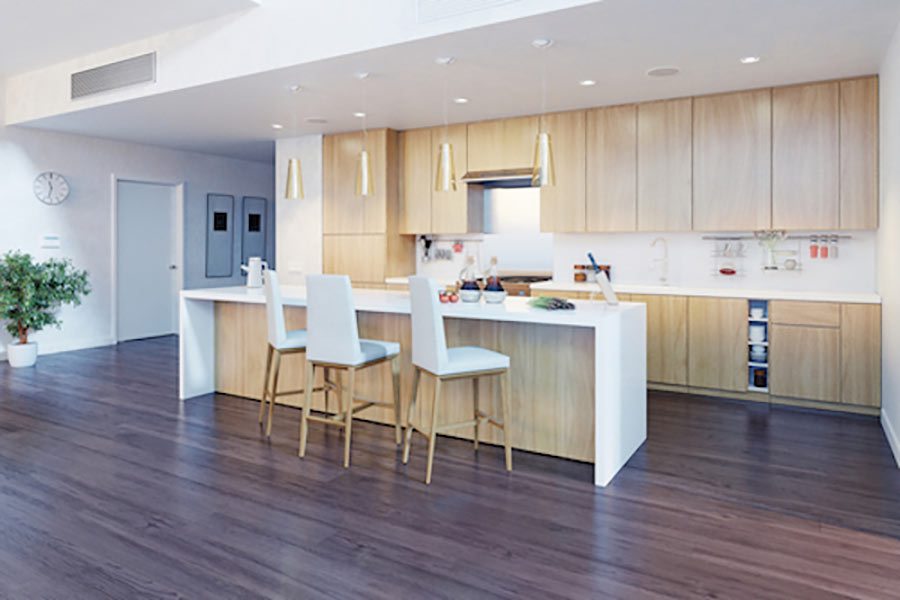 Two-Tier Island
Create an extra dimension and add interest to your kitchen design with a tiered island. These are an inventive way to hide the pots and pans after cooking with a raised dining bar whilst being able to entertain guests away from the mess.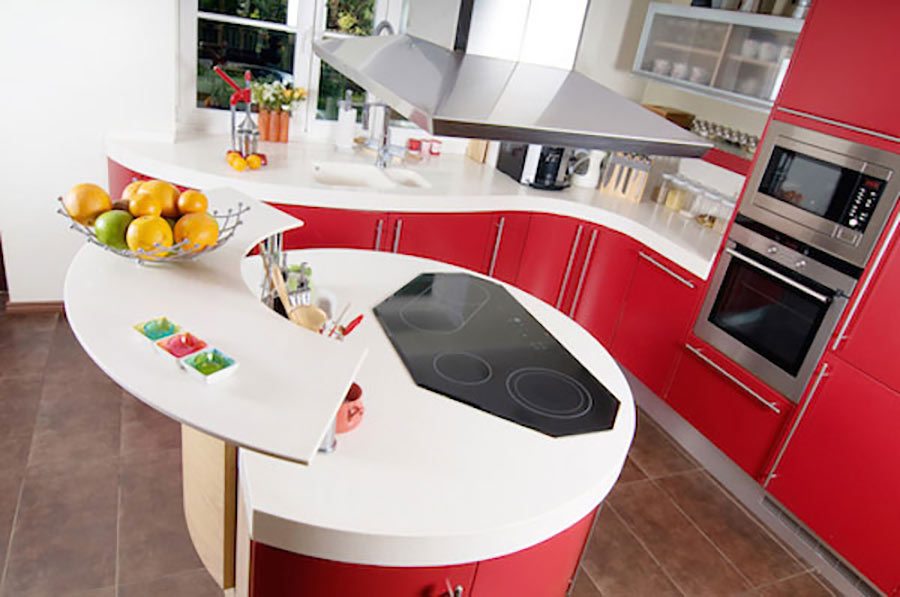 Movable Cart
Kitchen carts are available in a range of designs from rolling and stationary to tiered and extendable. Moving carts offer the perfect solution if you have limited space, as you can use the workspace when you need to, and keep it for extra storage when you don't.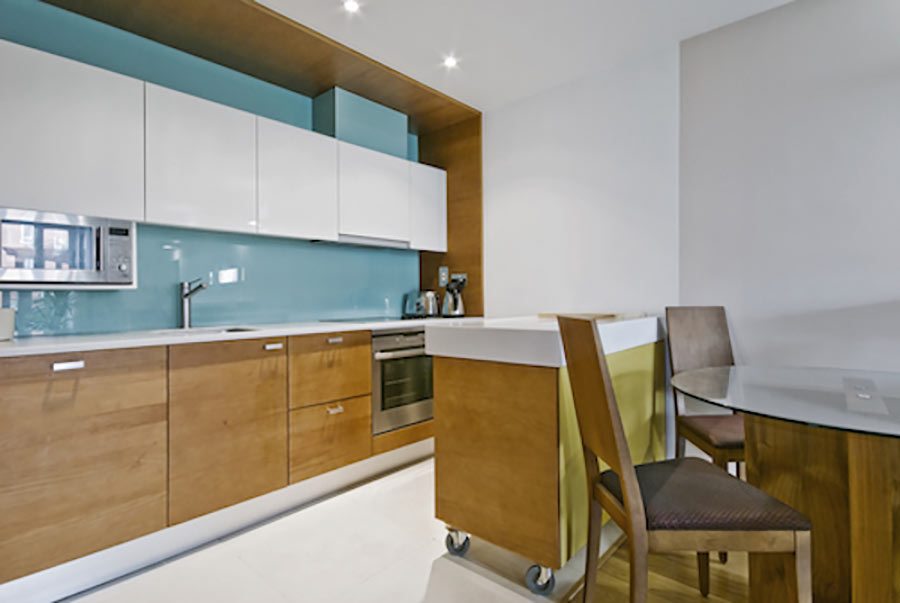 Curved
Curved islands make efficient use of space and work cohesively with integrated butchers blocks for chopping. Positioning the curve towards the centre of the room allows your family and friends to sit together and encourages interaction between guests.
Round
Reachable from any side, round kitchen islands provide extra ease for smaller kitchens and incorporates creative dimension to your existing space.
Traditionally, kitchen islands are positioned in the middle of the kitchen, acting as a central anchor while providing easy access around the workstation and countertop from all directions. It's the ideal spot for an enclosed kitchen without blocking any other storage facilities, cupboards or shelving units, allowing people to move around it with ease.
Why choose a kitchen island?
Not just an extra focal point either, islands can also function as room dividers, adding texture and design to rooms where kitchens and living room spaces have merged into one. This is a great way to expand your existing space without the need to build extra rooms or partitions.
Perimeter kitchen islands ensure spaces are connected with the ability to separate them also. In a semi-open floor plan, perimeter islands work well to encourage a central focus to the middle of the room, especially if a sink or oven unit is installed.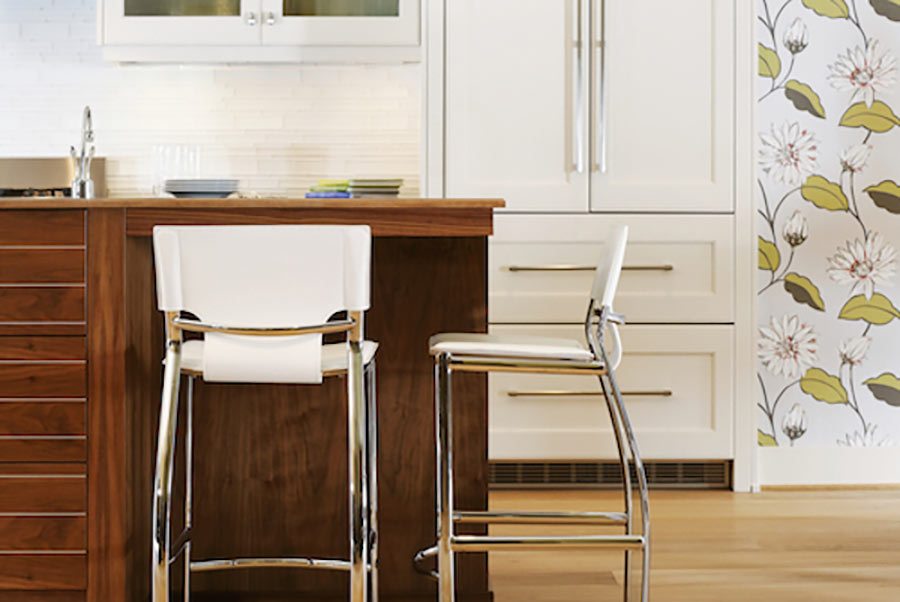 You can also use your kitchen island with a key focus on entertaining, especially as they're great for socializing whilst holding dinner parties. You can cook and clean whilst interacting in the hub of the home, providing your guests with food, drink and entertainment without leaving the room. Installing overhead shelving units to hold alcohol and hanging wine racks can instantly turn your island into a stylish bar with extra space for glasses.
Wine racks are also a great way to incorporate the entertainment aspect into your island, especially for occasions where you might be hosting special parties and events. Hanging shelving units provide further storage for crockery, utensils, pots and pans that aren't being used, without taking up too much space and making the room look cluttered.
It's important to consider your kitchen décor and the types of designs you might like to incorporate within your kitchen island before you have it installed. If you want to expand the room, you might opt for a lighter countertop surface with minimalistic materials and hanging lights to give the illusion of extra space, especially in a smaller kitchen. Alternatively, contrasting islands to the rest of the kitchen is a great way to create a dramatic space in the centre of the home without having to redecorate the entire kitchen area.
You can be sure to find an island to suit the designs and demands of your kitchen space, whatever your style may be. Whether you are looking to add an extra dimension to the room or are in desperate need of extra space, a kitchen island is often the ideal solution.