If you are looking to achieve the bathroom of your dreams, which in turn could add significant value to your property, then there are several things you should consider before starting the renovation process.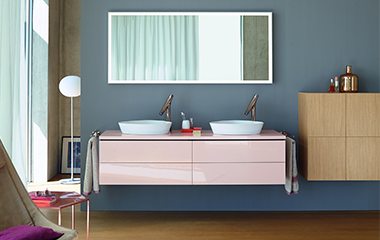 Brad Kuhmley from The Hamilton Group, domestic plumbing, heating and bathrooms specialists, is often called in to fix bathroom makeovers that have gone wrong, so here he suggests the five essential areas to consider if you are planning to renovate your bathroom.
Water Pressure
Poor water pressure may mean you can't have the shower mixers or shower heads you want. For example, rainfall shower heads require decent water pressure or they won't work properly. There are solutions for increasing water pressure (it's a common problem especially in built up areas) but it is advisable to check it out first – and not wait until the renovation is complete.
Mitred Tile Edges
Tiling can make or break a bathroom. Ensure the tile edges are mitred; this means cutting the tile edges at a 45 degree angle so that both edges butt up against each other and there is no need to use tile trim. All you see is tile, which is a much better look and will show-off your tiles beautifully.
Wetroom Shower Trays vs. Standard Trays
Wetroom products have come a long way since they first started to become popular. There is far less that can go wrong; they should never leak if installed correctly. Wetrooms are a much cleaner look and they open up a room. They can also be made to fit any space so you're not restricted by the size of the shower tray.
Water softeners / conditioners
Water softeners and conditioners work in slightly different ways – but the end result is the same; a big reduction in the build-up of limescale. Some of the older models were very bulky and required a fair bit of plumbing to install, but there are now 'inline' softeners and conditioners that can be fitted in under an hour – and don't require constant salt top ups. They can be fitted anywhere in the house and only require about a foot of pipework or so to fit onto. They can save you money in the long run and will give you a better shower too because the water will be softer. I'd say they're a must in any London (or hard water area) home; they definitely pay for themselves over time.
Your plumber
Make sure your plumber is registered with the CIPHE (Chartered Institute of Plumbing and Heating Engineers). The industry is not properly regulated now and some 'plumbers' have simply done a short online course, got a few business cards printed, and then called themselves a plumber. The CIPHE has a stringent membership policy; all members need at least 10 years' experience in the plumbing industry and must have NVQ Levels 2 and 3. As a customer you'll know that someone has actually checked the plumber's experience and qualifications – so you can be confident of their skills.