Ground source heat pumps are an excellent way of providing heat for either radiators, under floor heating or hot water systems. There is also the added bonus that for any heat generated you can receive a payment through the Government's Renewable Heat Incentive (RHI).
How do Ground Source Heat Pumps work?
Ground Source heat pumps are long lengths of liquid filled tubing (a ground loop) buried underground. The ground loop is usually laid flat or coiled in trenches of around 1 metre deep, however, where outdoor space is an issue it is possible to insert the loop vertically going down to a depth of 100m. An idea of outdoor space required is twice the amount of ground area to property area.
Heat from the ground is absorbed at low temperatures into the fluid inside the loop. The fluid then passes through a compressor that raises it to a higher temperature, which can then heat water for the heating and hot water circuits of the house. The cooled ground-loop fluid passes back into the ground where it absorbs further energy from the ground in a continuous process as long as heating is required.
Ground source heat pumps require a continuous supply of electricity; however, savings can be made from the energy they produce.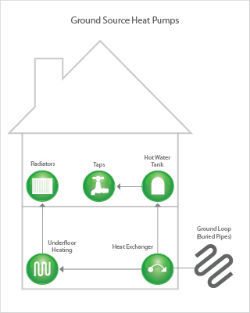 What are the benefits of Ground Source Heat Pumps?
Government grants are available
Funding schemes are available
The system requires none or very little maintenance
Generates heat and hot water
VAT is set at 5%
Ground Source Heat Pumps need electricity to run them but this in turn generates about 3 to 4 times as much, the costs and savings vary depending on the size and style of your property. Contact Green Route for more information on Ground Source heat pumps for your property.
Are Ground Source Heat Pumps suitable for my property?
In order to have a ground source heat pump your outdoor space needs to be suitable for digging a minimum of 2 metres in depth.
If your property is well-insulated you will increase the efficiency meaning that a cost saving will be achieved from your ground source heat pumps. As part of our process, Green Route will carry out a full site survey enabling us to advise you of the results you can expect to achieve.
With a team of fully qualified surveyors Green Route can assist you with a comprehensive service from feasibility plans and site surveys to installations