When you're choosing your new kitchen, you will need to know what kind of extraction will best for you – ducted or recirculation. The type you choose depends on where your kitchen is located and also where the hob is within the room.
Ducted extractors remove air entirely, down a stretch of ducting to outside the home, propelled by a motor placed just outside or just inside the building. Air is taken through a grease filter, which traps fats, whilst odours, fumes and condensation are expelled outside. A recirculating model also traps fats in a filter, but the air is then passed through charcoal filters to help absorb cooking odours and the purified air is recycled back into the room. Recirculating models are often seen above islands where the distance to an outside wall is too great, or in properties where an outside wall isn't available, such as an apartment.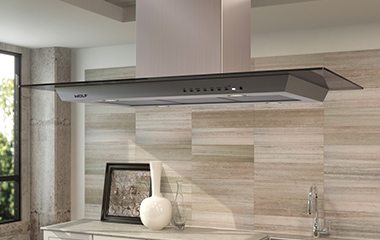 "Ducted models are usually more effective with a higher rate of extraction, however installation is more difficult as an outside vent will be needed, with a ducting route for the air to take within the extractor hood. This can be expensive," says Bill Miller of Gorenje.
Recirculation models are therefore easier, and often cheaper, to install and also suitable for most kitchens. However, they are generally less effective – though technology is improving all the time and the latest models are much better – and require ongoing maintenance, as the charcoal filter will need replacing two or three times a year. Recirculating extractors won't reduce steam or condensation in the kitchen, but as a plus point they are more environmentally friendly as warm air is not lost outside.
Most extractor models are suitable for either ducting out or recirculation, but check before you buy which will be most suited to your kitchen, as it may be necessary to buy an additional charcoal filter and a recirculating kit separately.
From John Lewis, the JLBIHD908 90cm triple-pane extractor creates a centrepiece in the kitchen. It features electronic touch controls with five variable speeds, including intensive, and three neon lights. It is suitable for ducting out or recirculation and has a maximum extraction rate of 920m3/h. Priced around £899.
John Lewis 0845 604 9049 or www.johnlewis.com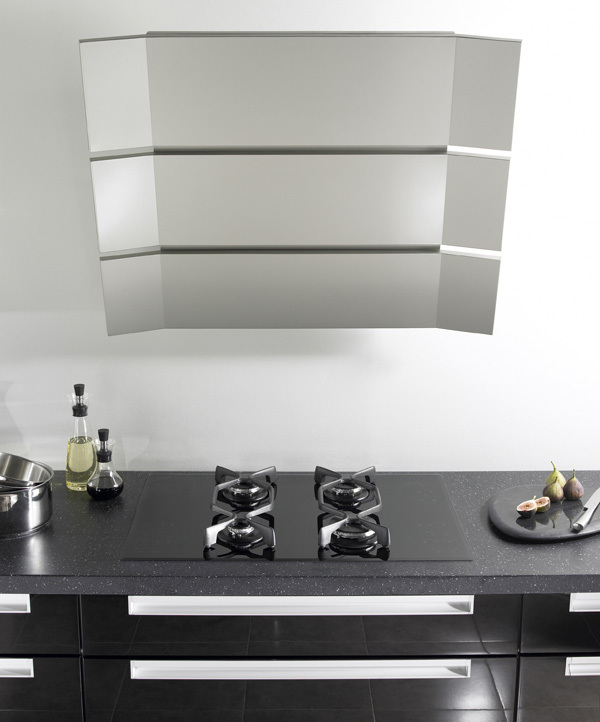 Perfect for use above islands, but also suitable for wall mounting, Polar from Falmec is a 35cm circular extractor that is great for industrial-style kitchens as well as modern designs. It can be fitted with a glass shelf and can be used with a ducted or recirculating system. Priced around £1387 with 90cm glass canopy, as shown.
Falmec 01787 224921 or www.falmec.co.uk
Franke's Hoop hood was developed specifically for an integrated cooking-dining space, as it is designed to hover over the cooking area for immediate action. The black glass front is combined with a stainless-steel body, which incorporates halogen lights with dimmer and touch control. It is priced around £1410.
Franke 0161 436 6280 or www.franke.co.uk