Whether you're Bear Grylls or Delia Smith, the bohemian appeal of the outdoor kitchen is undeniable. Whether you're snuggling up around the fire pit, toasting shrimps on the barbeque, or planning a summer night dinner party, dining al fresco is the ultimate in homespun charm; it can even help entice potential buyers when you decide to relocate.
It might look like the reserve of Mediterranean dreams, but the perfect outside kitchen is achievable for everyone. We've compiled this list of tips to help you create one for yourself, in your very own back garden.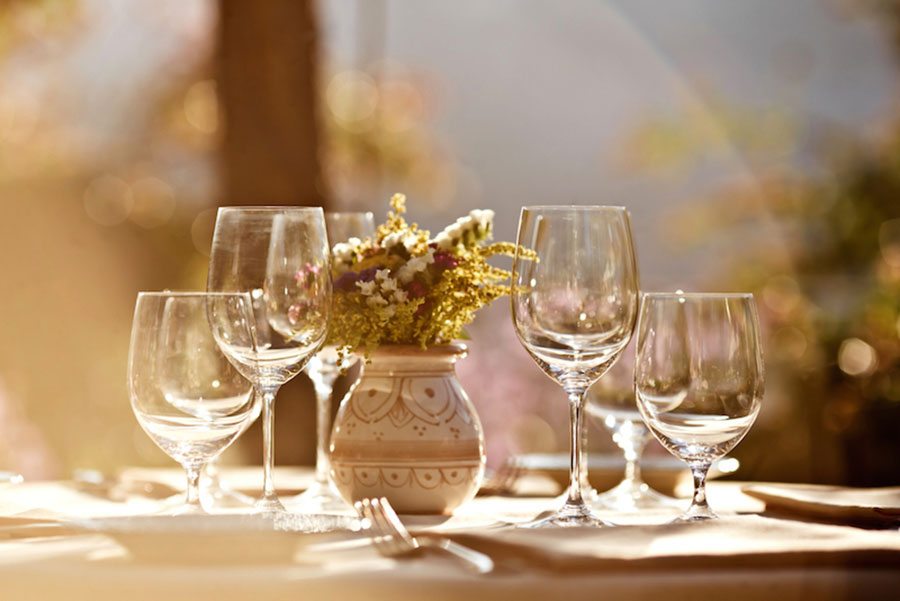 Work with nature
To start, work with your surroundings. Whether you have a balcony, whole back garden, patio area, or wild cottage lawn, don't work against nature – work with it. Craft a garden kitchen to match your current environment. Use glass and metal to echo a modern house, or up-cycled wood and stone to sit beside an older build.
From pizza to marshmallows
If the heart of the home is the kitchen, then the heart of the kitchen is the cooker. And what would your outside kitchen be without a place to cook? There are plenty of options for whipping up your next culinary masterpiece in the sunshine. The barbeque is a classic—be it the simple sausage or a stuffed Portobello mushroom, a chocolate filled and grilled banana, or barbequed pineapple slices. You don't have to compromise when it comes to cooking outside.
Pizza ovens are another way to get your fill and give your kitchen a stunning centrepiece. For an outdoor kitchen idea on a budget, build your own from reclaimed bricks. All the components of a DIY pizza oven could be found practically for free—one man's rubble is another man's pizza oven foundations!
To keep things simple, there's nothing that says 'the great outdoors' more than a fire pit. Snuggle up around an open fire, and all you need to complete the picture is toasted marshmallows and good company.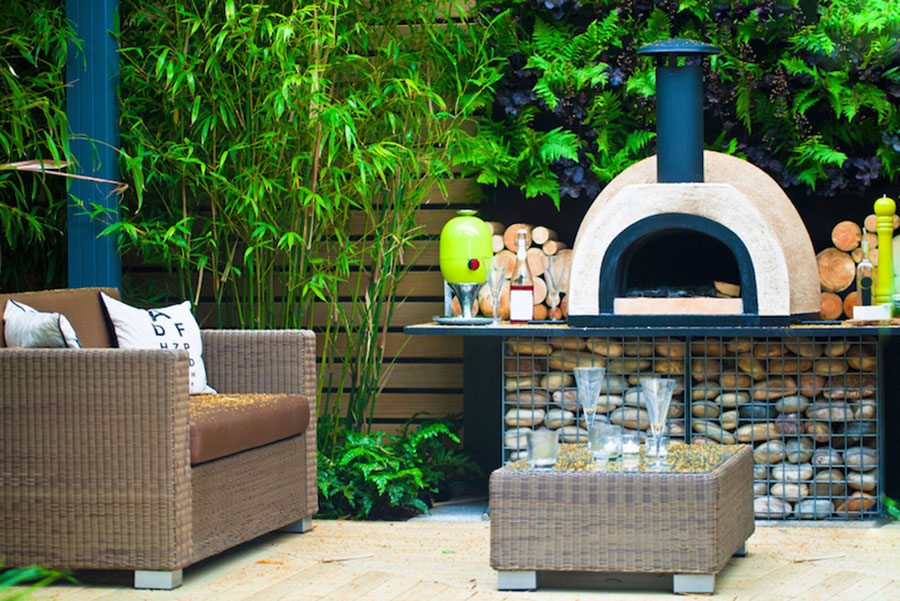 More than moonlight
When the sun sets but the dinner is still in full swing, you need more than just moonlight to illuminate your outside kitchen. Here are a few creative ways to light it up.
Citronella candles are a great way to provide atmospheric lighting. They come with the added bonus of being a natural insect repellent, so they'll keep away any pesky midges or mosquitoes while you're still enjoying the night air. Place your candles in jam jars and vases to protect flames from the wind, and to add a pretty touch to your lights.
Fairy lights add a gorgeous, ethereal look to your outdoor kitchen without a great deal of effort. A great garden kitchen idea is wrapping outdoor fairy lights around a hula-hoop to suspend from above. In seconds you'll have your very own outdoor chandelier. You can also place them in glass lanterns and throughout the surrounding trees and shrubbery. Fairy lights are a fantastic way to create atmosphere on a budget.
A real kitchen garden
Do you love being able to use fresh ingredients in your cooking? Take it to a whole new level by using these crafty garden kitchen ideas.
Forget about the plant pots, and bring the inside out. Plant those essential herbs in mugs, bowls and glasses to give a quirky look to your outdoor kitchen. You can recycle as many reclaimed kitchen appliances as you can imagine: rosemary and thyme in a Belfast sink, and lettuces in a mixing bowl. It's the perfect place to keep your potted plants, and you won't ever have to remember to water them again. If you can bring the outdoors in, then you can definitely take indoors out.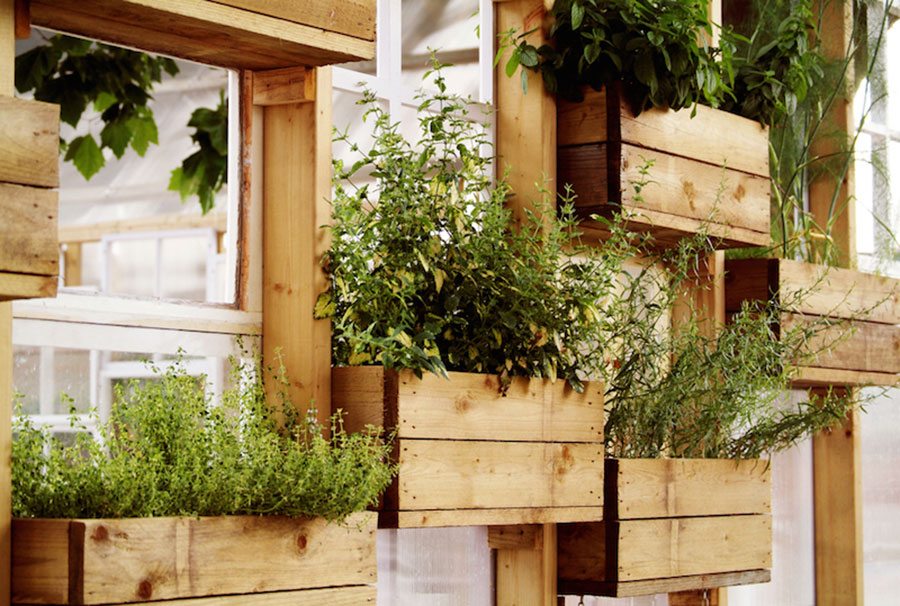 Seating
If you're looking for outdoor kitchen ideas on a budget, this is the area where you can creatively economise, or spend as much as you can imagine.
You can use something as simple as a picnic blanket, or spend hundreds on a weatherproof suite. For a look of Parisian chic, a table and chairs in wrought iron would be an elegant addition for your seating. For something a little more affordable—or even free, if you're feeling handy—read on for some up-cycle tips and tricks.
Pallets
Perhaps the most useful tool for a budget outdoor kitchen is pallets. Initially used for storage and shipping, these wooden platforms have become the DIY stalwarts of the recent up-cycling phenomenon. They can be used in a number of different ways and can be picked up at incredibly cheap prices, if not for free. Use them to make a table and benches—you'll have as much seating as you need, and practically free. Decorate your pallet creations in chalk paint to give them some colour without the need for sanding, priming, or any paint preparation at all.
You can also use pallets to make work surfaces, shelving, and all sorts of storage.
Keeping it cool
A major advantage is those cool evening breezes—there's no need for a drinks fridge with temperatures dropping overnight. Take advantage of the natural climate by crafting yourself a bar, complete with wine rack and optics. Perfect for small gatherings and bigger parties, your outdoors bar will also have the added bonus of providing naturally chilled drinks.
Place your worktop in front of a house or garden wall to attach the optics to, and use the space underneath the worktop to store glasses. But remember to choose a spot that is shaded throughout the daytime, so that hard-earned temperature drop isn't wasted! For an outdoors kitchen idea, it doesn't come much cooler than your very own bar; it's a sure way to impress your friends.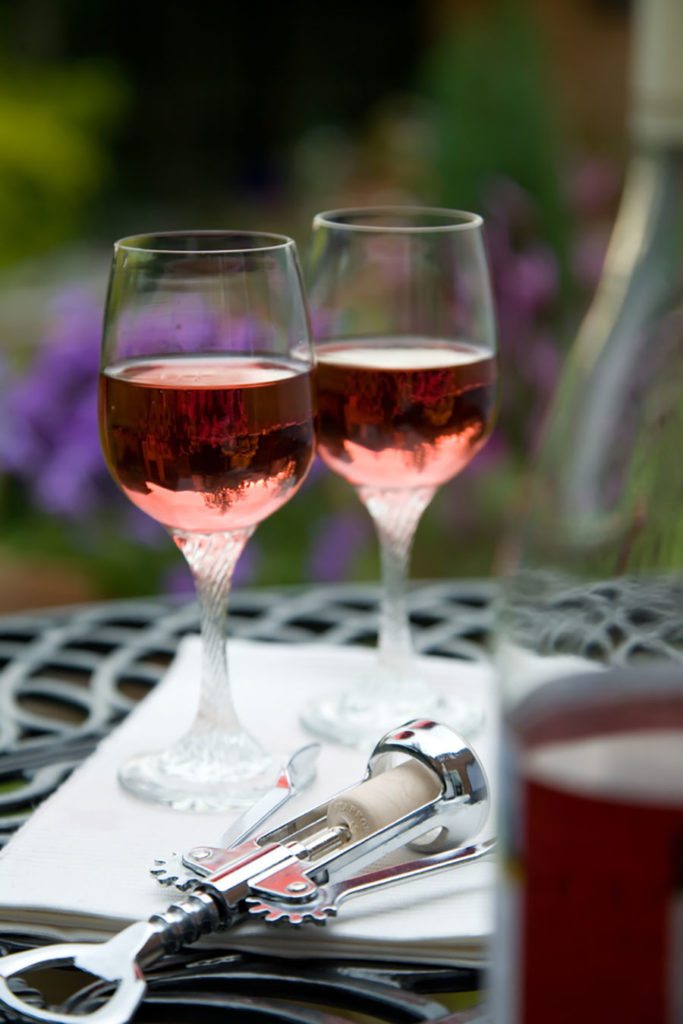 Get creative
The most important part of creating your perfect outdoor kitchen is to work with your garden, not against it. Choose materials, layout, and a design that will complement your outside environment, and your indoor style. Make a space that becomes a seamless progression from indoors to out. Get creative—anything is possible when you're working with the great outdoors. In your kitchen garden, the sky really is the limit.