Home renovations and extensions are some of the best ways to add value to your home. According to research, loft extensions, garage conversions, and conservatories can all add significant value to your property; it's estimated that a 10% increase in floor space can add up to 5% to the price of your house. But if a major expansion isn't feasible in your situation, a great way to create the impression of more space, without adding a single square foot, is to transform your kitchen into an open plan area.
Read on to discover our latest tips and information on how to convert your kitchen, and how it can add value to your home.
Adding value to your home
In the past, it was considered that the more rooms you had the better—every additional room would add extra value to your property. But does that hold true now? Not necessarily – modern living and contemporary style means that larger, open, and well-lit spaces are currently seen as more desirable.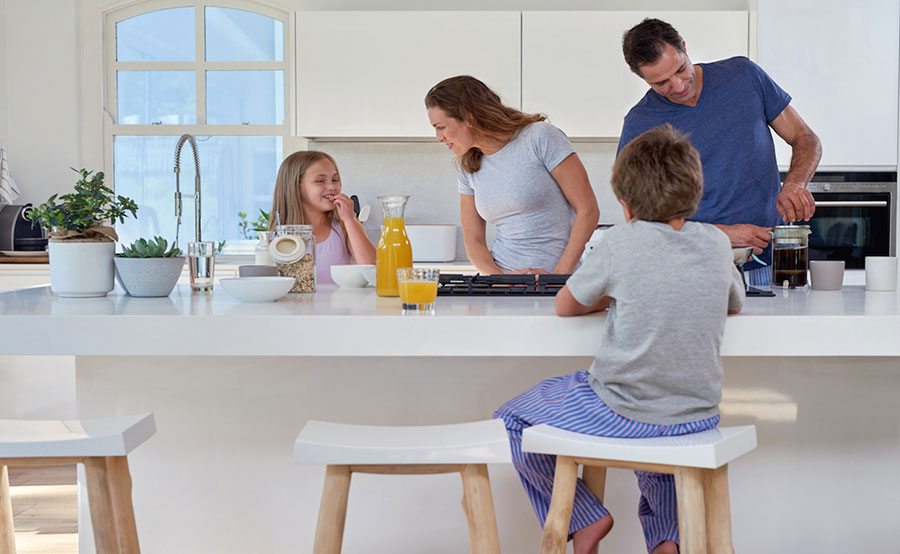 The trend for open plan layouts comes hand in hand with a new way of family life, and the convenience and sociability of contemporary living. In an open plan kitchen, families can cook, clean, play, eat and relax in the same space. In a society that's constantly pushed for time, creating an environment in which the family can spend time together could draw serious attention to your home in all the right ways. It doesn't add any physical space within your property, but does result in a sense of increased spaciousness—more light and fewer barriers within the home. An open plan layout is also universal, and so will always increase the resale value of your home.
Design
So you've decided to create an open plan kitchen: it's important to consider several things before tearing down any walls. An open plan kitchen doesn't necessarily have to start as a big square box; in fact, quirkier layouts could lead to an even better result. An L-shaped area, for example, lends itself to a kitchen / diner, as the shape creates its own natural 'zones'. Think about innovative ways to dress the shape you have within your property: if there's a corner that might be bare, think imaginatively about how you could fill it. A reading nook? A breakfast bar? An open plan layout really comes into its own when you think cleverly about the zones you can create within the space. Your only necessity will be one external wall for expelling waste: other than that, you can really think outside the box.
When designing your layout, think of it as planning a series of rooms rather than one giant, integrated space: it will help you to think creatively about your zones.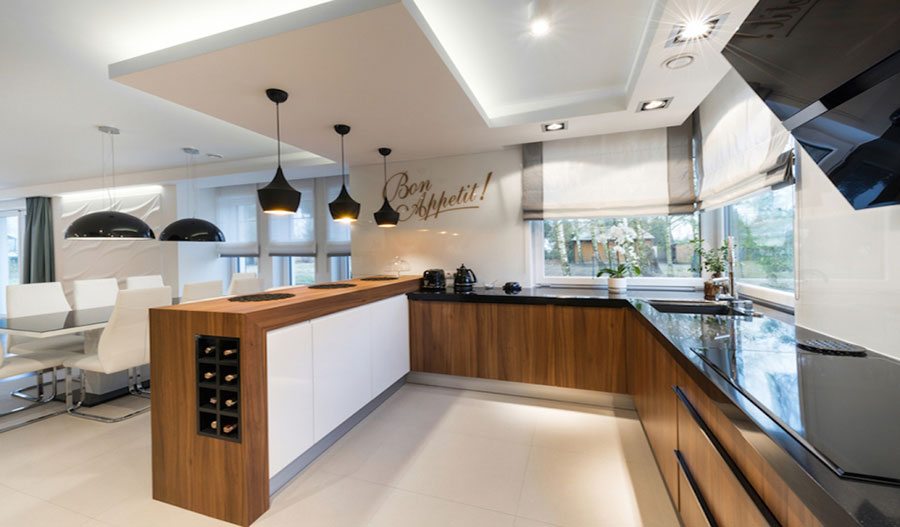 Space and flow
Another important aspect of design to consider is the views of your space. What do you want to look at when you're doing the cooking or the washing up? One of the major advantages to an open plan kitchen is the increased sociability it gives you. Don't fall back into the old habits of traditional kitchens and spend your time stirring pots on the stove, with your back to the action. The added value to your home will often come from prospective buyers being able to imagine an improved quality of life in your property. Maximise this potential by ensuring that your space, views, and flow is designed in the best way possible for a modern family life.
Think about the flow of the room, and your circulation throughout it. Don't impede movement by blocking access with badly positioned sofas or a dining table: the point of the open plan layout is to increase the sense of space, not decrease it!
Creating your zones
The best way to begin imagining your open plan kitchen conversion is to think in zones. It's easy to become overwhelmed in the design of an open plan layout without creating some sense of barriers, in your kitchen and in your mind.
Firstly, decide on which rooms will be incorporated into your open plan area: a kitchen and a dining room; a kitchen and living room; or a combination of all three? Create the zones of your space with innovative design techniques alongside furniture positioning. Subtle changes in colour scheme, materials, and lighting are clever ways to distinguish between the zones of your room. L-shaped sofas and kitchen islands are also great ways of giving the impression of invisible walls—the ideal way to section off your zones.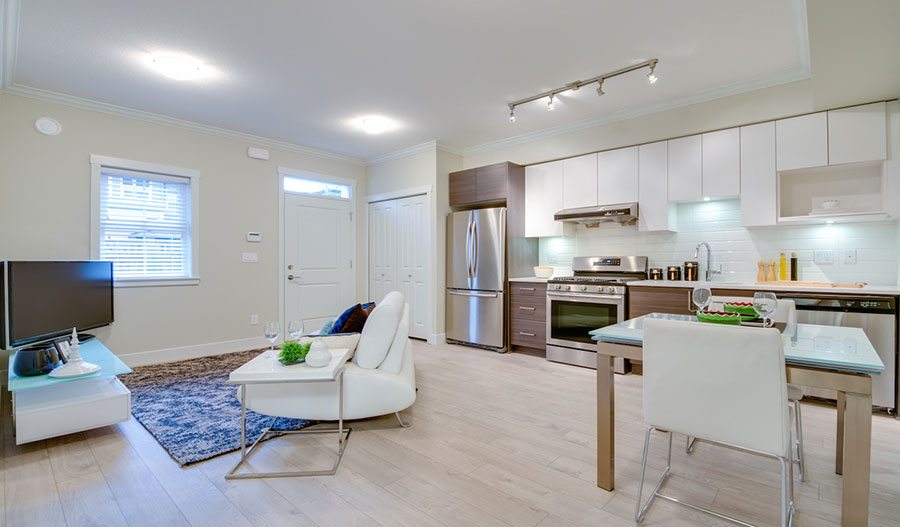 Be consistent in your decoration
Decide on a colour scheme for your open plan kitchen, and retain a consistency within your decoration. Although there is certainly space for character and colour, it is often best to begin with a neutral palette, and build on that. A large space containing multiple rooms in a strong colour scheme could result in an overwhelming impression—not the kind that would add value to your home in the eyes of prospective buyers! Muted shades and off-whites not only act as a neutral backdrop, but will also reflect light, and give the impression of a brighter, bigger space.
Choose a universal flooring that will work throughout your zones. Even if your open plan area includes a living room, avoid carpeting, as it would be unsuitable for your kitchen area. Your flooring finish needs to live up to the demands of every area of your open plan space: a wooden floor results in a beautiful finish for any home, but consider engineered floorboards for a cheaper alternative. Alternatively, vinyl flooring offers a quality imitation look, whilst also being easy to clean.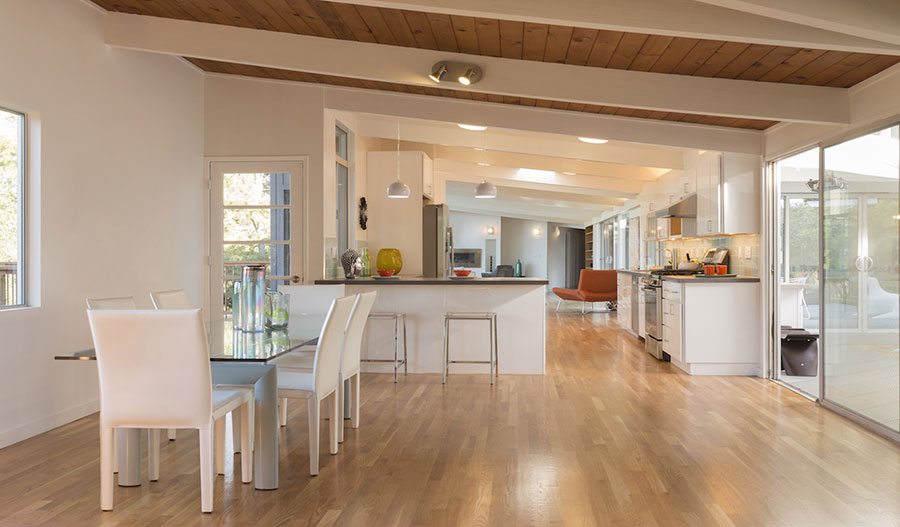 Employ your decoration as part of your zoning: use rugs and light fittings to distinguish between different areas in your open plan space. You can even introduce a signature wallpaper as part of a statement wall. Overall, there should be a sense of continuity and harmony between all the elements of your decoration, and within the room itself.
Account for the downsides
Sound and smell pollution are two significant downsides to your open plan kitchen—but they aren't unavoidable. Ensure your kitchen features a top-performance extractor fan to minimise on the disruption that cooking can cause to the rest of your room. Position your television, or other audio entertainment systems, as far as possible from the kitchen area to ensure the sound isn't drowned out by the clanging of pots and pans. The downsides of an open plan kitchen can be easily avoided with a little forethought and extra planning—be sure you have covered every corner by thinking it all over in advance.
An open plan kitchen, with its potential for a better family life, is a fantastic home renovation that can add value to your property. You don't need to add a single square inch to your footprint with this innovative and contemporary kitchen makeover!