Whether you're revamping your kitchen to boost the value of your house or simply creating a space that's right for you, a great kitchen sink can make a lot of difference.  While material matters, it's often the look of your sink that you'll choose first. Here's our round-up of the different types.
Inset sinks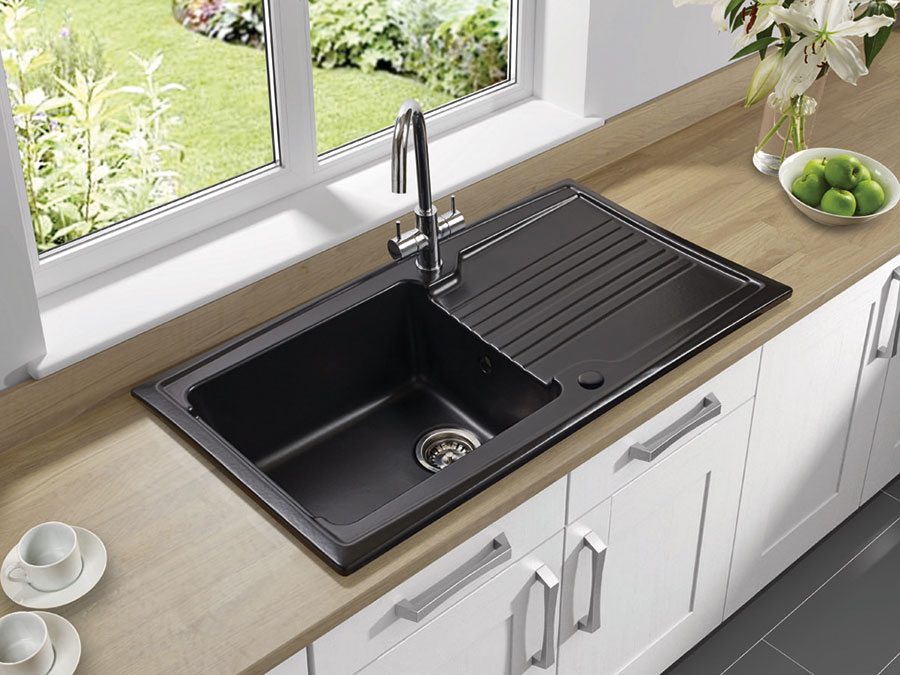 Inset sinks are still the most popular style, identified by the rim of the sink and drainer overlapping the worktop. They come in a variety of finishes and are suitable to use with all work surfaces. Available in one- and one-an-a-half-bowl versions, Astracast's Equinox black ceramic model with a fireclay finish is a twist on a traditional inset design. The surface is silky smooth to the touch but also very durable and resistant to heat and chemicals. The smaller one-bowl sink costs £390 and the one-and-a-half-bowl version is £405.
Flush-mounted sinks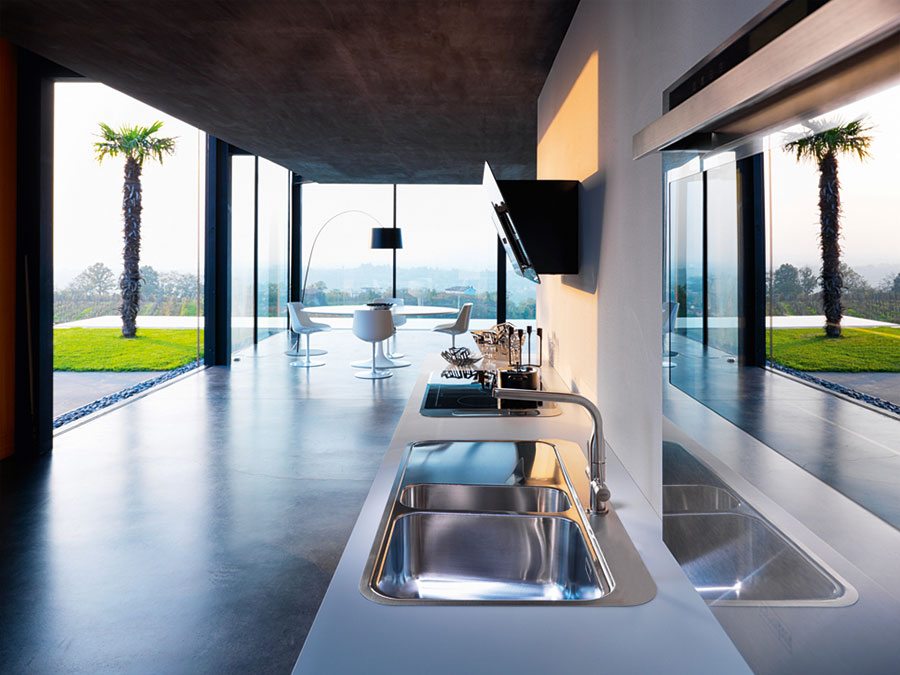 Flush-mounted sinks sit level with the work surface, creating a flat finish that is easy to keep clean. With its curved styling and low-profile edge, Franke's Sinos SNX 251 one-and-a-half bowl sink is a low-profile model that looks flush-mounted with the work surface but is as easy to install as an inset. Shown in premium-grade stainless steel it costs from £550.
Undermounted sinks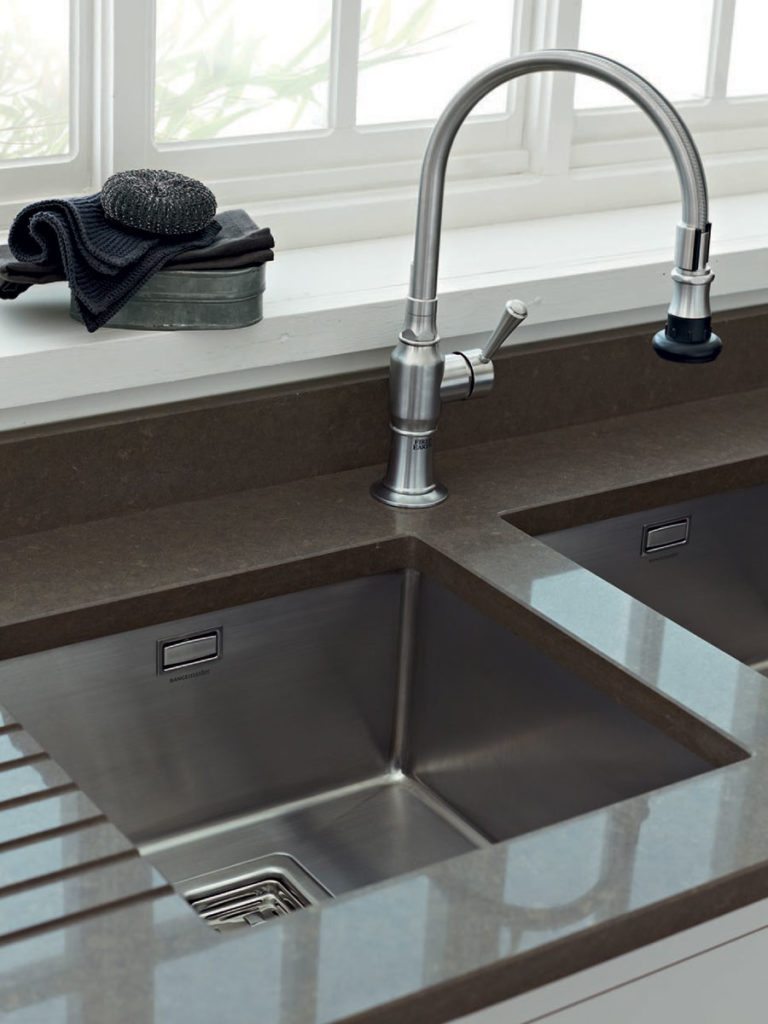 Undermounted sinks are the perfect partner for granite and solid surfaces, fitted below the worktop. Buy one large rectangular model to accommodate dirty pans and platters or match two single models for optimum washing and prep areas. The sinks in this Fired Earth Moderne kitchen are moulded from high-grade stainless steel in a seamless, soft-brushed Micro-sheen finish that helps to make them stain-resistant and therefore easy to clean. The single square sink costs £242 and the rectangular half sink is £156.
Complete unit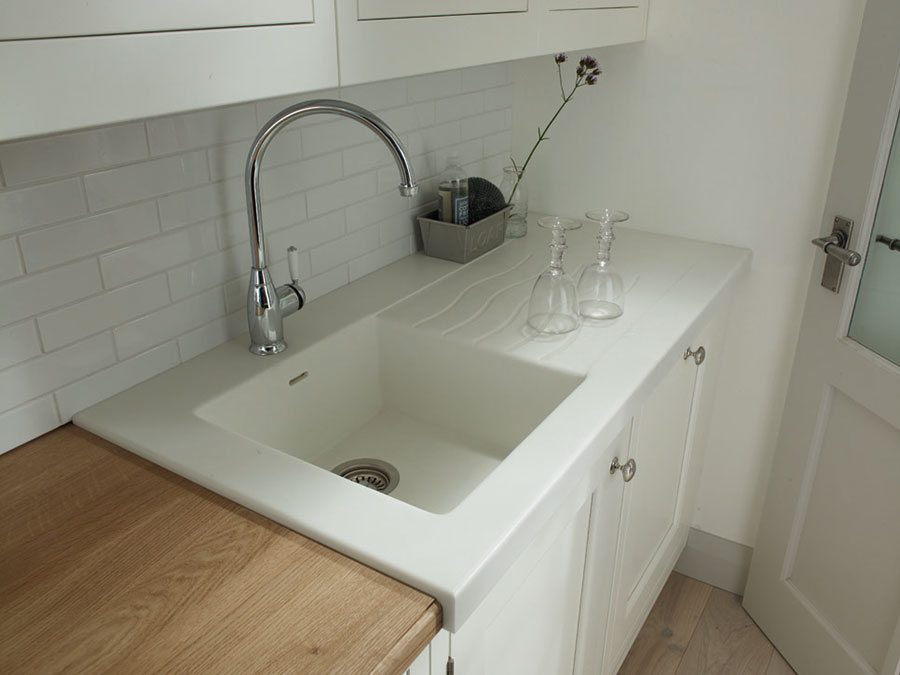 A complete sink and cupboard solution can create a sense of space and act as a freestanding feature, although the plumbing necessary means it's unlikely you'll take this one with you when you move. This 1909 in-frame kitchen features Cameo White Corian worktops and integral solid-surface sink unit, creating a hygienic seamless appearance. It includes a drainer with wavy grooves that add a quirky design touch. Corian work surfaces are priced from £350 per linear metre, with sink prices available on application as part of the full worktop and sink design.
Integrated sinks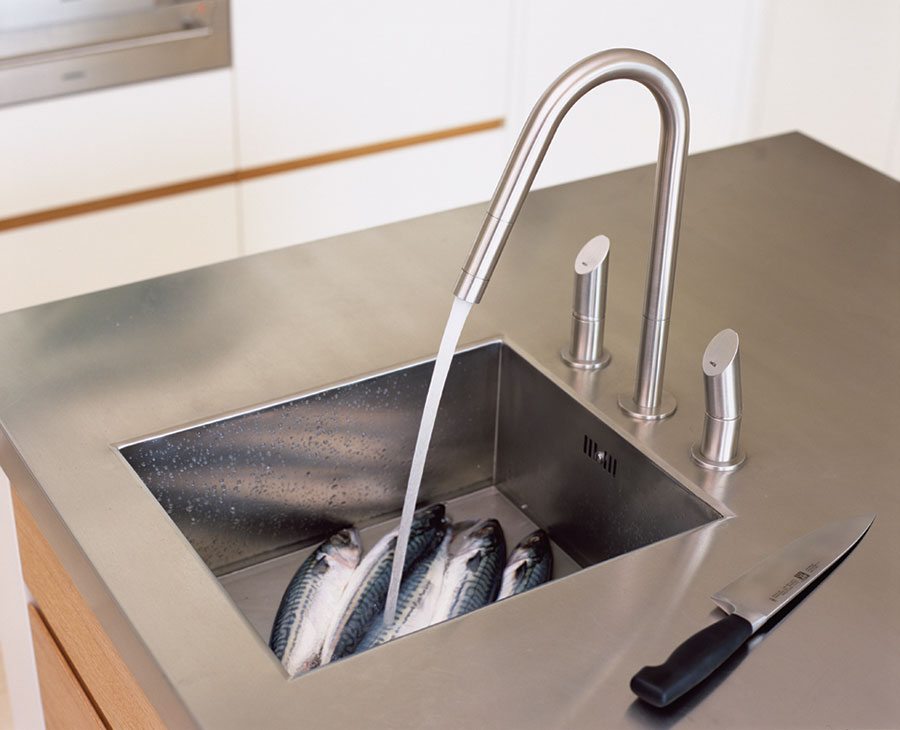 Integrated sinks that are designed to be a continuation of your work surface are an increasingly popular choice. At the top of the price scale, they are a considered choice but are hard-wearing and easy to clean. This single square Series A stainless-steel sink and work surface is by GEC Anderson. The sharper corner radius of just 12mm gives the sink and adjoining worktop a distinctly contemporary appearance. Prices for a single 500 x 400 x 200mm sink start at £400.