Make your home more desirable to buyers with small updates that make a big difference.
A recent study by OnePoll.com on behalf of Foxtons revealed that it can take just eight minutes for house-hunters to know whether a property is 'the one'. Make sure your home hits the mark with our top tips on sprucing up your space without spending a fortune.

Make a good first impression
Many sellers focus on interiors, thinking that they'll make or break a sale. But first impressions also count: in fact, 15 per cent of people polled by OnePoll.com said a scruffy front door would make them turn on their heel.
Fortunately, it doesn't take much more than a fresh coat of paint on the door to coax the buyers back. There are plenty of 'how to' guides online if you need to brush up on the practicalities. Just make sure you wait for a bright day with no rain forecast for at least 24 hours.
Once your front door is refreshed, replace rusty house numbers with new ones: they'll help people find your property as well as make that all-important positive first impression. Sweep the front path and pop a couple of pots of brightly coloured plants on either side of the door. If your doormat has worn out its welcome, replace it with a cheap and cheerful new one.
Wheelie bins are practical but they're also unsightly, so hide them away if you can. And if the outside of your home is dirty or has mould, think about renting a powerwasher. It'll be less expensive than an exterior paint job and it could make a big difference to your home's outward appearance.
Groom your garden
Did you know that potential buyers hate overgrown gardens? Get yours under control by mowing the lawn, weeding flower beds and trimming hedges and bushes. Add interest with coordinating planters, which are relatively cheap and can be taken with you when you move. Not green-fingered? Let someone else do the hard work and shop for pre-planted pots.
Buyers are often interested in outside storage and will look more closely than you might expect at the state of the shed. If yours is looking a little tired, give it a lick of paint. The same goes for any fences. Once you've got garden features looking fresh, consider installing garden lighting so that home viewers can see them. This can be particularly helpful if your home viewings tend to be in the late afternoon or early evening.
Clear out the clutter
There's one simple, cost-free way to make your interiors look bigger: clear the clutter. Buyers need to feel that there's ample space for their possessions, so this is a step that's always worth taking.
A haphazard approach to decluttering tends to be less effective as it's harder to see results, so use viewings as a chance to review and streamline your belongings. As you tidy things away before a viewing, think whether you really need to put them back. Focus on individual rooms or areas, and categorise items based on whether you want to sell them, donate them or throw them away. Then, once you've collected a batch, you can take a trip to the tip, car boot sale or charity shop, or sell them online.
Click here for more clutter busting ideas to seal the deal!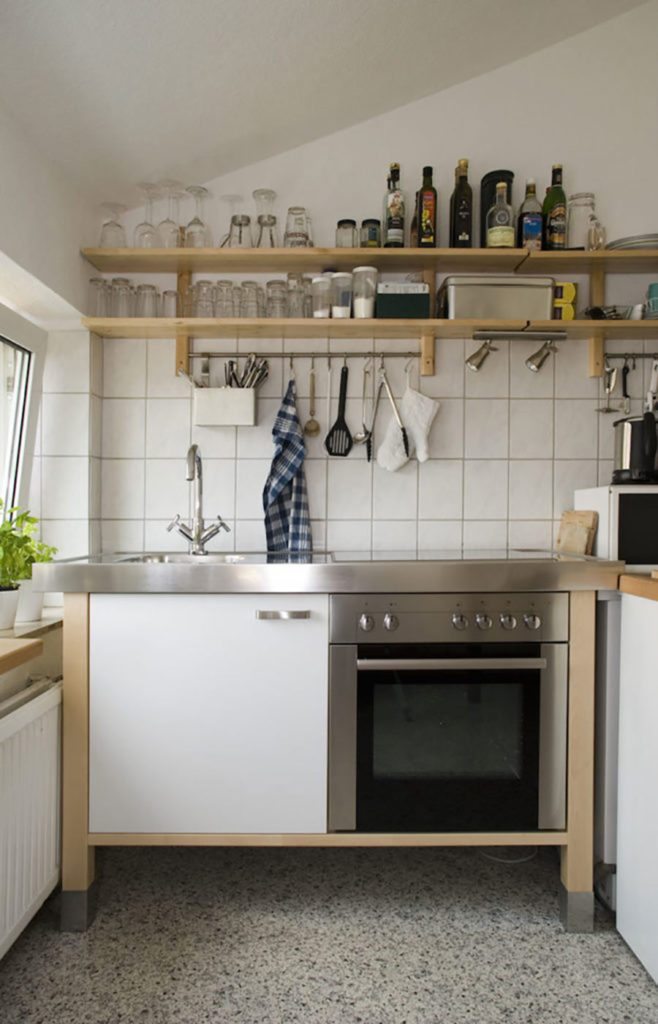 Boost the bathroom
There are plenty of ways to smarten up your bathroom without splashing out on a complete overhaul. Start by freshening up paintwork and updating towel- and toilet-roll holders (you can't go wrong with chrome). Then go for a deep clean, including scrubbing grout and removing limescale from the basin, shower and WC.
Shop around for a coordinating bin and toilet brush holder – try Victorian Plumbing and Screwfix for affordable accessories – and declutter toiletries and cleaning products. If you can, store them out of sight.
Think about replacing the toilet seat too: a new one could cost little more than £20, yet it can instantly make the bathroom look smarter. The same is true for the shower curtain, taps and shower head. Finally, invest in fluffy towels, calming pieces of art and a good diffuser to create a spa-like feel.
Click here for more ways to add sparkle to your bathroom without breaking the bank.
Concentrate on the kitchen
The kitchen is the heart of the home, so it pays to focus on it when you're preparing your property for sale. Declutter all surfaces, plus the insides and tops of cupboards, then style the space with a matching chrome kettle and toaster. Refresh walls with a splash of moisture-resistant paint (stick to a crowd-pleasing neutral colour); if you're painting tiles, beware that this looks best only on small areas.
If your kitchen cupboards are looking a little dated, you can give them a new lease of life with a splash of paint (look online for 'how to' guides). If you have glass-fronted units, add a pop of colour by painting the insides. Want to replace the doors completely? You don't have to spend a fortune: companies such as Kitchen Door Workshop offer a wide range of pocket-friendly options.
Old lighting can dull a room, so swap old bulbs for LED ones that will instantly lighten the space. Old blinds or curtains can also drag the room down, so think about changing them for white wide-slatted wooden Venetian blinds, which give the feel of shutters for minimal cost.
For some low-cost finishing touches, hang some easy-on-the-eye pieces of art, picking out a colour in the pictures and echoing this in new tea towels or scatter cushions. Style the window sill with herbs in pretty pots and place a vase of fresh flowers on a surface or table.
If you have more money to spend, refurbish work surfaces with composite overlay, such as Granite Transformations, and update your sink by replacing old taps with a more modern look.
Read on for more budget-friendly ways to style up your kitchen.
Liven up your living room
Paint is the most obvious way to lend your living room a fresh new look. Keep the colour neutral to appeal to a wide range of tastes and add interest with artwork. You can also work scatter cushions and throws into your scheme: these will add instant colour and texture for minimal cost.
If the room is small, follow this simple tip: hang a cheap mirror on the opposite wall from the window so it reflects light and makes the space feel bigger.
Furniture can be expensive to replace, but some spray paint could give it a new lease of life. Similarly, you may not want to replace an old carpet, but you can disguise it with a carefully placed rug.
Whatever you do, don't forget to declutter. Too much 'you' makes it difficult for potential buyers to visualise what they would do with the living room, and too many knickknacks can make it feel claustrophobic.
Let in light
It's easy not to notice how much light is coming into a room when you're familiar with it, but it's worth a check. If the space appears a little bit drab, especially when it's overcast, consider adding a few affordable table and floor lamps. Then, just before a viewing, turn all the lights on, even small side lamps – the more light, the better.
Heavy curtains could also be blocking light, so swap them for something lighter or give them a good clean to brighten them up. If the view's not great, hang some cheap net curtains to obscure it: you'll find them for less than £10 at Ikea.
Get planning permission
One of the most effective ways to add value to your property when you're on a budget is to apply for planning permission. Applying for permission to add an extension or even an extensive remodel costs around £170 (depending on where you are) but it could add thousands to your property if your application is granted.
This is because buyers like to be sure about what they can and can't do to a property. The planning permission documents will show them exactly where they stand.