Rejuvenate a tired bathroom by bringing a splash of style to the floor with vinyl, rubber or tiles.
Next time you are thinking of ways to refresh your bathroom, look down. A stylish bathroom can add value to your home and make it more appealing to prospective buyers – and there's no doubt your choice of floor tiles plays a huge role.
Be wise and choose the best type of flooring to suit your practical requirements: does it need to be easy to clean, durable or suitable for underfloor heating? Also, think carefully about how much you want to spend. If natural stone tiles are out of your budget, for example, a porcelain tile is just as durable, but at a fraction of the cost.
This handy guide focuses on a few of the fuss free, functional favourites to help you pick out the best for your bathroom floor.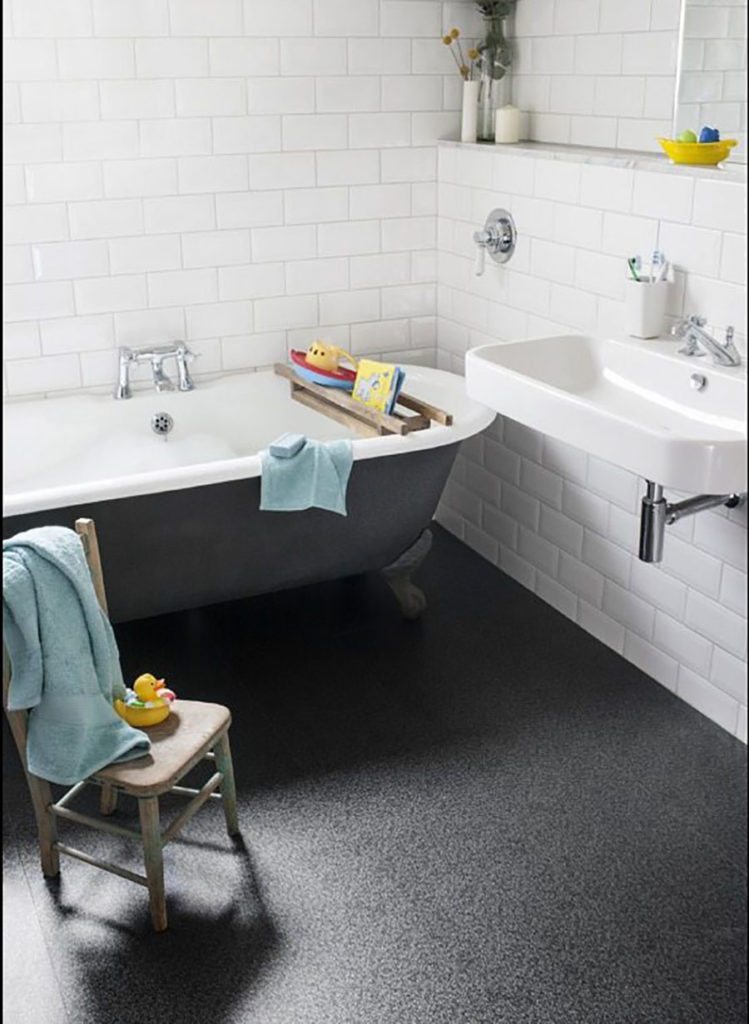 Galleria LVT in dark granite by Lifestyle Floors, priced £16.25 per sq m.
Pros & cons of rubber flooring
Hardwearing, durable and warm underfoot (so you don't step out of a hot bath onto a freezing floor), rubber flooring is ideal for the bathroom because it is easy to clean, compatible with underfloor heating and slip resistant, making it a safe option for homes with small children or elderly people. On the downside, rubber flooring is limited in terms of design (options tend to be colour-oriented rather than print) and, typically, it's slightly more expensive than similar materials, such as vinyl.
Can I fit rubber flooring myself?
Yes, depending on your experience level. "We offer detailed fitting instructions and videos on our website, and lots of our customers use these resources to fit their new floor themselves," says Alice Dunbar, interiors specialist at Harvey Maria. "That being said, if you're at all unsure, it's always best to consult a professional to ensure the perfect fit."
If you do decide to go down the professional route, sites such as MyBuilder or Check A Trade are excellent resources as they offer honest trade reviews. "Specific 'rubber' fitters may be hard to come by, but rubber is fitted in the same way as luxury vinyl tiles, so if you can find someone with experience in this field, then they should be able to help you," advises Alice.
Pros & cons of tiles
Often praised for their durability, tiles are hardwearing and come in a range of sizes, patterns, finishes, colours and materials, meaning there's something to suit every budget, taste and style.
"An added benefit is they require little maintenance or upkeep and are safe to use in high footfall areas of the home," explains Sian O'Neill, head of marketing at Topps Tiles. What's more, tiles are waterproof (if used with the correct grout) and won't fade from sunlight.
Tiles can feel cold underfoot in autumn and winter, so you may wish to consider underfloor heating if you dislike slightly chilly feet!
Are tiles compatible with underfloor heating?
There are two types of underfloor heating systems you can use in your bathroom: a hot water (or wet) system, or an electric mat (or wire) system. Tiles are compatible with both.
"Natural stone and porcelain tiles are both ideal options for use with underfloor heating," continues Sian. "Each has a high thermal mass and strong conductivity, which allows heat from the pipes or electric mat to easily transfer to the floor surface, providing you with a toasty and warm bathroom.
"A top tip is to take into consideration the thickness of the tile or stone you plan to use with your underfloor heating, as this will affect the length of time it takes for the floor to reach its optimum temperature. The thicker the tile, the longer it will take to heat up."
Work out what your want
Before splashing out on tiles, it pays to come up with a realistic budget of how much you're willing to spend. "This will help you to determine what type of tile you can afford and work with, whether that's budget friendly porcelain tiles, or splashing out on natural stone flooring. And don't forget to allow enough in your budget for important costs such as underlay, grouting, sealant, installation and even delivery costs," advises Sian.
Spend time considering what type of look you'd like to introduce to your home and draw on inspiration from Pinterest, home interest magazines and online flooring visualisers. Once you've figured out if you're more of a contemporary fan or love the vintage trend, you'll be better placed to decide if you want natural stone or sleek, minimalist tiles in your bathroom.
"Consider your lifestyle," continues Sian. "If you're always on the go and have a busy household, then an easy-to-clean porcelain tile might be a better option over natural stone, which requires more maintenance."
"With so many different types of flooring available it can be a hard task knowing where to start, but a golden rule to follow is to pick something that has longevity. Whether you're adding a dramatic focal point or a simple hint of pattern, it's important to choose a style that not only reflects your personality and home, but also stands the test of time. Frequently changing the type of tiles you have because you no longer like the style can be a costly exercise, so it's important to get it right first-time round."
And while selecting the right floor is crucial for the overall look and feel of your interiors, don't forget about your choice of grout. The grout you pick can do wonders for accentuating certain colours and textures within tiles, adding the finishing touch to your flooring. Use it to inject character to your bathroom by opting for a contrasting grout to create a bold look.
According to Nick Ounstead, director at Tile Mountain, you can pay a premium for tiles but this doesn't necessarily mean that you are getting a better product. "Brand and designer names will command a higher price but, while that may give you an exclusive design, it doesn't always mean better quality," he explains. "Low-price tiles can still offer excellent quality and longevity. You may pay a little more for porcelain tiles than ceramic as they are harder wearing."
Ceramic versus porcelain tiles
When choosing between ceramic or porcelain tiles, it's advisable to opt for the latter. "Due to the lightweight structure of ceramic tiles, they can be more delicate and not ideal for anything requiring weight or repeated walking on," Sian O'Neill, from Topps Tiles, explains. "The structure of porcelain means it's denser and more hardwearing, which is perfect for bathroom flooring."
Porcelain tiles are available in a variety of designs. You can even get stone and wood-effect porcelain tiles that are incredibly realistic. Use a mild, specialist tile detergent mixed with warm, clean water to make them sparkle and make sure you use a chamois-style cloth rather than a sponge mop, which can push dirt into your grout.
What about natural stone tiles?
If you hanker after a high-end, luxurious look, natural stone tiles are an ideal fit. However, they tend to cost more than porcelain tiles and you may have to spend a little more on maintenance.
Although naturally hardwearing, all natural stone is porous to varying degrees so requires sealing when they are installed. "In order to preserve the surface, the use of specialist cleaning and maintenance products, such as stone-specific sealants, cleaning solutions and grout protector, is recommended," says Sian.
Top tips to tile installation
When equipped with the right tools and knowledge, you can lay your own tile floor and save money in the process. "If you're not confident and feel as though it isn't something you can dedicate the time to doing or to master properly, then consider hiring a professional flooring installer who will be able to get the job done efficiently and to a high standard," advises Sian.
Visit your local tile retailer if you need help finding a trusted installer, as it is likely they will have a list of professionals they work with and can recommend. You can also visit websites such as Rated People that provide information about a variety of tradesmen and tilers around the UK.
"When it comes to picking your tiler, make sure you do your homework by interviewing and getting quotes from different people. It's important you ask to see a portfolio of their work to get an idea of their capabilities and skill set and, while photos are great, they can be deceiving, so make sure you view at least one of their previous tiling jobs in person," recommends Sian.
If you decide to install the floor yourself, you need to allow plenty of time to plan the project in detail, with a particular focus on layout and design. Just as when you are making your product choice, spend time researching what tools and materials you need, as well as how to lay a tile properly. "Be sure to make the most of available resources. Watching video tutorials on how to prepare, tile and finish a floor, are all helpful tools. Or why not practice tiling on a scrap piece of plasterboard before starting on your floor? After all, practice makes perfect," adds Sian.
The virtues of vinyl flooring
Vinyl has come a long way since the seventies, when it was seen as a cheap option. "Technological advances mean it is a durable as well as a practical choice," agrees Victoria Hemelaer, product manager at Leoline. "These advances, combined with increased research and development spend, mean vinyl manufacturers generally offer great diversity in looks. Compared to wood or laminate companies, we have a very blank canvas!"
Vinyl comes in two formats: sheet or luxury vinyl tiles (LVT), the difference being that sheet vinyl comes in rolls (similar to carpet), while vinyl tiles are smaller and slot together.
Sheet vinyl or LVT?
Regular sheet vinyl is durable, easy to clean and water resistant, making it the ideal choice for bathrooms. "It works particularly well in smaller spaces because it is easy to install, great value and comes in a wide range of colours and designs," explains Heather MacMillan, buying manager for hard flooring at Carpetright.
Typically, luxury vinyl tiles (LVT) are more expensive than sheet vinyl. Also hardwearing (resistant to scratches, stains and moisture) and easy to fit, the advantage of LVT over sheet vinyl is that they can be removed and replaced more easily should damage occur or a mistake is made while laying them. "They also offer the added benefit of looking more realistic, which is often the desired effect for larger rooms or living spaces," adds Heather.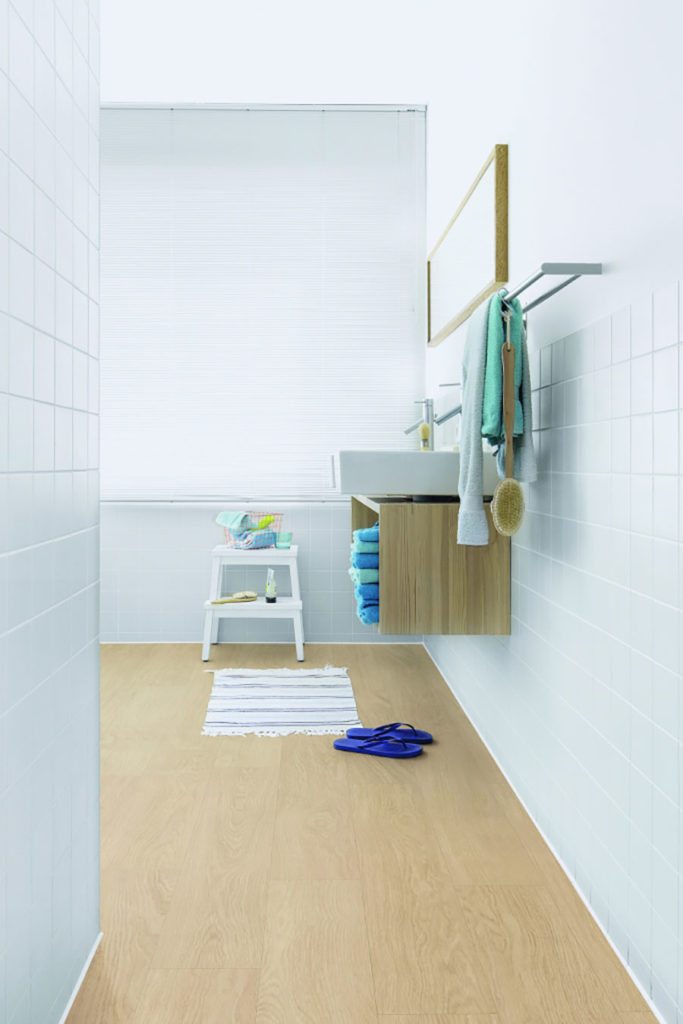 Quick-Step Livyn Select Oak vinyl flooring, £34.99 per sq m.
Types of vinyl tiles
There are various types of vinyl tile: some are stuck to the floor using tile adhesive, while others come with a self-adhesive backing or a click system, whereby the tiles click together to create a floating floor surface. Tiles that are pre-coated or come with a click system are generally quicker to lay and create less mess.
"While most vinyl options are relatively easy to install, we would always recommend having them professional fitted to ensure the best finish," advises Heather. "Our team will also advise you on underlay requirements, whether the product can work with underfloor heating and make sure you've considered all factors before choosing your floor."
If you are keen to go the DIY route, preparing the sub floor is the key to success. "Make sure it is dry, level and swept. Also, if possible, remove doors when fitting. This should reduce the chances of error," advises Victoria Hemelaer, from Leoline.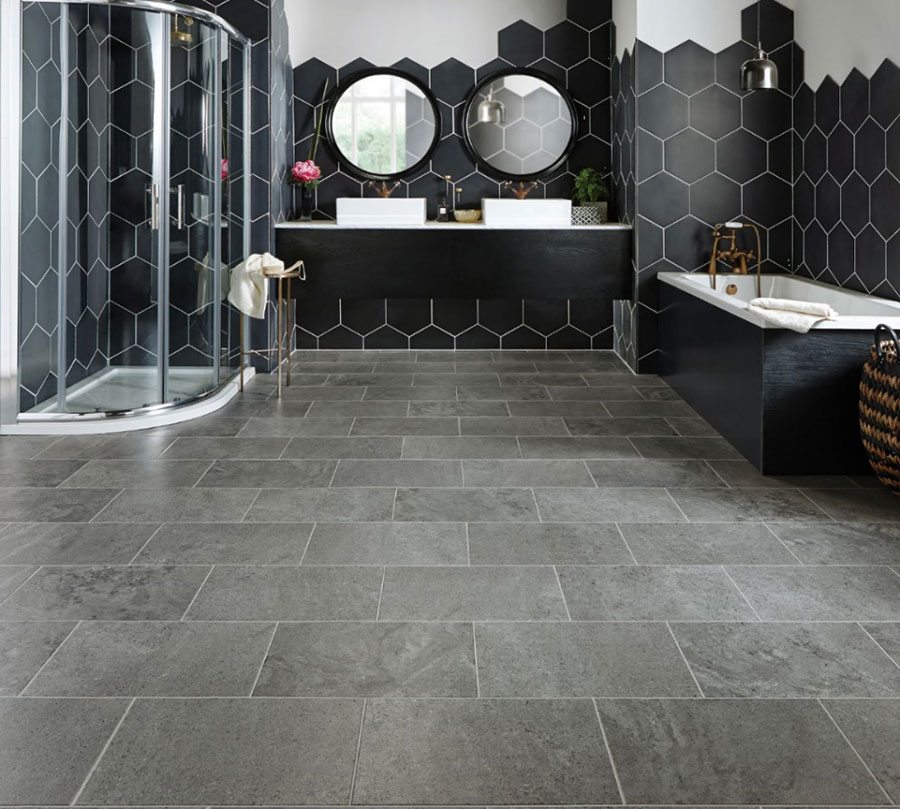 Da Vinci Drift CER17 vinyl flooring from Karndean Designflooring, priced from around £39.99 per sq m.
Take precise measurements
At the risk of stating the obvious, make sure you measure the room carefully before buying your vinyl flooring. "Measure the length and width of your room and multiply the figures together to get the total surface area," advises Heather. "For rooms that are not square you may want to measure your room in sections and add each surface area together to get the total. Always allow an extra 10 per cent when buying enough vinyl to cover your floor to allow for waste and to match any patterns."