For generations, the kitchen has acted as the heart of the home. It's where your family gathers for meals, where your children do their homework and memorable conversations take place. Beyond this, the kitchen is an important part of the house because it can add or detract value from your home, depending on its current state.
According to a study conducted by Which?, the average kitchen renovation will cost you £8,000 and will add roughly 6% value to your property. Whether you're looking to sell your home and want to make sure you get the best offer, or if you just want to update the look of your kitchen for your own use, there are endless changes and renovation options available to you, depending on your budget.
We've compiled some helpful tips for updating the look of your kitchen, focusing on options that will make a bigger impact for a lower cost, all while increasing the value of your home.
Lighting
There's something about an open and airy kitchen where light flows freely that makes a space feel warm and inviting. If your kitchen is on the darker side, not only does this make chopping vegetables a rather dangerous task, but it can make the space feel smaller and less inviting. Selecting the right lighting can make a big change, and it's usually an easy fix.
When thinking about lighting options for your kitchen, you need to consider two things; firstly, the look of the light fixture you're going for. Do you want sleek and modern or country traditional? Maybe something in between? Consider the overall style of your kitchen and this will give you a good place to start. Next, think about what type of light you want for the space – do you want bright spotlights or softer, more atmospheric lighting?
If you want to add an extra lighting element, consider colour changing lighting strips to go above and below the kitchen units. These act as great ambient lighting options, and work well as nightlights for late night snacks.
Add an island
Islands are highly practical, because they offer not only more unit space, but also extra storage. Depending on your budget and the space available, you can build a permanent fixture that offers additional seating or maybe even a wine rack.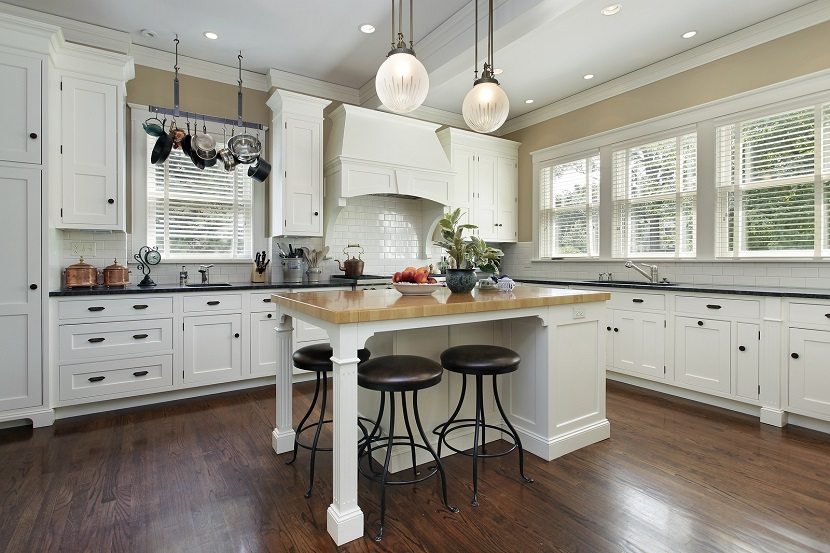 If you're not able to make a permanent change, butcher blocks are an excellent option, some even coming with wheels for easy movement.
Paint
One of the easiest changes you can make to any room is the wall colour – a tin of paint, a brush, some masking tape and you're on your way. Painting is really one of the most cost effective ways to freshen up your kitchen, immediately making it feel clean and new, especially when you choose the right colour for the space. Again, it's important to consider the overall style you want to achieve when selecting a paint colour, as well as the correct finish.
Keep in mind that small rooms are complimented by lighter colours to create the illusion of a bigger space. But if you're attracted to bright and bold, why not choose a feature wall for a vibrant colour or exciting wallpaper?
If you're not afraid to get creative, you can always consider painting your kitchen floor or your cupboards for an even bigger impact.
Cupboards
If your cupboards are tired and outdated, a few coats of paint may not be quite enough to breathe new life into them. If you're not able to commit to completely gutting your kitchen, consider changing the hardware. Choosing new hardware is a great place to start because it's very cost effective. Keep in mind that with trends changing so frequently, it's easy and inexpensive to regularly update your cupboard and drawer handles.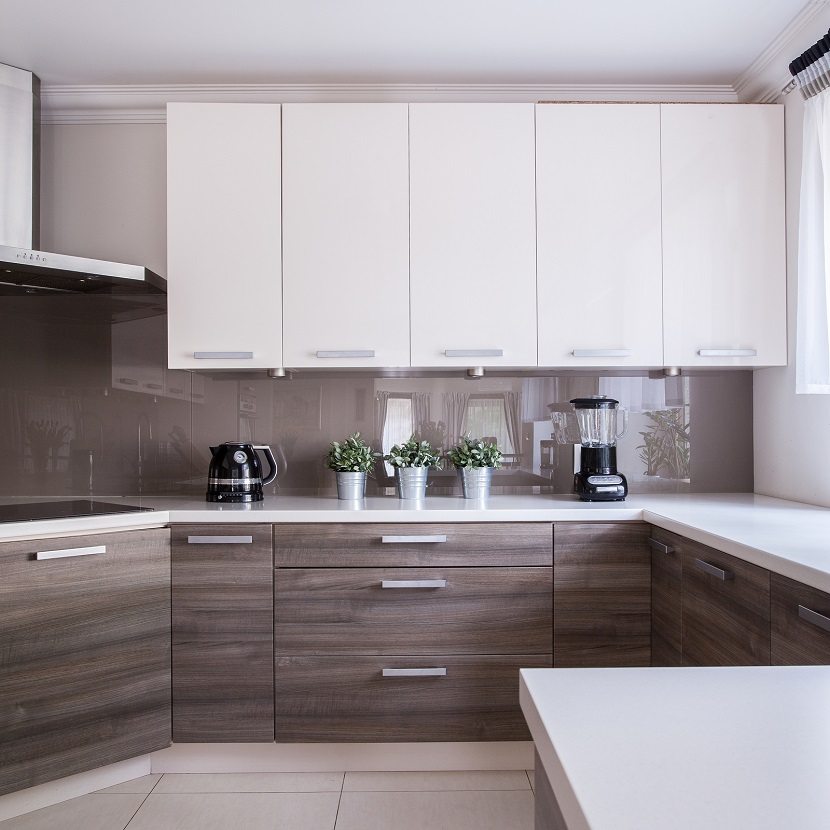 If the cupboards themselves are still in good shape, installing new custom doors can act as a quick fix that makes a significant difference in the appearance of your kitchen. This is a highly effective way to completely change the style of your kitchen, with endless designs and finishes available.
Countertops
While new granite or marble countertops may not be in your budget, that's not to say that you can't update your units. From stainless steel to vinyl or concrete counter tops, there are numerous permanent options to select from, all of which will effectively modernise the look of your kitchen.
If these are still out of your price range, you can focus on shorter term solutions like contact paper or even painting over your existing units. Wood overlay is another option that will last longer, and still give you the updated look you're trying to achieve.
Extra touches
Don't underestimate the impact that little changes can make. Beyond swapping out the hardware, changes like installing a new tap, updating your window treatments, adding a rug or selecting some new small appliances can all go a long way in updating the look of your kitchen.