Transform your living space and save on the cost of an extension by knocking down the wall that separates your kitchen and living room. We answer some common questions on getting started.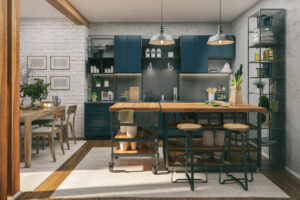 Want a spacious open-plan kitchen-diner but fear the costs of an extension? You may have another option: reconfiguring your existing setup. At the same time, you could open up dark or pokey rooms and create a fresh living space without the hassle and expense of an extension.
Before you grab your sledgehammer to your walls, check out below. It will help you make sure you have the right experts on board – and that your home remains upright.
Do I need planning permission?
Generally, you don't need to apply for planning permission for internal alterations, including removing internal walls. However, if you live in a listed building, you will need a listed building consent for any significant works, internal or external. Plus, depending on whether your wall is load-bearing or not, you may need approval from your local council. Read up on our guide, 10 things you need to know about planning permission.
It's worth considering whether you need expert help regardless of the planning situation. "If it's simply a single wall removal, you won't be needing an architect," says Jo Buckerfield of Your Space Living. "But if it's something more complex, such as the removal of more than one wall, I'd always go to a good architect before anyone else.
"As with all building work, make sure you do due diligence on whoever you commission to work on your home," Jo continues. "That includes qualifications, experience and testimonials. Don't go on price alone – that's a false economy."
Can I remove the wall myself?
Your next step – and a crucial one – is to work out if the wall you want to remove is load-bearing or non-load bearing wall. A load-bearing wall supports the weight of other elements of the house, such as the roof or a wall above, so taking it out without professional help could have a dramatic effect on your home: "If the building isn't supported correctly during the removal then there's a risk of the building actually collapsing," warns Thomas Williams of Price Your Job. At the very least, you could find that the structural integrity of your home is compromised if you remove a load-bearing wall.
In contrast, non-load-bearing walls don't support anything above them. In other words, they carry just their own weight, so they're relatively easy to remove: "A sledgehammer and some degree of common sense is pretty much all you need to get started," says Jo.
How do I know if a wall is load-bearing?
There are some simple checks you can make to work out if a wall is load-bearing. "Tap the wall and listen out for a hollow sound," Jo explains. "If the wall is hollow, it may not be load-bearing and just a simple stud partition, but if you hear a thud, you've probably discovered a block wall that could either be supporting the ceiling, or it could be a load-bearing wall."
You can also look upstairs to see if there's a solid wall directly above. This can indicate that the wall you want to remove is potentially load-bearing, so you'll need professional help.
Want a second opinion? Ask your builder to come and inspect the wall for you. They'll quickly spot if it's load-bearing.
My wall is load-bearing – what happens now?
If the wall you want to remove is load-bearing, you'll need a reinforced steel joist (RSJ) to support the upper floor when the wall's removed. A structural engineer can help you here: he or she will calculate the correct load needed and create drawings. These calculations and drawings are then given to a builder who will liaise with a steel fabricator to manufacture the steel joist and deliver it to site.
Once the steel is fitted, a building inspector is invited to inspect it and make sure it complies with the drawings and calculations. The steel is then boarded with fire-board, plastered and painted. When the work is complete, the building inspector will sign off the project and issue a building approval certificate.
Keep hold of all the paperwork in case you want to sell your home. "Regulations have changed, so now, if you were to sell a property, you have to have all your i's dotted and t's crossed," says Jo. "So, for argument's sake, if somebody was to remove a load-bearing wall and they don't have structural engineering calculations, then the vendor's solicitor would pick that up and ask for them."
If you don't have the necessary paperwork, you will be required to commission an engineer to check what the builder has installed and produce calculations. This will be at your expense.
How do I find a reliable structural engineer?
Ready to get going? You'll need your structural engineering calculations before you can sign off your builder's quote. After all, without the structural calculations, how will the builder know what steel to price in? So, to find an engineer, start with your builder: it's likely he'll have local contacts.
If you have to find your own, check with friends and family members who've had building work done, or use the search tool on the Institution of Structural Engineers website to find registered engineers in your area. Then check their credentials before handing over any money or signing a contract.
Make sure your renovation runs smoothly with our guide to finding the right people for your project.
How long does it all take?
Once the experts get involved, the task of removing a wall and putting in a joist can be done within a week. "Removal of the wall and inserting the RSJ takes one to two days, depending on the size of the wall," says Thomas. "Allow four to eight hours for plastering – depending on the size of the area that needs plastering – and I'd say half a day for painting or decorating depending on the size of the area. Painting will require multiple coats, especially on fresh plaster."
How much will it cost?
As you might expect, there are several factors that affect the cost of removing a wall. One is its size: "The longer the wall, the longer it'll take to knock down, meaning higher labour costs," explains Thomas. "You'll also have to buy a larger RSJ," he adds.
Thomas advises budgeting between £200 to £300 for a structural engineer, from £400 to £800 for labour costs, £120 to £175 for skip hire and around £300 plus VAT for a six-metre RSJ, £200 plus VAT for a four-metre RSJ or £100 plus VAT for a one-metre RSJ.
"You must also factor in the cost of a building inspector," adds Jo.
What else do I have to think about?
"If you'd like your light switches or plug sockets moved, then you're looking to pay around £100 to £300 depending on how many and how far they will need to be moved," says Thomas. "I'd estimate this would take around four to eight hours to complete, then you'd need to touch up the plaster and paint work, which you could do yourself to reduce costs."
If you're planning to move a radiator, this will also bump up the cost of the wall removal. Set aside around £250 if you're installing an extra radiator or £150 if you're just moving an existing one. "This may also need a little touch up, but you could do that yourself," says Thomas.
Costs can add up, especially as you're likely to need new flooring too. It may seem a good idea to save money by doing things yourself, but be aware that a professional job is likely to last longer. "Is it worth saving a few pounds and doing some of the things yourself or is it just better to pay a little extra and save yourself the hassle?" says Thomas." A professional can usually complete the job in half the time and do it to a better standard."
You could incur some extra costs if things go wrong, and your insurers may need to know your plans to make sure you're covered for this. Otherwise, you could be left with a big expense and, worst case scenario, invalidated home insurance. Make sure you're up to speed on handling home insurance when you're making home improvements.
How will a steel joist affect the look of my room?
The steel joist will need to be boxed in with a bulkhead, which will mean a 200 to 250mm drop in the ceiling height. You could opt to recess the joist into the ceiling so that the transition is seamless: this is likely to cost around £500. This won't suit all spaces, as Jo explains: "It's only possible to do this if the floor joists are running in the same direction as the steel."
If this option won't work for you, there are plenty of ways to make a feature of the bulkhead. "In the past, I've made it wider and installed lights in it," says Jo. "I very often use it to install a ceiling extractor."
Once you're finished, give yourself an edge on decorating by reading our guide to paint finishes.