Adding value to a kitchen can be tricky if you have to work within a tight budget. Let's take a peek at these easy ways to makeover your kitchen without breaking the bank.
Budget Kitchen Renovation Ideas
Whether you are hoping to modernise a single element of your kitchen or to completely transform the existing environment, taking your budget into account is always a concern. Most professionals estimate that the average cost of such an upgrade can range from anywhere between £5,700 and £17,100 pounds. Such figures could very well place you in a financial bind. The good news is that there are a host of money-friendly approaches that can produce truly stunning results in no time.
Updating Old Kitchens
The first thing to consider is that cheap kitchen updates should always involve appreciating which areas need to be addressed. Even the smallest changes can have the most lasting impacts. For example, changing the colour of your cabinets or replacing an old worktop will often transform the ambience of the entire area (more on these topics later). If you can compartmentalise your efforts, they can be broken down into individual steps.
It's also worth mentioning that older kitchens can often benefit from the presence of modern appliances. Efficient extractor fans, cost-effective refrigerators and environmentally friendly dishwashers are a few examples. Not only will these additions provide a contemporary touch, but they can reduce your energy costs over time.
Retro Kitchen Ideas
Many homeowners are deciding to provide their kitchens with a retro appeal in order to add a uniquely personal touch. Some excellent professional tips include:
The addition of (functional) second-hand appliances
The use of pastel tones
Including chrome accents around tables and trim
Tiled splashbacks combined with stainless steel workstations
Never be afraid to experiment; feel free to gain inspiration from online sources.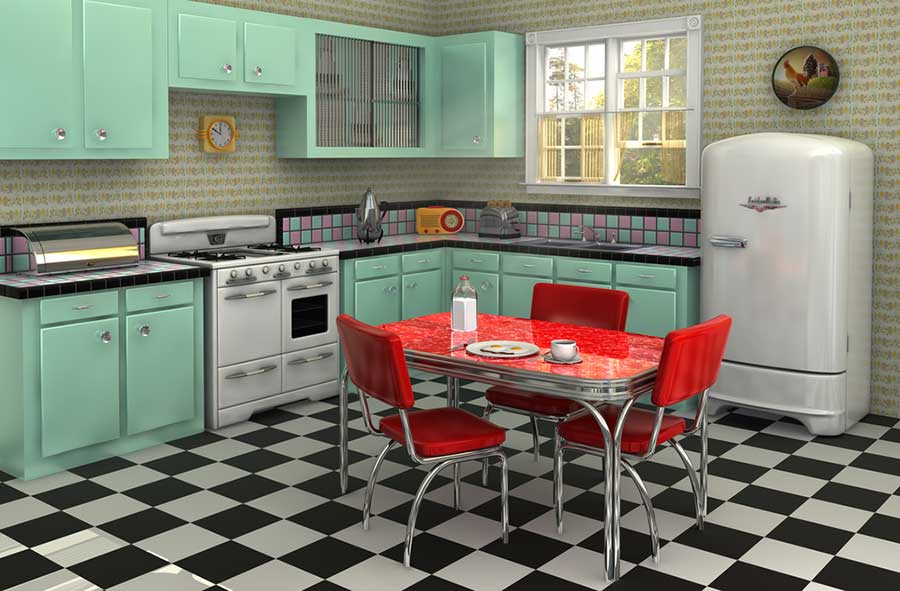 Small Kitchen Ideas
Coming across small kitchen ideas on a budget is challenging, as you will be working within decidedly restricting dimensions. One of the best ways to tackle this seemingly insurmountable issue is to create the illusion of space through lighter tones. Cream-coloured cabinets and a high-gloss white ceiling can work wonders and the great news is that you will not be required to spend outside your comfort zone.
How to Paint Kitchen Cabinets
We mentioned kitchen cabinets in the previous section, and for good reason. Transforming the outward appearance of existing cabinets will have a profound impact on the entire personality of your kitchen. This is also an excellent option if you cannot afford a more extensive physical upgrade. So, what do the experts have to say?
Initial Preparation
Preparation is key if you hope to avoid any issues during the project itself. The good news is that a handful of steps will start you off in the right direction in no time at all:
Sand and scrape any loose surface paint.
Fill in cracks and nail holes with wood putty.
Use a primer to cover any spots of bare wood or if you happen to be covering a dark colour with a lighter hue.
Cover any nearby surfaces to avoid drips and paint spills.
It is likewise a good idea to wear goggles and a cheap paper respirator; particularly if you are sanding any paint suspected to contain lead.
Choosing the Right Colour
Colour will make all of the difference in the world when painting your kitchen cabinets. As a rule of thumb, lighter hues tend to work better in terms of the amount of light that they will reflect. Whites, off-whites and cream tones are often thought to be the best options. If you are unsure of how a specific hue will impact nearby accessories, ask for a paint sample at your local hardware store. These are normally provided free of charge and you will be able to determine which one is the best suited.
Appreciating the Different Types of Paint
Another lesser-known fact to remember is that different paint formulations are associated with unique characteristics. As you will likely be wiping down the cabinets on a regular basis, it is wise to choose a high-gloss or a semi-gloss finish; stains will not be absorbed through the surfaces. These configurations also provide the cabinets with an attractive sheen. While both latex- and oil-based paints are possibilities, do not forget that oil paint will take longer to dry between coats. Also, oil-based paints tend to be slightly more expensive than their acrylic counterparts. This rule can be used when painting any area within your kitchen.
Updating Kitchen Cabinets on a Budget: Other Suggestions
While painting cabinets is a great way to perform a budget kitchen makeover, let's not forget that there are other options at your disposal. It is often a shame to cover up the grain associated with beautiful woods such as cherry, mahogany or oak. In order to accentuate this natural beauty and to provide your cabinets with an organic appeal, the addition of a few coats of semi-transparent stain can work wonders. Oil-based lacquers are another alternative, as this protective layer will help to protect the wood from moisture damage and other common kitchen concerns.
How to Revamp Your Kitchen Worktop
Kitchen worktops endure a significant amount of wear and tear, so it only makes sense that they need to be renovated from time to time. Traditional options include materials such as granite, marble and stainless steel. While undoubtedly pleasing to the eye, the fact of the matter is that these could be well outside of your budget. This is why it could be a better idea to enhance the appearance of an existing worktop.
Assuming that you wish to keep the original worktop in place, a bit of TLC can go a long way. Fill in any gaps between sections with waterproof silicone (especially around sinks and where sections may join). Use a sealant to protect the surface from future stains. Accentuate the existing backsplash using peel-and-stick flooring that matches the grain of the wood cabinets. You can even add durable stone cutting boards to break up the appearance of the work area while providing extra protection against knives and other common cooking accessories.
A Choice of Materials
Modern technology has provided you with a host of wallet-friendly options which boast the same visual allure as their more expensive counterparts. Some examples include:
Laminate
Engineered quartz
Composite materials, including Corian
Not only are these budget-friendly materials, but they offer some unique benefits. For instance, laminate will not absorb moisture as readily as granite or marble. This is important from a sanitary point of view. Engineered quartz comes in a nearly limitless number of tones and grains. Composite substances are lightweight, easy to install and can be cut to nearly any configuration. Feel free to perform additional research in order to determine which of these cheap kitchen update ideas is the most sensible choice for your personal tastes.
Taking Style Into Account
Never forget that any large surface area will have an impact upon the overall ambience of your kitchen. This is why the style of the worktop in question should be addressed. Those looking for a more contemporary and minimalist appeal tend to choose lighter tones such as off-whites and greys. If you want to imbue a sense of aesthetic balance, try to find a worktop colour which works in visual synergy with other elements such as mouldings and cabinets. Rounded corners may provide a "softer" feel compared to traditional right angles. Once again, these and other cost-effective options are entirely up to you.
Additional Budget Kitchen Ideas: Making the Most Out of What You Have
Now that we have covered the main points, it is prudent to take a look at some finer details. This arises from the fact that even seemingly diminutive changes can have a profound influence on the overall appearance of your kitchen.
Let There be Light
Knowing how to improve your kitchen on a budget should always take into account the level of ambient light. After all, no one wishes to cook or eat in a seemingly cramped environment. Try to allow in as much light as possible. Although replacing a window might not be financially possible at the moment, why not do away with dark-coloured curtains for transparent alternatives? Paint doors and mouldings with a high-gloss white finish in order to further increase the illusion of larger dimensions. Even seemingly insignificant small kitchen ideas such as adding a handful of strategically placed mirrors can provide you with a budget-friendly aesthetic edge that would not have otherwise been feasible.
All About the Accents
One of the biggest mistakes that tend to befall homeowners is the belief that kitchen renovations require complete makeovers from the ground up. On the contrary, some of the most interesting changes can take place with a minimal amount of effort. Here are some turnkey solutions that are bound to leave a lasting impression:
Spice up the environment with a bit of bespoke wall art.
Include a throw rug in the centre of the floor.
Purchase a pendant light or a sconce to add a three-dimensional appeal.
Search for second-hand appliances that can be used as display pieces.
Install a new faucet tap.
Add a verdant touch with the presence of a few plants.
As we can see, some of the best budget kitchen ideas will not require a substantial financial investment.
A Wall-Hung Organiser
A cluttered kitchen is an inefficient kitchen. Perhaps more importantly, a lack of organisation will negatively impact its visual appeal. This situation can be easily solved with the presence of a wall-hung accessory holder. Towels, utensils and cleaning accessories can all be placed within these handy devices and will no longer need to occupy excess worktop space.
Parquet and Vinyl Flooring
We also need to address kitchen floors due to the fact that they endure a good deal of wear and tear. Modern vinyl and parquet flooring solutions are inexpensive, versatile and durable. They come in a variety of styles and they can be used in visual synergy with other elements to create a balanced appeal.
Under-Cabinet Lighting Solutions
This type of recessed lighting often represents the "wizard behind the curtain" in regards to cheap kitchen update ideas. Not only can these fixtures be easily installed, but the use of modern solutions such as LED track lighting will provide you with a number of colour and style options to choose from. Under-cabinet lights also provide a sense of depth around the worktop; ideal for smaller rooms.
Cheap Kitchen Updates Before and After
It is always better to work smart as opposed to hard. This is why gaining inspiration from others is a wise choice. If you come to a mental impasse or you are simply looking to think outside of the box, never be afraid to examine other before-and-after budget kitchen makeovers by performing a simple online search. You will be amazed at some of the amazingly innovative examples to be found and the chances are high that these can be incorporated into your own style preferences.
Adding value to a kitchen does not signify that you will be required to take out a second mortgage. All of the suggestions mentioned above are perfectly suited for those who are working within a limited budget. Please feel free to refer back to this article for a bit of guidance when necessary. After all, the only true limits are set by your imagination.