Whether the stresses and strains of modern life are overwhelming, or the busy hubbub of daily life leaves you looking for a retreat, there's no better escape than under the duvet in a calm and quiet bedroom.
Create your very own private sanctuary at home with these five tranquil bedroom ideas: easy to achieve, but supreme in effect. If you're feeling the daily grind, read on to find out how to add a little Zen into your bedroom, and escape from the world wherever you go to rest your head.
1. Keep calm in colour
It'll come as no surprise to hear that neutral tones are always the best choice for a tranquil bedroom design. Anything patterned, bright, or bold can be fun for a different style, but if it's tranquillity you're aiming for—keep it simple. Anything off-white and neutral will create a sense of calm in your colour palette; although do beware of bright whites which can come across as clinical on your bedroom walls.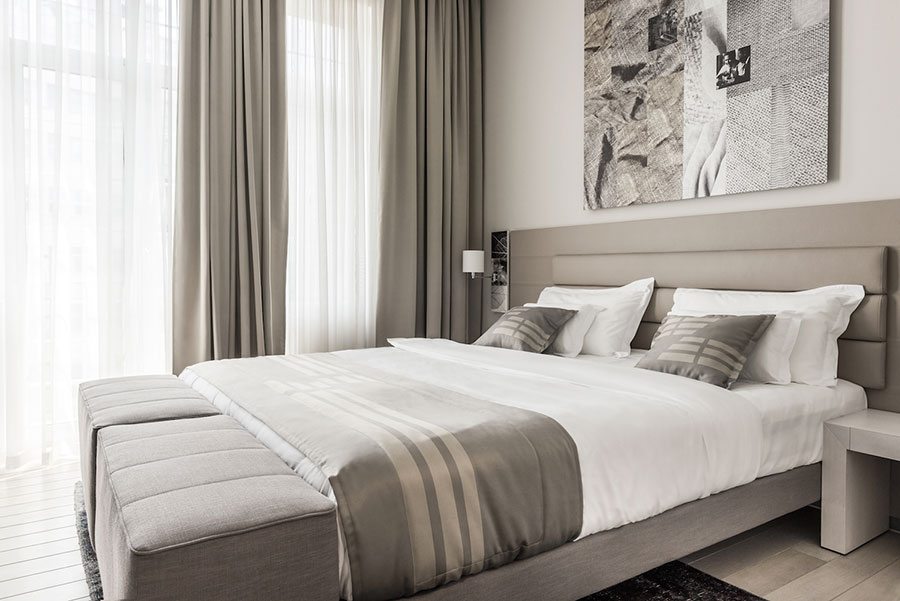 Go for earthy, warm tones to achieve a sense of relaxation in your bedroom. Beiges with a pink undertone will create a warmth that will radiate from your walls. For a tranquil feel from a slightly different source, paint the walls with cool, neutral colours that take their inspiration from nature. Evoke the serene sense of the forest by opting for a pale green, or the open sky with a washed out blue. Keep close to white with any colour choice you make, but hints of colour can make a huge impact in a simple space.
While paintwork will always be the easiest tranquil bedroom design to achieve, there are additional ways to bring in the Zen with your wall coverings. Bring the outside in with a simple but beautifully designed wallpaper on a signature wall. Look for designs that subtly evoke the spaces that bring you serenity: whilst a heavily coloured wallpaper of flowers and birds will probably be too chaotic for your tranquil bedroom, a delicate design that hints at the forest foliage will only add to your sense of tranquillity.
2. Play with light
Some of the most tranquil spaces in the world are the simplest in design, and work to make the most out of the natural resources in their surroundings. Traditional Indian architecture features stonework beautifully cut in intricate designs to let the light through; in Japan, curtains and heavy drapery are only seen as an unnecessary obstruction to natural light: simple bamboo shades are favoured instead.
Getting the lighting just right in your tranquil bedroom will be one of the most influential factors when executing your redesign. If you're lucky enough to have large windows, don't dress them with heavy curtains or blackout blinds. If you aren't blessed with a lot of natural light in your bedroom, consider a more dramatic tranquil bedroom redesign by adding additional windows, or a skylight, to really let the light in.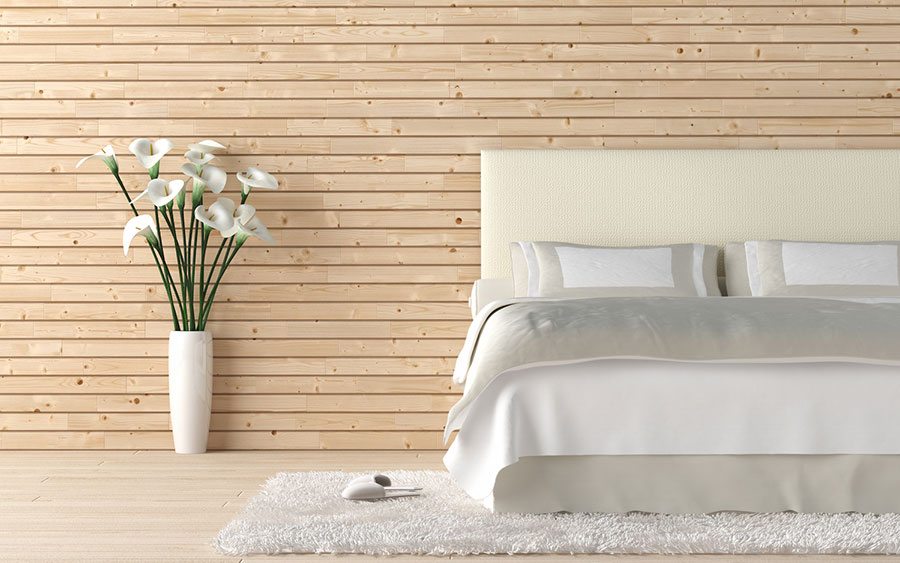 If your only option is artificial, then there are still plenty of lighting solutions for your tranquil bedroom design. Avoid centring the lighting in your bedroom with one direct ceiling light. Instead, play with the positioning and intensity of various lighting sources. Ensure any new light fixtures can be controlled with dimmer, so that you can create the perfect level of lighting at any time of day. For a relaxing evening in your tranquil bedroom, ensure your room is well stocked with scented candles.
Here's a more creative tranquil bedroom idea: create your own innovative lighting effect by making your own lampshades. Start with a neutrally coloured, fabric shade, and use fabric paints to create a simple design. This effective DIY can result in a truly stunning—and completely unique—piece for your bedroom.
3. Treat your feet
Whilst no element should really stand out in your tranquil bedroom design, there is one thing that should be instantly noticeable to anyone that crosses the threshold: your flooring. Comfort should be the predominant factor in your flooring decisions and whilst pile carpets can instantly give the natural look of tranquillity, they may not be the softest to the touch.
Wooden floors or engineered floorboards will always be a great idea for the tranquil bedroom. Natural materials are the easiest way to ensure a classic and simple look. For something a little lusher beneath your feet, consider a more luxurious kind of carpeting. While wool may be rather high maintenance, your toes will definitely tell the difference.
A more extravagant idea for your tranquil bedroom design will involve something beyond the décor. Treat yourself by installing under-floor heating in your bedroom, and enjoy the luxury of an ever-warm floor. What could make you feel more tranquil than magically warm feet, even in the midst of winter?
4. Make yourself a space
To make the most of your tranquil bedroom, you should be using it for more than just sleeping. Create yourself a reading nook or cosy window seat to ensure that you're getting the most from your tranquil bedroom redesign.
Establish a zone in your room that is there specifically for relaxation, and furnish it with simple items that are clear in purpose and elegant in design. To make yourself a cosy reading nook, place a small bookcase in a corner, with a long-seat armchair beside (just enough room enough to curl up your legs on!) Finish off with a classic, small coffee table: space enough atop for your cup of tea and a good book.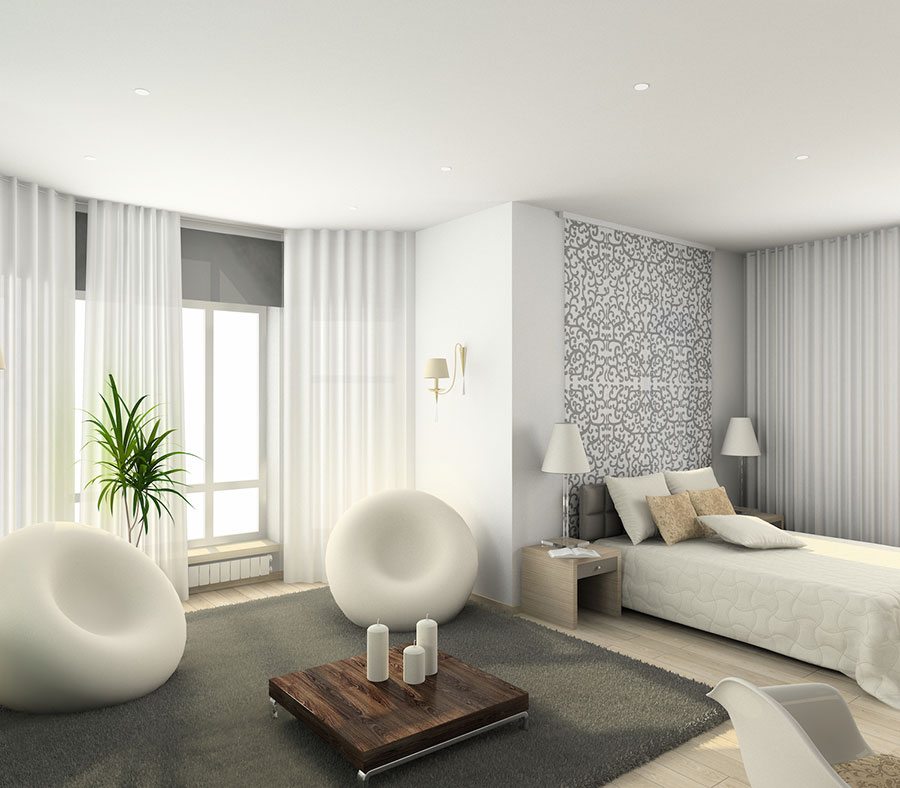 Mark out your relaxation space from the rest of your bedroom with a little help from zoning: use rugs and lighting to make this little haven a distinct area in itself. Don't forget the finishing touch either: a super soft blanket kept close to your reading chair; what better way to snuggle up at the end of a long, hard day?
5. Cut the clutter
Our final tranquil bedroom tip could be the easiest one to execute. The biggest barrier to tranquillity is clutter: so remove all unnecessary elements from your bedroom straight away. Keep ornaments and framed photos to the living room; confine boxes of make-up and perfume bottles to the bathroom; banish the build-up of forgotten items from your bedside table. You'll be amazed at just how great a difference a simple de-cluttering can make and you might even find that a new bedroom design increases the value of your home in the long run.
For a truly tranquil bedroom idea, exile your electronics. Our daily lives are filled the rings and dings of technology, as we're forced to be ever more connected at all times. Make your sanctuary a space free from interference by getting rid of all unnecessary electronics; keep mobiles on charge elsewhere, and be sure the laptop stays away. An alarm clock might just prove impossible to remove, but if it's clockwork, that would be even better.