London, widely considered to be the boiler room of the housing market, is no longer roaring, but prices in some other parts of the UK are booming.
Better job prospects, rising wages, a more stable local economy and record-low mortgage rates have helped to fuel a wave of activity in home sales and a surge in house prices in Manchester, new figures show.
According to the latest Hometrack UK cities house price index, which tracks price movements across the UK's 20 biggest cities, home values in Manchester increased faster than any other in the country in the 12 months to February.
The average price of a residential property in Manchester has increased by 8.8% year-on-year driven by a sharp rise in transactions, while Portsmouth saw the second highest annual house price growth last month with a rise of 8.1%, followed by Bristol at 8%, Glasgow at 7.7% and Birmingham at 7.4%.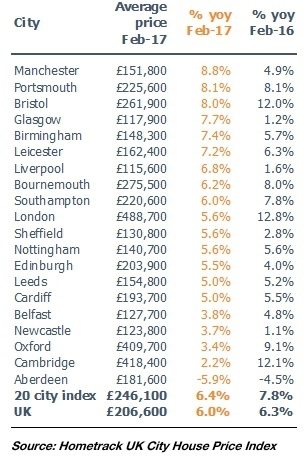 In London, annual house price growth has continued to slow, reaching 5.6% in February – the weakest rate recorded in the city since May 2013.
Hometrack said that slower growth in London is acting as a drag on the headline rate of house price growth across the UK's major cities – it is now running at 6.4%, down from 6.9% a month earlier and 7.8% a year ago.
Meanwhile, Aberdeen remains the only major city in the index where house prices have fallen year-on-year, with a 5.9% decline.
Richard Donnell, insight director at Hometrack, commented: "Levels of housing turnover across UK cities are expected to remain broadly flat over 2017.
"There is some further upside for sales volume in regional cities but much depends upon how would be buyers respond to external factors, not least the impact of lower real wage growth, the potential for higher mortgage rates and whether demand will be impacted by the triggering of Article 50 at the end of the month."
While buyers are fully aware of the government's plans and timescales for Brexit but there remains huge uncertainty over what this means for the economy over the next two to three years and beyond, according to Donnell.
He added: "In cities where affordability remains attractive we expect demand to hold up in the short term albeit with slower growth in sales volumes.
"Overall we continue to expect the rate of house price growth to moderate over the rest of 2017."