The housing market is performing well, with asking prices continuing to rise across most regions on a monthly basis but experts predict that growth will fall in the coming months, dragged down by house price declines in London and the South East.
In England and Wales asking prices are up 0.6% month-on-month with the annual rate increasing to 2.8%, according to the latest house price index compiled by Home.co.uk.
Growth in property prices took the average asking price to £304,740 in England and Wales, £181,266 in Scotland and £544,103 in Greater London, where asking prices remained unchanged month-on-month but down 1.6% year-on-year.
Asking prices rose in all regions month-on-month apart from Greater London, while all regions also increased year-on-year, with the exception of the North East and again London.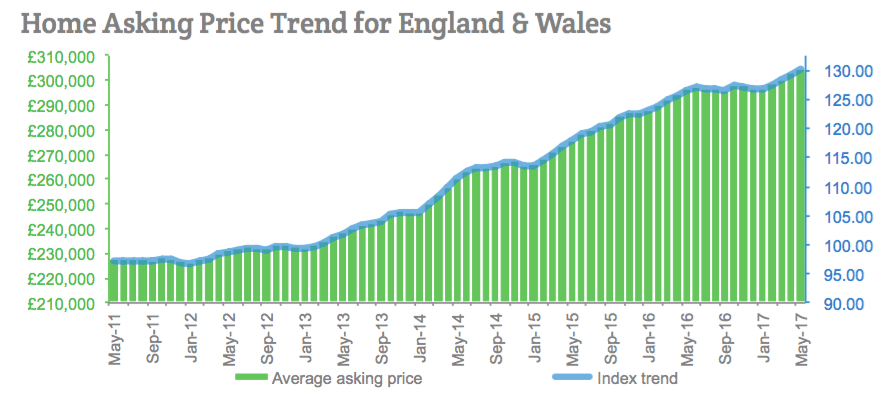 The strongest month-on-month rise was in West Midlands with growth of 1.2%. Annual asking prices were up 4.5% in the region.
In Wales, asking prices increased by 0.8% month-on-month and by 1.6% year-on-year to an average of £188,445.
Some regions continue to see asking prices grow well above where they were a year ago, and this owed in part to yet another fall in the number of homes coming on to the market for sale.
It is also worth noting that home prices are nearly always stronger in the spring and early summer.
However, looking towards the autumn and winter, many property price experts expect price falls in London and the South East to impact significantly on the national figures.
In May 2016, the annualised rate of increase of home prices was 7.5%; today the same measure is just 2.8%, Home.co.uk data shows.
Reflecting on the latest house price data, Doug Shephard, director of Home.co.uk, said that the UK property market is heading into a period of much lower growth overall.
He commented: "The national growth figures will remain muted due to the poor performance of London, which could last for some considerable time.
"However, investors both large and small are busy adding to their portfolios in higher yielding regions, and this is keeping prices buoyant and adding to market momentum in most regions outside of London and the South East.
"Indeed, property prices are rising in the East and West Midlands and in the South West at a moderate and more sustainable rate than we observed previously in London and the South East.
"For now and the near future these regions are the saving grace of the UK property market: without their performance the national figures would look truly terrible and could precipitate a loss of confidence in the market as a whole."
Shephard is particularly pleased to see increased activity in the northern regions, where not one single area has seen the average home price rise by more than 10% over the last seven years, which suggests that there may be some room for capital growth.
But overall, he believes that based on existing rental values and house prices, the regions to watch are Wales, Yorkshire and the West Midlands, in terms of offering the best prospects for property price growth, fuelled in part by strong demand from buy-to-let investors.