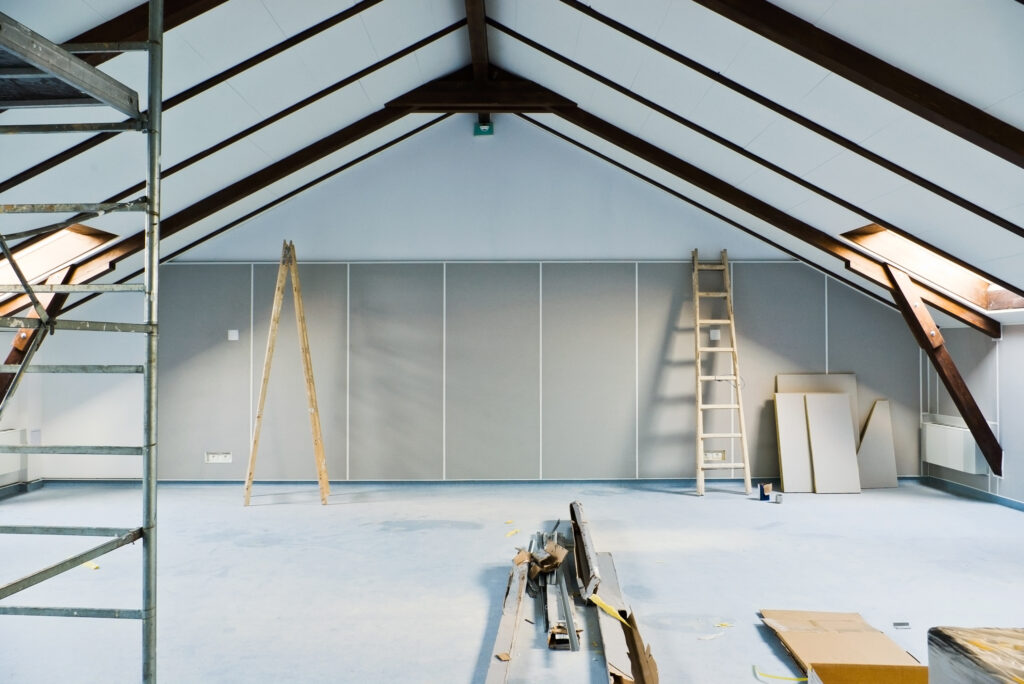 As there are more and more households with growing families, the limited house space is something many house owners struggle with. Although moving to a bigger house seems like a logical solution, this major step comes with its own set of issues.
Children have to change schools, you have to sell the old house, and you need to move all the furniture. Furthermore, house hunting is a process that can last for several years until you come across just the right property. However, the requirements for a bigger space might be pressing.
Selling your old property and moving to a bigger house isn't always the best solution, especially if your current living space holds a lot of emotional value.
Luckily, there's another option. A loft conversion is perhaps the best way to extend your living space on a budget without moving houses. Most houses have at least some unused loft space, and a loft conversion can transform these spaces into functional rooms.
Like any other major home improvement project, loft conversion requires plenty of research. The propertypriceadvice.co.uk budget calculator and home valuation tool can make this process much simpler, together with this handy guide on the cost of a loft conversion.
Will a loft conversion increase the value of my property?
According to research carried out by Nationwide, a loft conversion that incorporates a double bedroom and bathroom could add as much as 22% to the value of a three-bedroom, one-bathroom house.
However, don't assume that value added to your property will necessarily exceed the cost of your conversion. You will need to do some thorough research on other nearby properties first.
Look at the ceiling price of similar-sized homes in the street. Compare this with the current value of your home, the amount quoted for the work, and additional square footage. Are you likely to recoup your expenditure and increase the value of your property? Perhaps moving to a larger house would make more financial sense.
What is the cheapest type of loft conversion?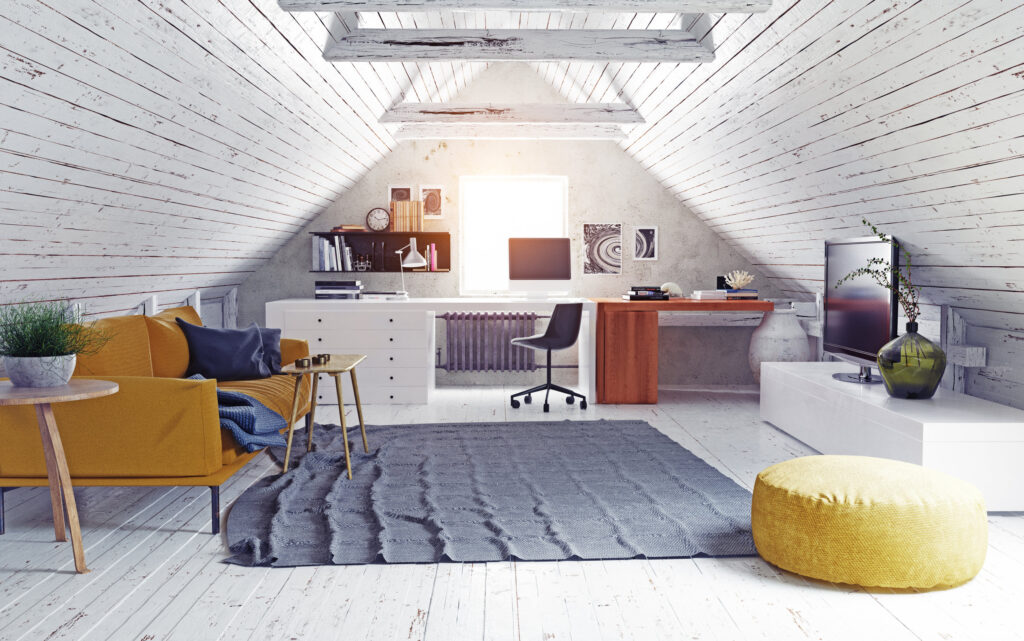 Many factors can determine the price of loft conversion, but the basic rule of thumb is that the most affordable way is to build upwards. That makes roof loft conversions the cheapest way to increase your living space.
However, even roof loft conversions come with different price points, so you have to look at all the factors that might influence the price of these major home improvement projects.
Conversion size: Naturally, larger conversion projects will cost more money than smaller ones. Therefore, the bigger your loft conversion project is, the more it'll cost you. While this fact causes some owners to choose budget-friendly loft conversion options that might not be the best solution for their space, the need for further home improvement will only drive the costs up. Because of that, it's always best to invest in a quality loft conversion that'll serve your family's needs.
Conversion style: Most homeowners have several styles to choose from. The most affordable roof conversion style is installing Velux windows since it requires minimal alterations to the existing roof structure. The Dormer flat-roofed extensions are another favourite because they add a considerable amount of new space without increasing the price too much. Other options include Hip-to-gable and Mansard extensions, which are more expensive but give owners a whole new storey that they can equip with several fully-functional rooms.
Materials used: Choosing the right materials is one of the basic steps of loft conversion. Naturally, the choice of materials will affect the total price of this project. While different materials don't have a big price difference on a small scale, the costs can easily add up, especially if homeowners decide to go with bigger loft conversion projects. When deciding on materials, a budget calculator can come in handy to determine the approximate cost of the entire project.
Windows and glazing: Similarly to the materials you chose for this project, the type of windows and glazing you go with will also impact the final price of the roof loft conversion. Single, double, and triple glazed options provide different levels of insulation, so they come at varying price points. Furthermore, even window frame types and materials can increase or decrease total costs. There are plenty of flexible window options you can mix and match to find your winning combination at a reasonable price.
Room purpose: The purpose of the new room or the entire new storey will also affect the costs. If you're planning to build bedrooms, home offices, and other rooms, these spaces will at least require electricity and electrical outputs. Sending cabling to these new locations must be done by a professional, so you'll need to hire an electrician. However, it will be an even costlier project if you want to build a bathroom. You'll need to bring in plumbing experts to ensure all the piping gets to where it needs to go. Besides making these rooms functional, you'll also need to spend quite a bit of money on furniture and all the essentials before you can start using the newly-built areas.
Scaffolding: Last but not least, working on roof loft conversion often requires scaffolding to reach high surfaces where the work takes place. While this may seem like a small detail that's often overlooked by homeowners, hiring scaffolding structures and other additional structural support for your property can add up to a hefty sum.
Average loft conversion cost per m2
How much does a loft conversion cost per m2?
The average cost of loft conversion per m2 largely depends on the level of complexity of tasks these loft conversions involve. However, some average costs can be established to help you navigate this complex question and choose the best conversion method for your property.
Roof light conversion: The average cost for the simplest roof light conversions that involve only the basic construction tasks typically start around £15,000, which comes down to approximately £1,150–£1,350 per m2. The roof light conversions typically consist of floor reinforcements and renovations, installing a skylight or Velux windows to bring in some natural light, building a staircase to reach new rooms, insulating the space, and establishing electricity, lighting, and heating features.
Dormer conversion: If a basic roof light conversion isn't possible due to the insufficient floor or head height space, the next best thing is to go with dormer conversions. In addition to all the construction activities needed for a roof light conversion, the dormer conversion type also incorporates installing one or more dormer windows. The basic dormer conversion steps typically cost homeowners around £20,000. However, if you're looking to transform this space into a master suite like most people, the process will cost you around £35,000, which is approximately £1,250–£1,450 per m2.
Hip-to-gable conversion: As one of the more advanced loft conversion projects, hip-to-gable extension consists of a more complex process than the two previous methods, so it's pricier too. Since the hip-to-gable conversion involves the straightening of a slanted end roof, homeowners gain an entirely new space they can put to use. The placement of a vertical wall opens you up to numerous possibilities. For a hip-to-gable roof conversion, you can expect to pay around £1,500–£2,500 per m2, adding up to approximately £25,000 to £30,000 in total.
Mansard conversion: Mansard conversions are some of the most expensive conversion and house extension projects, but they can create an entirely new and fully functional storey on top of an existing house or building. However, since the mansard conversion requires a lot of time, work, and resources, it tends to cost a lot, so not many people use it as their first option. Nevertheless, for families that must optimise their space, a mansard extension might be the ideal solution. The average cost of a mansard extension is anywhere between £35,000 and £45,000, which comes down to £1,500–£2,500 per m2.
Types of loft conversion, in order of complexity:
A roof light conversion: the simplest and least expensive option. Ideal if you already have sufficient roof space and want to transform it into a room. It involves adding skylight windows, a staircase, floor reinforcements and insulation, electrics, heating, lighting and fire safety measures. Costs start from around £15,000–£20,000.
Dormer conversion: more complex, involving an extension to the existing roof – projecting vertically – with the addition of dormer windows. The resultant extension will increase headroom and floor space. Costs vary – upwards of £20,000. The average project with a double bedroom/en-suite could cost in the region of £35,000–£45,000.
Hip-to-gable conversion: ideal for semi-detached properties and bungalows/chalets with a hipped roof with a sloping side. The idea is to create more internal loft space by extending the property on the sloping side. You create a vertical wall (or gable) at the end to the same height as the ridge and fill the space in between. Cost is usually upwards of £30,000. A detached property with two sloping sides could gain extra space by having a double hip-to-gable conversion.
Mansard conversion: the most expensive option (around £45,000+) due to changes in roof shape/structure and an excellent space creator. This conversion takes its name from 17th-century French architect Francois Mansard and is suitable for most property types. It involves altering the angle of the roof slope to make it almost vertical. You raise the wall to an angle of at least 72 degrees and flatten the top of the roof.
You could also consider a modular loft, built off-site and placed in position with a crane. Bear in mind that this will involve removing the property's entire existing roof.
The above provides a rough idea of the cost. The overall price really depends on the vision you have for your project, both in terms of structural change and interior design and fittings. Other relevant factors include:
The age of your property;
Location – prices tend to be higher in London and the southeast;
Placement of an en-suite – reduce costs and disruption by positioning it above an existing bathroom;
Whether or not you need planning permission;
Payment of a party-wall surveyor to deal with any concerns adjoining neighbours might have.
Dormer loft conversion cost
The average price of a dormer loft conversion is anywhere between £30,000 and £60,000. The exact cost will predominantly depend on the size and quality of the conversion. Nevertheless, other features such as the ease of access and the area of installation might affect the final price too.
A small dormer room typically costs between £2,000 and £7,000. Medium-sized dormer loft conversion projects vary from £10,000 to £30,000. However, master bedroom and master suite dormer projects cost around £35,000–£45,000.
Velux loft conversion cost
As the cheapest option available for a loft conversion project, Velux conversions can be completed for a fairly small price. Besides Velux window installations, flooring, insulation, and electricity are the highest costs.
Because most people decide on Velux loft conversions to transform unused attic space into an additional bedroom, the average cost for a similar project runs around £15,000–£25,000. However, minimal Velux conversions can be done at an even lower price – as little as £5,000.
Loft conversion cost calculator
Our loft conversion cost calculator is the perfect tool to calculate the approximate costs of your loft conversion project. To do this as accurately as possible, you have to enter some key information about your property that might affect the final price.
The basic information includes:
The approximate age of your property;
The type and style of your house;
The type of the existing roof;
House floor dimensions;
Type of conversion needed.
With this information, we'll be able to provide you with an approximate cost you can expect to pay for your desired loft conversion project. That way, it'll be much easier to plan your budget and decide whether you want to proceed with the extensions or choose a different option.
Is my loft suitable for a conversion?
A combination of criteria will help you assess the suitability of your loft for conversion. Before approaching a builder, do your own research. Look out for any similar properties in your area that appear to have undergone a conversion. You could even ask to have a look. Get one step ahead by taking some measurements of your own:
Roof height, pitch, and overall space: take a floor-to-ceiling measurement in the tallest part of the loft. A minimum height of 2.2m is required. However, you will ideally have a measurement of 2.2m–2.4m for a traditional roof and 2.4m–2.6m for a modern trussed roof. If you have insufficient head height, there are ways around the problem, but these can be complex and costly. For example, raising the roof or lowering the ceiling in the room below. In addition, look at the overall space available. Ask yourself if it is liveable and where the staircase might go.
Roof structure: traditional rafters or modern trussed roof? The former, typical of pre-1960s houses, is more suitable for conversion. Rafters run along the edge of the roof, leaving more hollow space below. Bear in mind that they might still require strengthening or extra support, though. A trussed roof will require structural reinforcements (the addition of steel beams between load-bearing walls, for example) as these supports run through the cross-section of the loft, making your project more expensive.
Consider other features which could pose a problem – a chimney stack in the loft being one example. Your existing water tank/plumbing system might also require you to switch to a sealed system.
Does a loft conversion require planning permission?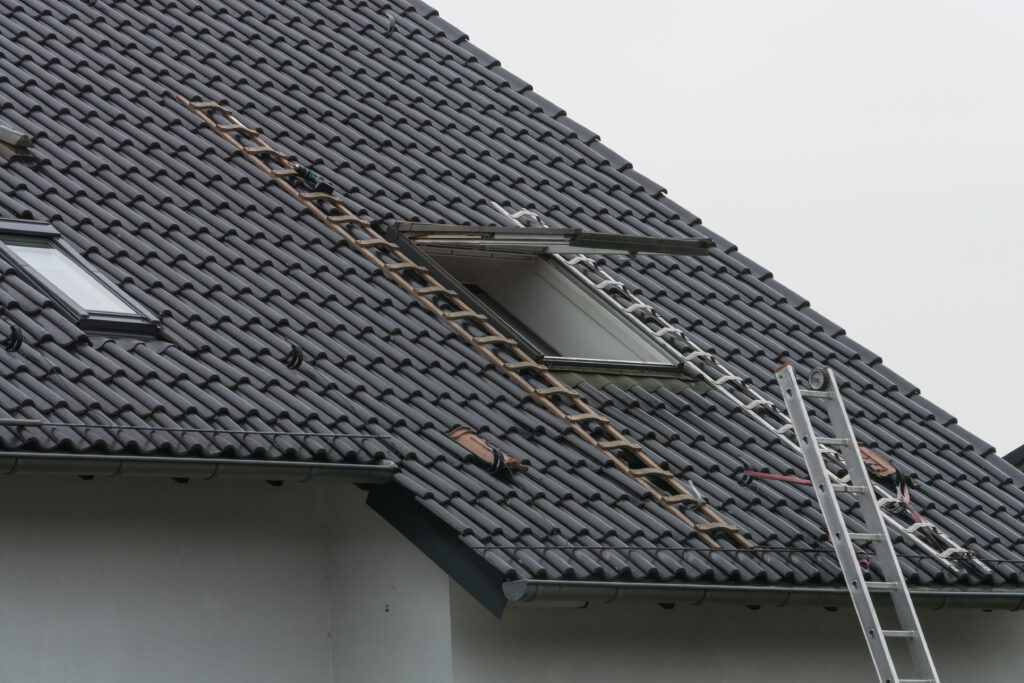 In most cases, it won't, as there is a good chance that your conversion will be considered 'Permitted Development'. That's good news, as it means no lengthy planning process before work gets underway, but your conversion must be compliant with a specific set of limits and conditions.
At the top of the list is volume allowance: 40 cubic metres of additional roof space for terraced houses. This increases to 50 cubic metres for semi-detached and detached houses. Remember to include any previous additions to the roof space in these figures, even if they were carried out by past owners. Furthermore:
The inclusion of a balcony, veranda or raised platform is not permitted;
Side-facing windows must be obscure-glazed;
The extension cannot be higher than the highest part of the roof;
Your roof enlargement must not overhang the outer face of the wall of the original building.
These are just a few of the conditions. If your property is listed, you will need to obtain Listed Building Consent from your local planning authority. Restrictions also apply to properties in designated areas such as national parks and Areas of Outstanding Natural Beauty. For a more in-depth list of what you can and can't do without planning permission, visit www.planningportal.co.uk.
Also, take a look at the Government's Permitted development rights for householders: technical guidance. It is available for anyone who wants to understand the detailed rules on householder permitted development. If you are in any doubt about planning permission, always contact an architect or builder for advice. For added peace of mind, you can apply to your local council for a lawful development certificate – read more here.
What is building regulations approval, and will my loft conversion require this?
Building regulations are the minimum standards for design, construction and alterations to virtually every building. They ensure that any work carried out is safe, healthy and high performing. Whether or not your loft conversion requires planning permission, it will always need building regulations approval covering the range of alterations necessary to transform it into a liveable space.
That includes everything from structural integrity (new floor joists, for example, to support the weight of the new room) to fire safety (mains-powered, interlinked smoke alarms and fire-resisting doors). A detailed explanation of building regulations approval is available here but consider the following:
Stairs: retractable ladders/stairs are generally not acceptable for loft conversions. You will need a permanent solution, be it a space-saver staircase or a normal flight of stairs. Positioning depends on the layout of the floor below and where to land stairs for maximum height above the staircase. It's often in line with the roof ridge. The minimum height requirement for your staircase is 2m above the pitch line.
Are there bats in your loft? If so, remember that they are a protected species, and you will need to pay for a survey. It usually costs around £300–£400, and you might then require a mitigation licence.
Party Wall Agreement: this applies to you if your property is terraced or semi-detached. A loft conversion could involve work to the wall or walls of adjoining properties. You will need to give adjoining neighbours a Party Wall Notice summarising proposed works/plans etc., to prevent any disputes once work is underway. Read more about it here.
Thermal and acoustic insulation. Effective insulation will keep your loft room cool in summer, warm in winter, soundproof and save money on heating bills. Choose insulation that gives the best possible U-value and doesn't take up too much space. U-value measures how effective a material is as an insulator; products with a lower value are more energy efficient.
Adequate ventilation is vital to prevent condensation-related problems and ensure good air quality. That includes rapid ventilation via windows, background ventilation with air bricks/trickle vents and extract ventilation for bathrooms/kitchens.
Choosing a builder for the job: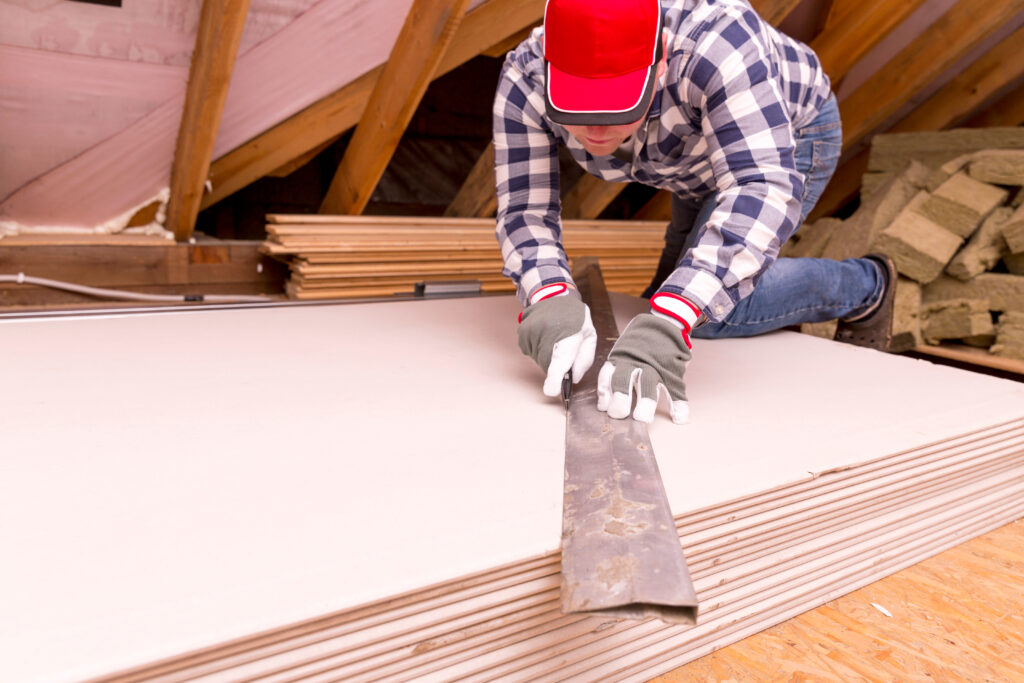 Never underestimate the importance of finding the right tradespeople to carry out your loft conversion. Depending on the scale of your project, you might want an architect or designer to start by producing drawings. From there, you can put the building work out to tender. Aim to get quotes from at least three different companies and always clarify what is and isn't included in the price from the start. Personal recommendations are a good starting point. Check online reviews and forums and ask to see examples of previous conversions.
As with all building projects, plan meticulously and think ahead. Summer is a good time to carry out building work, especially if you are making structural changes to the roof. If you want your project completed by autumn, you will need to start planning in the spring. And don't make the mistake of assuming that your builder will be able to start work immediately.
According to recent research carried out by the Federation of Master Builders – the largest trade association in the UK construction industry – you should expect to wait at least four months for a quality builder to become available. Add to this the length of time a loft conversion project is likely to take, and it amounts to around six-and-a-half months in total.
You could also opt for the full design-and-build service that many companies offer. Deepak Singh Udassi is managing director of one such company – City Lofts London. He explains: "Once the homeowner has identified a company they'd like to work with, the design and planning phase starts. There are eight steps to this."
The early stages cover planning research, production of planning level drawings, submission of plans to the local authority and the start of the party wall process with neighbours (if required). Once the homeowner receives planning approval/certificate of lawfulness from the local authority, the company will have a structural engineer perform structural calculations. These will be used to create structural drawings.
The next stage is the production of Building Regulations drawings. "At each stage of the loft conversion process, layer upon layer of drawings are added onto the document before reaching a completed blueprint for the project," adds Deepak.
At City Lofts London, all customers are required to have working drawings completed, although these are usually an optional process. In essence, they are a construction manual for the builder on how to build the loft as specified by the client. This could include instructions on types of switches or finishes. These are details that help to avoid any confusion between different parties later on.
Once the party wall process is concluded, and building control is appointed, the homeowner is ready to start their loft. They should sign a contract with the company that they have instructed to carry out the work. The building phase then starts with the preliminaries, including all the essential materials needed to build. At the end of the project, there is a final inspection, followed by final payment and issuing of a building control completion certificate.
Give your loft conversion a wow-factor finish:
Whichever conversion you choose and build route you take, seeing your loft transformed into liveable space is the ultimate reward for all your hard work. Embrace the challenge of unusual angles and sloping ceilings with carefully chosen fixtures and fittings. Be sure to choose an interior design scheme that gives the impression of light and space. These ideas will help you complete your project to perfection:
Positioning of windows is crucial, particularly if you want to 'frame' a beautiful view from your loft conversion. Aim to maximise the flow of natural light into your room but dress your windows to prevent harsh glare from the sun and overheating in summer. There are so many blinds on the market, from the simplest roller to soft and luxurious Roman. Remember moisture-resistant blinds in the bathroom and blackout-lining for sleeping areas.
If you're including a bathroom/en-suite, a low-ceiling area could accommodate your bath. A shower and basin will require full head height, however. Build some recessed shelving into the eaves for additional storage and incorporate sleek, space-saving concealed installations.
Getting large, heavy pieces of furniture to your new room could prove a challenge, depending on your staircase. Space in the eaves is perfect for bespoke built-in storage cupboards and wardrobes, ensuring that every inch of space is used to its full potential. Read our guide to fitted wardrobes for more ideas. For loft bedrooms with limited headroom, consider a low-height bed.
Choice of lighting will play a big part in the overall atmosphere of your conversion. Always factor electrics into your plans at an early stage. Downlights and track lighting are good for sloping ceilings, and dimmer switches allow you to create the right ambience. These are perfect for a second living room or bedroom. Shelf and joinery lighting also add softness and make a beautiful feature in the room.
Choice of flooring depends on the purpose of your conversion and how much natural light and heat it gets. Perhaps you're longing to sink your feet into a deep-pile carpet in your new bedroom or considering stylish timber floors throughout. Look at the pros and cons of solid wood and engineered wood. The latter is a good choice for rooms with fluctuating temperature/moisture levels.
Whatever your specific accommodation requirements, a beautifully-designed loft conversion could be the perfect solution for that longed-for extra space. With careful planning and creative thinking, you can transform your home from the ordinary to the extraordinary and improve your quality of life. For more ideas on converting your loft, read our loft bedrooms guide and get more home improvements inspiration here.
Conclusion
Now that you have the answer to the question "How much does a loft conversion cost?", it'll surely be much easier for you to come up with a reliable home renovation plan and develop a great loft conversion strategy.
With your home valuation and loft conversion cost calculator tools, you can forget about unpleasant surprises and unplanned costs. Creating a budget for a major home renovation project has never been easier. So, what are you waiting for? Contact our team today if you want a more in-depth analysis or professional advice related to your property!