Creative ways to find space for fun in a busy home.
Fun is underrated. It often gets forgotten in home planning, but it's an essential part of a healthy life. It relaxes us, builds and restores relationships, and gives us space to destress and dream.
That's why it's important to find a place for fun in your home, even if it's a small space or one that's shared with other activities.
Make more than a man cave
This family wanted a space that could be enjoyed by the whole family and their friends too. "It had to be all things to all people," explains Julien Grenfell of Think Smarta. "The brief was to allow for multiple activities to happen at the same time, in the same space."
To achieve this, Smarta selected a Control4 home automation system. This lets family members control lighting, heating, audio and the TV via an app on their smartphones and tablets. They can also use a remote control or the touch screen (shown).
Smart tech aside, large bean bags are a savvy interior design choice – they can be easily moved around the room to where the action's happening.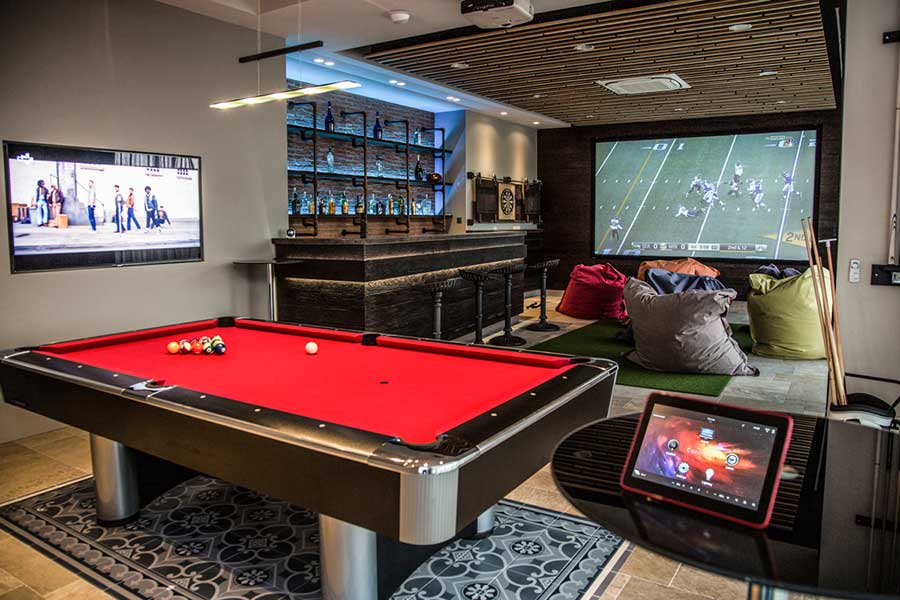 Bring the big screen home
If you're a film buff, nothing beats having a dedicated cinema room in your own home. Basements are good locations as they tend not to have much natural light. Here, Design By Light covered up a small window to achieve black-out conditions.
Home automation has also been used to create a cinema experience, and little touches, such as the lights automatically dimming during the opening credits, add to its authenticity.
Thinking of going underground? Here's what you need to know about adding a basement to your home.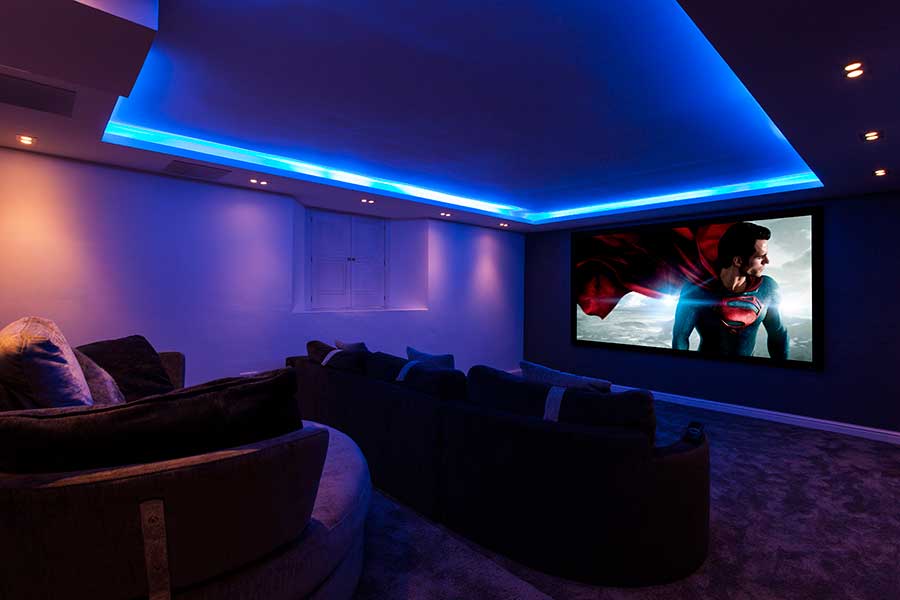 Take a seat
Once a humble servant's kitchen in a 16th-century manor house, this room is now a slick home cinema complete with a well-stocked bar and super comfortable seating. To ensure everyone has a perfect view, steal the style and stagger seating using shallow steps. Shop around: there's a huge range of seat styles and fabric finishes available to suit all budgets. Some brands even offer heated seats and massagers. This project is by Design By Light.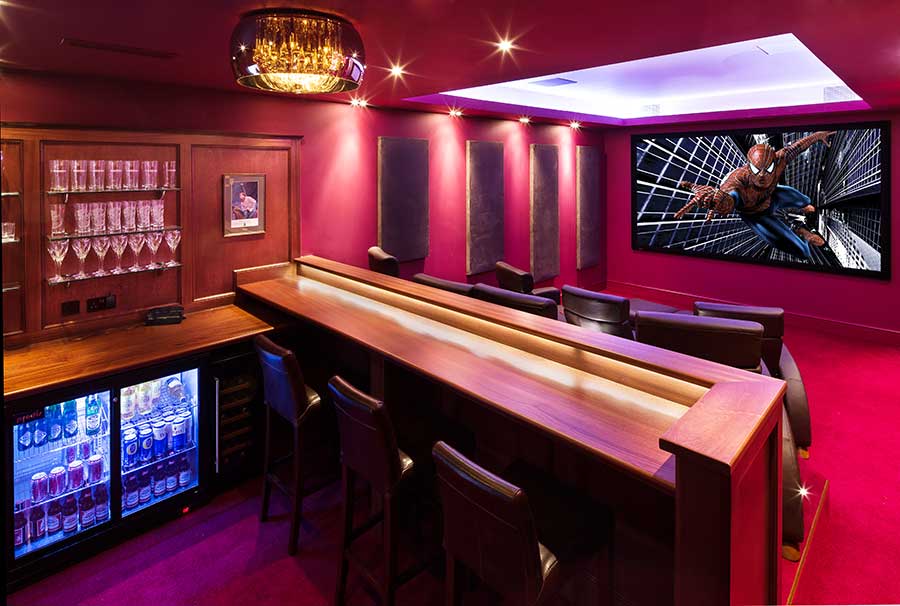 Integrate it into your living room
If you don't have the space for a dedicated home cinema, think about integrating a screen into a living room or games room. Here, a sizeable wall screen has been mounted by Adept Home Cinemas. The result is an authentic cinematic-style experience and a screen that doesn't dominate the space.
If you want to do away with a permanent TV altogether, a drop-down projector screen eases the transition from living room to home cinema. A word of advice: have an idea of what you want to do with the wall space when the screen isn't needed. You could use it to display a favourite piece of artwork, for example.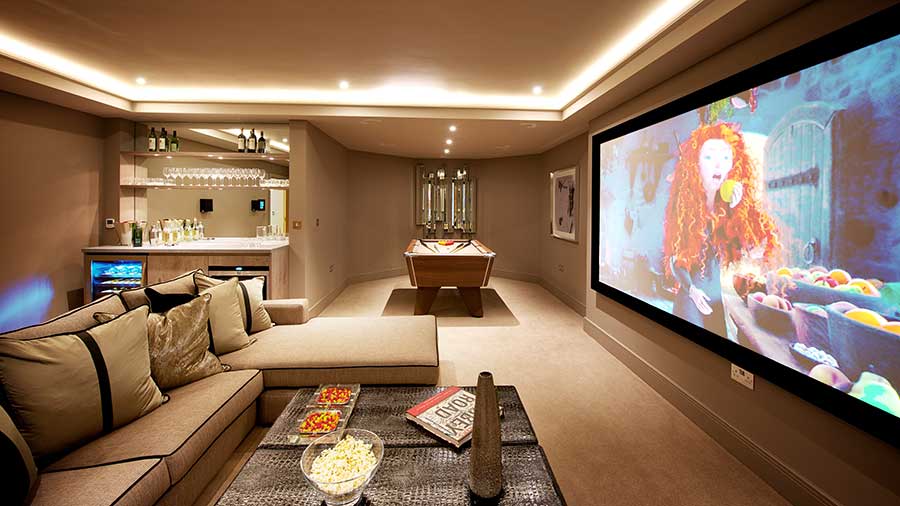 Look to your loft
Paul Langston of Paul Langston Interiors has transformed this large loft into a family-friendly gaming room. Using the quirks of the space to his advantage, he slotted a TV and computer gaming area under the eaves, while the rest of the space is given over to pool table.
The bare brick wall reminds us of the loft's previous function as a utilitarian storage space; Paul has painted the remaining walls white to make the space more inviting. Large Velux windows flood the loft with plenty of natural light.
Make more of your attic space with our handy guide to loft conversions.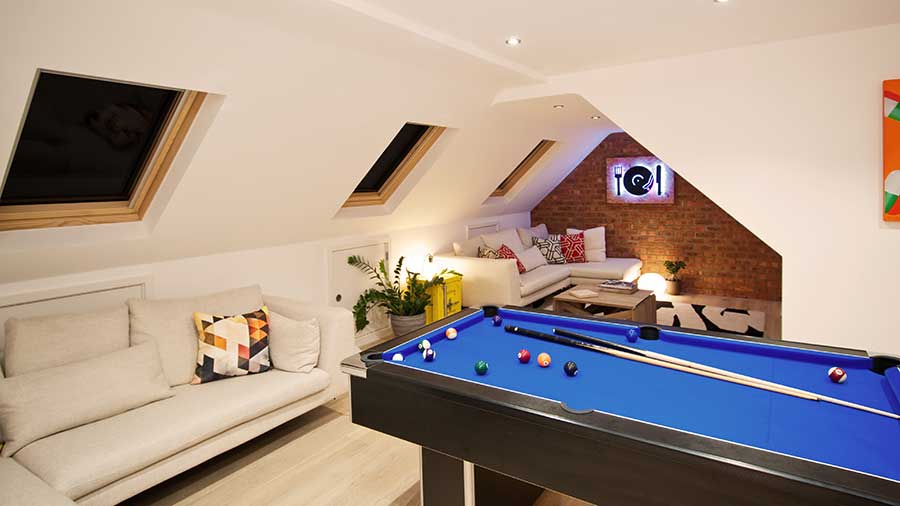 Don't sacrifice style
Who says that a man cave can't be sophisticated? Be inspired by Curve Interior Design, whose designers have made a feature of the pool table with Tom Dixon's impressive Beat lights. Floor-length curtains are much more than draught excluders and light blockers: here, they inject an element of drama into the scheme. Dial it down with casual touches such as the Foscarini Diesel Fork floor lamp, featuring a fabric shade with stitching that's reminiscent of a pair of jeans.
The projector seen here is permanently on display, but if you're concerned a similar arrangement could compromise your interior design, conceal it in the ceiling when it's not in use. Ask your designer about the possibility of activating the projector from an app on your smartphone.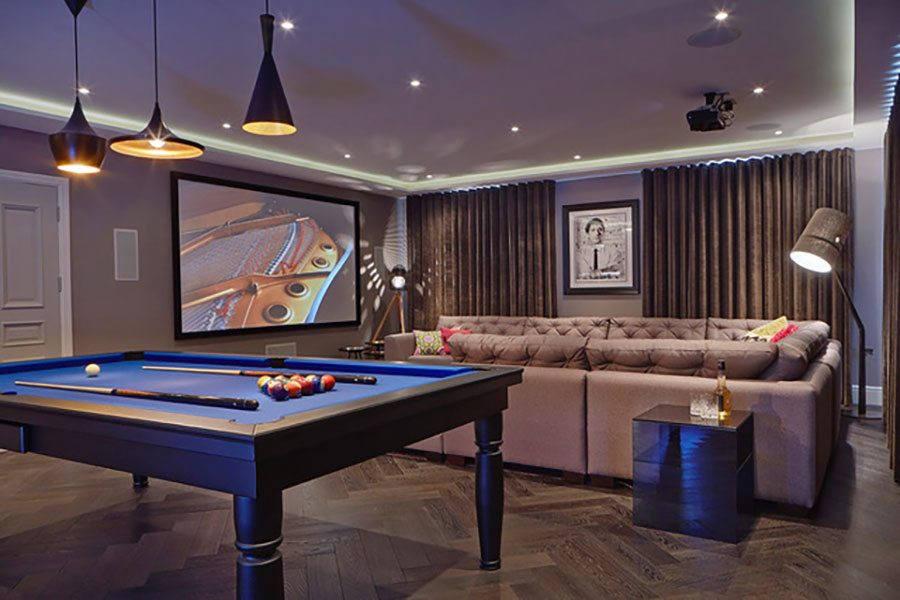 Turn your spare room into a multitasking space
It's important to remember practicalities. Don't try to squeeze in too many activities: you'll overwhelm the space and you may find that you can't enjoy your hobbies in cramped conditions. Here, Cu Cucine's designers have made sure their client can play comfortably by allowing plenty of space around the pool table.
Competition can get heated, so consider soundproofing your games room. Speak to your architect or a soundproofing expert to find the right solution for you.
If you want to work your way up the property ladder to your dream home, you need to know how to maximise the value of where you live now. Here are 10 of the best ways to add value to your property.
Make space for your interests
A room dedicated to your passions is an appealing idea, isn't it? That's why the owner of this room tasked Paul Warren Design with creating a space to house his extensive music collection. Storage was a priority, so Paul created generous floor-to-ceiling bookcases to display his client's prized possessions. He then added discrete LED strip lighting to illuminate the shelves. Controlled separately from the overhead LED downlights, the lights can be lowered to create a relaxing atmosphere at night.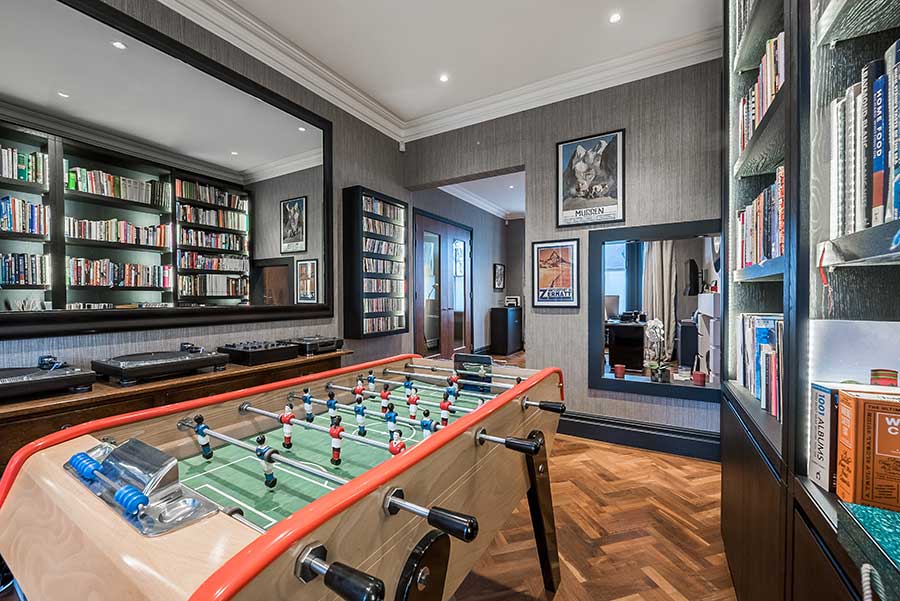 Combine old with new
What this loft lacks in width, it more than makes up for in length, allowing plenty of space for a TV area, foosball table and pool table. Original features such as the brick walls and stained glass window are a nice touch, while more up-to-date additions such as a large Velux window and industrial-style pendants prevent the space from looking and feeling gloomy. This project is by T-Space Architects.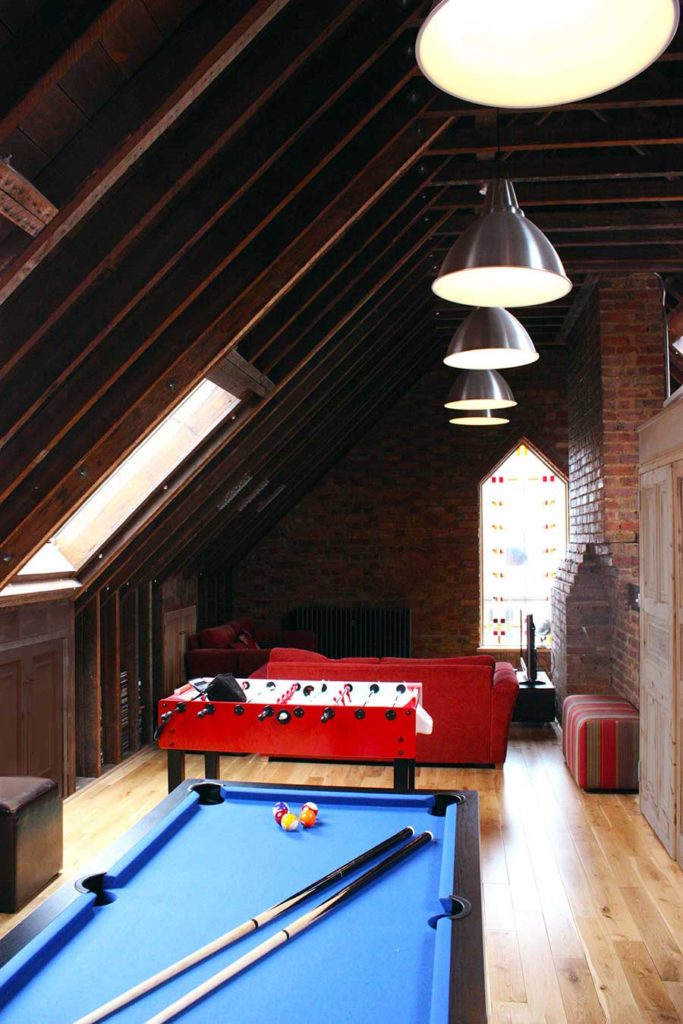 Our readers mancaves
We asked you to send us pictures of your man caves – thanks for your contributions!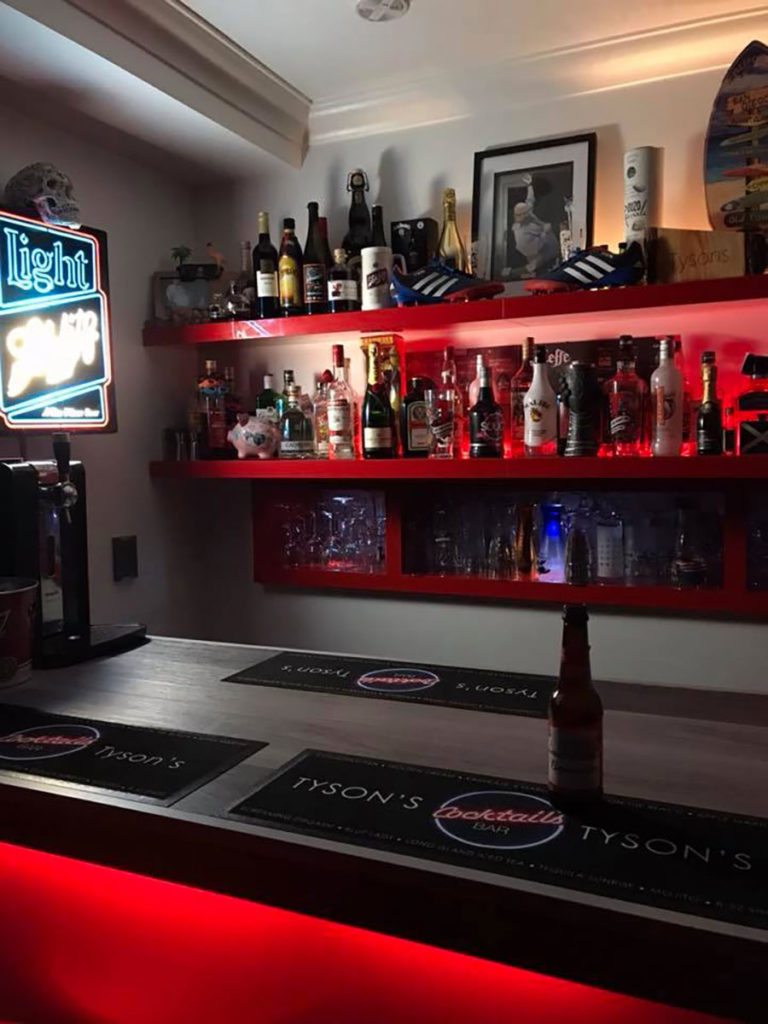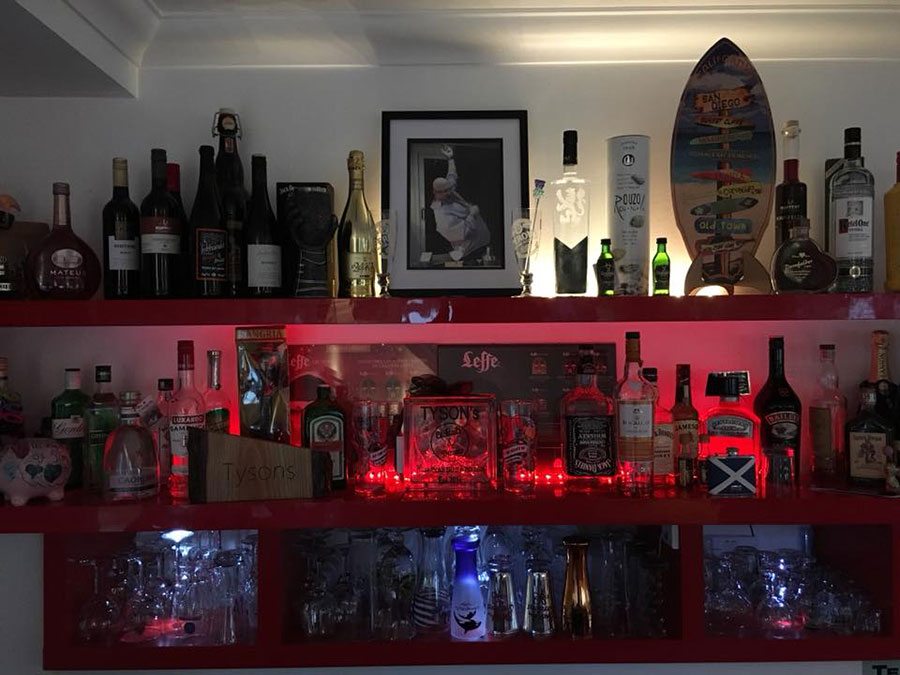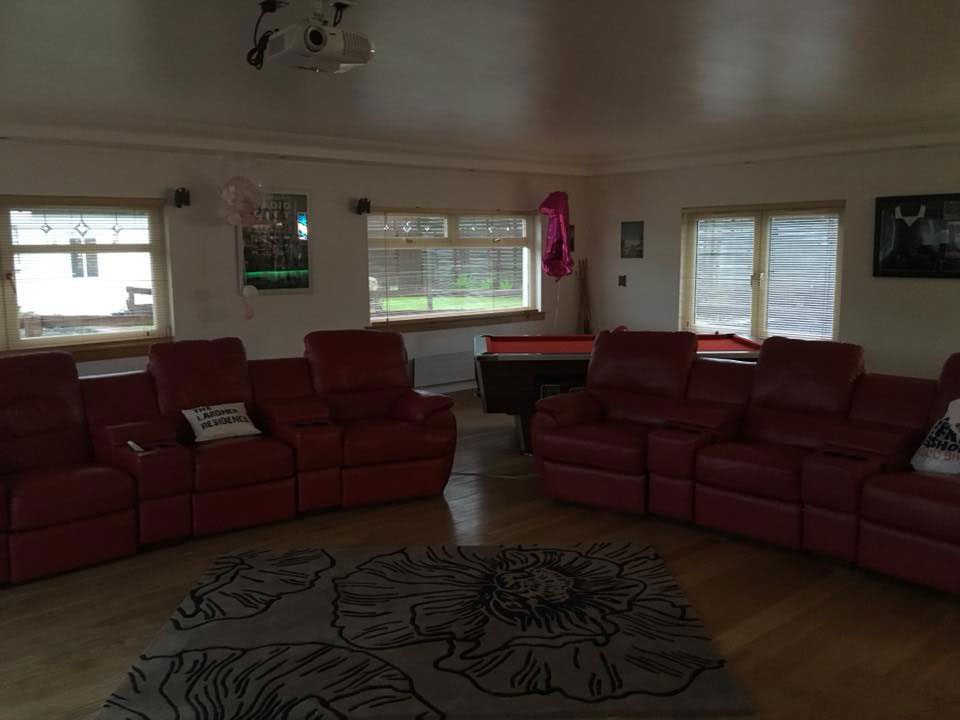 SaveSave
SaveSave